Pixie Project - Set I (5 pixie Sims)
2,037

Downloads
133

Thanks Thanks
8

Favourited
27,792

Views

Uploaded: 19th Apr 2006 at 4:34 PM
Updated: 19th Mar 2007 at 6:09 PM - Update
Hi all

I LOVE Boblishman's Tinkerbell wings! For those that don't already have them, u
have
to see them in the game. The pics/animations here just really don't do them justice. I loved them so much that I made some pixies just so I could use them in my game.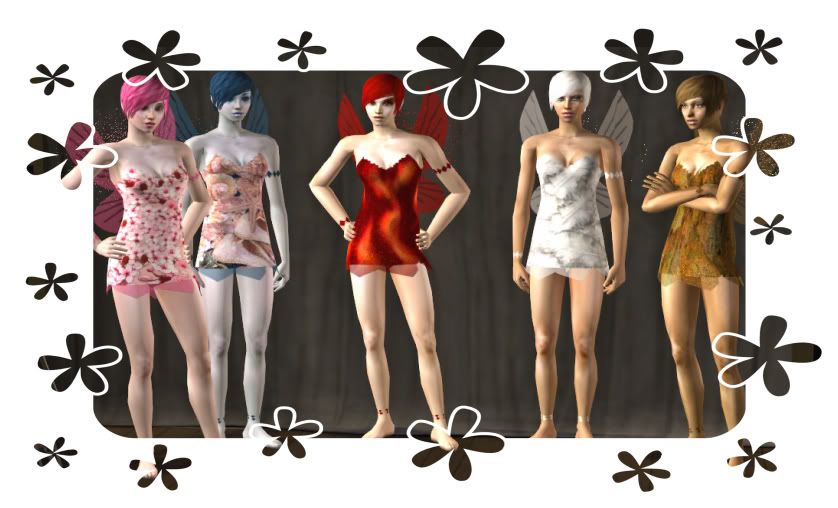 As most know, the hair mesh is an OFB hairstyle BUT Callum91 re-did it to work without OFB & for all ages (thank u!). I just edited the alpha to remove the hair from over their eyes & made it a little longer on the thicker side. I also liked the "pixie dust" idea from the wings so much that I added some glitter to their hair & outfits.
This is the first of two sets I've made. Most items are included & for those that are not, I've listed detailed directions with the credits & in the Read Me file on where the downloads are so they'll be easier to find. If u have any trouble finding anything, just post here & I'll do my best to help.
Please note that I have Uni, NL, OFB, Pets & Seasons installed on my computer so I am not sure if u need any or all of them in order to use these Sims.
Thx to Boblishman, Lyric Lee, Enayla, Barcelonista, Callum91, Sera Sims, Helaene, SussisSoGoodSims2, EyeCandy, Rensim, Seomi Sims & Sim Dreams for making these pixies possible. And a HUGE thx to those creators who allow their files to be included with our Sims & for those who gave me special permission. Enjoy!

-B
Updated 3/19/07: I have re-packaged the Pixies to include files from the now closed SeraSims. Thx so much to Sera for permission to include the files!

:::::::::::::::::::::::::::::::::::::::::::::::::::::::::::::::::::::::::::::::::::::::
::Credits::
Used in ALL:
Included -
Skintone:
Enayla @ MTS2
Hair Recolor/Alpha Edit: Me
Dress: Me (Maxis Recolor)
Wing Recolor: Me
Eyebrows: Base by
Barcelonista @ MTS2
, Recolored by Me
------------------------------------
NOT
Included -
Hair Mesh:
Callum91 @ MTS2
Wing Mesh:
Boblishman @ MTS2
--------------------------------------------------------------------------
Orinda (red pixie):
Included -
Eyes:
SussisSoGoodSims2
Lips:
Barcelonista @ MTS2
Eye Shadow:
Sera Sims
--------------------------------------------------------------------------
Feronia (tawny pixie):
Included -
Eyes/Eyeliner/Lips:
Helaene
Eye Shadow:
Sera Sims
--------------------------------------------------------------------------
Lark (white pixie):
Included -
Lips:
Helaene
Eye Shadow:
Sera Sims
-----------------------------------
NOT
Included -
Eyes:
Rensim
Location of file on site: Genetics>Eye Colors>Bedroom Eyes 2 (Owl)
--------------------------------------------------------------------------
Sakura (pink pixie):
Included -
Eyes:
EyeCandy
Blush:
Helaene
Lips:
Barcelonista @ MTS2
Eye Shadow:
Sera Sims
--------------------------------------------------------------------------
Maren (dark blue pixie):
Included -
Eyes:
Seomi Sims
Eye Shadow:
Sera Sims
-----------------------------------
NOT
Included -
Lips:
Sim Dreams
Location of file on site: Makeup>Page 1 [sd_ts2_mlip07.zip]
--------------------------------------------------------------------------
About Me
U can find a full explanation of my policies here: http://theblist.com/Policy.html