>

Fireplaces, Pool Accessories, Columns, Fences & Gates
Easy dragable gutters!
MTS has all free content, all the time. Find out how YOU can help to keep it running.
Tell me how...
Personal Picked Upload! This is a personal favourite of the creator!

Created by frillen View Policy / About Me View Downloads Home
Uploaded 12th Feb 2007 at 6:03 PM · Updated 9th Feb 2009 at 12:01 PM by frillen
Decorate your houses with easy to use gutters!
Ok you've seen gutters for the sims 2 before, but I bet you haven't seen a gutter system as easy to use as this

This gutter is based on 2 types of fences: 1 with & 1 without downpipe!
Each type is created in 3 versions which should cover every possible roof slope angle nicely!
You can also use the gutters with diagonal roofs!
The gutters with downpipe works with houses from 1 to 5 stories!
Disadvantages:
All the gutters have end caps so when you drag the gutters, you'll see end caps on each gutter section like shown in picture below!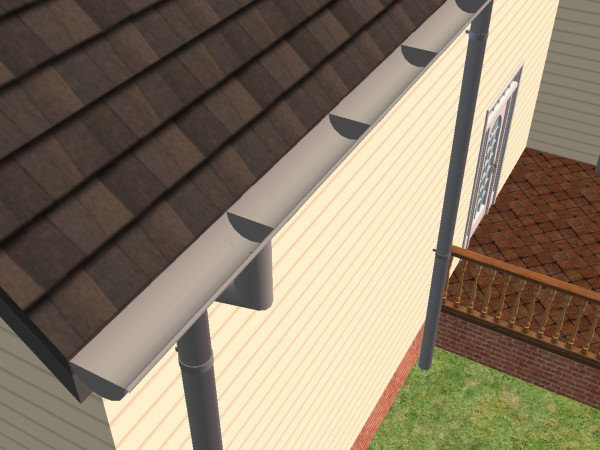 How to use:
Since they work like fences, all you have to do is drag the gutter from left to right on top of the roof like shown on the picture below!
Each gutter section is actually 2 tiles wide, I decided to do it this way because the roof sticks 1/2 tile out from the house ends, so you it's actually enough to place a gutter on just every second tile!
Please don't use them on the ground, they will disappear into the ground and will be difficult to locate then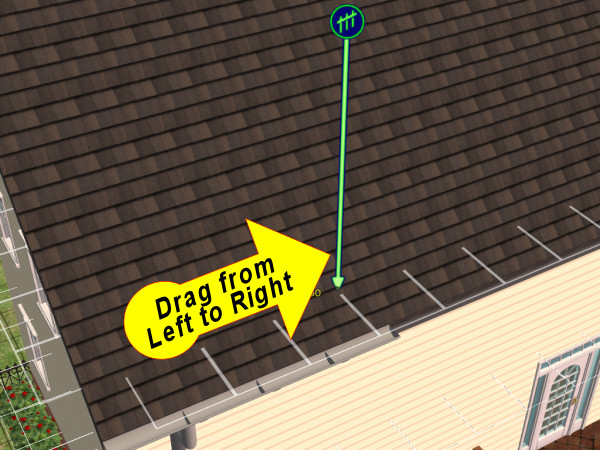 These gutters are not perfect seen from a graphical point of view, but I decided to design them in this way to keep them as easy as possible to use!
I might be doing a luxery version of this gutter system sometime!
Not much more to say than Enjoy this gutter system & please report back if you experience any kind of errors with them(I've tested them thoroughly so there shouldn't be any

And now on to the boring technical/legal stuff:
Frillen-DragableGutter.zip
contains the 6 following package files:
Frillen-Gutter1A-15-35roofpitch.package
Frillen-Gutter1B-15-35roofpitch.package
Frillen-Gutter2A-35-55roofpitch.package
Frillen-Gutter2B-35-55roofpitch.package
Frillen-Gutter3A-55-75roofpitch.package
Frillen-Gutter3B-55-75roofpitch.package
Mesh-info:
(Just the gutter)
Faces=126
Vertices=146
Mesh-info:
(Gutter with downpipe)
Faces=602
Vertices=688
NOTE:
Even though it's listed as base-game requirement only, you'll need at least one EP, it doesn't matter which EP you've got!
You may:
Create recolors & upload them, since fences can't be recolored in the traditional way, you may upload the mesh too as long you give credit!
Use it in a house & upload your house to any site as long this object is a part of your lot!
Created by Frillen - February 2007 especially for the following sites:
http://www.sims2you.dk
http://www.sapphiresims2.com
http://www.modthesims2.com
Tags: #gutter pipe
Frillen's policies!
I create for the fun of it and are happy to share both my knowledge and creations without too many restrictions, but there are some:
Create and upload recolors of all my objects to any site you desire as long you link back to my mesh!
Use any of my custom objects in an uploaded house on any site you desire as long it's a part of a creation and not just a lot with focus on the objects only!
Do not upload a clone of my objects for the purpose of remodelling my mesh unless permission is given by me!
Fences created by me may be cloned in order to create recolors since this is the only way, but do not edit the mesh!
Allthough credits are nice, you don't really have to because I've implemented a copyright notice in all my custom objects!
I rarely do requests, so don't expect that I'll be doing them, however suggestions, ideas etc. are always welcome!
Do not PM me with general questions which could easily be answered in the forum!
Questions about my creations, problems etc. will off course be answered!