MTS has all free content, all the time. Find out how YOU can help to keep it running.
Tell me how...


The Uglies Project: Shay
by
Jaylo
Posted 14th Feb 2011 at 9:29 AM - Updated 27th Feb 2011 at 8:39 PM by jaylo2112
153
Thanks
Thanks
15
Favourited
Welcome to part III of the Uglies series: Shay, Tally's best friend. She's a main character in Scott Westerfeld's Uglies trilogy. Uglies is the first book of the trilogy. The second book is Pretties and the third is Specials. It's about a world in which everyone has an operation when they turn sixteen, making them supermodel beautiful. Big eyes, full lips, no one fat or skinny. This seems like a good thing, but it's not. Especially if you're one of the smokies, a bunch of radical teens who've decided they want to keep their own faces. Shay was one of them.
Ugly
Before she met Tally, Shay and her old friends, the Crims, attempted to run away, but Shay and another boy Zane stayed behind. After Shay met Tally, she and Tally developed a close bond, and as their 16th birthdays grew closer, Shay who was extremely outspoken about her desire to keep her face and personality, decided she was going to run away to the Smoke. The Smoke was basically a refugee camp for people who didn't want to turn pretty and live in the wild. Shay tried to convince Tally to come with her, but when Tally refused Shay left behind a set of coded instructions to lead Tally to the smoke. Unfortunately for Shay, Tally had some of her own secrets when she came to join her and the Smokies.
Shay is described as: Skinny with black hair in pigtails and olive skin. Her eyes are large and nearly pretty sized.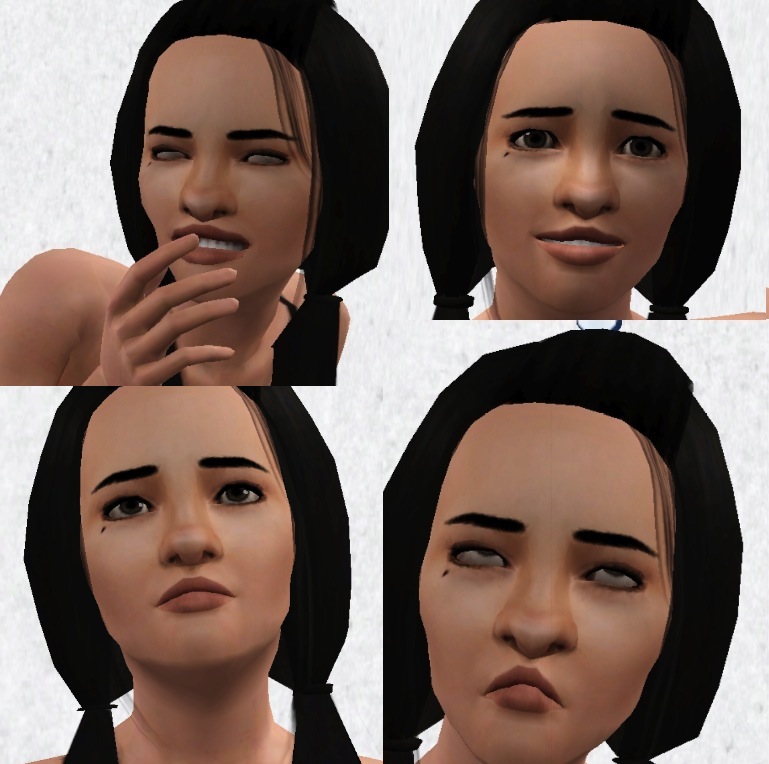 Shay, like Tally, is a major trickster, and is constantly going against the rules of society. She is very fierce, and hardly scared and always fights if given the chance. But, she can also be a bit naive and childish when it comes to making decisions. When she decided to run from the smoke a second time, David considered telling her no. She is also rather adept at thieving, as she had to steal a survival kit from the city prior to running away. Shay also enjoys spending a lot of time outside, and was the first person to take Tally out of the city boundaries.
Her traits are brave, childish, kleptomatic, and loves the outdoors
Pretty
Shay was the first of the smokies to be turned pretty, as she was constantly fighting against the specials that detained her. Before she turned pretty, Shay was furious at Tally for betraying her, but post transformation, Shay couldn't be happier. After a few days of camping out in the wilderness, Shay and Tally returned to the city and Shay was able to hook the now pretty tally up with some friends of hers, the Crims. Tally and the Crims' leader Zane started hanging out a lot, leaving Shay out of it. After Tally and Zane climbed a radio tower and miraculously left the foggy-brained pretty haze Shay and the rest of the Crims, were constantly fighting, Shay broke off and formed a new clique the Cutters. She was determined to find an end to her pretty haze.
Shay is described as having large emerald eyes, black hair, full lips and a small nose.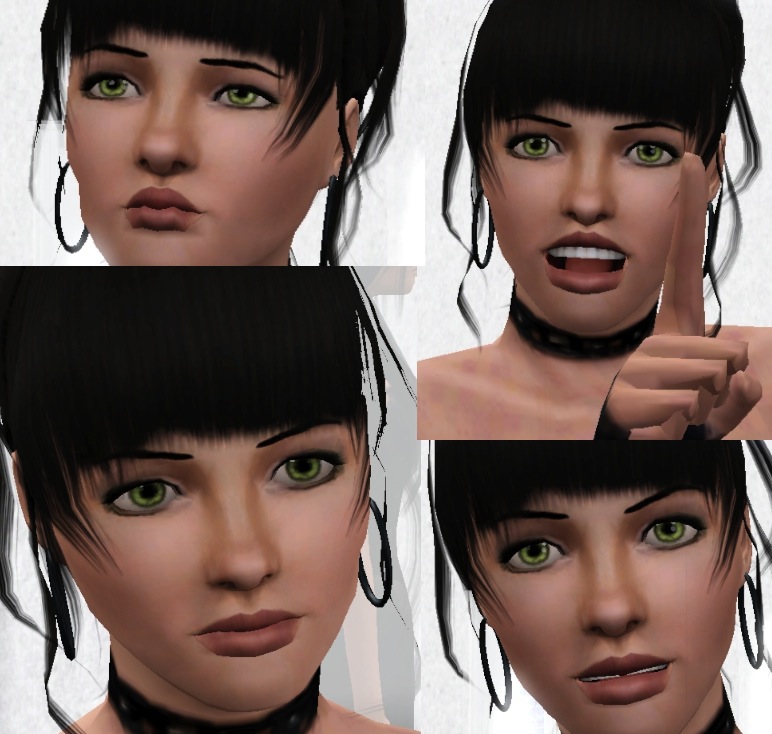 After becoming pretty, Shay forgot her anger at Tally, among some other things, and like all pretties started forgetting ugly days and intentions. After Tally and Zane were cured of their pretty minds, Shay attempted to climb a radio tower to get the same affect, but it didn't work. She was furious at Tally and simmered for ages. She also retained her ugly love of the outdoors and her thieving skills.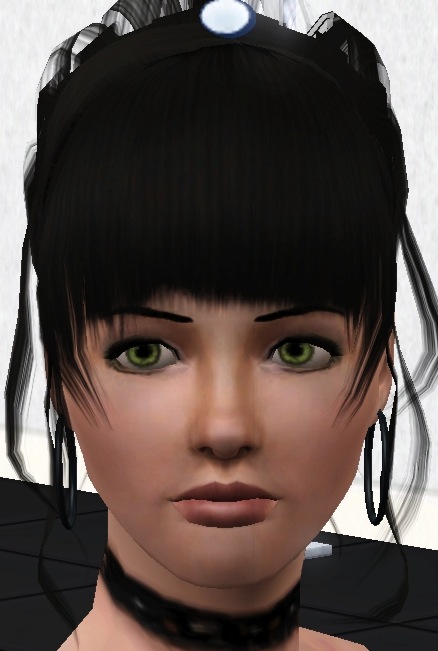 Her traits are absentminded, daredevil, hot-headed, kleptomatic, and loves the outdoors.
Special
Shay's group called attention to special circumstances, and they offered shay a permanent escape from pretty bubble-headed-ness, an end to her memory loss and the beginning of a new,
icy
life. Shay became special, and became the boss of a new specials troop the Cutters. She and the rest of the cutters went out into the wild after a group of pretties, including Tally, had escaped, and Shay was the one to capture Tally and changed Tally into a special. Once Tally became a special, she and Shay became friends once more and worked hard to stamp out the Smokies, but one thing led to another and on a trek to the New Smoke, Tally and Shay were separated once more.
Shay is described as having wolfen features, black eyes with violet highlights, sharp angles, and a tattoo of many coiled snakes running down her jaw.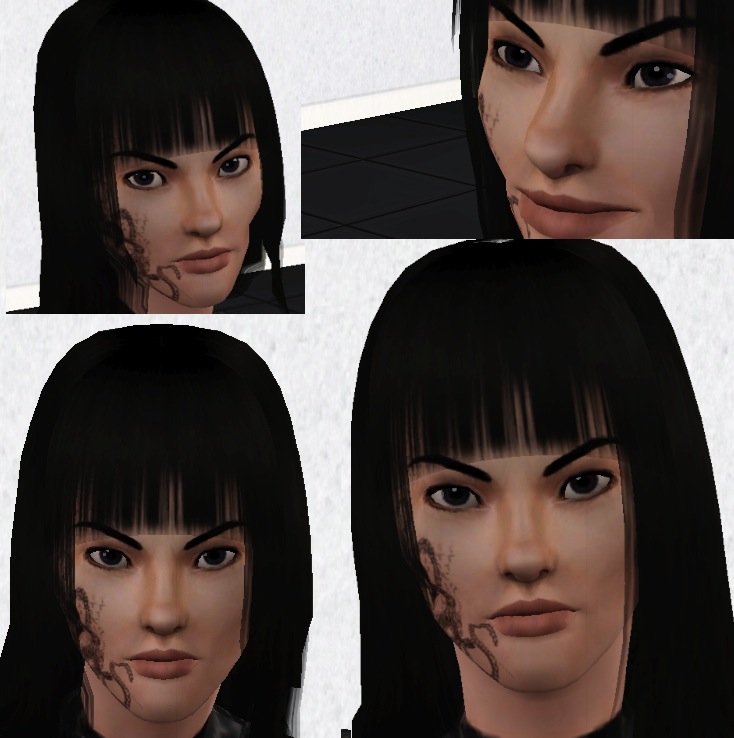 Shay was the leader of the Cutters, and was the one who made the decisions and orchestrated their attacks. She was also very courageous and was constantly putting her self on the line. However like most specials, she got angry fast and held grudges for ages. She was still into thieving, and loved the outdoors.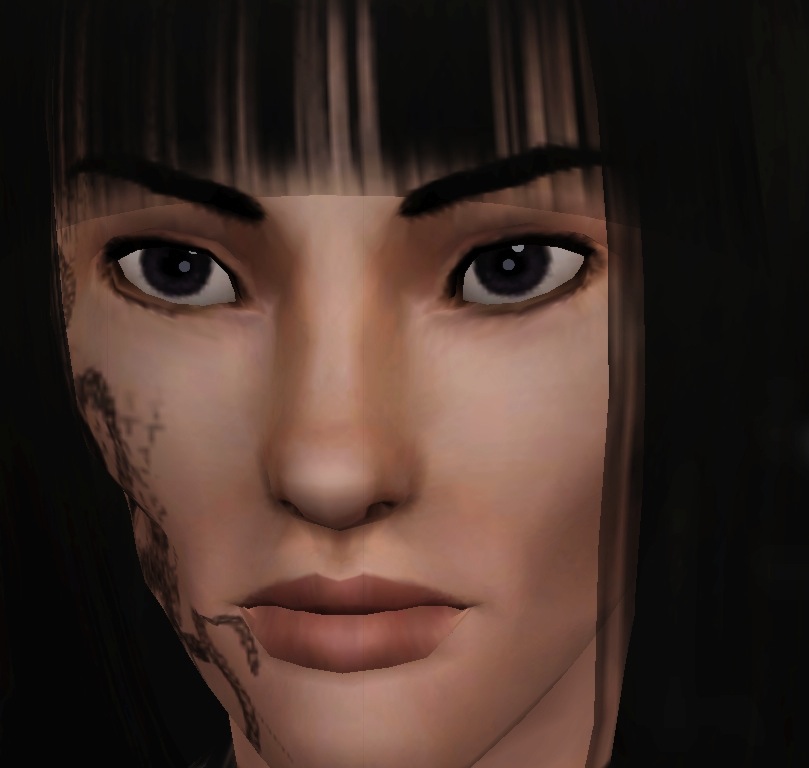 Her traits are brave, genius, hot-headed, kleptomatic, and loves the outdoors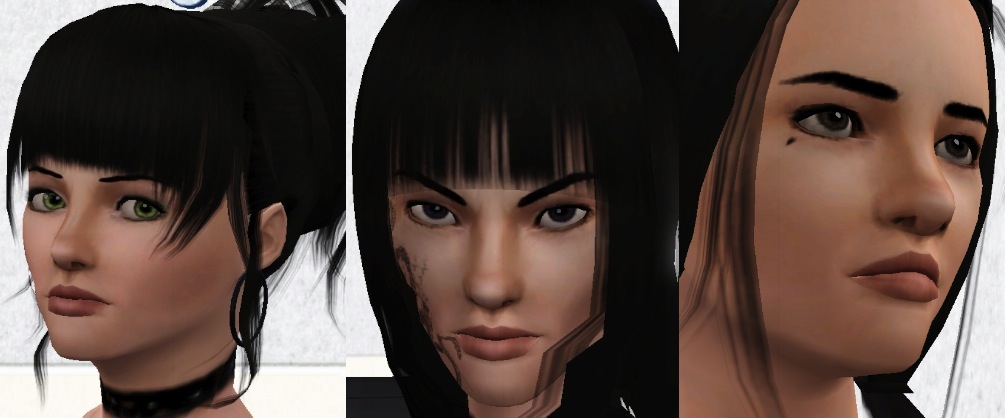 With all these transformations, one can only guess at what the Ugly Shay would have thought about her older, brainwashed selves...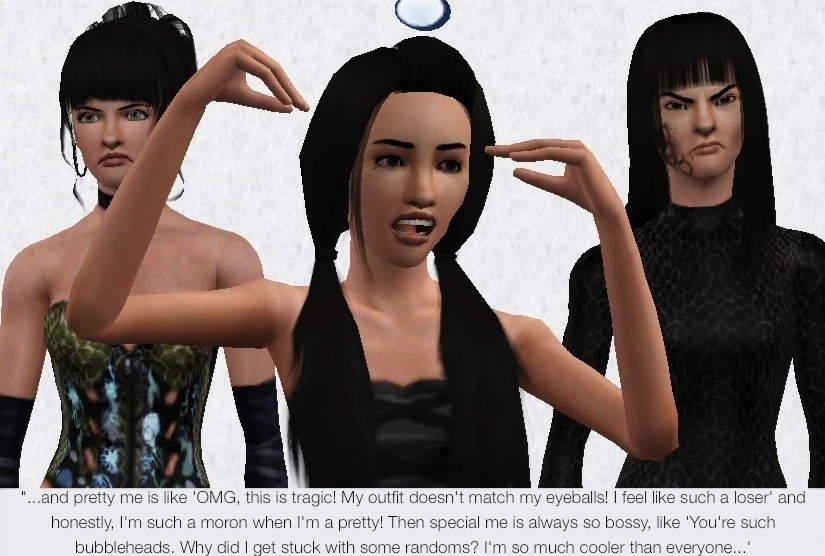 CC Used:
Ugly
hair by Savio
here
shirt by Kiara24
here
eyeliner by aarin
here
ishadow contact by escand
here
Pretty
hair by Anubis360
here
shirt by SirDrake
here
eyeliner by aarin
here
blush by Kittyklan
here
eyeshadow by emmzx
here
Special
hair by raonjena
here
outfit and tattoo by me and included in download link
SLIDERS USED
I used Bella's facial sliders
here
and I also used Delphy's breast sliders
here
for pretty only.
These sims were also made with a 5x sliderhack, so try not to mess with them too too much.
THESE SIMS WERE PACKAGED WITH DEFAULT SKIN AND HAIR
I have the sims stuck in different download files so you can pick and choose which ones you want to download. You can also find my Tally Youngblood sim
here
and my David sim
here
Enjoy!
Additional Credits:
Thanks to Delphy and the
CTU
team for CTU, and thanks to everyone in the CFF for your help!
20 Comments / Replies (
Who?
)
Users who thanked this download also thanked: