Lighten Up! A Mod for Brighter Computer Screens
MTS has all free content, all the time. Donate to help keep it running.
58,315

Downloads
1,575

Thanks Thanks
285

Favourited
111,768

Views

Uploaded: 8th Jul 2011 at 1:07 AM
Updated: 20th Oct 2012 at 6:25 AM
Have you ever noticed how dark and dingy the computer screens are for the original computer interactions, like sending e-mail or finding a job, and how nice and bright they look for the ones that came with Free Time, like blogging or writing a novel? If you have and it annoys you, then this is for you.
By changing a setting in their TXMTs, this simple mod makes the screens for all original computer interactions just as bright as the FT ones: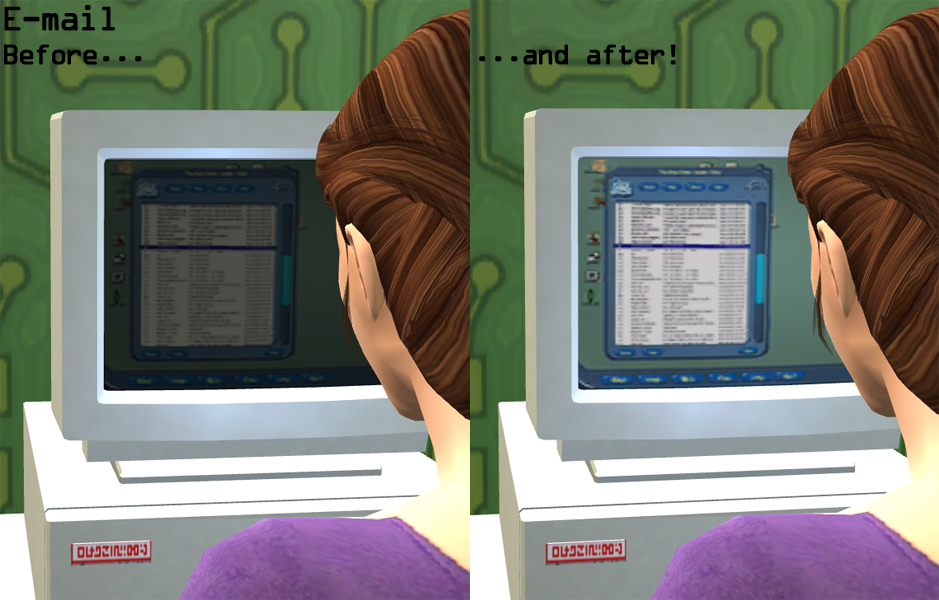 Hair by
Dustfinger
, sweater by
Sentate
, wall, desk and computer by Maxis

This works for:
All in-game computers, plus any default replacement computer screens (as long as they only change the texture and not the TXMTs - in that case, their TXMTs can possibly override this mod).

This might not work for:
Custom computers. I've tested this mod on several different custom computers from different sites, and while it worked for the vast majority of them, I did come across two computers (both by the same creator) that it
didn't
work for, possibly because their TXMTs had already been modified. Therefore, I cannot say with absolute certainty that this mod will work for all custom computers.
The mod is basegame compatible. It has been tested on a computer that's never known anything but the basegame as well as in AnyGames with both different EP/SP combinations and with all EPs and SPs.
Additional Credits:
XanderGC and Leesester at leefish.nl, who inspired me to try to figure out why the basegame screens were so dark when the FT ones weren't.

Happy Brighter Simming!

Packs Needed
None, this is Sims 2 base game compatible!
Other Information
Type
:
– Fixed : Fixed Maxis Mistakes
– Global Mods : Mods that change the way the game works without requiring any user intervention.
Terms of Use

With Credit and a Link, Please DO...
...recolour my meshes and include them with your recolours
...include my Bodyshop items with your Sims and my objects with your lots
...modify and/or use parts of my Bodyshop meshes
...clone my objects
...convert my items for The Sims 3
...use my custom content in screen shots, stories, movies, etc.; credit is always appreciated, but by no means required.

But Please DON'T...
...claim my work as your own
...upload my items as is or with only v. minor changes (such as renaming them, but changing nothing else)
...convert my items for The Sims 4
...upload my items or content based on my items to paysites, including Patreon and sites that use ad.fly, or to TSR. (Sites that ask for voluntary donations through ko.fi, PayPal and the like are fine, though.)
[size=+3]But as long as it is for your own game,
you may of course do whatever you please![/size]
~~~~~~~~~~~~~~~~~~~~~~~~~~~~~~~~~~~~~~~~

[size=+2]I'm no longer active at MTS, but I am still active in the Sims community.

I am NOT retired and my downloads here are NOT abandonware!
My terms of use still apply.[/size]