Sims 2

>

>

Mods that run in the background that modify game play in all lots without player intervention.
Books First for Learning - [CEP Extra]
1,108

Downloads
78

Thanks Thanks
16

Favourited
10,921

Views
Uploaded: 18th Jun 2015 at 9:06 PM
Updated: 1st Jan 2019 at 1:34 AM
When Maxis made "Books First for Learning", they made the books a separate subset with a separate texture, but didn't make it so they could be changed with the Design Tool. After realizing that Michelle's
Buyable Bookshelf of Education
could use the original Maxis texture, I decided to try enabling that second subset, and slaving it to her book recolors.
This modifies an object from Seasons, and therefore requires Seasons. It slaves the book texture to Michelle's Buyable Bookshelf of Education, and will use any book recolors for it that you may have installed. (
NEW December 31, 2018:
Added a version tagged as "SNS-BV" that slaves the book texture to the base game version of the Buyable Bookshelf of Education, since the FreeTime version isn't usable unless FreeTime or later is installed.)

Make sure that you download the correct file for the version of the Buyable Bookshelf of Education that you have.
It does
not
link to her cabinet recolors, as they are made for a mesh that does not have the huge golden book on top. (Michelle and Liz have each made recolors for the cabinet, which are available
here
and
here
. In addition, Liz has made default replacement textures for the cabinet and giant book, which are available
here
.)
When recoloring the books, all options, even the default, will have the custom-content "star" because the master object for the book texture is custom. To recolor the books, you may need to place the career reward, then use the Design Tool.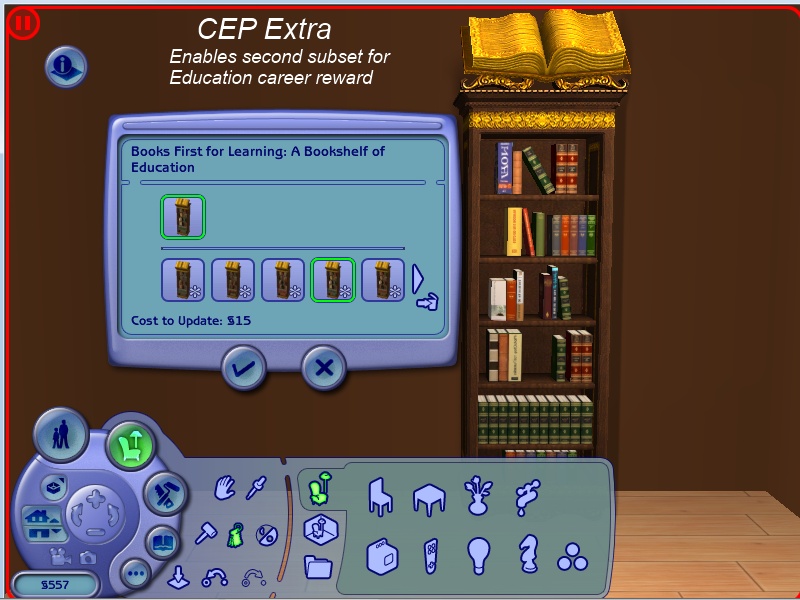 Install instructions:
The file must be placed in
\Documents\EA Games\The Sims 2\zCEP-EXTRA
Notes:
If you used a compilation to install The Sims 2, the compilation's full name (e.g., "The Sims 2 Double Deluxe") will probably be used in Documents. (
NEW December 31, 2018:
When I first made this, I included a file that was to be placed in
Program Files
. I've removed that because it turned out to be unnecessary, as it's enough for the books to be recolorable in the master object. So, while having part of this
CEP
Extra in
Program Files
doesn't hurt anything, having it there doesn't
do
anything, either.)

Compatibility:
This should work with the
standalone
version of my
default replacement
for "Books First for Learning". However, it
is not compatible
with the slaved version of that default, as that version uses a different
CEP
Extra. It should work with mods that make career rewards appear in the Buy catalog.
This does not fix the Maxis bookcase's shadow, but it should be compatible with
the shadow-fix package
that Simsbaby posted at MATY, which does fix it. (h/t to
Ksantipasim
for the pointer to it.)
Additional Credits:
Michelle
for the book recolors.
IgnorantBliss
, for tutorials on
the repository method
and
adding a recolorable subset
hafiseazale
and
HugeLunatic
for working models of subset-adding
CEP
extras.
and, of course, everyone involved in creating and refining the CEP.
Packs Needed

For a full list of packs with names, see the Packs Needed popup.
Other Information
Type
:
– Fixed : Fixed Maxis Mistakes
Packs Needed
| | Base Game |
| --- | --- |
| | Sims 2 |
| | Expansion Pack |
| --- | --- |
| | Seasons |