Buy Mode

>

>

Toilets, showers & tubs, sinks, and hot tubs.
Male Urinal
MTS has all free content, all the time. Find out how YOU can help to keep it running.
Tell me how...
80,138

Downloads
1,195

Thanks Thanks
295

Favourited
111,199

Views

Uploaded: 14th Aug 2016 at 10:25 PM
Updated: 26th May 2022 at 10:26 PM - Updated code.
Description
It's about time we had urinals in the game, right? Right! Well, thanks to UntraditionalNERD, I am now able to offer one to you today.
Near the start of 2015, UntraditionalNERD converted a urinal for TS4 and made it so that only male Sims could use it standing up. The issue was that Sims still required privacy to use it, it still got dirty and Sims still automatically flushed after using it which meant they stuck their hands through the wall.
I got permission to continue working on the object and release it as a collaboration.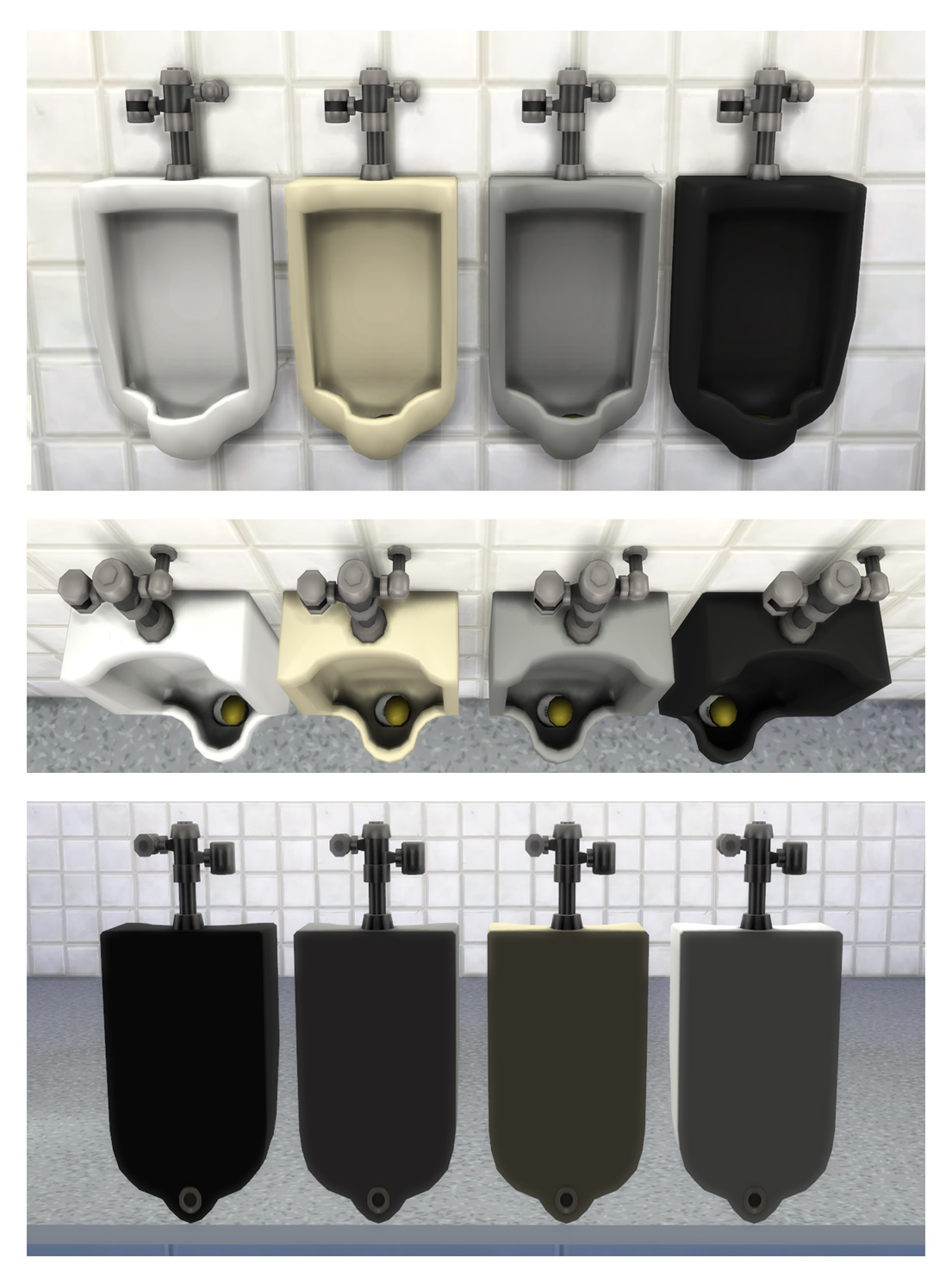 Info
First of all, the basics.
The urinal can be found for a cost of 350 simoleons under the Toilets section of the catalogue on Residential Lots as well as the Community Objects section on Community Lots.
It comes in four colour options; white, beige, grey, black.
It can only be used by Sims who are able to pee standing up and are aged Child to Elder. Female Sims who cannot pee standing up will have no pie menu option and cannot autonomously use the item.
Now onto the more technical bits.
The urinal has been given custom tuning and a new custom pee interaction to remove the need for privacy when Sims use it.
The urinal will not become dirty through use, cannot break, cannot be upgraded, and cannot be flushed. These options have been removed mostly because there simply aren't animations for Sims to repair or clean a urinal and flushing it requires Sims to smash their hands through walls. As it is designed for Community Lot use, this also means you don't have to worry about it breaking on your Sims and spewing water puddles everywhere.
I have also lowered the amount of hygiene that is lost when peeing from 0.25 to 0.10.
Notes
To place the urinals as close together as in the screenshot showing off the designs, you will need to activate moveobjects.
Sims who are set so that they cannot pee standing up may route to the urinal when their bladder motive is low if there are no other toilets available on the Lot, but they will not attempt to use it.

26-May-2022
A small update the correct the tuning so that it is no longer flagged by Better Exceptions. Thanks to thesammy58 for testing the fix for me and confirming it worked.
28-Feb-2021
A slight update to bring the code closer inline with official EA code and add in Eco Lifestyle recylcing data.
TwistedMexi's Better Exceptions scanner may flag this as a possibly outdated mod when you patch your game or run a B.E. patch scan but there is nothing to worry about. Everything appears to function as intended from my testing.
16-Jun-2020
A small update to remove the ability for Sims without the Materialistic trait to Admire New Possession on the urinal.
25-Nov-2018
After all this time I have FINALLY got the coding updated so that Sims will now autonomously wash their hands after using the urinal. The only exceptions to this are Sims with the Slob trait or the Bad Manners learned trait from Parenthood who will still not wash their hands on their own. This is by design. (I've also enabled the ability for ghost pets to haunt the urinal along with ghost Sims.)
Please redownload and allow the new file to overwrite the old one.
Polygon Counts:
High Detail - 1244
Low Detail - 394
Additional Credits:
UntraditionalNERD,
SimGuruModSquad,
Inge Jones,
TURBODRIVER,
Triplis,
s4studio,
blender,
Photoshop.
Info
If you would like to support what I do you can do so by buying me a
ko-fi
.
I also have a
Patreon
page if you would like to make your support ongoing.
Please do not comment on my downloads asking if they need updating for new patches. By all means. please DO post if you have tried them in your game and find them to be broken. Make sure to include details of what is wrong though. Just telling me something needs updating is not helpful.
Comments are always welcome, good or bad. Although I prefer the good ones, heheh!
As I have now moved over to playing TS4, my TS3 and TS2 creations should be considered mostly unsupported.
Please see the Policy tab above if you are wanting to use any of my creations.