>

Mods that replace game resources other than the script core.
View Old Style
Swim Around in Pools
MTS has all free content, all the time. Find out how YOU can help to keep it running.
Tell me how...
Personal Picked Upload! This is a personal favourite of the creator!

Created by Teknikah View Policy / About Me View Downloads Home
Uploaded 6th Jan 2020 at 12:33 AM · Updated 6th Feb 2021 at 12:59 PM by Teknikah : Edit description
Please see the "Also Recommended" section on this page (on mobile: bottom of the page / PC: right side of the page)
I was always disappointed that my sims could "swim around" freely in the ocean (Island Living) but when it came to pools that option wasn't available, we only had "swim laps" and I didn't really like my mermaid sims swimming around in circles/squares at the edges of the pool. I wished that we had the "swim around" interaction so they could move about freely. I had a look aorund and couldn't find that anyone had done this yet, so I added it to the pie menu myself

This interaction isn't exclusive to mermaid sims
From testing in different pools it seems to work best in mishapen/irregular pools. They do tend to still move around the edges but not as bad as "swim laps", they take a more varied path in a pool that isn't a perfect square.
They will swim further away from the edges than it was originally set to, I've increased the constraint size from 1.5 to 2.5 (any higher doesn't work very well in smaller pools).
Any issues please let me know!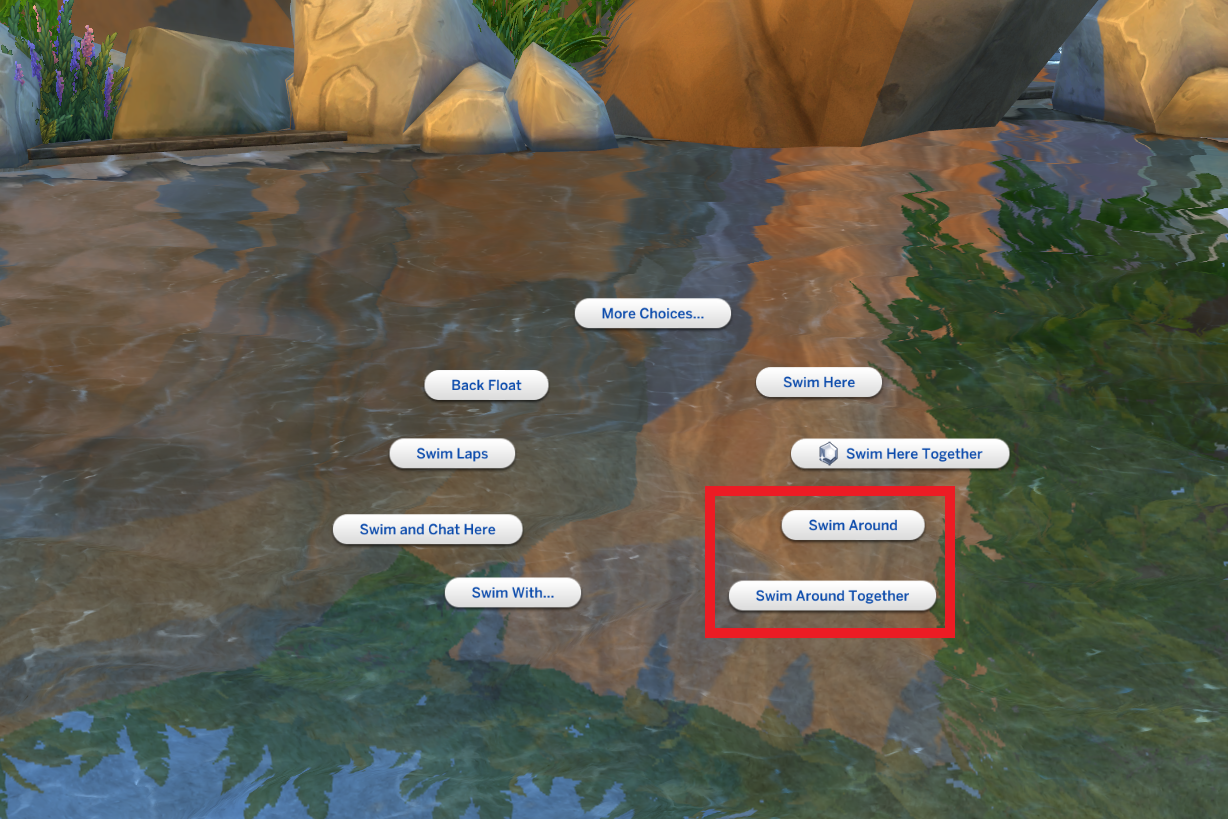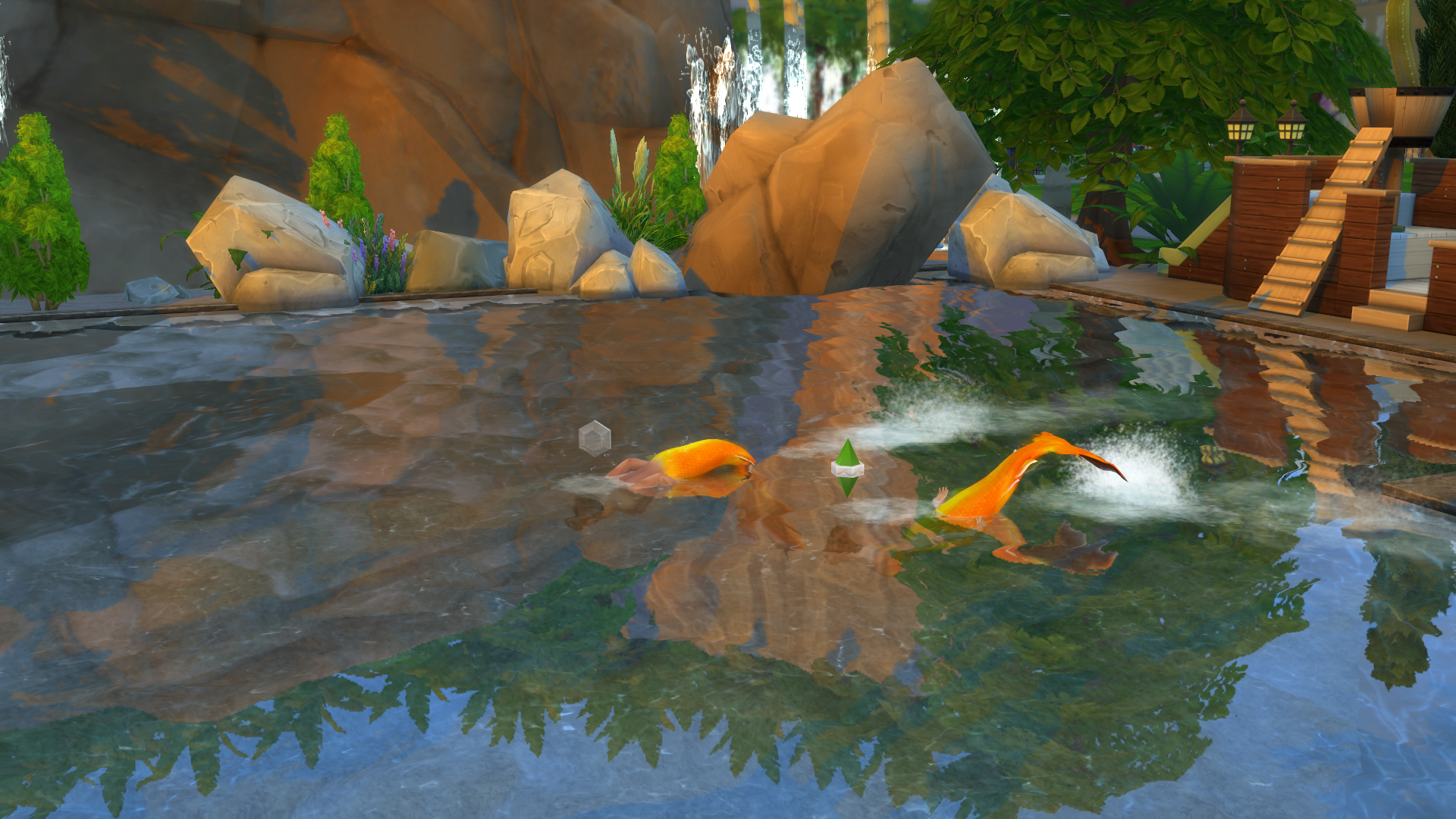 Technical details (for creators):
ocean-swim_SwimAround
Code:
  <T n="time_overhead">30</T>
  <V n="waypoint_constraint" t="pool_laps">
    <U n="pool_laps">
    <V n="keep_away_from_edges" t="enabled" />
      <T n="constraint_width">2.5</T>
      <V n="mobile_posture_override" t="enabled">
        <T n="enabled">39398<!--posture_Swim--></T>


object_swimmingPool
Add super affordance:


Code:
<T>215381<!--terrain-SwimAround_Ocean--></T>

Additional Credits:
Sims 4 Studio
Updates:

• 19/11/2020 - Fixed ocean route issue

Type: Motive gain Unlocked Maxis Content

Tags: #pool, #interaction, #action, #pie menu, #swim, #mermaid, #swimming
About me/my creations/permissions
You MAY NOT upload/share my creations to any paid sites or anything of the sort (ad.fly, paid mods, etc)
Using and sharing my creations:
- You can use and share any of my creations anywhere you like, just as long as you don't try and pass it off as your own, or if it will cost/earn money (as mentioned above)
- You MAY NOT upload/re-upload my creations anywhere, unless it is a translation file.
- Credits: If you include my creations in your lots/sims/etc credits are not required, but are always appreciated. If you upload a translation, please do credit.
Recolouring and altering my creations:
- If you want something altered/recoloured you can leave a comment and suggest your idea, I will try to honour all of these requests. I apologise in advance if I somehow miss a request and don't see it. If you request something and it's been a while since you posted with no reply, don't worry about asking again :) (I will accept private messages)
- Feel free to recolour and alter anything I share, but please credit and link to the original item if you do this.
Translating my creations:
- Feel free to translate any of my creations. Could I please ask that you send the translation file to me? Just so I can upload it to the original page and keep everything together. If you do not wish to send it to me, that's okay, just please send me links/etc so I can credit you properly and direct users to the translation file.
- If you could also provide some information in the target language please? Just so I can provide a correct translation on the page explaining what translation it is, who translated it, and what the user needs to do/etc. Example: "French Translation by TRANSLATOR, requires original file."
Other places you can find my creations:
-
Sims 4 Studio (Username: Teknikah)
-
The Sims Resource (Username: Teknikah)
(
I do not like the upload process here, as far as I'm concerned I no longer post here
)
-
Nexus Mods (Username: charlyxx)
All of my creations will be uploaded here on MTS, other sites listed previously might not have all of them and may not be kept updated.