One with Nature
MTS has all free content, all the time. Donate to help keep it running.
12,072

Downloads
424

Thanks Thanks
179

Favourited
49,283

Views
Picked Upload! This is a picked upload! It showcases some of the best talent and creativity available on MTS and in the community.

Uploaded: 20th Nov 2022 at 1:33 PM
Updated: 30th Dec 2022 at 7:54 PM
Your sims are tired of being restricted by the walls of modern civilization? They just want to go out and live in the wild, watching the clouds and playing with wild animals all day? Then surprise them with this set of
primitive
nature-friendly interactions and never have to go through the trouble of building something unnecessary like a "house" ever again!
Updates
Version 1.0.8
Fixed a bug that would cause the mod to malfunction in vacation worlds
If you don't have Nraas Traveler installed, please make sure to download the newest version, otherwise this mod will cause problems in your vacation worlds!
Version 1.0.7
Version 1.0.6Version 1.0.5Version 1.0.4Version 1.0.3Version 1.0.2Version 1.0.1
About this mod
This is a pure scripting mod that adds a set of new interactions to your game, most of which are designed to let your sims fulfill their needs without having to rely on build/buy objects. Your sims will be able to:
Relax and daydream on the ground
Sleep on the floor and have dedicated "sleeping spots"
Pee on the floor outside
Have "sponge baths" in the ocean
Bathe in swimming pools
(See below for more detailed descriptions of the different interactions.)
This mod also comes with some custom moodlets because I really enjoy making those.

The whole thing started as sort of a side project for me but then I just kept adding stuff to it until I decided to upload and share it here.
How to install
Simply put the
spherefish_OneWithNature.package
file into your mods/packages folder. The Tuning file is optional, you can use the XML inside it to adjust the mod to your liking. As with any new mod, I
strongly
suggest that you back up your current neighborhood before putting it in your game just to be save.
New interactions
Relax and Daydream
Your sims will be able to relax on the ground in order to sleep or daydream (or just chill for a bit.) Daydreaming for a while will give them a positive "Dreamy" moodlet. If the weather is nice enough, they might daydream autonomously while being outside. I used part of the "watch the stars" animation from Generations for this interaction but if you don't have the EP, the mod automatically detects it and just uses the default "sit on the ground" animation instead.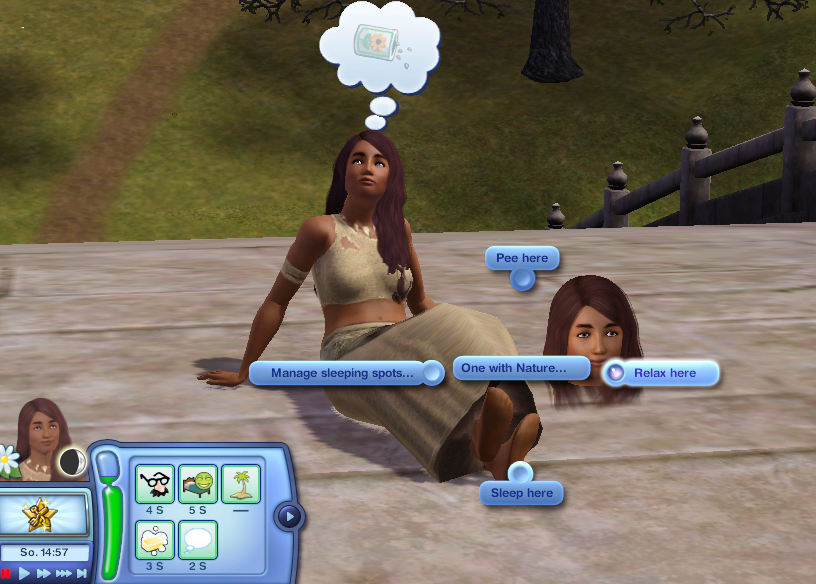 Sleep Here
This interaction lets your sims sleep anywhere on the ground, regardless of how tired they are. They will wake up if they are sleeping outside and the temperature drops below 0°C / 32°F or if it starts raining. Depending on their traits, they might get a positive or negative moodlet after sleeping outside.

You can also assign dedicated sleeping spots to your sims, so that they will try to go sleep there autonomously. You can only assign sleeping spots on your sim's home lot (though you can change that via tuning). By default, assigning a sleeping spot disables the lot sleeping filter for that sim (meaning they might sleep on the ground even if there are beds on the lot–see the "Autonomy" section below for more info).

Note that the mod automatically cleans up sleeping spots for non-active (NPC) sims when you load up your game.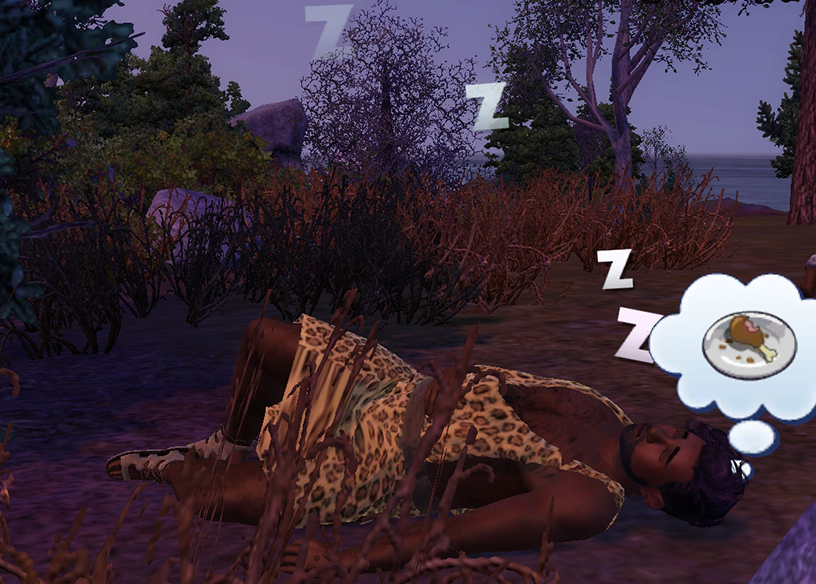 Pee Here
This is a simple interaction that allows your sims to pee on the ground outside. I used the chamber pot animations from TSM for this because I liked the way they looked for female sims. Sims might also go outside and pee autonomously if there is no toilet on the lot.

Be careful not too pee right next to other sims unless you want to make them angry!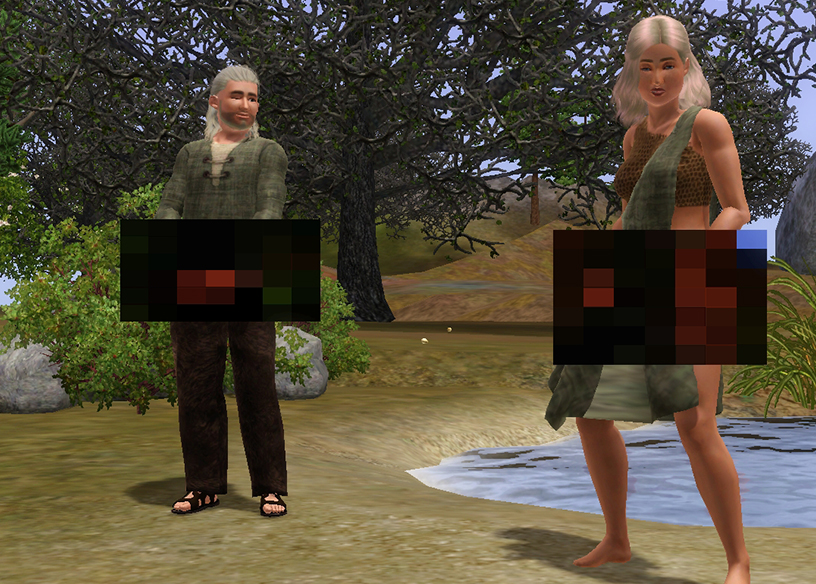 Bathe in Nature
There are two different bathing interactions that come with this mod.

Your sims can take sponge baths in the ocean or bathe in swimming pools. I added the pool interaction as sort of a compromise because I couldn't figure out how to make sims route into ponds, so at least they can bathe in "pond-like" pools now (plus it also works for Roman baths etc).

Sims can perform the bathing interactions autonomously, though they will only do it if there are no Hygiene-filling objects (bathtubs, showers, etc) on the lot. When going to bathe in the ocean autonomously, they should automatically route back to wherever they came from afterwards.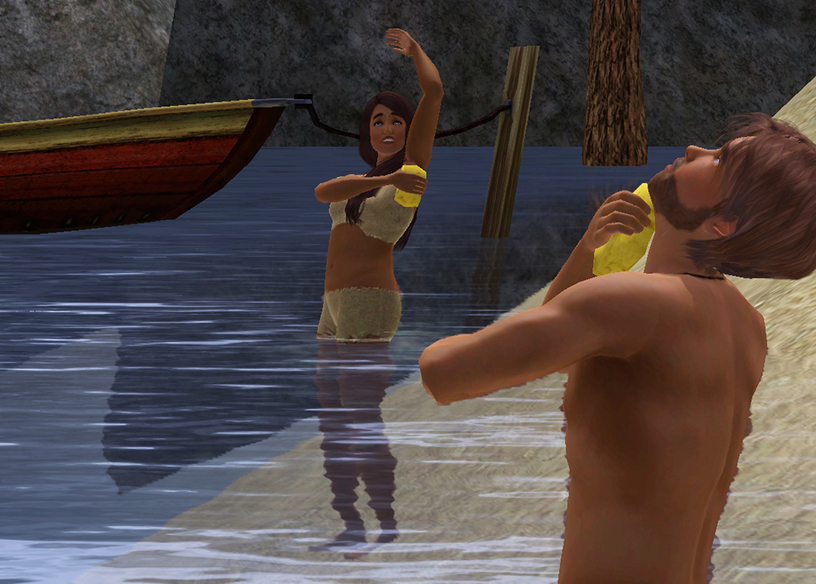 Autonomy
The majority of the interactions can be performed autonomously, though sims will only do it if your lot does not have any object to replace the nature interaction. (Eg sims will only try to pee outside if the current lot doesn't have a working toilet.)
You can adjust Autonomy via tuning and even turn it off completely if it doesn't fit with your playstyle.
The following objects prevent autonomous nature interactions:
Sleeping objects
Beds, tents, couches, lounge chairs, rocking chairs, igloos, altars (for vampires only), fairy houses (for fairies only)
Hygiene objects
Showers, bathtubs, all-in-one bathrooms, pools. By default, sinks do NOT prevent autonomy, though this can be enabled via tuning.
Bladder objects
Toilets, all-in-one bathrooms
Tuning
The Tuning XML can be found in
spherefish_OneWithNature_Tuning.package
| Variable | Function | Value |
| --- | --- | --- |
| kAllowAutonomy | Allow autonomous interactions for all sims | True |
| kAllowNPCAutonomy | Allow autonomous interactions for NPCs | True |
| kAllowRelaxingInteractions | Allow relax/daydream interactions | True |
| kAllowSleepingInteractions | Allow sleeping on ground | True |
| kAllowBathingInteractions | Allow bathing in oceans/pools | True |
| kAllowPeeingInteractions | Allow peeing on ground | True |
| kAllowSleepingSpots | Allow sims to have dedicated sleeping spots | True |
| kAllowAutoSleepingSpotAssignment | Automatically assign a sleeping spot to sims that don't have one when using the "Sleep here" interaction | False |
| kIgnoreLotSleepingFilterIfSimHasSleepingSpot | Allow sims to autonomously sleep on the floor if they have a sleeping spot even if there are beds on the lot | True |
| kIgnoreLotToiletFilter | Allow sims to autonomously pee outside even if there are toilets on the lot | False |
| kIgnoreSinksForLotBatheFilter | Allow sims to autonomously bathe in pool/oceans even if there are sinks on the lot | True |
| kMaxOceanDistanceForAutoBathing | Max distance sims will walk to autonomously bathe in the ocean | 200 |
| kUseNakedOutfitForBathing | Set to false to make sims wear swimming clothes when bathing in pools | True |
| kPeeOutsidePrivacyRadius | Min privacy radius for peeing in nature autonomously | 5 |
| kMaxDaydreamTime | Max time in minutes sims will daydream on the floor | 120 |
| kMinTemperatureForSleepingOutside | Min temperature in F required for sims to sleep outside | 32 |
| kMinTemperatureForAutoDaydreaming | Min temperature in F for sims to daydream autonomously | 59 |
| kAllowRelaxOnFloorInside | Allow sims to relax on the floor inside | True |
| kAllowRelaxingOnSlopes | Allow sims to relax on slopes | False |
| kAllowPeeOnFloorInside | Allow sims to pee on the floor inside | False |
| kAllowSleepingSpotsOutsideHomeLot | EXPERIMENTAL, only change if you know what you're doing | False |
| kCleanUpNPCSleepingSpots | EXPERIMENTAL, only change if you know what you're doing | True |
Possible issues
The animation transition between relaxing and daydreaming looks a bit weird
The sponge bath animation has some clipping issues for child sims
The "Pee here" interaction icon looks kinda dumb
Sometimes sims have routing issues when using the "bathe in ocean" interaction which cause them to either swim to the right spot instead of wading or stand and bathe on the water
There is a weird glitch that sometimes pops up when using the "bathe in pool" interaction that prevents the Hygiene motive from going up. If it happens to you, just try to repeat the interaction.
Compatibility
This is a pure scripting mod, so hopefully it should not cause any major conflicts. If you notice any bugs or script errors, please let me know!
This mod was built and tested with patch version 1.67.
Localization
This mod is available in the following languages:
If you'd like to translate it into your language, just post your version in the comments or send me a message and I'll add it as soon as I can.

(You can also get the XML version of the strings
here
if you prefer to work with that.)
Packs Needed
None, this is Sims 3 base game compatible!
Other Information
Type
:
– Social : Mods affecting social interactions and relationships between sims
– Additional Functionality : Mods which add brand new functionality to the game