>

Community lots/For when sims leave their houses/It's scary outside
Little Red School House - For Your Country Simmies
MTS has all free content, all the time. Find out how YOU can help to keep it running.
Tell me how...


Created by porkypine View Policy / About Me View Downloads Home
Uploaded 7th May 2006 at 1:44 AM · Updated 7th Oct 2008 at 8:21 PM by porkypine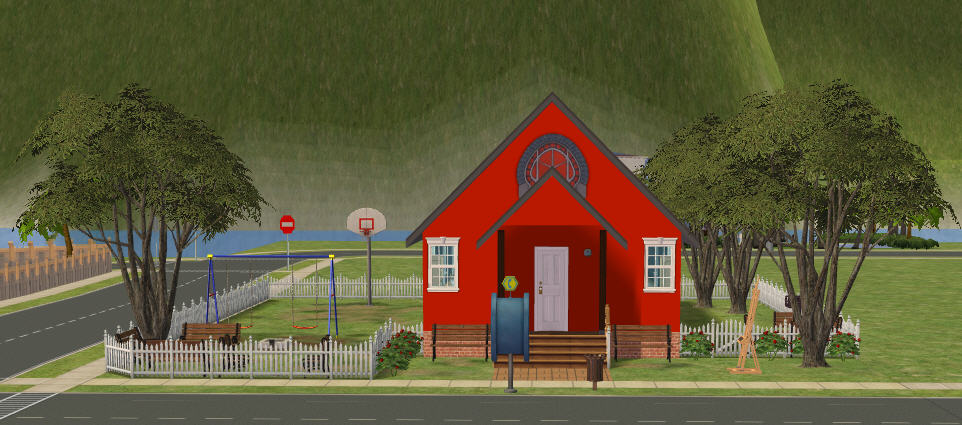 This is the Freetime updated lot.
Every University needs an actual classroom. Well, here's one for your sims. Complete with writing on the chalky blackboards... "I shall not aim spitwads at the clock..." :0) (now you know what we did in 6th grade when the teacher wasn't looking.)
The school uses all Maxis parts except the blackboard and internal walls. I made them. I've also packed the walls & blackboards separately in case you want them for your naughty sims without the school. :0)
Enjoy.
Oh. You can use the wall and blackboards in your own uploads, movies, films, whatever, as long as they aren't on paysites.
school lot 2x2
EP's I have all three EP's but I'm not sure which EP the class furniture belongs to. You'll need at least Sims2 and University (tables) for the original lot that was made for Strangetown.
I have also updated this lot with the Freetime classroom clutter and new landscaping.
CC Included in Lot:
Numenor's Recolorable Wooden Stairs -
http://www.modthesims2.com/showthread.php?t=53159
Patti3428_numenor Deckstairs whitewood and JW cherry recolor
Blackboards by porkypine
Number of bedrooms: Not Applicable
Custom Content Included: Build content only
Furnishings: Starter Furnishings
Special Flags: Not Applicable

Tags: #one room school house, #grammar, #black boards
Mashed Meshes Policy
We all know what a pain it is to find a gorgeous outfit that someone recolored but then we have to go to some other site to get the mesh. Sometimes, that MESH is not easy to find, OR is no longer available. AND, sometimes people just don't have the time to go shopping so they bypass something they may have liked but it was just too much of a hassle to go find all the parts.

With the above thought process in mind , I have decided that any and ALL of my meshes may be packaged along with any recolors that people make, or it can be published at their site as the MESH download of a recolor. The only string attached is that the recolors of my meshes must remain totally free. You can put them in a free download section of a paid site but they can't be a gift for a donation. After all, you got the mesh for free and you wouldn't have been able to make your garment without the mesh.

And, if someone wants to 'steal' my stuff and take credit for it... well, they have to answer to a higher authority for it.
You may include any meshes I create in your uploads as long as you give me credit. :0) Send me a PM so I can see what you've done. :0)

Added: Since I know how much work goes into creating meshes from scratch, you can use any of my meshes as a starting point and add your own stuff to it or change things on it, as long as you take responsibility for the changes to the mesh and DO NOT CHARGE for it. :D

P.S. By all means, if one of my creations is BORKED and you can fix it, please do so. I am a busy person and can't get around to fixing game things all the time and I'd appreciate it if you'd send me a pm with a link to the fixed item. :0)

NOTES FOR SIMS 4 MESHES: Jan 18-2015
I'm learning how to make Sims 4 meshes. Please note that Sims 4 object recolors pack the original as well as the modified mesh along with the recolor. Until that is fixed, (if anyone is interested in doing so) I will only allow recolors of my meshes if they stay here at MTS where I can track them down. The reason for that is if EA makes a change that breaks a mesh, the people who've made recolors need to remake their recolors so it can be packaged with the updated mesh. Sorry, This is a design issue made by EA. This may change later if EA makes a change.