>

Community lots/For when sims leave their houses/It's scary outside
The Parthenon - 2 Versions (Ruined and Intact!)
MTS has all free content, all the time. Find out how YOU can help to keep it running.
Tell me how...
5,729

Downloads
815

Thanks Thanks
85

Favourited
112,262

Views
There is an update available for this mod! Last downloaded: , creator last updated:
Picked Upload! This is a picked upload! It showcases some of the best talent and creativity available on MTS and in the community.

Created by Phaenoh View Policy / About Me View all Downloads Patreon
Uploaded 14th Aug 2007 at 3:52 AM · Updated 24th Jun 2009 at 2:09 AM by Phaenoh : To add compatibility information
Phaenoh's Simspiration Studios Proudly Presents: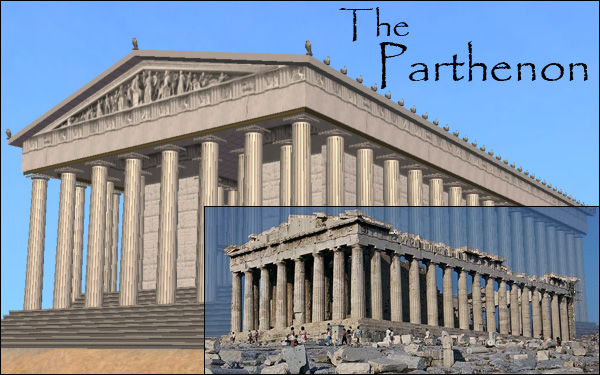 Title:
"The Parthenon" and "The Parthenon Ruins"
Category:
Community Lots
Lot Size:
5x3 and 5x3
Furnished:
sparsely and no
Played/Tested:
no and no
My contest entry is finally ready for the world to have, after 2 and a half long weeks. At first I wasn't going to enter, but then I remembered a book I had from school. This book had a lot of pictures of old buildings, and then the Parthenon jumped out at me. I knew I had to do it.
For those who don't know (one of my younger fans had never heard of it!), the Parthenon is in Athens, Greece. It is a temple to the Greek goddess Athena. She is the goddess of wisdom. Construction began in 447 B.C.E. and was completed nine years later, the last of the sculptures being set place in 432 B.C.E. To learn more about it, read through
this website
. I used it extensively for reference pictures.
I'm presenting you with two versions of the Parthenon, one as it would have been after all the pretty colorful paint chipped off (red, blue, and green Parthenon seemed strange to me) and a modern day version showing the current destruction of it. (I didn't just delete random stuff, I referenced the pictures to figure out what to take away.)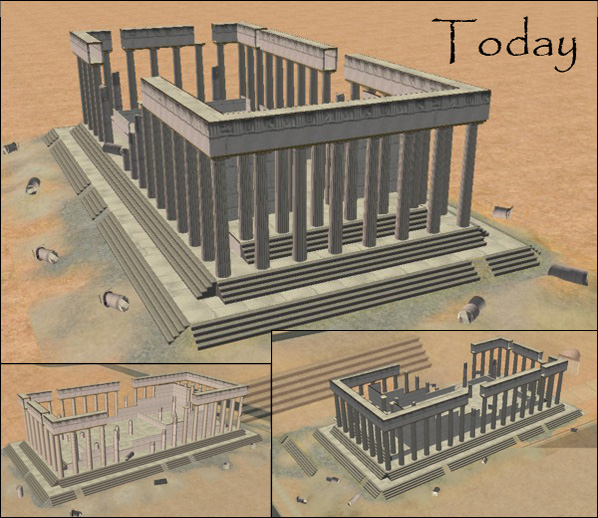 The pediments and entablatures were created using actual images take from photographs of the Parthenon. The statue and columns were meshed using actual images as reference. The statue hasn't exited for many centuries so there are many different variations of it. The roof decorations are only similar to the actual one. One each corner there was a larger statue and running lengthwise in between each row of tiles was an end row decoration. The actual image reminded me of a front on view of a peacock, so it became a chicken somehow. The roof was made of marble tiles sliced so thin they became translucent. It has a really pretty effect and can be seen on a library at Harvard I believe. Ok, now I'm off topic. The complete Parthenon is sparsely furnished with the Statue in the East cella, a table-alter in the West cella and standing candles in every corner.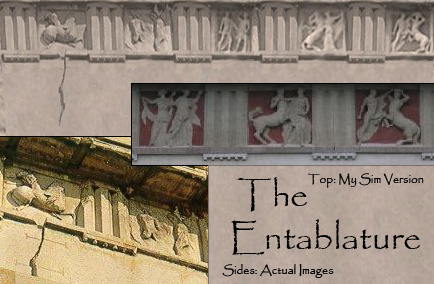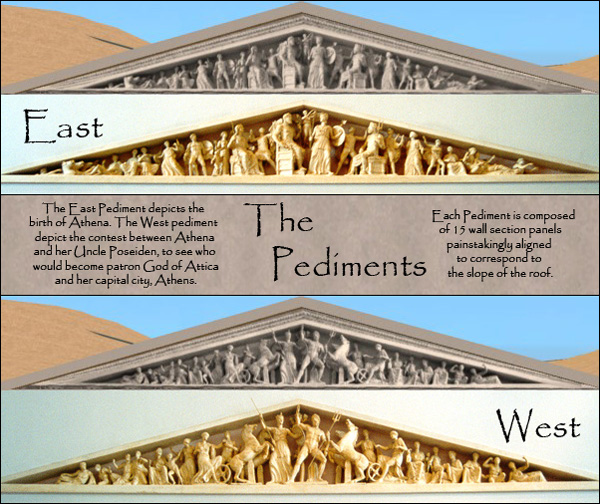 My First Time:
Making Walls, Making Floors, Using constrainFloorElevation cheat, Using IndividualRoofSlope cheat, Recoloring an object, Using Milkshape, Editing a mesh, Creating a new mesh by combining other meshes, Making a UV map, Using
Clean Installer
(I did it right, don't worry), and Uploading a lot! (Hopefully, this is a 'Sim'spiration to my fellow noobs ;-) )
Previous Knowledge:
PHOTOSHOP (thank god), and some 3D experience with 3DStudioVis in high school and FormZ last year in college (only helpful because I understood how some modeling tools work).
Custom Content Included:
(ALL CREATED BY ME! YAY!)
Aged Masonry
- Parthenon Stone Walls
Temple Tiles
– Stone Floors
East and West Pediment Murals
(13 tiles each with 4 spaces of a single filler covering)
Parthenon Entablature Wall Coverings
(5 different ones)
Marble Tiles
- Parthenon Roof
Falcon Recolor
– grey version of the Maxis one
Chicken in a basket Recolor
– grey version of the Maxis one
Parthenon Columns:
1 story, 2 story.
Ruin version only:
3 standing broken columns, 2 fallen rubble pieces –
All versions low-poly
(all under face=276, vertex=283)
Athena Statue
– very high poly, sorries!! (face=5186, vertex=too many faces) (Though, it IS a two story tall realistic statue. It also still works fine on my laptop since the rest of the lot isn't very system taxing, if that's still not enough, the ruins version has no statue).
Compatability:
I have all the expansion packs up to Seasons. You need them too if you want this. Housing and lots are snobbish, they don't like downgrading

Nitty-gritty:
Please
don't upload
any of my creations anywhere, they are my toys to share, but I want to be the one to share them. If you use them in a lot you upload, please link back to me instead of including it. Also, please don't clone/recolor the column meshes I've made for this, as they aren't perfect enough yet and I plan on doing more work to them. I'll eventually make a version that is good enough, in my eyes, to be worthy of recoloring. (Better mesh, enabled slave objects, hey it my first time for ALOT of things, cut me some slack, go drool over that Athena statue, which was my VERY FIRST MESH EVER). Anyways, write me a note and hit the thanks button?
FYI:
For those interested in the process of creating this project, my journal entries numbers 2-8 detail the process, in a rather light and somewhat humorous manner. Read the story
here
.
I know this lot isn't the most 'usable', but with BV coming out, it could suddenly become a very good thing to have. ;-) Leave me a note, thanks!
Enjoy,
-Phaenoh
Additional Credits:
Photoshop, SimPE, Numenor (for inadvertently teaching me the basics of
SimPE
over the last month and a half), Niol and many others for answering my all my enlightened-noob questions in the Modding Discussion thread, ALL of the tutorial writes (I've read almost 75% of them by now, whether they were related or not), my boyfriend for putting up with me being Sim-obsessed this past month, one of my friends for objectively criticizing my statue mesh job by not being afraid that the Goddess would smite him down for calling her fat, and CarmeeKitty, for saying 'wowwww, that is amaaaaaaaaaaaaaaaaaaaaaazing' when I showed her the finished pics, and making my feel good about it.
Blurb and Updatez:
Please don't reupload my work anywhere else. Just point them back here, I'm not going anywhere! :)
Please ask permission before using my work as a base for your project. I almost always say 'yes' and often times I will help you with your project! :bunny:
If you make something (like a story or a video) and it has something of mine in it, send me the link, I love to see my stuff 'in action'!
Sadly, but honestly, I can't take on requests. You can ask if it's something already related to one of my current projects, but I'm not likely to take on your project for you. MTS has lots of wonderful tutorials ;)