'Sand Simolean Point' A Neighborhood Designed for Beach Lots
5,018

Downloads
1,664

Thanks Thanks
170

Favourited
125,777

Views
Picked Upload! This is a picked upload! It showcases some of the best talent and creativity available on MTS and in the community.

Uploaded: 21st Sep 2007 at 2:00 PM
Updated: 7th Sep 2011 at 8:02 PM
Update:
I've redone the terrain to lower the land. In my first version the street was about three stories above the beach water. In the 'Lower' version it is less than one. If you've had trouble placing beach lots in my original Sand Simolean Point, try the lower one!
Simspiration Studios Presents: "Sand Simolean Point"
"The people of Sand Simolean Point welcome you to their quiet little town. They invite you to shop, vacation, and even stay and settle down, provided you can slow down from that fast city pace!"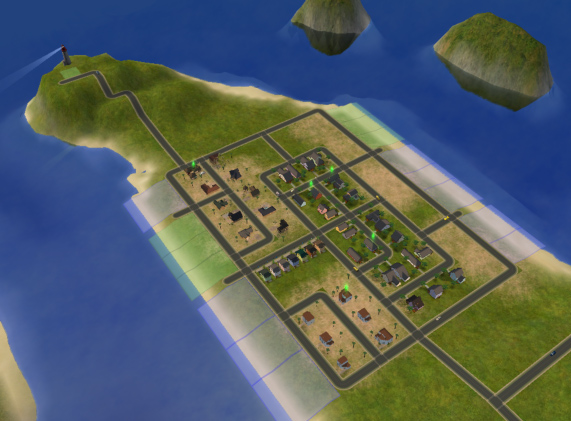 This quaint little neighborhood is perfect for a vacation neighborhood or commercial 'hood. The shorelines have been
painstakingly
leveled to correctly accept the new Beach Lots that Bon Voyage introduced, but if you don't have it, they still will more support the old system of creating beach lots, or just plain look nice with the water behind them. See all the empty lots around the shoreline? They are all beach lots. Mix and match sizes that suit you, every size fits everywhere, I tested to make sure (and had to redo it about 30 times to get it right).
This neighborhood is quite usable without a camera hack, though, if you do use one you can get to the lighthouses (currently, there aren't any there, you have to decorate it all yourself).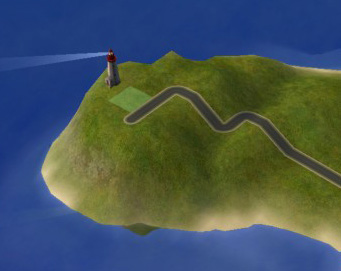 When you download this neighborhood, IT IS COMPLETELY BLANK. There are no lots, no decorations. Populate and decorate (or don't) to your heart's content. I personally think it looks pretty with a couple of lighthouses placed out of normal camera view, some sand, and some palm trees, but do what you like.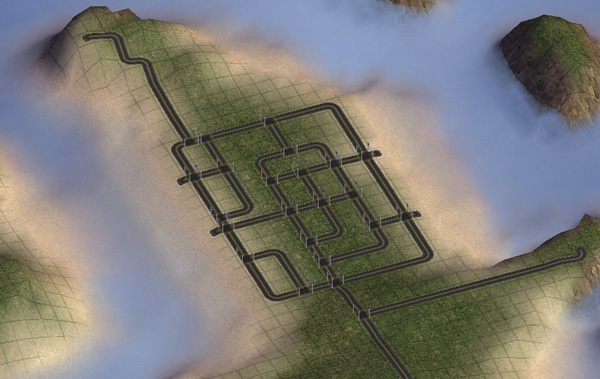 I personally use this neighborhood as an alternate to Bluewater, I moved Don, Nina and Dina, and Daniel Pleasant down here. They were causing too much trouble back in Pleasantview, so they headed for calmer weather. (If you want to move sims to different neighborhoods, first move the sim out of the house, then put the house in the bin, if you move them together, they will forget who they were! Silly sims!)
This is how I've got mine set up. In
red
you can see that I moved the Palm Tree houses from Pleasantview here, they fit in so much better down here in Sand Dollar - I mean Simolean - Point. In
green
you see my latest addition, my
Sand Simolean Point Shops
. In
blue
you see my 'Katrina Cottages'. There are 25 of them, they are all unfurnished, and are all under 20K. I think they are just ADORABLE! (and they got featured!)
Cottages 1-5
,
Cottages 6-10
,
Cottages 11-15
,
Cottages 16-20
,
Cottages 21-25
. The last set you see, in
yellow
, is my 'Nana Series'. There are 10 and they are also available right here at MTS2. They are ALL starter homes and they are
ALL COMPLETELY FULLY FURNISHED
. This neighborhood was made especially for these ten little houses, so go check them out!
Banana Escape
,
Blue Lagoon
,
Patio Villa
,
Calm Serenity
,
Nutmeg Memories
,
Papaya Dreams
,
Seabreeze Island
,
Cinnamon Retreat
,
Seashell Cove
, and
Licorice Daze
!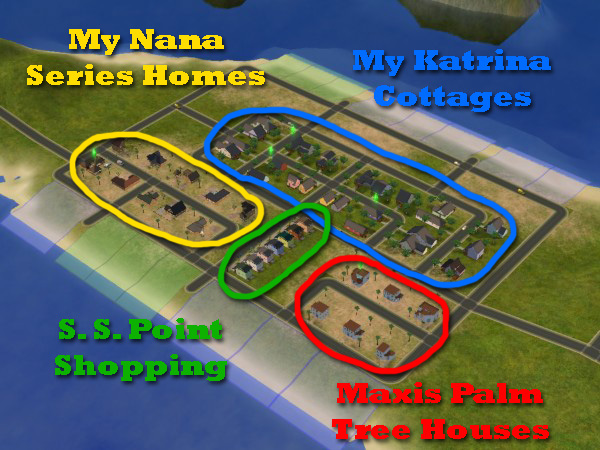 To install, place all of the files that you have downloaded here and un-rared in your SC4 Terrains folder.
Enjoy!
-Phaenoh
P.S. I love reading comments! Leave me a couple?
Additional Credits:
To EA, for making it SO EASY to edit terrain in SimCity4. I'm SO GLAD that I can EASILY tell if the beaches are at the right level or not. ...hate them.
Blurb and Updatez:
Please don't reupload my work anywhere else. Just point them back here, I'm not going anywhere! :)
Please ask permission before using my work as a base for your project. I almost always say 'yes' and often times I will help you with your project! :bunny:
If you make something (like a story or a video) and it has something of mine in it, send me the link, I love to see my stuff 'in action'!
Sadly, but honestly, I can't take on requests. You can ask if it's something already related to one of my current projects, but I'm not likely to take on your project for you. MTS has lots of wonderful tutorials ;)