>

Modified configuration files that are not packages.
Phaenoh's Great Clothing Migration V2 -UPDATED 9/10-
MTS has all free content, all the time. Find out how YOU can help to keep it running.
Tell me how...
54,495

Downloads
1,415

Thanks Thanks
262

Favourited
165,470

Views
Picked Upload! This is a picked upload! It showcases some of the best talent and creativity available on MTS and in the community.

Uploaded: 5th Apr 2008 at 3:55 AM
Updated: 19th Jul 2011 at 6:06 PM
Updates:The Apartment Life Version is here! I've done my usual rearranging. Sorry for the long wait, I was out of the country! - Sept. 10, 2008

I've hidden all the FreeTime career athletic looking outfits in the everyday catagory. These outfits need to remain in everyday so the career that they belong to will work properly. These outfits are also hidden in the athletic category. It is not possible for the same outfit to be hidden in one category and shown in another. I will have a work around for your 'lost' clothes here. -May 30, 2008

I've rearranged a lot of the hair, please redownload if you see fit. I've also added in Kitchen and Bath Stuff too. I've also renamed all the files to start with zz_Phaenoh... since that was required for many people to get it to work correctly. This also means that it will NOT overwrite the old files. Please delete them from your install location. Since the new ones are named lower in the alphabet that the old ones the game will use the new ones instead, but its worthless to keep the old files around. -Apr.26, 2008
Note: If you want to learn how to do this yourself, I've written a tutorial!
I've since come out with many tiny Catalog Edit Mods (I've linked to them all in case you prefer them in bits and pieces or just are curious what an outfit is) and I was tired of sifting through them all in my Bins folder so I have combined them all. This is version 2 of my
Great Clothing Migration
. The new features include Catalog Edit Mods for all of the Stuff Packs and FreeTime. (Pets not included because I didn't find anything in the wrong category for them.) PLEASE do not just blindly pick the download that is labeled FreeTime thinking you will get everything below it, YOU WILL NOT! Each file contains different clothes being moved to different categories based on which Expansion Pack they were introduced with. You still need to download each file for each expansion pack you have to 'completely and properly' clean up your clothing catalog. Also, after you are done downloading and installing this, go through your Bins folder and delete any other Catalog Edits of mine, You Don't Need Them Anymore! FREEDOM!
Here is a pic of what will be in your Adult Ladies Outerwear Category if you download and install properly all the files given here. (Your mileage may vary based on your own EPs and SPs.)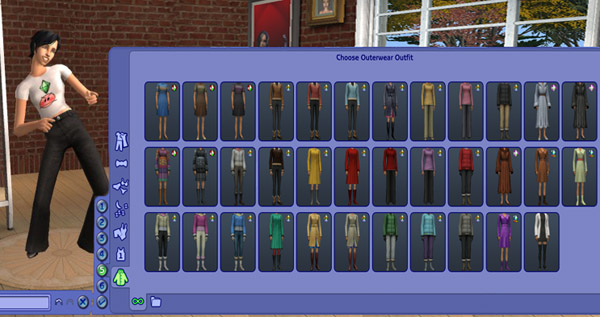 As I've had a few PMs and comments saying they didn't want to download this without knowing exactly what it is, I will attempt to outline which clothes in each .rar get moved to where. (Am I serious?!?!? WHY?!?! :: grumbles :: because I love you guys…) MANY (if not most) I've made Default Replacements for. Some of them don't make much sense without also getting the replacement. I've linked to them for your convience.
Base Game:
Moved the Adult
Sweatsuits
from Everyday to Athleticwear. Removed the Teen, Adult and Elder
Tracksuits
from Everyday leaving them only in Athleticwear. Moved the Men's Couture Jackets to Outerwear. Moved the HipHop Athletic suits from Everyday to Athleticwear. Men's LooseOpenCoatPants, OpenCoatJeans, and OpenSportCoatLongPants got moved to Outerwear. BabyNewYear is now Undies (will probably produce interesting results during the New Year's Party, though I don't care) Ladies'
Hooded Jumpers
are moved to Athleticwear. Teen's ArmWrap Dresses are in Formal only now. Teen's
Hip Sweats
are also only in Athleticwear. Teen
Athletic Jerseys
are in Athleticwear. Teen FormalDress is only Formal. Girl's JacketDressFlares are in Outerwear. Teen's HoodedSweatshirtBoardShorts are now also in Athleticwear. Teen's SloppySuits have been placed in Formal and Everyday. Teen's Trench Coat is now in Everyday and Outerwear. Elders's LongLoose Dresses are in Everyday and Formal. Elder Sweatsuits have been moved to Athleticwear.

3 Ugly Elder
Swimsuits
have been
removed from this mod due to being work clothes, see the link for the fix
. Toddler's OpenCoatDress is in Outerwear, and the fancy pretty SundressSleeves is in Formal (yes I know that means you can't change into it, I'm still working on hacking the changing table for it though, sit tight). Toddler JacketPants are in Outerwear. Toddler Holiday outfits are in PJs only. All the other Toddler outfits (
stripes
and
solids
) based on that mesh are also only in PJs.

Holiday hats have been moved to outerwear. The European Santa coats are only in outerwear. The crown is now only in formal. Baseball caps have been added to athletic. Ladies beenie hat has been added to outerwear and men's been hat has been moved to outerwear. The fargo hats have all moved to only outerwear. The men's fedora has been added to outerwear and formal too. (377 outfits and hair)
University:
Added Adult PJs Night Slips and Shirtless Pants to the Young Adult Category. Removed the 2
Solid Colored PJs
all together. Added almost all the
Adult Bikinis
to the Young Adult. Added the remaining
Swim Trunks
and Speedos to Young Adult. Added Men's
Briefs
to YA. Added all the new PJs and Swimsuits for Young Adults to the Adult Category. Gave Men's Preppy Outfit to Adults. Did some more stuff to make the above Base Game Moves compatible for Young Adults.

Male bandanna has been removed from formal. (69 outfits and hair)
Nightlife:
Moves Belted Coats from Women's Everyday to Outerwear. Removes the Asymmetrical Dress from Everyday leaving it only in Formal. Makes the Red Vampire Dress visible in catalog in both Formal and Everyday. Removes the Short Ruffle Dress from Formal leaving it only in Everyday. Moves men's Jacket from Everyday to Outerwear. Moves men's Leather Pea Coat from Everyday to Outerwear. Removes Sequins Contest Dress from Everyday leaving only Formal. Removes Red Cami Contest Dress from Formal leaving only Everyday. Moves toddler Hooded Sweater from Everyday to Outerwear. Moves toddler tuxedo to (boys only) Formal.

Men's swoop hair is not formal. Toddler animal hats have been moved to outerwear only. (57 outfits and hair)
Open for Business:
Moves elder men's Open Shirt from Everyday to Outerwear. Moves all the toddler 'animal suits' and matching hats from wherever they were to only Outerwear.

Ball caps have been added to athletic. (115 outfits and hair)
Family Fun:
Removes the Princess Dresses from Everyday leaving them in Formal. Removes the inner tube snorkel outfits from Everyday leaving them only in Swim. Removes the
Nightcap Hair
from all categories except PJs.

Crowns and tiara hairs are now only in formal. (52 outfits and hair)
Glamour Life:
Removes the Fur Coats from Everyday leaving them only in Outerwear. Removes the new PJs from the Young Adult age.

Moves the wedding veil hair to formal only. (17 outfits and hair)
Celebrations:
Moves all the toddler
Formalwear
from Everyday to Formal.

Moves all the wedding veil hairs and the flower hairs to formal only. (47 outfits and hair)
Seasons:
Removes all the outerwear that was doubling in the Everyday category leaving them only in Outerwear.

Removes the snow hats from everyday. Fixes the male toddler hats binning problem. (221 outfits and hair)
HM Fashion:
Shuffles many of the adult dresses around from Formal and Everyday. Two Dresses with Boots became Outerwear. Moves the Wool Dresses to Outerwear. Moves the men's Pea Coat and Price Blazer to Outerwear from Everyday. (27 outfits)
Bon Voyage:

Frond hairs have been relegated to only everyday and outerwear. (20 hairs)
Teen Style:
Removes guy's tracksuits from Everyday leaving them only in Athletic. Adds the yoga outfits to PJs.

Visors have been added to athletic. (20 outfits and hair)
Free Time:
Hides all the ballerina unitards and tutus, sporty and exercise-y clothes, and the soccer outfits in Everyday and Athletic.

Flamenco hat is added to formal. (69 outfits)
Kitchen and Bath:

Removes the towel turban and sleep eye mask hairs from everyday leaving them only in sleep and undies. (35 hairs)
Apartment Life:

All witch outfits and hats are now in everyday, formal, and outerwear! All tennis outfits and jogging suits have been banished to only athleticwear along with the stadium bodypaint men's outfits. I also stole the tennis dress out of grandma's closet because that short a dress wasn't tasteful on a lady of her age. The ladies 'lil black' dress is now only in formal and so is the teen's shortprint dress. I also added the af bowblouse to formal and the em blazersweaters and blazernecks. The men's cordjacket was removed from formal leaving it only in everyday. The ladies halfjacket was moved to outerwear as was the men's bucklecoat and the men's sidezipjacket. All the fedora hats and the paperboy caps have also been added to outerwear. (252 outfits and hairs)
There you go. Now you know.
This game mod will clash with any other mod that does the same thing. It is meant to REPLACE all the little tiny ones in your Bins folder that I have released. Delete them if you download this! You don't need them anymore! The other mods that I know about that will clash happen to be my
Athleticwear Mod
, my
first version of this mod
, prolly fanseelamb's
Outerwear Mod
, and any '
Maxis Hider
' mods you have. One exception. fanseelamb has a version that includes the OFB costumes in outerwear. I didn't touch those customs (except the toddler bear outfits) so you can do what you want with those. If you find that you don't like what I did to your catalog, remove what you didn't like. If you hated all of it, may I suggest the other links as alternatives?
Installation Instructions:
In order for the clothes from most recent EP or SP to actually move you can place all the files here C:\Program Files\EA GAMES\The Sims 2
Highest Expansion Pack You Have
\TSData\Res\Catalog\Skins instead of the usually Bins or StuffPack folder. If that doesn't work, try these other two locations instead. C:\Program Files\EA GAMES\The Sims 2
Highest Expansion Pack You Have
\TSData\Res\Catalog\Bins or C:\Program Files\EA GAMES\The Sims 2
Highest Expansion Pack You Have
\TSData\Res\StuffPack
You can put these files in your Downloads folder, but if you do, the delete button will be enabled in CAS and Body Shop. They will also not move the clothing and it will all be treated as custom content. Do NOT delete them in CAS or Body Shop. Doing so may corrupt some of your game files. To remove, delete the files themselves from the folder you put them into.
Compatibility:
If you do not have Seasons, all of the clothes that have been moved to Outerwear will be missing from your Catalog entirely. I tested it, it won't crash your game, you just can't get at the clothes. This might not be a bad thing in some cases (toddler animal suits?). Read through what I've listed is in each and decide for yourself if it is worth it.
Enjoy!
-Phaenoh
Additional Credits:
Photoshop, Simpe, and a couple pieces of good ol' loose leaf paper!
Blurb and Updatez:
Please don't reupload my work anywhere else. Just point them back here, I'm not going anywhere! :)
Please ask permission before using my work as a base for your project. I almost always say 'yes' and often times I will help you with your project! :bunny:
If you make something (like a story or a video) and it has something of mine in it, send me the link, I love to see my stuff 'in action'!
Sadly, but honestly, I can't take on requests. You can ask if it's something already related to one of my current projects, but I'm not likely to take on your project for you. MTS has lots of wonderful tutorials ;)