>

Any combination of build mode items (not including doors & windows). Items made with Numenor's Wall/Window set.
Log Cabin Construction Kit - v1.1-BETA
MTS has all free content, all the time. Find out how YOU can help to keep it running.
Tell me how...

Created by FifthAce2007 View Policy / About Me View Downloads Home
Uploaded 11th Nov 2007 at 1:09 AM · Updated 11th Nov 2007 at 9:25 PM by FifthAce2007 : Updated Corner Pieces
Testers Needed
*UNTESTED SET*
Ever fancied building your Sims their very own log cabin or mountain retreat?
With this kit, you can!
Like the one above?
This kit contains
'real'
log cladding, as well as a few other supporting items.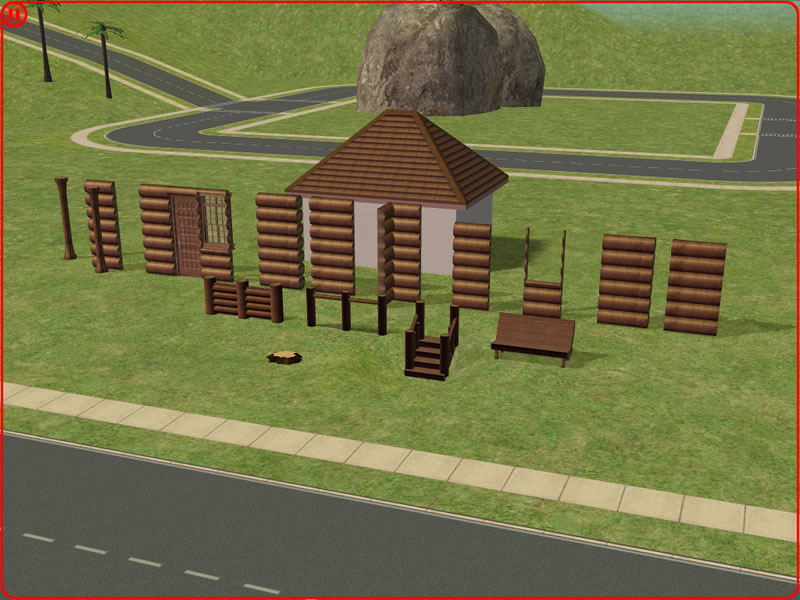 Items:
(Refer to image above)
Rear Centre:
Custom Roof Tiles
Left to right-middle row:
Solo wood column
Log Cladding with column
Log Cladding main wall section
Log Cladding with door, (left and right version)
Log Cladding window section & window
Log Cladding corner section Left & Right
Log Cladding inverted corner section
Remainder of row; roof version of these. (Allows you to have a roof on without the cladding sections poking through the front of the roof)
Left to right-front row:
Log Fence
Matching Modular Stair Fence
Modular Stair
Log Bench
The
tree stump
you can see in the front of the image above is actually a hacked opbject, made with the assistance and based upon
'Inge Jones'
column concealer.
All the cladding items are made using a single column, however, this will make gameplay difficult as columns do not lower with walls. With this item, all you need to do is click on it in Live mode and hide all columns, to make them re-appear, simply click it again and select the relevent option.
Installation:
1:
Download and extract
ALL
files to a folder on your pc, don't put them into your downloads folder just yet.
2:
(If you are not planning on using the modualr stairs with this set you can skip to step)
You
NEED
to download
numenor's
scriptorium
from
HERE
and follow the instructions in that thread to install it.
3:
Now, locate the
.txt
file that came with the download, now, go to your doanloads folder, and click on the
'Modular Stairs'
shortcut, and place that
.txt
file in there.
4: Now, place the remainder of the files, all
.package
, into your downloads folder itself.
5: Launch the game, and go into the collections folders, and it should be the last one in the list, everything should be in there.
Building Notes:
When building on a second floor, or on a decking, you have a choice:
You can either your the 'moveobjects' cheat, by pressing
CTRL+SHIFT+C
and typing
moveobjects true
Type
moveobjects false
to turn it off again.
OR
You can place a floor tile around the outside edge of your walls. This is needed to allow you to place the cladding. Remember, they think they are columns!
The Column Concealer wont funtion if you are in just build mode, it needs an active sim to work.
I think thats all you need to know for now, please
ONLY
download this if you are willing to provide contructive feedback.
Other:
You may notice that most of the items have four colours available, although they are all the same. This is for once I have verified there are no major problems with the set, and will be updated in a future release.
Polygon Counts:
All cladding items are around 450 Polys each.
The doors, windows, stairs etc, are all slightly higher than their maxis originals
but remain around 260 Polys.
Please Note: These are columns. It will be like placing a column next to EVERY wall section in your lot. Bear this in mind when building/playing.
Additional Credits:
Huge thanks go to Inge Jones for her assistance with the column concealer hacked object.
*Edit*
The second .rar file is the collection file, I just gave it a bad name

*Updates*
Increased the width of the corner logs, so that they protrude further.
Download
ALL
files, and allow the
'Update #1'
packages to over-write the ones already present in your downloads folder.
Tags: #log cabin, #mountain cabin
About Me
Duplication Policy:

Unless I state in my post's, please do not copy my work. If I am willing to allow it, I will state in the indvidual post.

Is this harsh, yeh, maybe, but hey, such is life ;)