Ankh Tattoos - 4 designs
7,065

Downloads
596

Thanks Thanks
48

Favourited
43,630

Views

Uploaded: 20th Jul 2010 at 11:55 PM
Updated: 10th Jul 2011 at 10:44 AM by Astraea Nevermore
"The Ankh, also known as key of life, the key of the Nile or crux ansata, was the ancient Egyptian hieroglyphic character that read "eternal life", a triliteral sign for the consonants ˁ-n-ḫ. Egyptian gods are often portrayed carrying it by its loop, or bearing one in each hand, arms crossed over their chest."
(Wikipedia)
Been a while since I uploaded anything!

Sooo... this is my first set of tattoos for Ambitions: there are four different designs of the Ankh symbol. Two of them are very simple, while the other two are more decorated. All of the tattoos have only one recolourable channel.
You will find them under the Tattoo section in Genetics. Obviously, they're for both male and female. You'll need Ambitions for them to work.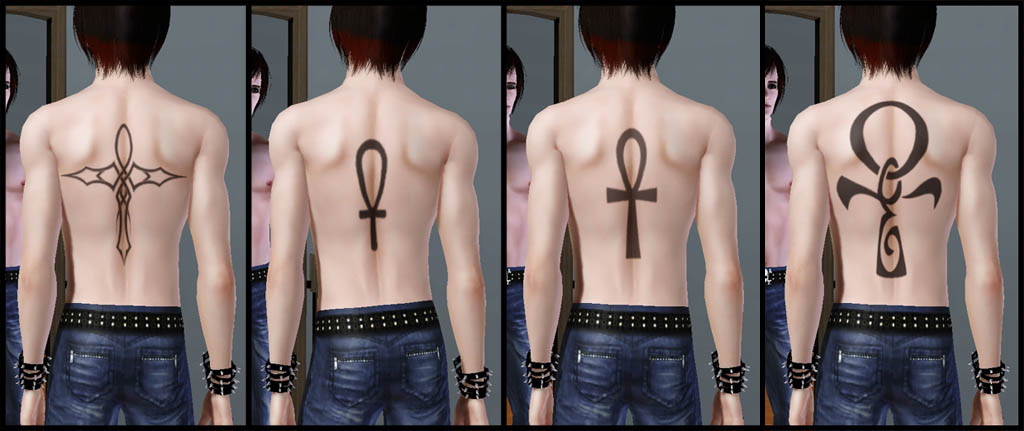 Here's a recolour example and some placements of the tattoos in different positions:
...Hope you'll like them! =)
Additional Credits:
-CmarNYC's
Tattoinator
and her very useful
tutorial
on how to make custom tattoos
Hair on model:
-
Peggy
-Ambitions bonus hair (coming with the EP after registering the game on the official site)
Clothes & other stuff:
-Aikea Guinea's
Big Empty
jeans and
spiked bracelets
-Cutthroat Dollie's skins made non-default by
Araenna
Packs Needed

For a full list of packs with names, see the Packs Needed popup.
Other Information
Maxis Flags
:
– AmbTattoo : Ambitions Tattoos
Packs Needed
| | Base Game |
| --- | --- |
| | Sims 3 |
| | Expansion Pack |
| --- | --- |
| | Ambitions |
Policy
•
Feel free to edit, fix, retexture, recolor, include my meshes with your retextures/recolors, include my cc with your sims/lots
and anything else you can think of, no need to ask.
•
Please do not re-upload my stuff.
If you see that one of my uploads is missing, contact me and I'll be glad to provide a new working link for you.
•
No Adfly/any kind of paywall and/or paysites.
This applies to both sims using my content and retextures/recolors of my meshes.
Patreon downloads are fine ONLY if your retexture/recolor/edit is available for free right from the start.
No "Patron-exclusive" content or anything like that. My content is free for all and will always be, and so should be your edits of my stuff.
• Credit/tagging/linking is nice, although the last two are not mandatory. As long as you don't claim you made my crap, you're free to do whatever you want :D
• Remember that a lot of my stuff wouldn't even exist without the work of other creators, so please try to respect them as well :)
• Most important:
HAVE FUN!
Check my other downloads over at Tumblr!
If you'd like to support me, please consider making a donation at my Patreon :)