Sims 3

>

>

Programs and utilities either to mod the game or to make it easier to install content.
Create your own no effects mod tool (updated 07/02/2013)
24,542

Downloads
1,196

Thanks Thanks
283

Favourited
214,876

Views
Picked Upload! This is a picked upload! It showcases some of the best talent and creativity available on MTS and in the community.

Uploaded: 21st Jun 2011 at 4:36 PM
Updated: 27th Nov 2013 at 3:52 PM by Nysha

10/17/2013: The tool still works with patch 1.63. I don't expect them to make any changes to the effect resource format after the last EP, so this is probably the final version of the tool (at least as far as patch updates go).
07/02/2013: Fixed a bug that caused packages for games patched to 1.38 or older versions to be broken. If your patch level is 1.42 or later, you should be fine. Thanks bunnypig for reporting the issue!
06/18/2013: Update to fix issues with patch 1.55 in s3piwrappers.EffectResource.dll. As always, make sure to create a new package for the patch.

02/19/2013 Note: The tool still works with patch 1.50. Just make sure to create a new package for the patch (as you always should when the effects resource changed).
01/22/2013 Note: Still works with patch 1.48 (effects resource was the same as in 1.42).
01/11/2013 Note: Still works with patch 1.47 (effects resource was the same as in 1.42). I also added a section that explains the use of the fog emitter to check effects in game. Please don't PM me to ask the names of effects. If you cannot find it even with the fog emitter, ask in the comments to this post, so that others can help or benefit from an answer.
Updated 11/01/2012: Updated to work with 1.42.
09/11/2012 Note: Still works with patch 1.38. Just make sure to create a new package for the patch (as you always should).
06/04/2012 Note: Still works with patch 1.34.
Updated 05/27/2012: v1.0.7 Update should allow tool to run even on early versions where no DeltaBuild0.package exists.
Updated 03/09/2012: You can still use the tool with 1.32. The patch added some effects that were obviously not yet meant to be released, but you can update your mods to be on the safe side.
Updated 03/05/2012: v1.0.6 Update to fix issues with patch 1.31 in s3piwrappers.EffectResource.dll. Switched to .NET 4 and new s3pi libraries. Added Russian translation by Alienka. Thank you very much!
Updated 11/24/2011: Replaced s3piwrappers.EffectResource.dll with one that fixes issues with missing leash effect (and possibly others). Many thanks to rocky44345 for reporting the issue.
Updated 11/05/2011: v1.0.5 Update for use with Mono. Also updated the s3pi libraries while I was at it.
Updated 10/19/2011: Replaced old s3piwrappers.EffectResource.dll with one that works with patch 1.26 (Pets). Thanks to ChaosMageX, who contributed to the changes in Atavera's wrapper that made this work. (I compiled the wrapper myself, so if things behave in an unexpected way, let me know.)
Update 08/07/2011: v1.0.4 added options to store and load the unchecked effects for easier updating to a new patch and filter options to filter for checked or unchecked
Update 07/25/2011: Removed code I used for creating localization of effect names, so that exporting the effects list now again simply returns a simple list of all effects (instead of "effect_name=effect_name").
Update 06/23/2011: Added Polish translation of GUI (Thank you, hotroxy777!). Also added ability to localize effect names. "Export List" will still contain the original effect names.
Update 06/22/2011: Added ability to export the list of effect names into a text file (so that you can always easily create the latest fog emitter effects list) and right-clicking on an effect name now copies it to the clipboard (for easy pasting into the fog emitter dialog).

So maybe you don't actually mind the automatic memories for important moments, but the smileys ruin all your wedding photos. Or you'd like to use the Eye Candy reward but don't want your sim to sparkle for the rest of their sim life.
This is a tool that makes it easy for you to switch off visual effects you don't want to see!

Usage: Copy the package that the tool creates into your mod folder. Only use
one
package at a time! (In particular, if you have the No Mosaic mod, remove that and uncheck "simcensorfx" in the tool instead to get rid off the mosaic, in addition to other effects you want to kill.)

Note: Mods created with this tool override the _SWB resource (TGI: 0xEA5118B0-0x0051185B-0xAE1859FADE0A9056) from DeltaBuild0.package and will conflict with all others that do so (e.g. my No Mosaic mod).

Game version: This should work with older and future patches, as long as the effects wrapper can read the resource in DeltaBuild0.package.
Make sure to always create a new package if a new patch comes out.
This is especially important for new EPs that introduce new effects.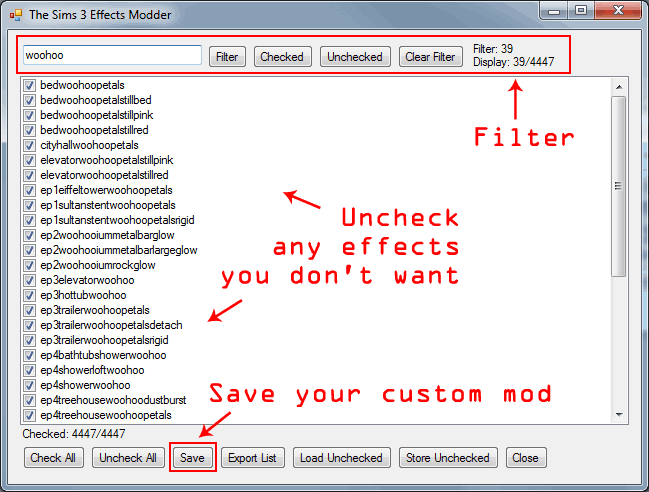 Requirements: The tool requires .NET Framework 4.0 to run.
Instructions:
a) Unzip the tool
b) Start TS3_Effects_Mod_Maker.exe.
c) (optional: If the tool cannot read the Installation directory of the Sim 3 base game from your registry it will prompt you for it.)
d) It might take a few seconds for the GUI to appear since it has to read all effects first.
e) Uncheck the effects you don't want
f) Click save and enter the path where you want to save your mod package (e.g. in your mod folder)
g) Wait for a message to pop up that confirms your file was saved (this should only take a few seconds)
h) Close the tool and test the package in game
Import/Export
You can click "Export List" to export a complete list of all effect names into a text file.
"Store Unchecked" will save a text file with all currently
unchecked
effect names.
"Load Unchecked" will allow you to load a text file. Every effect in the text file will be unchecked in the tool. (Previously unchecked effects will remain unchecked.)
Tip: For easy updating after each patch, save a list of the effects you always disable. When the next patch rolls around you can simply start the tool and load the previously saved list and the tool will uncheck all those effects for you.
Filter
Since there are thousands of effects, I also added filter functionality to the tool.
How the filter works:
Enter a filter word and click filter to narrow the list down to the effects that contain the filter word.
If the result of the filter will display less than 200 effects, the tool will narrow the list down even as you type (i.e. without having to click the "Filter" button).
If the result of the filter is more than 200 effects but you still want to see them all, you'll have to click the "Filter" button.
(I swear it's not as complicated as it sounds

)
You can also click the "Checked" or "Unchecked" button in the filter toolbar to filter for all currently checked or unchecked effects respectively.
Next to the filter buttons you can always see how many effects are currently visible and how many the current filter would display. (So if the "Filter" number and the "Displayed" number don't match, just click the "Filter" button to make the tool display all effects for the current filter.)
You can at any time clear the filter to display all effects.
Note: The Check/Uncheck All buttons only apply to the
visible
(i.e. filtered) effects, so you can conveniently filter for "memories" and then deactivate all six memory effects at once by clicking the "Uncheck All" button.
Examples
Here are some examples of effects you might want to get rid off:
simcensorfx: nudity mosaic
ep1eyecandy: sparkles from the eye candy reward
ep4memorieshappyfx: sparkles for the memories (neutral and unhappy analogous)
memorieshappy: smiley for the memories (neutral and unhappy analogous)
ep7buffsparkly_main: vampire immortal lifetime reward sparks
Fairy wings: all 216 effects including the term "fairywings". Every wing form has a whole set of effects for both dark and bright colors.
How to find the right effect
It's often easy to tell what an effect does just from the name, but sometimes it's not clear. What you can do is
try the effects out on the fog emitter
. (See discussion
here
and elsewhere in the forums or read the following instructions.)

Instructions for using the fog emitter to check effects
Note: You'll need Ambitions or patch 1.42 or later to use the Fog Emitter.
Go into buy mode
Press Ctrl+Shift+C to open the console and enter "testingcheatsenabled on" without quotes to enter cheats mode
Bring the console up again and enter "buydebug" without quotes
Click the question mark category and select the last tab "Misc. Objects"
Select the turquoise ball labelled "Fog Emitter" and place it: To make sure effects are fully visible you could place it on a glass surface or put it on the ground and then move it up with Twallan's DebugEnabler (in live mode, click the area you placed the Fog Emitter, then select NRaas->Debug Enabler->Move...->Up)
Back or still in buy mode, press and hold Ctrl+Shift and then click on the Fog Emitter
Select "Set Visual Effect..."
In The Sims 3 Effect Modder window, right-click on the effect name you want to check to copy it into the clipboard
Paste the name into the "Set Visual Effect" dialog and confirm it
Go back into live mode and make sure the game isn't paused. It might take a moment, but a static or animated effect should appear.
Tip: Right-click on an effect name to copy it to the clipboard. That makes it easy to paste it into the fog emitter dialog.

For your information: If you'd like to provide different ready-made flavors of effects mods made with this tool, please do so. It was the reason for making it.
Localization
Localization: The GUI of the tool is localizable. I've provided a German localization file. To use it, simply copy the content of "localization_de.txt" into "localization.txt" (or rename it). Other languages work analogously. You might need to expand the GUI if buttons or labels are suddenly missing (because they became too large).
For translators: Simply copy the localization_en.txt and change the name to fit your language code. Then make the translations. To test, copy the content of your file to "localization.txt".
Note:
The effect names cannot be localized at this point. There are over 4,000 effects currently in the game! If someone seriously wants to translate them, let me know and I'll see about making them localizable.
Effect names can now be localized. You must make sure the translations are unique.
Additional Credits:
Thanks so much to Peter Jones for s3pi and Atavera and ChaosMageX for the extra s3pi wrappers! (As per the S3PI license, this tool is also GPL 3.0 and the source code is attached.)
Packs Needed
None, this is Sims 3 base game compatible!
Other Information
Operating System
:
– Windows : Windows XP, Windows Vista, Windows 7, etc
Utility Type
:
– CC Editors : Tools for modifying .package files, sims*pack files, and resources contained within those files.
Plugin Type
:
– Not Applicable : Standalone tools
About Me
Please feel free to pick apart and reuse anything of my mods that you find useful.

If you have a problem with/question about one (or more) of my mods, please post in the appropriate comment section of the download and don't PM me. Thank you.