>

Mods that replace game resources other than the script core.
Less or No Laundry on the Floor
MTS has all free content, all the time. Find out how YOU can help to keep it running.
Tell me how...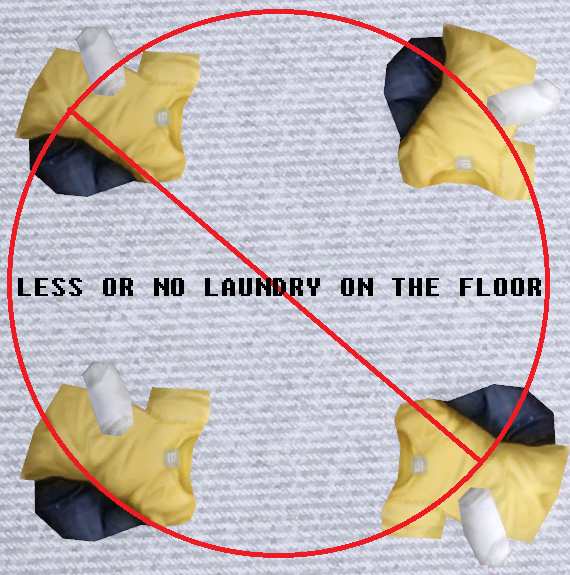 Created by gesimz View Policy / About Me View Downloads Home
Uploaded 4th Nov 2011 at 12:19 PM · Updated 19th Oct 2013 at 2:39 PM by gesimz : Confirm 1.38 Compatibility


No Update Is Required For Patch 1.63 and Into the Future


What This Mod Does
This is a tuning mod that can either reduce the amount of laundry piles that appear on the floor in a 24 hour period once a Sim gets changed to complete a particular task, or can eliminate laundry piles appearing on the floor FOREVER depending on which version of the mod you choose.
Less clothes on the floor = Less Washing! YOU CAN ONLY USE ONE OR THE OTHER, NOT BOTH!
Specifics Regarding The Two Mod Versions Available
The
50% reduced version
, does as the name suggests, it halves the amount of laundry piles that can appear on the floor for regular Sims once they get changed to complete a particular task from 2 piles to 1 in a 24 hour period, and halves the amount of laundry piles that appear on the floor for Sims with the Slob trait that change clothes from 4 to 2 in a 24 hour period and reduces the chance that a Sim with the Slob trait will not put clothes in the laundry hamper/basket from 50% to 20%.
The
other version of this mod is self explanatory
,
no laundry will appear on the floor EVER
, regardless of how many times you get changed in a 24 hour period, and this extends to Sims with the Slob trait as well as reducing the chance of Slobs not putting clothes in the laundry basket to basically 0%.
Compatibility
This mod was made with the latest 1.26 patch but in order to get proper use out of the mod, you either need to have the Ambitions Expansion installed, or you must have purchased a Washing Machine from the Official Sims 3 Store that installs the new Gameplay into your game.
This mod edits the LaundryManager XML file and will conflict with any other mod that edits the same XML file.
Installation
Simply drag and drop/cut & paste/copy & paste the .package file into your Mods\Packages as normal.
Additional Credits:
S3PE
and its developers & MTS for hosting said program and this upload.
Type: Other

Tags: #Ambitions, #Laundry, #Piles, #Reduce, #Remove Permanently, #Hamper
About Me
***I am current not taking requests for mods for The Sims 3 at this time and will permanently shift my attention towards The Sims 4 when it releases in September 2014.***

I'm relatively new to Sims modding, only discovering it in late 2011 (very late to the party, but better late than never I suppose). I make mods to satisfy my own personal needs filling in gaps (whether they be new or updating existing mods), and then offer to release them publicly for others to use as well.

MOD UPDATE POLICY:

I give permission for anyone here to update the mods i've uploaded for the latest expansion packs/patches on the condition that I am inactive (i.e. not having logged on) for at least one month, I haven't stated in any capacity that I plan to update said mod either via the mod thread or in my journal, the updater states it's not their original work/is an update, and gives me credit by linking back to the original mod at the beginning of the main text description for the updated version.