Buy Mode

>

>

Plants, sculptures, wall hangings & paintings, mirrors, curtains, and miscellaneous.
DIY Curtains, Blinds, & Shutters
MTS has all free content, all the time. Find out how YOU can help to keep it running.
Tell me how...
46,985

Downloads
2,475

Thanks Thanks
460

Favourited
144,322

Views
Picked Upload! This is a picked upload! It showcases some of the best talent and creativity available on MTS and in the community.
Personal Picked Upload!
This is a personal favourite of the creator!

Uploaded: 14th Jul 2012 at 3:19 PM
Updated: 25th Aug 2012 at 6:20 PM by SeeMyu
Might I take a moment here to collapse on the ground from exhaustion? .. This was such a stressful project, but I'm finally glad to say I finished it and was able to have everything work the way it was supposed to!

I want to send out SeeMyu hugs and mega thanks to bakafox for giving me this idea and helping me along the way with what might work best with this set!

Please read the
How To Use
Instructions below before installing and using! There is something you need to know in order to make these work the proper way.
These do also require the
Ambitions
patch or above in order to work. You do not need the expansion.
Update 8/7/12:
The irrelevant hook has been removed from the 2x1 shutter and now looks normal when using them. Also, (though, I updated this a while back) the normal hoop rings have been updated to the correct size and now should work with the rods.
I know I am not the only who would constantly get furious at the curtains/windows/etc for not matching up with a certain window. This is something I found strangely odd but sort of brushed it off. That is, until bakafox brought the idea up, in the creation chat, of modular curtains and I offered to give it a try. Going into this project, the first thing I thought was "I must prepare myself for mega ultra failure," but once I started to notice that it actually might be possible.. I kicked it into high gear.

What I love about these is that they can become basically anything you want them to. No! You do not have to make a curtain out of it

you can make what ever comes to your mind!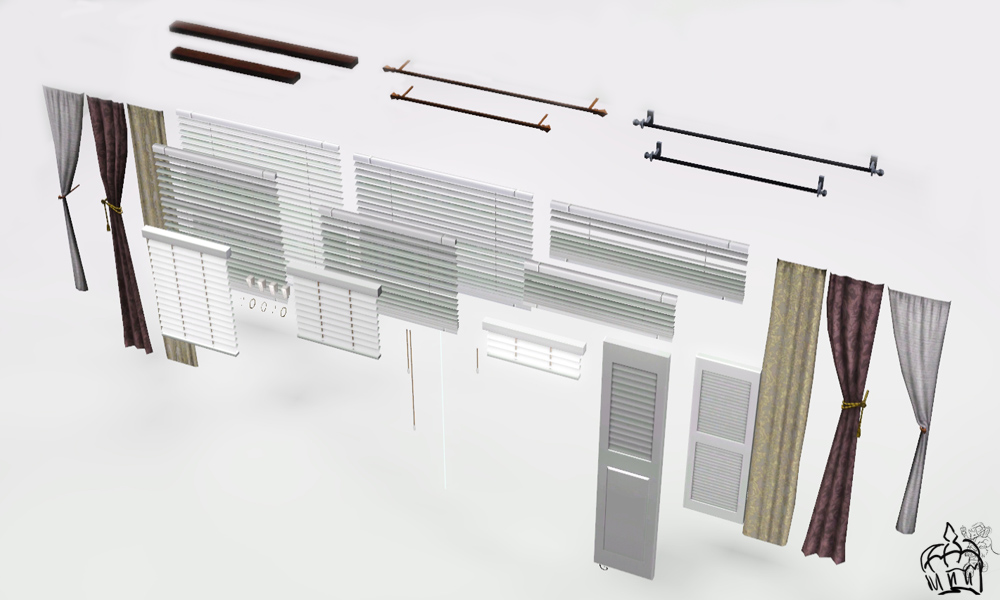 This set includes a total of 27 objects that you can transform into your own curtain/whatever creation. These all go off grid and will have to be adjusted by going into off grid mode. (See
How To Use
Instructions below!)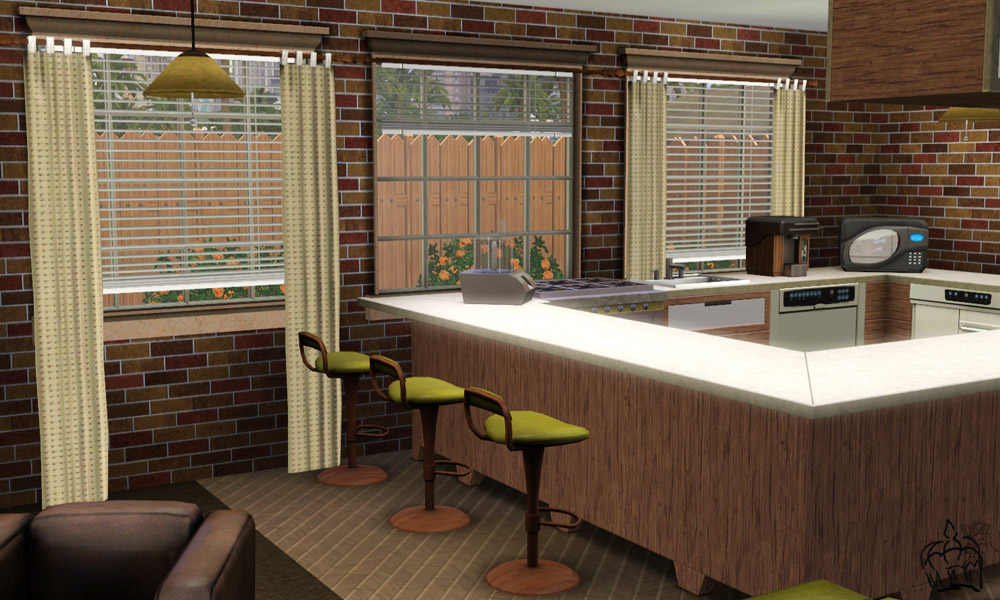 All of these items can simply be found under
Decor>Curtains & Blinds or in Bathroom/Dining Room
!

Important Notice:
Some of these objects will not work with some windows (all of them mostly do).. but EA was super smart and made it to where almost all windows have different sizes and shapes, thus making it impossible not to avoid a problem like this. Though, chances are, if the certain object in this set is not working for a specific window/door.. there is most likely another object that will. If not, then that window/door and you were just not meant to be. I do apologize that.. but if EA wouldn't keep altering the sizes of all the windows, all of these would work perfectly with every window. This problem can be avoided by simply using the OMSP.
This shows you just some of the creativity you can have with these.

Unlike the curtains, there is only one shutter each (3x1 & 2x1). You just work from that single one.. and it does it's job

They do they're job quite well

And if you look at the picture of the DIY Curtain Set applied to the door, you can see how the "Fully Rolled Up Curtains" do their part! (Image not found on overview page)
Click here for an instructional video on how to use these:
http://www.youtube.com/watch?v=r6R0-aPlqRQ
'How to Use' Instructions
Okay, here we go.

Step One:
Find the object your perfect to use in Buy Mode. Once you found that object, it will start trying to snap to the floor/wall around it. It will not obey you and move properly
unless
you hold down the ALT key when placing it. (if you can't find it, it's usually right under the "X" key or the "<" key) This will enable off grid and allow you to place it basically wherever you like. You do not need moveobjects on enabled to enable this feature.

Step Two:
While holding ALT, move your object in the correct position. For curtains or rings, you will most likely have to move these will looking straight down at the floor to get a better view of where you're placing it. For Blinds or Shutters, sometimes they will sink into the wall if you do not have a good view of where you are placing them (Unless you want that). Reminder: Shutters/Blinds will not work with all windows, just the majority of them.

Step Three:
Once you have it in place, left click and then it should place the object right where you wanted it to

TADA!

These curtains cannot be moves up/down, unfortunately. With off grid being enabled, it cancels out that feature. There is no way to have them both enabled at the same time. This shouldn't be a problem though. All windows seem to be level.. but not perfectly level. (Yeah. Thanks EA. How smart of you)
Information About Shifting
Since shifting is impossible with Off Grid enabled, you can use the
OSMP
to move it up or down. Usually, you will not have to move them up or down because they fit perfectly over windows and doors.. and such. But if you are really nitpicky, you can use the OSMP to do that job for you.
Please read comment #38 for more information about vertical shifting.
All Items Included:
| Name | Pricing | Recolorable Channels | Polygons (High~Low) |
| --- | --- | --- | --- |
| Curtain Rings | $2 | 1 | 20~18 |
| Fully Rolled Up Large Horizontal Blinds | $30 | 2 | 88~79 |
| Fully Rolled Up Blinds | $30 | 2 | 80~71 |
| Horizontal Blinds String | $2 | 1 | 4~2 |
| Large Horizontal Blinds | $30 | 2 | 194~185 |
| Left Loft Curtain | $30 | 2 | 116~110 |
| Left Thin Curtain | $25 | 3 | 315~303 |
| Loft Curtain Rings | $2 | 1 | 48~40 |
| Medium Loft Rod | $30 | 1 | 94~83 |
| Medium Rolled Up Blinds | $30 | 2 | 158~145 |
| Mini Fully Rolled Up Blinds | $30 | 1 | 84~78 |
| Mini Horizontal Blinds Strings | $2 | 1 | 78~69 |
| Mini Medium Rolled Up Blinds | $30 | 1 | 132~124 |
| Mini Rolled Up Blinds | $30 | 1 | 108~97 |
| Right Loft Curtain | $30 | 1 | 116~110 |
| Right Thin Curtain | $25 | 3 | 315~303 |
| Rolled Up Blinds | $30 | 2 | 122~116 |
| Rolled Up Large Horizontal Blinds | $30 | 2 | 152~145 |
| Single 2x1 Shutter | $50 | 1 | 127~123 |
| Single 3x1 Shutter | $50 | 1 | 136~131 |
| Left Thick Curtain | $30 | 1 | 101~95 |
| Right Thick Curtain | $30 | 1 | 101~95 |
| Thick Medium Rod | $10 | 1 | 116~110 |
| Thick Wide Rod | $10 | 1 | 150~144 |
| Traditional Medium Rod | $30 | 1 | 284~276 |
| Traditional Wide Rod | $30 | 1 | 284~276 |
| Wide Loft Rod | $30 | 1 | 94~87 |

Do not; I repeat, DO NOT reupload these to the exchange or any other site without my permission! Do not claim them as your own either.. don't even try it with one of the simple objects in here. If you do, you will loose all SeeMyu Respect Points.

Otherwise, feel free to
share
this object (share meaning, tell others, post news articles, finds) on any other site.. as long as you don't reupload/claim as your own. Please.
Polygon Counts:
*specified in table*
Additional Credits:
Bakafox and the creation chat, Inge and Peter Jones for S3PE, TSR for TSR Workshope, Adobe for Photoshop CS5, Pyronium3 for Setra and the house I used that is located in Setra, Cornerstone Stampier by me, and Milkshape.