Sims 2

>

>

Wallpaper, Paint, Ceramic Tile, Siding, Ceramic, Wood, Paving, Carpet, Linoleum, and Ground Cover or Sets of all of those
Lots O' Clapboard Siding
MTS has all free content, all the time. Find out how YOU can help to keep it running.
Tell me how...
17,383

Downloads
708

Thanks Thanks
126

Favourited
37,909

Views
Picked Upload! This is a picked upload! It showcases some of the best talent and creativity available on MTS and in the community.
Uploaded: 31st Oct 2013 at 1:01 PM
I like the old "Simple Siding" from the base game. It's a good, basic width and has a good level of detail so that it looks nicely 3-D, yadda yadda. Thing is, it only comes in two colors, a nicely useful off-whitish, and a not-so-useful (IMO) goldy-tan color. Sure, there are other Maxis base game sidings, but I'm not as fond of their textures. They're...flat, Later EPs/SPs gave us different sidings which are very nice...but all too narrow for what I wanted. I've made custom siding, too, but it's a different style than what I want and wider than I want. I needed something in the middle. So, I took the easy way out and made new colors for Maxis's old "Simple Siding." I put 'em up on my LJ because they by themselves were really just too simple/unexciting to put here. And I thought that would be that.
But then I decided that I DO like and would like to occasionally use the colors of the other Maxis base game sidings. So, I plopped those colors on the Simple Siding texture, too, so that they'd have better, less-flat textures. And then I'm sometimes fond of whitish corner trim on sided houses, so I snitched and slightly edited the trim from the newer Unexpected Siding and made versions of all of the colors here, old and new, with trim. So, I ended up with a ton of siding and thought others might find them basic but useful, perhaps because they're so basic. Plus partly Maxis-matchy, for those who are into that sort of thing. So, although they're still not that exciting, there's a lot of them and...here they are.
First, there are the new colors that I added. There are 18 of them, all of which reflect my personal taste for muted and dark-muted realistic colors for exteriors while at the same time facilitating my obsession with covering a house in siding paired with complementary rock accent walls. The collage is made from in-game pics taken outdoors on a sunny-side wall. Each comes in an untrimmed, a left-trimmed, and a right-trimmed version.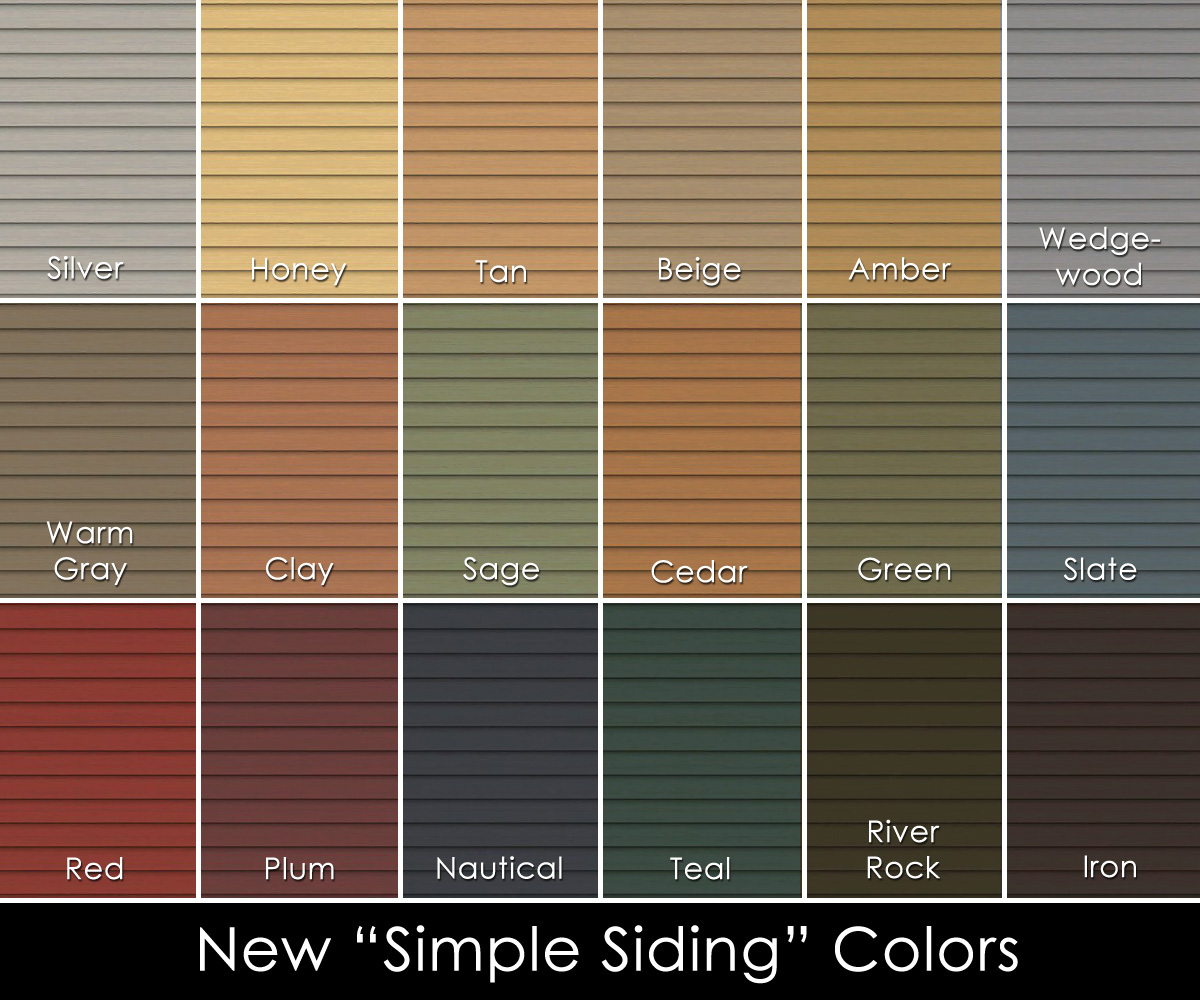 Next, the brighter/lighter and perhaps more cheerful Maxis-match colors. There are 12 of them, which is all but one of the colors from Maxis's "Virtuous Vinyl" siding and "Shiver Me Timbers" wood siding. I skipped one color because it ended up being very similar to one of the colors above. However, I should note that for these colors I did edit the underlying textures a bit. Since the colors are generally lighter, I bumped up the contrast underneath so that it wouldn't end up looking flat. Anyway, the collage is also made from pics of the sidings on the same wall as above. Each also comes in an untrimmed, a left-trimmed, and a right-trimmed version.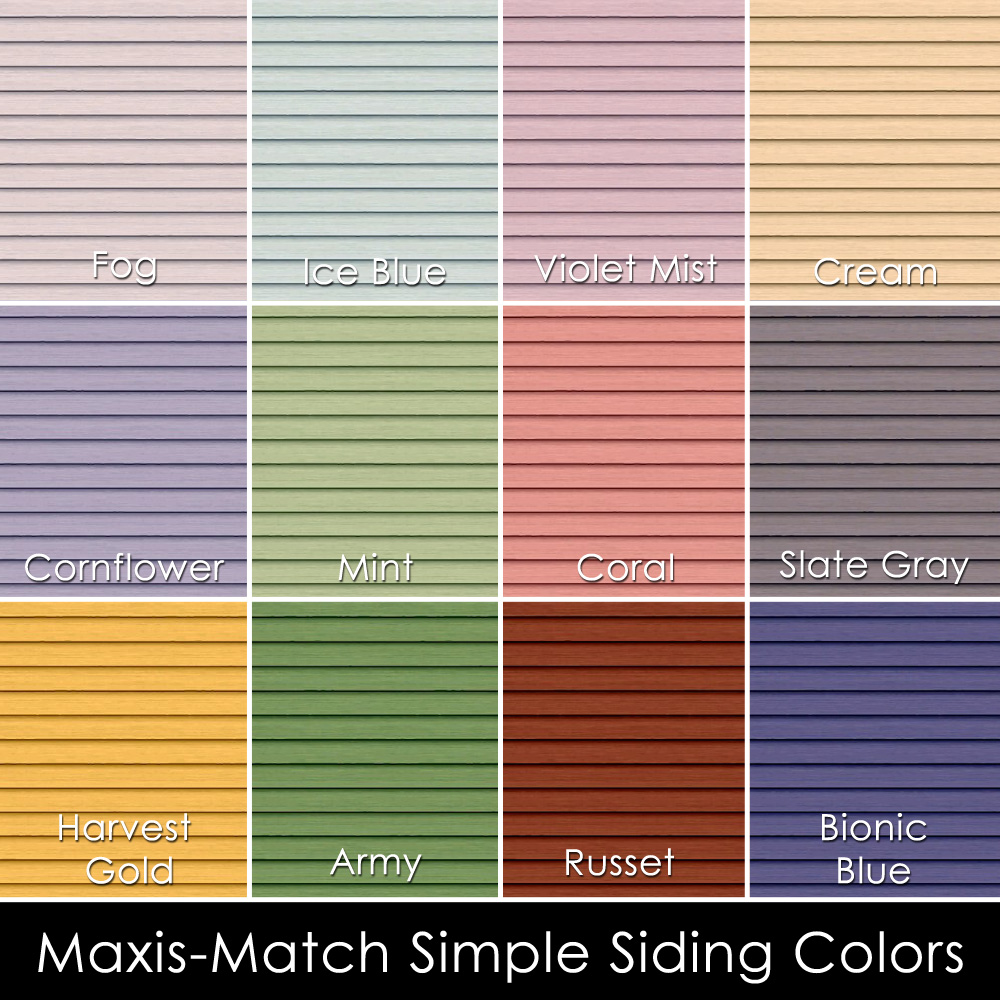 Then there are the two original Maxis "Simple Siding" colors, Salt and Hamster, which I simply plopped the trim onto, leaving the original wall as-is so that the trimmed pieces would match the original pieces. They look like this: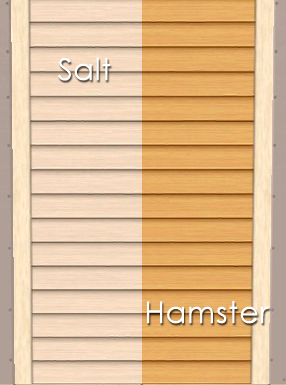 You only get a left-trimmed and a right-trimmed version of each of those colors, since you already have the untrimmed version in your game, buried in the base game sidings. Also, the trim you see in this pic is exactly the same as the trim that's on all the other colors. My crappy netbook graphics mean that they'll look better, without nasty jagged edges, in your game.

Finally, here's one of the colors (The Maxis-match "Bionic Blue") on one of Plasticbox's little "Newbie Road" houses that I'm using all the time in this pared-down game of mine, to show how the pieces look put together on a house, again with craptacular netbook graphics: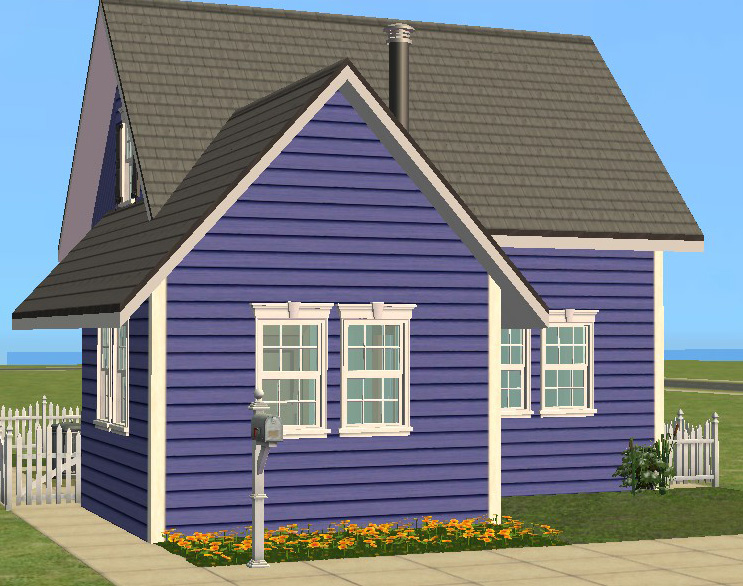 So, in all, you can get 94 walls from this download, if you're so inclined. I've separated them out into a download for the Maxis-match colors and one for the new colors, in case you don't want both.They all cost $8, same as the original Simple Siding, and can be found, believe it or not, in the Siding category. All files have been Compressorized and clearly renamed so that you can get rid of colors you don't want. I've included a copy of the swatches above in each file to make that easier on you. And there you have it!
Packs Needed
None, this is Sims 2 base game compatible!