>

Multi-family homes/For Apartment Life EP/Annoying neighbors.
View Old Style
Palmetto Condos - CityVille Series - NO CC
MTS has all free content, all the time. Find out how YOU can help to keep it running.
Tell me how...


Created by Zarathustra View Policy / About Me View Downloads Home
Uploaded 19th Apr 2014 at 3:55 PM
Row houses line the streets of dozens of major cities around the world, but all too often they are either designed in a style that's been out of date for decades, or they're just sheer walls of brick and mortar, with virtually nothing to capture your attention. Still, there's no denying the effectiveness of the basic design of a row house, so by bringing this type of building up to a more modern design aesthetic, Palmetto Condos helps keep the fringes of your urban center from looking too trapped in the 1970's...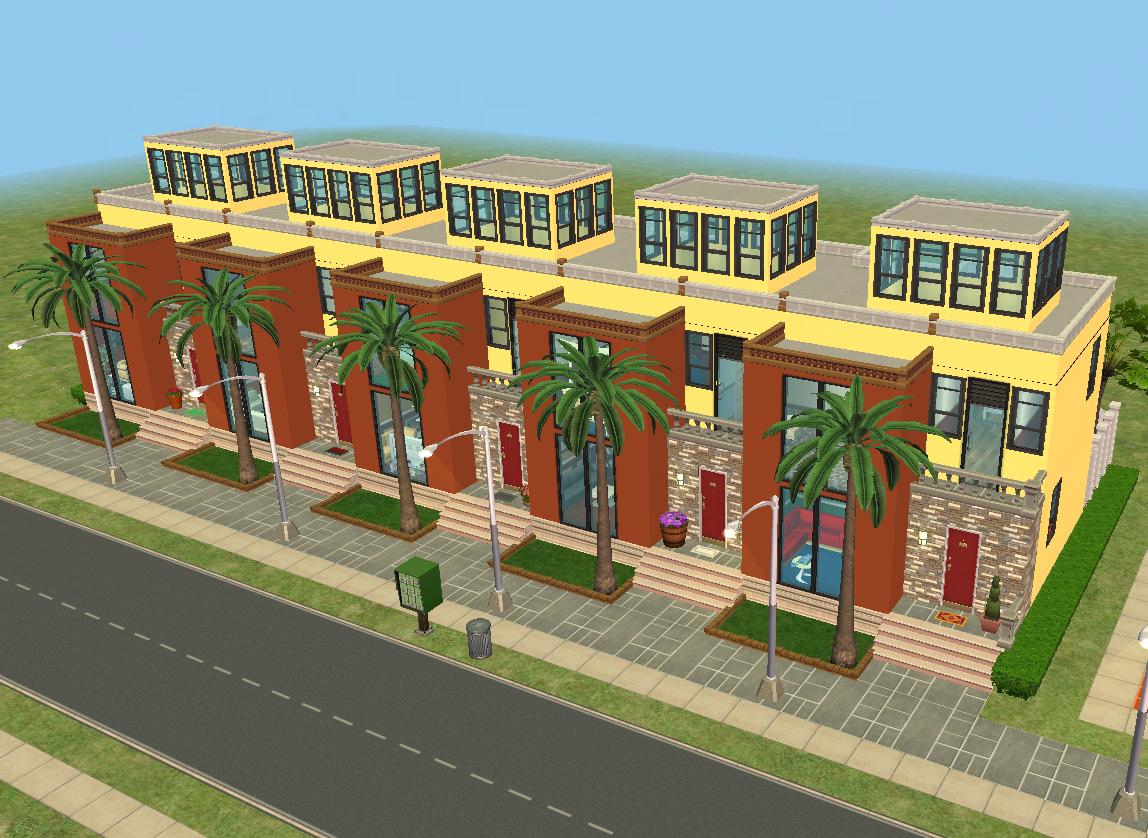 This design is actually one of the types I use most often in my games- whether in blocks of two, like the CityVille building I based it off of, or blocks of five or six apartments, like this one has- this building is perfectly suited to Sims that are just above starting out, but not rich enough for something more upscale, and you can make lots of them without it looking bad (in my opinion, at least!- I fill up lots of buildings in this style with Sims that only play once in a blue moon, but don't want to lose just yet- my own personal crop of Townies, as it were). The apartments are also well suited for different neighborhood styles- looking eqally at home in a standard Downtown, a desert metropolis, or a tropical port city, so no matter what kind of modern city your Sims call home, this new, urban take on the traditional row house will look well situated.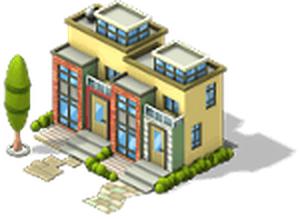 The five apartments in this iteration of the condos are similar (there's not a whole lot of variety when it comes to row houses on the same block) but not identical, so your Sims should have no trouble finding one that suits their particular style, and making it their own. As with any apartment living where you are right next door to your neighbors, however, you may find that the walls are a bit thinner than you expected! If it gets too noisy though, each apartment has a private patio area in the back, as well as the community pool that sits at the end of the lot (something I often exclude, in lieu of another apartment for an extra townie). All five apartments open right onto the sidewalk, so your Sims are never far from a taxi, carpool, or potential friend strolling by.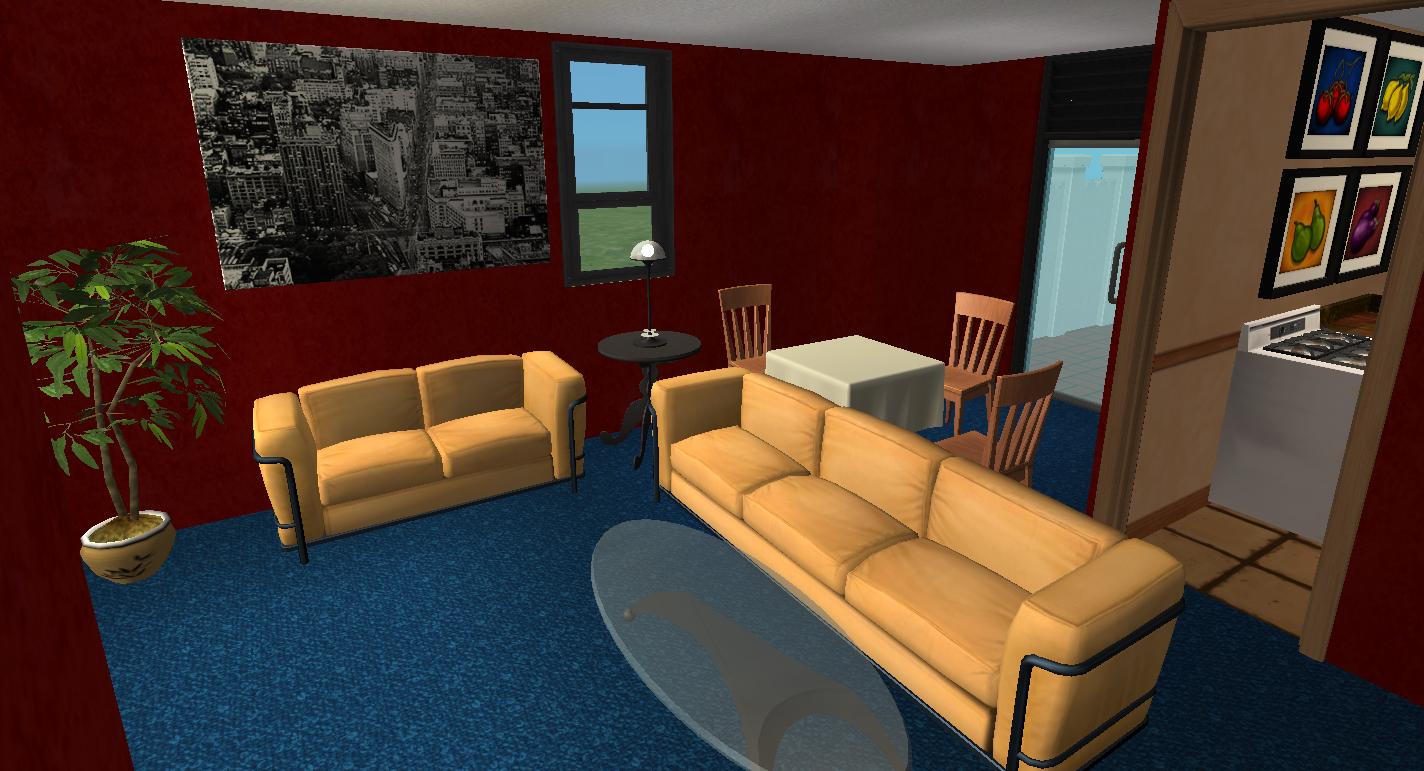 Quite frankly, I find these lots to be very useful, but I don't actually play them all that much, so the decoration inside them is kind of minimal. I will not be offended in the least if you do a radical remodel on these lots as soon as you download them, I promise! Still, I tried to give each one its own character, so even if they're all identical from the street, you'll be able to tell them apart from the inside! The one thing I tried to keep consistent between apartments is the modern style... bright colors and plate-glass/black steel windows. If you're like me and decide you want to fill your streets with similar buildings, you should have no trouble finding a few more ideas for how to design the interiors- the exterior should be easy enough to copy.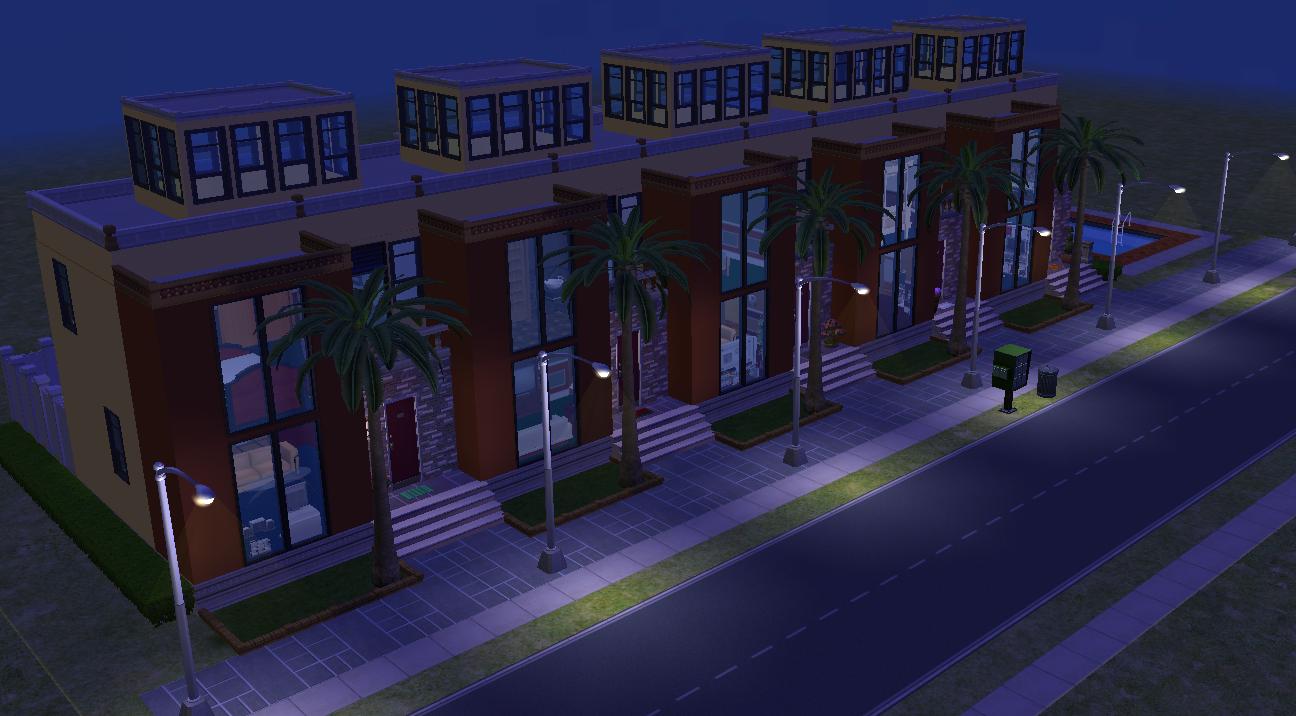 Apartments on this lot as uploaded range from $1967 - $2450 per week, so they're a little above starter-house price, but not out of reach for most Sims, and if you remodel them before moving Sims in, and give them cheaper appliances and plumbing, that rent can be reduced without much trouble. There is no CC required for this lot, and the lot as uploaded has never been occupied by a Sim... fresh paint and brand-new appliances guaranteed when you move in!

Lot Size:
5x2
Lot Price:
$1967 - $2450
Additional Credits:
As with all my other buildings inspired by the Facebook game CityVille, thanks for the design inspiration for this lot go to Zynga's designers.
Number of bedrooms: 5 or more
Custom Content Included: None
Furnishings: Fully Furnished
Special Flags: Not Applicable

Tags: #no cc, #apartment, #condo, #condominium, #downtown, #studio, #cityville, #palm, #row house, #townhouse, #modern, #urban
About Me
Sims? What are Sims? I almost always just use this game to create buildings!

You might call me a CC-atheist. While I'll use every cheat code in the book, I won't use anything that Maxis didn't ship with the game in one fashion or another. Ergo, you can rest assured that all my lots are CC-free.

Some creators describe themselves as constantly juggling projects. I suppose I do that too, except I'm really really bad at juggling, so I just throw lots of projects as high as I can, and sometimes forget all about them until they come crashing down on my head!

I won't *exactly* do requests, but since I pivot from lot to lot constantly, if there's a place you hope to see from me, there's a good chance that I've already started it! I make no promises, but feel free to ask about lots you want to see- you might inspire me to finish something!

My lots are my own work- I put a lot of effort into them, so have fun with them, use them for storytelling or making Sim movies, but please don't reupload them, in whole or in part, anywhere, including here on MTS!

One day I will rule the world with an iron fist and all will kneel before me.