Buy Mode

>

>

Counters, tables, end tables, coffee tables, desks, and park tables.
Kitchen Storage
MTS has all free content, all the time. Find out how YOU can help to keep it running.
Tell me how...
12,697

Downloads
512

Thanks Thanks
129

Favourited
34,317

Views

Uploaded: 17th Jun 2014 at 9:03 PM
Updated: 24th Jun 2014 at 1:11 PM
To make things absolutely, 100% clear- this is NOT a new set of kitchen meshes. The ONLY kitcheny meshes in the set are a counter and 2 tables. The rest of the meshes are decorative, but most of them have slots. Using the counter along with the other meshes, you CAN make a functional kitchen! If you have any questions, please don't hesitate to ask them! There is a lot of info in this download- I tried to remember everything you might need/want to know.

The 2-tile under counter mesh with 2 shelves has a mis-mapped top. (Sorry! I didn't catch that somehow.) I've fixed it and if you've already downloaded this set and want the fix, you can download just that mesh. (Just let it overwrite the old file.) If you haven't downloaded yet, the download has been updated with the corrected mesh!
Continuing with the storage theme... this time I chose the kitchen! Since I wanted to make something that could be used in just about any room, there is only one true kitchen item in this set- the counter. The rest were all designed with the kitchen in mind, but like I said- they could really be used anywhere. So, what's in this set? Grab some popcorn, settle in and I shall tell you.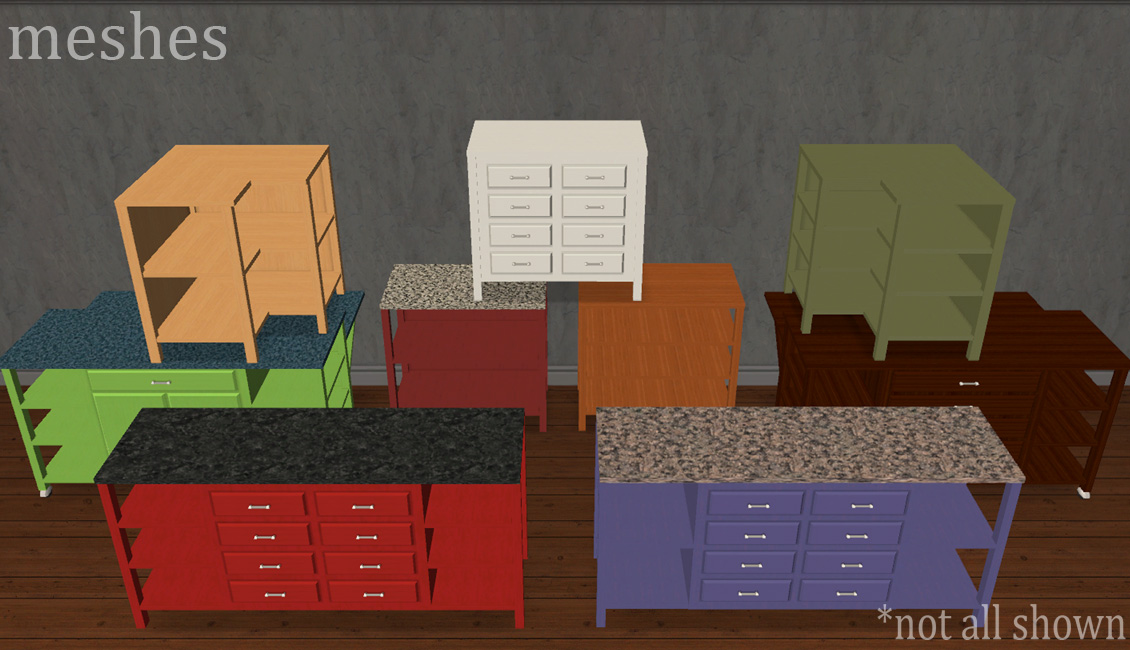 In the above screenshot, you'll see some of the meshes. You might even notice that some are stacked on top of another mesh. Don't let that fool you! They don't truly stack, I just needed to show as many as possible while making sure they could be seen, lol.
The Meshes:

2 tables, cleverly designed to be used as islands too. Both tables have 23 slots total.

2 2-tile storage units with shelves - one with 2 shelves, the other with 3. Both have slots - the 2shelves has 12, the 3shelves has 18.

2 1-tile storage units with shelves - one with 2 shelves, the other with 3. Both have slots - the 2shelves has 6, the 3shelves has 9.

2 corner units with shelves - one with 2 shelves, the other with 3. Both have slots - the 2shelves has 6, the 3shelves has 9.

A 1-tile purely decorative unit with no shelves, but it does have fake drawers!

A counter. Has the usual counter slot/slots - depending on the object you want to place on top 1 or 3 slots.

A side panel - useful for making an open counter unit when used with the top only mesh and the counter. Can also be used to hide the sides of appliances.

A top only mesh - see above for usefulness!

A single shelf - also useful in making an open counter unit. There are 3 slots.

4 baskets - 2 wire and 2 metal. Stackable and useful for storing fruits and vegetables. Each basket has 2 slots - one on the bottom to hold a mesh, the other on top so you can stack another basket on top.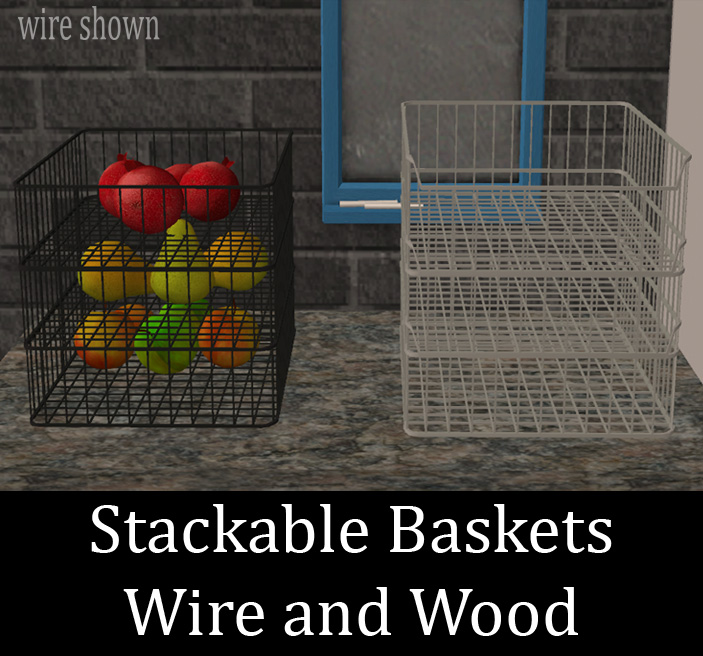 Above pic shows the wire stackable baskets. With fruit! (Fruit not included!)
What You Need To Know:

The tables, 2 tile storage units, 1 tile storage units, 2 corner units, and counter all have 2 subsets.

Most of the meshes have slots. Please see The Meshes above for how many.

The counter has invisible recolors so you can use it on any counter-height mesh and have that mesh act as a counter! You may need cheats to place the counter over another mesh- I used it on the island side of the tables. Sims will then use that surface like a counter.

(There are no other recolors of the counter for this very reason!)

All of the storage meshes are slightly oversized so they can be used seamlessly. This can cause the granite/marble and tile top recolors to flicker while moving the camera in game. This is PURELY COSMETIC, UNAVOIDABLE (due to the overlap) AND DOES NOT CAUSE ANY PROBLEMS WITH GAME PLAY:

The single shelf will shift if you can shift objects. If you can not shift objects, it is positioned to meet up with the top shelf of the other meshes that have 3 shelves.

The top-only mesh has a little box with an invisible recolor. This little box makes it super easy to use the design tool on the top- hovering over it will cause the little box to light up so you'll know where it is. (Because once you make it invisible, you can't see it, lol.)

No cheats should be needed to place any of the meshes except the counter. Cheats will be needed to place the counter if it's not against a wall.

Stacking the baskets is easy - once you've placed objects in the baskets, pick one up and place it on top of another. To stack 3, place a stack of 3 on top of one. Note: while the wood baskets both stack, it might look a bit funny if the bigger basket is stacked on top of the smaller basket. The handles get in the way.

Above screenshot shows the overlap on the tops.
What You Need To Know: The Very Important, Please Pay Attention Edition:

moveobjects on
will
need to be used to place objects in the table slots. This is pure EA fail - I have other custom tables in my game with added slots and need to use the cheat with those, too.

The repository technique was used. The storage meshes are all slaved to one of the tables and the baskets are slaved, wire to wire and wood to wood. All files are clearly named so you'll know which are the masters and which are the slaves.

The counter is not slaved to anything so you can use it with the rest of these meshes or any other counter-height mesh(es) you may have.

The only meshes that have slots on the very top (besides the baskets) are the 2 tables! The rest do NOT- this is because I meant for them to be used with the counter and it's invisible recolors. Using the counter on top of the other meshes allows a whole new world in kitchen design. As long as a mesh is counter height- you can use it as a counter!

There are only 2 spots on the table for sims to sit and eat- if you need to have more seating, you'll need to use another table! This makes sense since the tables are supposed to look like islands.


If you're going to use the counter on top of the island side of the table/tables, you might want to skip putting anything in the top slots of the table. Since the counter has slots (and sims can and will prepare food on it) there will be overlap. There
ARE
3 slots that are set farther back though- just play around with them.
Note: All appliances will function as they should when used with the counter. Dishwashers and trash compactors will work if used with the top-only and side panels. Please see screenshots.
Price and Catalog Location:
Tables - both 150 Simoleons, found in Surfaces>Tables
Corner units, 1 tile units - 75 Simoleons, found in Surfaces>End Tables
2 tile units - both 100 Simoleons, can be found in Surfaces>End Tables
Side panel - 5 Simoleons, can be found in General>Misc
Shelf - 5 Simoleons, can be found in Surfaces>End Tables
Top only - 5 Simoleons, can be found in Deco>Misc
All baskets - 10 Simoleons, can be found in Deco>Misc
Counter - 90 Simoleons, can be found in Surfaces>Counters
Everything should be base game compatible. There is a residential collection file included! Hope you and your sims enjoy!
The included recolors all match the UnderStairs Storage. There are extra recolors for the tops in marble/granite/tile- they are separate packages.
Another note: This set mixes/matches well with Buggybooz' kitchens. This was purely intentional because as much as I like her meshes, I wanted to be able to mix other meshes with hers. If you have any Maxis Match recolors, they match rather well.
Special thanks to Huge Lunatic- I cloned her extracted Uni counter to make mine. (And yes, I know I could've made recolors for her's and.. well, I know that now. At the time I had other plans for my counter, lol.)
Polygon Counts:
1 tile drawers - 904
1 tile 2 shelves - 132
1 tile 3 shelves - 154
2 tile 2 shelves - 984
2 tile 3 shelves - 1024
Corner 2 shelves - 216
Corner 3 shelves - 252
Side panel - 12
Top only - 26
Shelf - 12
Counter - 198/228/156/752 depending on which shape is used
Wire baskets, both - 1284
Wood baskets, both - 460
Tables - 1046 and 1246
Additional Credits:
MilkShape, SimPE, PhotoShop CS2 and the internet for the various free images used in making the granite/marble/tile recolors.
Terms Of Use
Feel free to clone/modify/recolor/convert my meshes. Meshes and recolors can be included with lots. The only thing I ask is that you DO NOT include my meshes/recolors in Adfly links or make money from them in any other way. ALSO: Please don't include any of my downloads in a big all-in-one download. You know how people upload their downloads folder for others to download. Yeah, please don't include my stuff in one of those. Thanks in advance. :)

The exception: My TS4 Robert Williamson sim. I would really like it if he's not edited in any way. He's my tribute to Robin Williams, who was someone I greatly admired. Changing him would make him just another sim.