Historian Trait
31,388

Downloads
381

Thanks Thanks
120

Favourited
40,338

Views
Uploaded: 22nd Feb 2018 at 3:02 PM
I make a lot of traits for my sims to give them some variety, but this is the first one I've shared. I created it originally for my generic "crotchety old man" NPC, but I've found it a really fun trait, actually. I think it's good for sims who don't want the 9-to-5 grind, as it promotes collecting and writing as alternative sources of money-making. This trait also gives a decent boost to the writer career - those history books don't write themselves!
So-called smart sims (geniuses, geeks and bookworms) will glow in your company, however childish sims will find your company as dull as dishwater.
Tested for The Sims 4 v1.39.74 / Laundry Day Patch. Base game compatible.
------
Decription:
Historians love learning about the past and sharing that knowledge with others. They are naturally gifted at collecting and writing.
Availability:
Young adult, adult, elder.
Hobby.
No core buffs.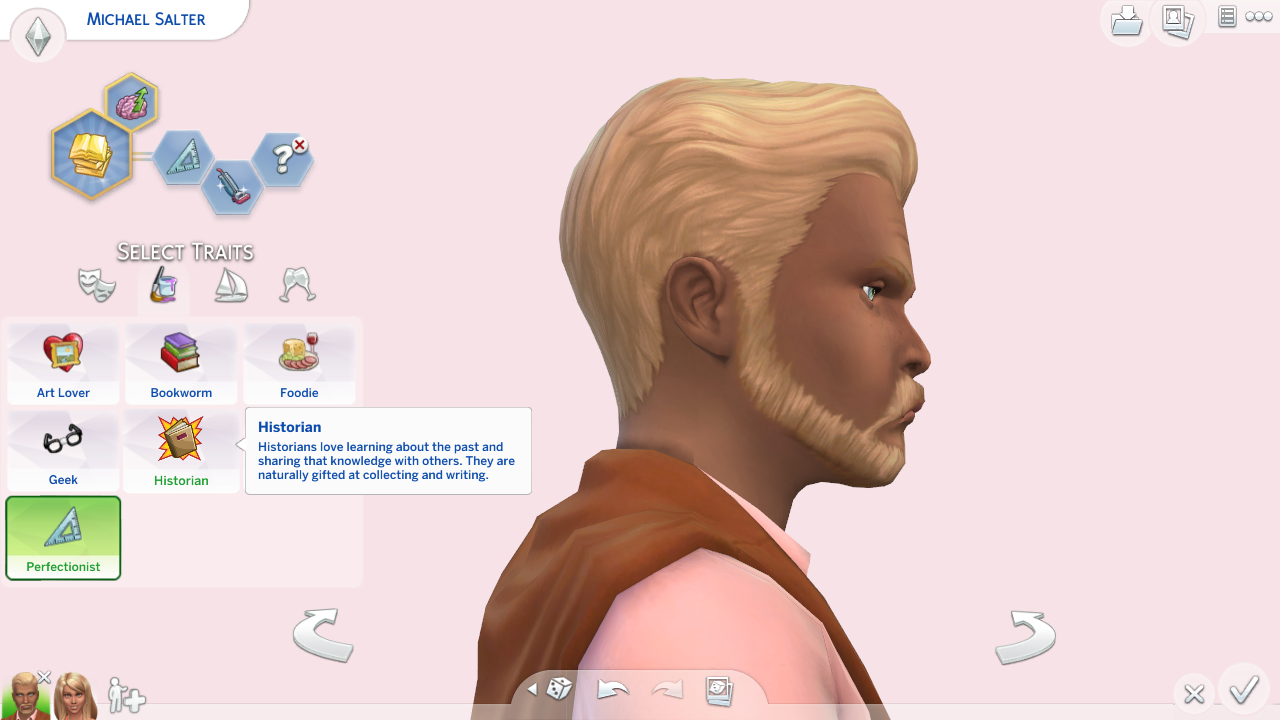 Whims:
Level up in logic skill
Level up in writing skill
Travel to the museum
Finish reading a book
Write a non-fiction book
Write a biography
Publish a book
Enthuse about interests with someone
Collect a new fossil
Collect a microscope sample
Collect a new crystal
Find a collectable
Writer Career-Specific Whims:
Write an article about someone
Rummage for information
Buffs:
+1.10 general increase to mental skill
+1.25 increase to writing skill
+1.25 increase to writing career

Research on Simipedia. +1 focused buff for 3 hours. "Learning is Fun"
Resume writing. +1 focused buff for 3 hours. "These Books Don't Write Themselves"
Read for reference. +1 focused buff for 3 hours. "Remember to Reference Sources"
Capture epic saga. +4 happy buff for 9 hours. "The Greatest Book of Our Time"
Locations:
+2 focused buff in libraries. "So Much Knowledge"
+3 focused buff in museums. "Where I Belong"
Broadcasters:
+2 bored buff for childish sims in proximity. "Don't Rain on My Parade"
+1 focused buff for genius, geek and bookworm sims. "Teach Me Your Ways"
In-Game Screenshots:
"Handsome" Michael Salter will demonstrate a couple of the location buffs to compensate for my lack of graphics skills.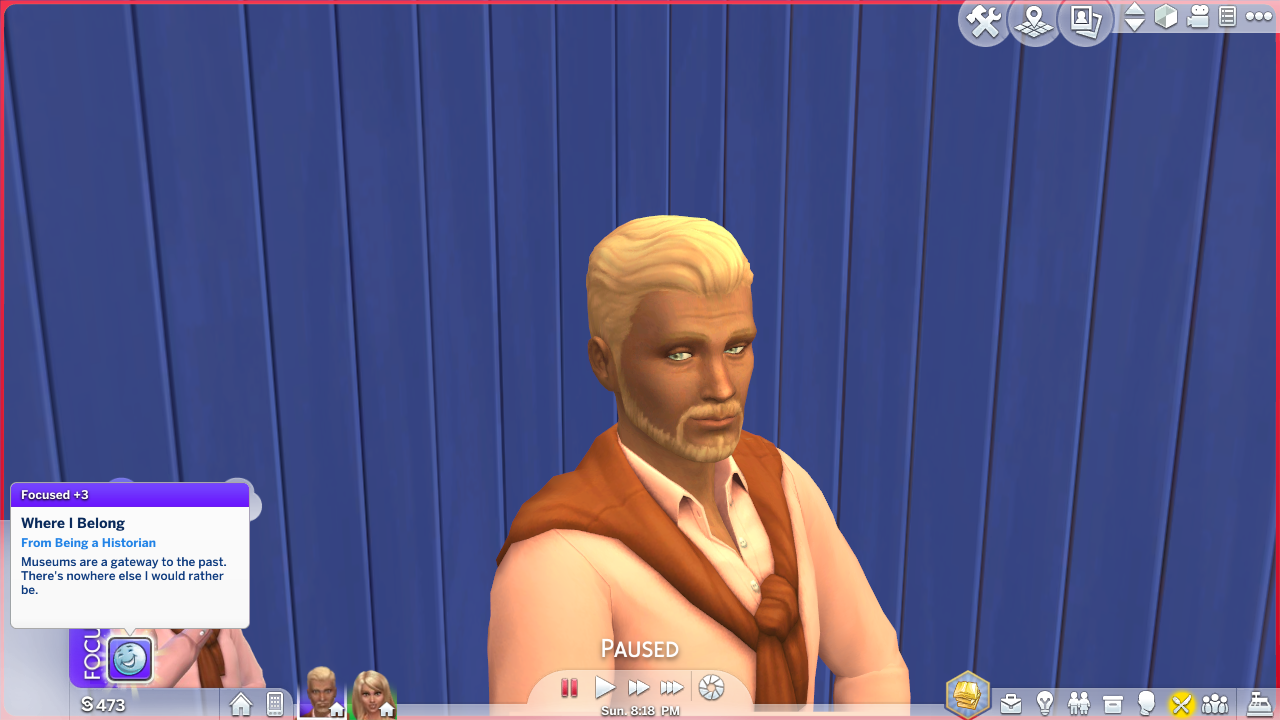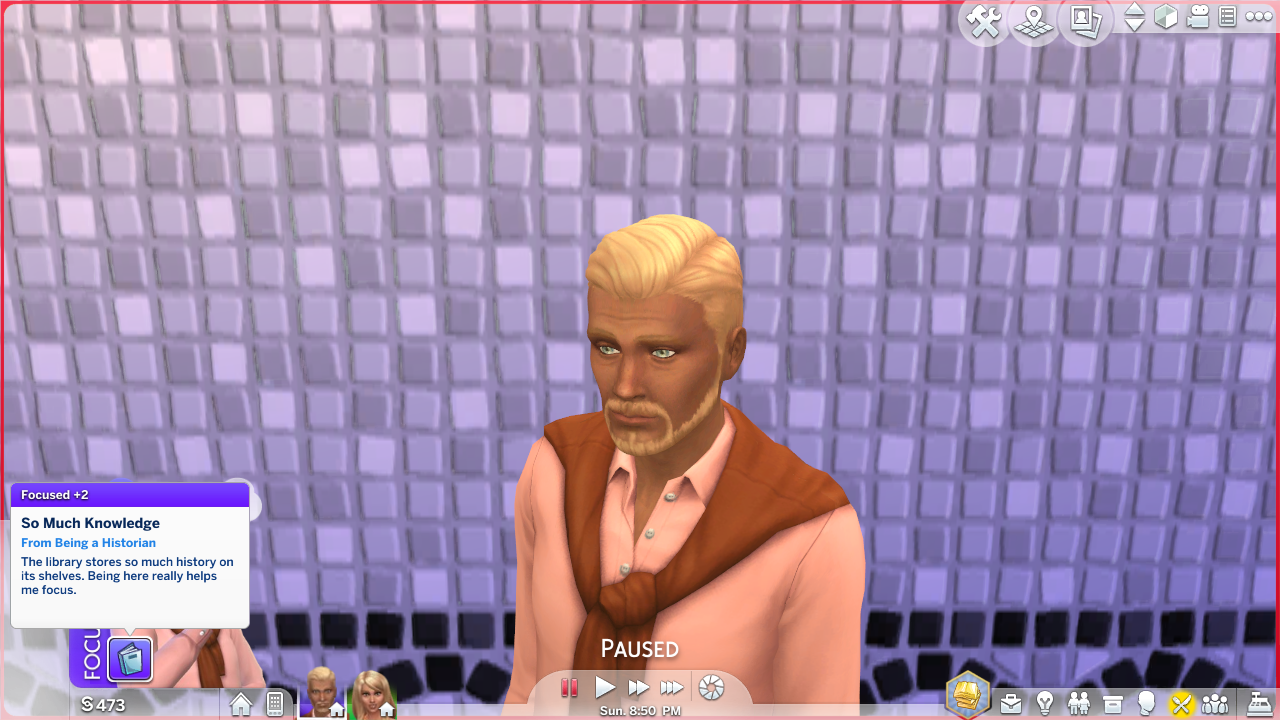 I've play-tested this trait and found no problems - but if you spot any issues, or have any suggestions, please do get in touch!
Additional Credits:
Made via Zebru's Mod Constructor V3.