Teenage Dream Trait
MTS has all free content, all the time. Find out how YOU can help to keep it running.
Tell me how...
69,969

Downloads
362

Thanks Thanks
82

Favourited
64,903

Views
There is an update available for this mod! Last downloaded: , creator last updated:
My last trait (
Historian
) seemed quite popular, so I thought I'd share another I made for my game. I LOVE this trait, not gonna lie. I always find "popular kid" traits tend toward trouble-making and sexuality. Those are awesome, but I also wanted something a bit different for my sims. Teenage dreams are the ultimate childhood sweethearts: wholesome, cheeky and dumb. Their whims are
teenagery
. They make relationships very easily, but struggle with mental pursuits like, y'know, school. They could best be described as lovably dopey.
Teenage dreams can be any gender; I tried to be a neutral as possible with pronouns. They are confident, charismatic and lazy. This trait has quite a few ~hidden buffs that affect skill gain and social stats, so it's a nice general trait to set a baseline for your character.
I have plans to (re)introduce a broadcaster buff that affects nearby teenagers - they gotta react to such a cool kid! - but this is still in beta-testing as I've been having a lot of issues on which sims should/should not be affected. So this is on hold for now, but if I get to a stable version I will update.

Tested for The Sims 4 v1.40.61. Base game compatible.
------
Description:
This teenager is a total dreamboat. They wander the school halls in a beautiful daze.
Availability:
Teen.
Social.
Core buff:
Teenage Dream sims always have a +1 dazed buff.
Random buff:
+2 confident buff for 4 hours.
"Why Be Smart When You Can Be Pretty"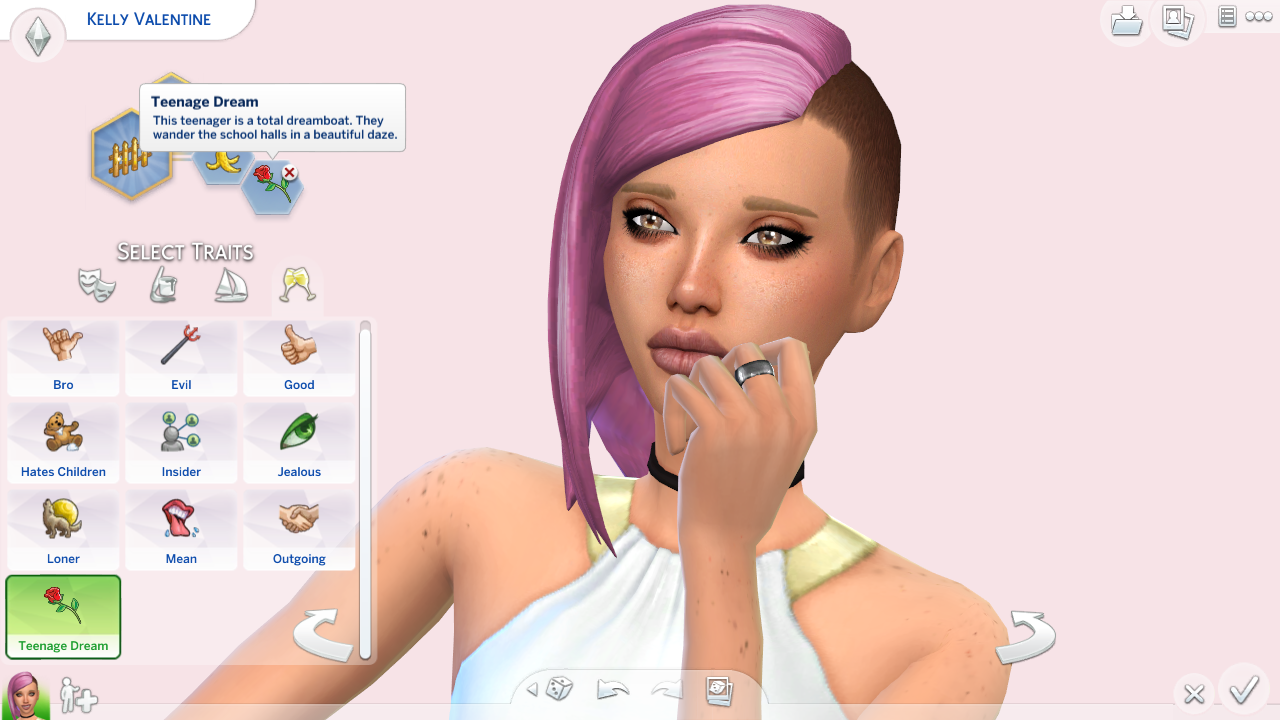 Whims:
Make out with (sim)
Flirt with (someone new)
Throw a party
Admire yourself in the mirror
Update social network status
Make out in the closet
Play Foosball
Level up in charisma skill
Adopt a dog
Write a guitar song
Splash someone in pool
Buffs:
+1.25 increase to friendship building
+1.5 increase to romance building
+1.25 general increase to social skill
+1.25 general decay to mental skill
+1.25 decay to social stat
+2 confident buff at house parties. "Cruisin'"
+1 confident buff at high school. "Coolest Kid In Class"
+1 confident buff when browsing videos on sim.tv. "Hey, Check This Out"
+2 confident buff when kissing. "Hey, Baby"
Commodities:
These sims naturally love to hang out with their buds - and can tend toward laziness.
They have a higher than average charisma and athletic ability.
These teenage sims are best suited to the retail career. They have a poor work ethic - but are naturals at selling (twice as good as the average sim).
They have to work harder if they want good grades in high school as they find it x1.25 harder than their classmates. (#unfair)
In-Game Screenshots: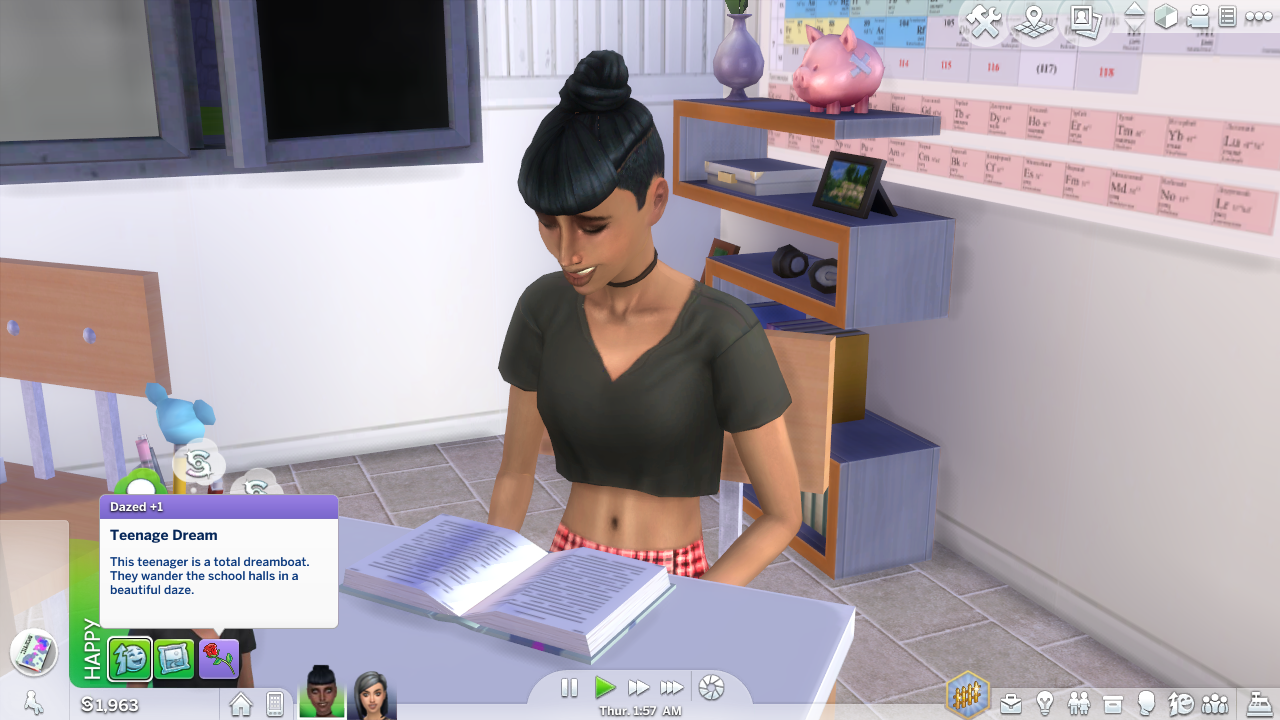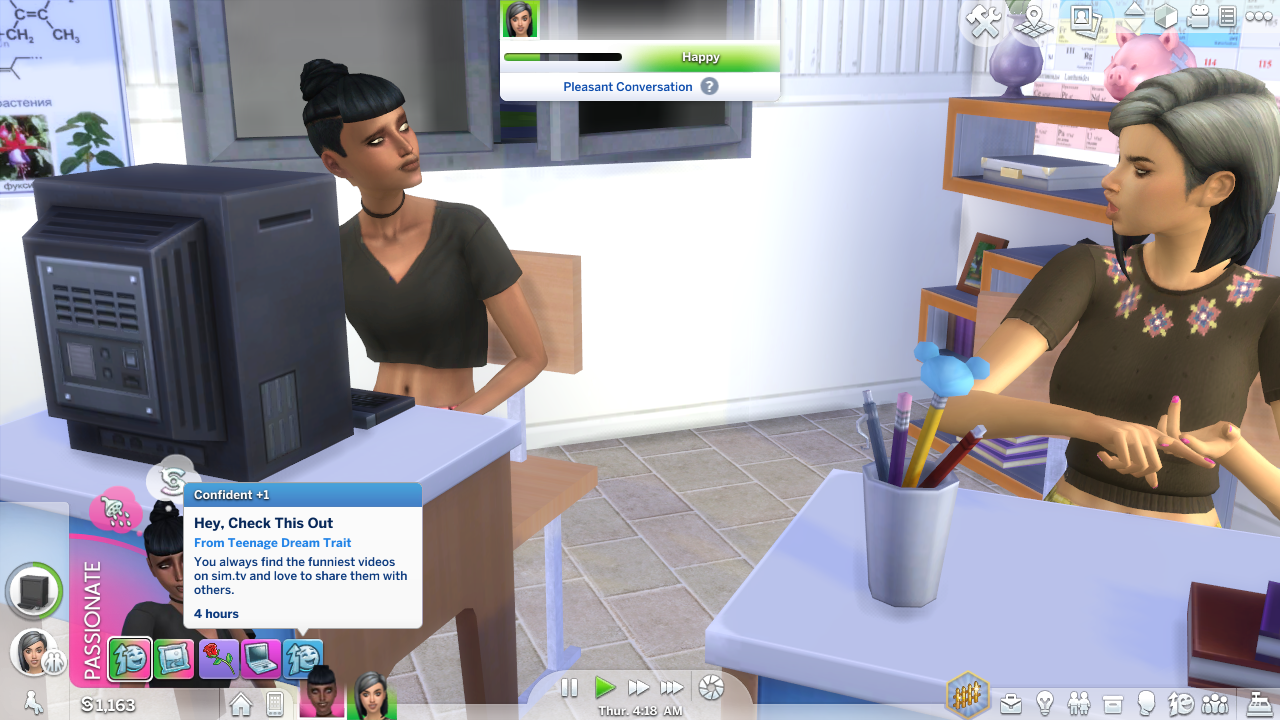 I've play-tested this trait and found no problems - but if you spot any issues, or have any suggestions, please do get in touch!
Additional Credits:
Made via Zebru's Mod Constructor V3.