>

Mods that don't fit in any other category.
Eat Raw Fish(1.90) - and CC trait Raw Food Lover
MTS has all free content, all the time. Find out how YOU can help to keep it running.
Tell me how...
16,882

Downloads
306

Thanks Thanks
109

Favourited
40,323

Views

Uploaded: 29th Jun 2019 at 6:12 PM
Updated: 20th Aug 2022 at 4:56 PM - Compatibi with 1.90.358.1030

Compatibi with 1.90.358.1030
Changelog

Version 1.3 compatibi with 1.90.358.1030, but XML Injector need to update.
Version 1.3 (30 Jul 2021): Fixed bugs and updated for 1.77.131.1030
Version 1.2b (10 Jul 2019): updated language string.
Version 1.1 (3 Jul 2019): updated English string ,hunger difference and the trait Squeamish.
Version 1.0 (28 Jun 2019): Made for game version 1.52.100.1020
Introduction
I thought mermaid could eat raw fish but EA didn't make this, so I made it myself.
I also add a trait which is suitable for those raw food lover.
Description: "Eat Raw Fish"
How to eat a raw fish?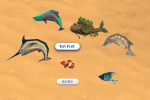 Click any fish, choose "Eat [fish name]".
What Happened After Sim Ate a Raw Fish?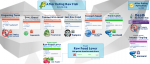 Sim would get a uncomfortable+1 mood named "Disgusting Taste" for 2 sim-hours, if sim isn't a vampire or a mermaid.
(require Vampire) A vampire would get a bored+1 mood named "Just Raw Food" for 2 sim-hours.
(require Island Living) A Child of the Ocean would get the uncomfortable+1 mood "Stomach Squall" for 4 sim-hours.
(require Island Living) A mermaid would get the happy+2 mood "Fresh Catch" for 4 sim-hours.
(require City Living and Island Living) If mermaid ate a puffer fish, that mermaid would get the playful+1 mood "Intense Tingling" for 4 sim-hours.
(require City Living) The sim with Vegetarian would get the uncomfortable+5 mood "Tainted With Meat" for 30 sim-minutes.
(require City Living) Sim would died by eating a pufferfish, if that sim isn't a vampire or a mermaid.
(require Outdoor Retreat) A Squeamish sim would get the uncomfortable+1 mood "Eww, Gross!" for 2 sim-hours.
How Much Hunger Did It Fill?
It depends on gardening fertilizer strength of fish.
High level would fill 90 points.
(e.g., Tuna, Electric Eel, Lionfish, Mahi Mahi, Parrotfish, Swordfish)
Medium level would fill 60 points.
(e.g., Bass, Rainbowfish, Catfish, Tilapia, Koi, Anglerfish, Celestial Grouper, Leopard Shark, Butterflyfish)
Low level would fill 30 points.
(e.g., Goldfish, Piranha, Minnow, Pufferfish, Angelfish, Blue Crawdad, Fighting Plakat, Neon Angelfish, Clownfish, Gummie Guppie, Bonefish)
Bad level would fill 15 points.
Description: CC Trait "Raw Food Lover"
How To Get The Trait "Raw Food Lover"?
Any sim could get "Raw Food Lover" from Rewards Store, it costs 200 points.
"Raw Food Lover" is a GAMEPLAY trait, you can't get it from CAS mode.
What Features About "Raw Food Lover"?
The trait "Raw Food Lover" won't cause any whims.
The sim with Raw Food Lover won't get the uncomfortable mood "Disgusting Taste" after sim ate a raw fish.
After Raw Food Lover ate a raw fish, that sim would get a happy+2 mood named "Raw Food Lover" for 2 sim-hours.
Installation
This mod have one package file and one script file:
c82_EatRawFish.package
and
XmlInjector_Script_v4.ts4script

Conflicts
I used Python to inject the new reward into Rewards Store, so it shouldn't conflict with other mods about Rewards Store.
But this mod used the following resources and will conflict with other mods that also used these resources.
Tuning Id Instance:
8211186982778223169, c82
8211186982778223170, c82_XmlInjector
8211186982778223171, c82_SuperInteraction_EatRawFish
8211186982778223172, c82_loot_EatRawFish
8211186982778223173, c82_loot_Trait_ChildoftheOcean_EatRawFish
8211186982778223174, c82_buff_Vampire_EatRawFish
8211186982778223175, c82_buff_UncomfortableRawFish
8211186982778223176, c82_loot_Death_EatRawFish_Pufferfish_DeathChance
8211186982778223177, c82_trait_RawFoodLover
8211186982778223178, DSTImage
8211186982778223179, c82_reward_Trait_RawFoodLover
8211186982778223181, c82_buff_Trait_RawFoodLover_EatRaw
8211186982778223180, c82_loot_Trait_RawFoodLover_EatRaw
8211186982778223182, DSTImage
8211186982778223183, c82_loot_Buff_Vegetarian_EatRaw

Known Problem
I still trying to figure out the animation problem that fish object didn't appear when sim eating fish.
It won't bother any features but for now it's just annoying.
Translations
English and Chinese: me
If you translated or polished this mod, attachment files in Advanced mode on Comments page, file format could be *.package, *.stbl or *.binary.
Additional Credits
Sims 4 Studio
PyCharm
XML Injector by

scumbumbo and Triplis
Sims 4 Icon Pack by puremorphin
The Sims 4 Ultimate Game Icon Pack by TheSimKid
c821118' Mods
Mods Compatible Version
Some mods should compatible with 1.90.358.1030. (updated 2022/8/24)
My Blog
(in chinese)
https://c821118.blogspot.com/
Buy me a Bubble Tea
All of my mods are under the current BY-NC-SA Creative Commons license
for User:
You are free to edit my mods if its features isn't enough for you.
for Modder:
You're free to mod my code into your mod, if you need the variant version as same as mine.
for Translator:
Sent me the *.stbl or *.binary files.
for Post to community:
Give a link to my MTS and don't reupload my mod.