Buy Mode

>

>

Entertainment, TVs & computers, audio, and small electronics.
View Old Style
Water Bucket Sprinkler System
MTS has all free content, all the time. Find out how YOU can help to keep it running.
Tell me how...

Created by Teknikah View Policy / About Me View Downloads Home
Uploaded 21st Dec 2019 at 1:20 AM · Updated 11th Aug 2020 at 4:51 PM by Teknikah : New recolours by Suceress

New recolours by
Suceress

thank you

"gather water" option added from patch 03/06/2020
(please note the option will only appear when you have the off-the-grid lot trait active)
I love to build old style houses (medieval, victorian, etc), and with these houses I try to use no electrical objects as they spoil the idea.
For me the sprinkler system/fire alarm is a
must
in my houses,
as there are no firemen in the game
(they have been added in the 03.06.2020 patch!

) and it's risky to rely on your sims to put fires out. Having one of those panels on the wall outside my house is not only ugly, but it goes against my ideas for a truly old style house. So I wanted to fix that.
I've cloned a debug bucket object and added the sprinkler functionality to it. So it can be placed around your old style house and look normal.
This is
not
a replacer, it will add a new object
You must place it outside if you want it to cover your entire house (if it is placed in 1 particular room, it will only work in that 1 room)
This can be used off-the-grid and does not require smoke detectors to work
Catalogue Details:
Electronics > Alarms
§0 (FREE!)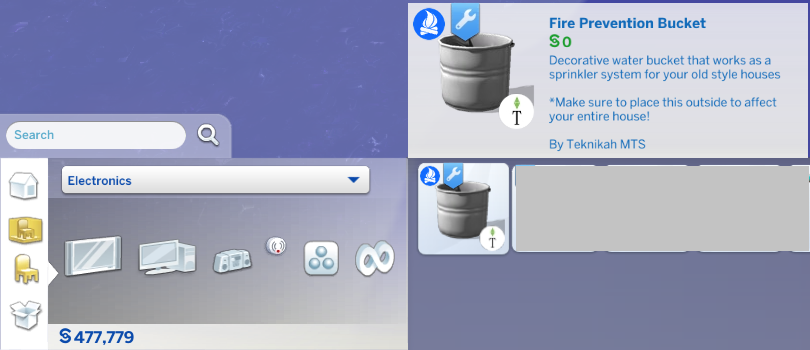 Additional Credits:
Sims 4 Studio
Updates:

• 11/08/2020 - added new recolours by Suceress - thank you!
• 03/06/2020 - added "gather water" option from today's patch

Style: Antique
Room: Outdoor
Maxis Flags: Unlocked

Tags: #off-the-grid, #off the grid, #fire, #alarm, #sprinkler, #water, #bucket
About me/my creations/permissions
You MAY NOT upload/share my creations to any paid sites or anything of the sort (ad.fly, paid mods, etc)
Using and sharing my creations:
- You can use and share any of my creations anywhere you like, just as long as you don't try and pass it off as your own, or if it will cost/earn money (as mentioned above)
- You MAY NOT upload/re-upload my creations anywhere, unless it is a translation file.
- Credits: If you include my creations in your lots/sims/etc credits are not required, but are always appreciated. If you upload a translation, please do credit.
Recolouring and altering my creations:
- If you want something altered/recoloured you can leave a comment and suggest your idea, I will try to honour all of these requests. I apologise in advance if I somehow miss a request and don't see it. If you request something and it's been a while since you posted with no reply, don't worry about asking again :) (I will accept private messages)
- Feel free to recolour and alter anything I share, but please credit and link to the original item if you do this.
Translating my creations:
- Feel free to translate any of my creations. Could I please ask that you send the translation file to me? Just so I can upload it to the original page and keep everything together. If you do not wish to send it to me, that's okay, just please send me links/etc so I can credit you properly and direct users to the translation file.
- If you could also provide some information in the target language please? Just so I can provide a correct translation on the page explaining what translation it is, who translated it, and what the user needs to do/etc. Example: "French Translation by TRANSLATOR, requires original file."
Other places you can find my creations:
-
Sims 4 Studio (Username: Teknikah)
-
The Sims Resource (Username: Teknikah)
(
I do not like the upload process here, as far as I'm concerned I no longer post here
)
-
Nexus Mods (Username: charlyxx)
All of my creations will be uploaded here on MTS, other sites listed previously might not have all of them and may not be kept updated.