>

Individual objects with customized pie menus and options.
Front Desk Staff Mod
MTS has all free content, all the time. Find out how YOU can help to keep it running.
Tell me how...

Created by SHUSHU View Policy / About Me View Downloads Home
Uploaded 23rd Oct 2020 at 6:22 PM · Updated 6th Dec 2020 at 2:29 PM by SHUSHU

I'm not updating on MTS anymore. Instead, please use my homepage to check for updates: https://shushumods.com/
Works fine with Latest(11/11) Patch
- Requires :
Get To Work
- Supported Language : English, Korean, Chinese(by MuMu), Italian(by littledica), Spanish(by Gonzii), Swedish(by letrax), Russian(by Origamika), Brazilian Portuguese(by losson370, DesafiosTheSims), French(by Candyman.fr)
* The Brazilian Portuguese translation included IN the mod was done by losson370, and you can get DesafiosTheSims's Brazilian Portuguese translation and mod description here:
https://www.desafiosthesims.com.br/...co-de-recepcao/
- Update History

Oct 29, 2020 - Added Brazilian Portuguese(Thanks to losson370, DesafiosTheSims!), French(Thanks to Candyman.fr!) translations
Oct 26, 2020 - Added Swedish(Thanks to letrax!), Russian(Thanks to Origamika!) translations
Oct 25, 2020 - Added Chinese translation(Thanks to MuMu!), Added Italian translation(Thanks to littledica!), Added Spanish translation (Thanks to Gonzii!)

Have you ever seen non-functional front desks in the builds in the game?
Many builds, including both EA builds and users' builds have front desks in it, but they are mostly for decorative purposes, and aren't actually functional.
Here an example of a non-functional front desk in EA build: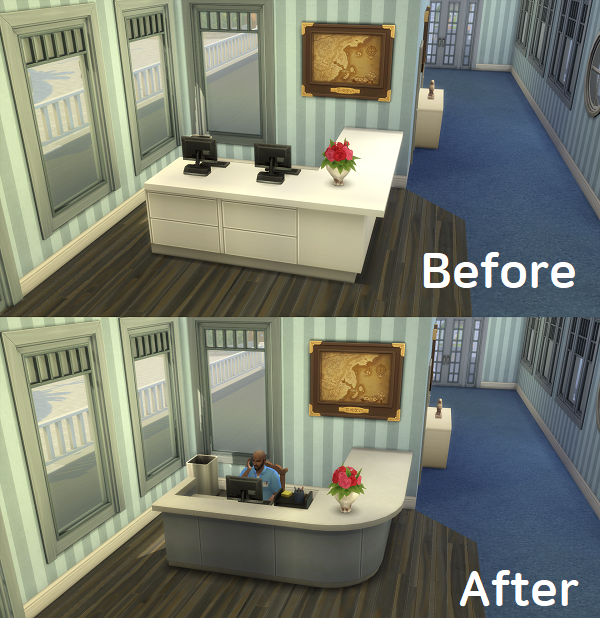 Every time I see these 'non-functional' front desks, I always wished these front desks to be actually 'functional' - for more reality. And now it's finally possible!
With this mod, you can make actual functional front desks at any lots you want!!!
Front desks and staffs in this mod are based on the 'Receptionist' coworkers of active careers in GTW. Therefore, you need
Get To Work
in the first place to use this mod!
How to Use
1. Choose 'Front Desk Staff' lot trait for the lot.

Type of lot doesn't matter at all. It can be residental, generic, gyms, lounges, ... whatever you want.

2. Place "THE Front Desk", a computer, and a chair in the lot.
"THE Front Desk" looks like as follows:

The computer should be 'on' the front desk, and the chair should be paired with the front desk:

The full set should look like above. A front desk, a computer, and a chair. Type of computer and chair doesn't matter.
Only one staff can be hired on a single lot, so place only one front desk on your lot!
Tip : You can use "Front Desk Extension Mechanism" item to extend your front desk and make it look better!

3. Enter the lot and a front desk staff NPC will soon appear!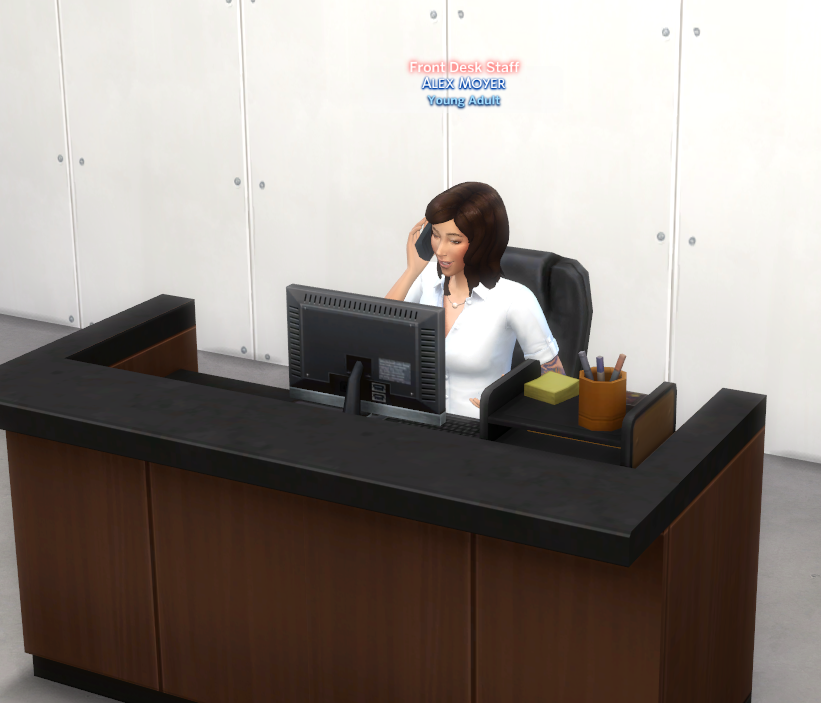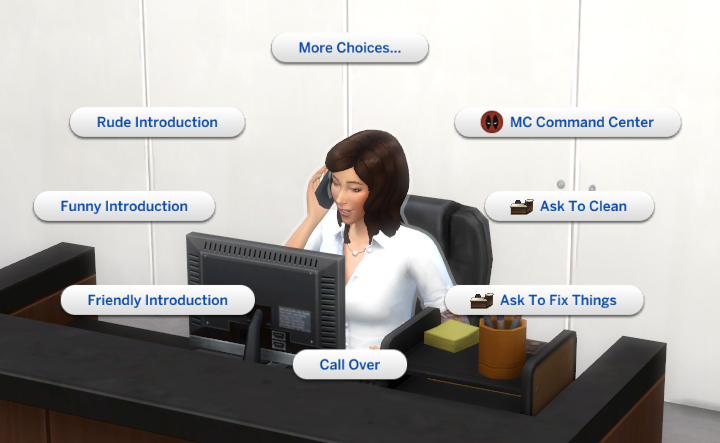 The hired NPC will sit down at the front desk, and do things like using computers or getting calls. You can ask them to clean or fix things on the lot by selecting 'Ask To Clean' or 'Ask To Fix Things' on them. But I made this feature really brief, so it may not work really well. (When I tested, these staffs did not clean or fix everything in the lot, but rather handled only things around them.)

Basically there is nothing more that these staffs can do - their behaviors are nothing more or less than the GTW 'Receptionist' coworkers. Though, I'm planning to expand these staffs' roles on upcoming updates: ex) greeting new visitors, collecting entrance fees, and more businesses.

[Plans on Updates]
fix "Ask To Clean" and "Ask To Fix Things" so that they work better
Add a feature that the staffs automatically greet new visitors on lot on the spot
Add a feature that we can set entrance fee per lot and pay entrance fee on front desks
And more varieties of functions...
Additional Credits:
Sims 4 Studio
Mod Constructor
Tags: #frontdesk, #front desk, #frontdeskstaff, #front desk staff, #receptionist, #gettowork