MTS has all free content, all the time. Find out how YOU can help to keep it running.
Tell me how...


Superhero and Supervillain Careers
35
Thanks
Thanks
13
Favourited
This download is a custom career. This means that you will need the
NRaas Careers mod
installed in order to use the download in your game.
Introduction:
This mod adds two custom careers to the game: the SuperHero and SuperVillain careers. Although the Sims 3 already has a "Supervillain path" in the form of the "Evil" career branch of the Criminal career, however I wanted to create my own careers that specifically focus on being a Superhero/villain.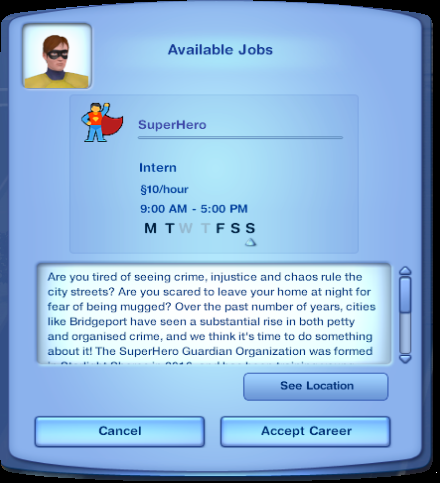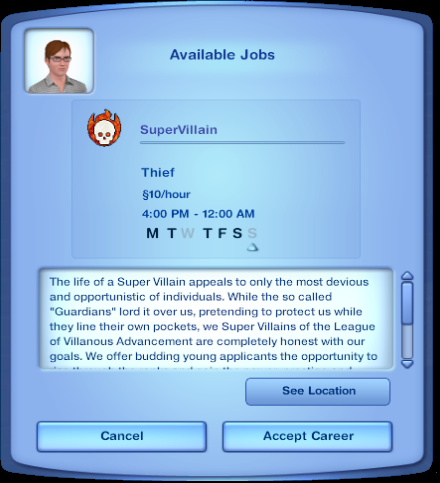 Both the Superhero and Supervillain careers require an array of skills to advance at various different stages. The main skills needed are the Martial Arts and Logic skills, but other skills such as Handiness, Science or Charisma may be needed at points as well. The working hours can range from being during the day to during the dead of night, as many vigilante activities need to be done under the cover of darkness.
Join Text (Superhero):
Are you tired of seeing crime, injustice and chaos rule the city streets? Are you scared to leave your home at night for fear of being mugged? Over the past number of years, cities like Bridgeport have seen a substantial rise in both petty and organised crime, and we think it's time to do something about it! The SuperHero Guardian Organization was formed in Starlight Shores in 2016, and has been training young and eager Superhero recruits to join the fight against crime and villainy. Are you interested? Do you have what it takes to defend the innocent? Join up today! (Disclaimer, the SuperHero Guardian Organization is not responsible for loss of limb, loss of life or acidic disintegration that occurs to its employees)
Join Text (Supervillain)
:
The life of a Super Villain appeals to only the most devious and opportunistic of individuals. While the so called "Guardians" lord it over us, pretending to protect us while they line their own pockets, we Super Villains of the League of Villainous Advancement are completely honest with our goals. We offer budding young applicants the opportunity to rise through the ranks and gain the power, prestige and notoriety that comes with a career in supervillainy. In this career you will operate from a shadowy base and terrorise the world. Just ignore the gunshots and screams of pain you hear from the basement, you get used to it eventually.
Rabbitholes:
The Superhero career is situated in the
City Hall
rabbithole, while the Supervillain career is situated in the
Criminal Hideout/Warehouse
rabbithole.
Work Tones (Superhero):
Business as Usual
Work Hard
Take It Easy
Meet Coworkers
Train in the Training Arena (Increases Martial Arts skill)
Tinker in Robotics Lab (Increases Inventing skill)
Work Tones (Supervillain)
:
Business as Usual
Work Hard
Take It Easy
Meet Coworkers
Work in Genetics Lab (Increases Science skill)
Hack Government Servers (Increases Hacking skill)
JOB LEVELS - SUPERHERO:
JOB LEVELS - SUPERVILLAIN:
Note:
Although it is not required for the mod, if you have the
Sims 3: Movie Stuff
stuff pack installed I highly recommend that once you reach level 6 (Superhero/Supervillain) of either career track you could edit your career outfit and use the superhero-themed clothing from that stuff pack to create your own unique superhero/supervillain suit. That way you won?t have to ask ?Where?s my supersuit?!?

The superhero outfit used in the thumbnail is from
Sims 3: Movie Stuff
and the cape is from
"Superhero suits for everyone" by guidion
Mods and Packs required:
I created this mod on version 1.67.
You need the nraas Careers Mod (
https://www.nraas.net/community/Careers
) for these careers to work.
The Sims 3: World Adventures expansion pack is required
The Sims 3: University expansion pack is required
The Sims 3: Ambitions expansion pack is required
Additional Credits:
Additional Thanks:
MissyHissy - Her
tutorial
was the only reason I could even get this mod to work, and was incredibly helpful.
The nraas Careers Mod, again without which this mod would not work.
7 Comments / Replies (
Who?
)
Users who thanked this download also thanked: