>

Mods that replace game resources other than the script core.
Faster Drafting Table Sketches & Paintings
MTS has all free content, all the time. Find out how YOU can help to keep it running.
Tell me how...
24,187

Downloads
889

Thanks Thanks
192

Favourited
64,412

Views
Picked Upload! This is a picked upload! It showcases some of the best talent and creativity available on MTS and in the community.
Personal Picked Upload!
This is a personal favourite of the creator!

Uploaded: 15th Sep 2012 at 6:44 PM
Updated: 19th Oct 2013 at 1:39 PM


No Update Is Required For Patch 1.63 and Into the Future


What This Mod Does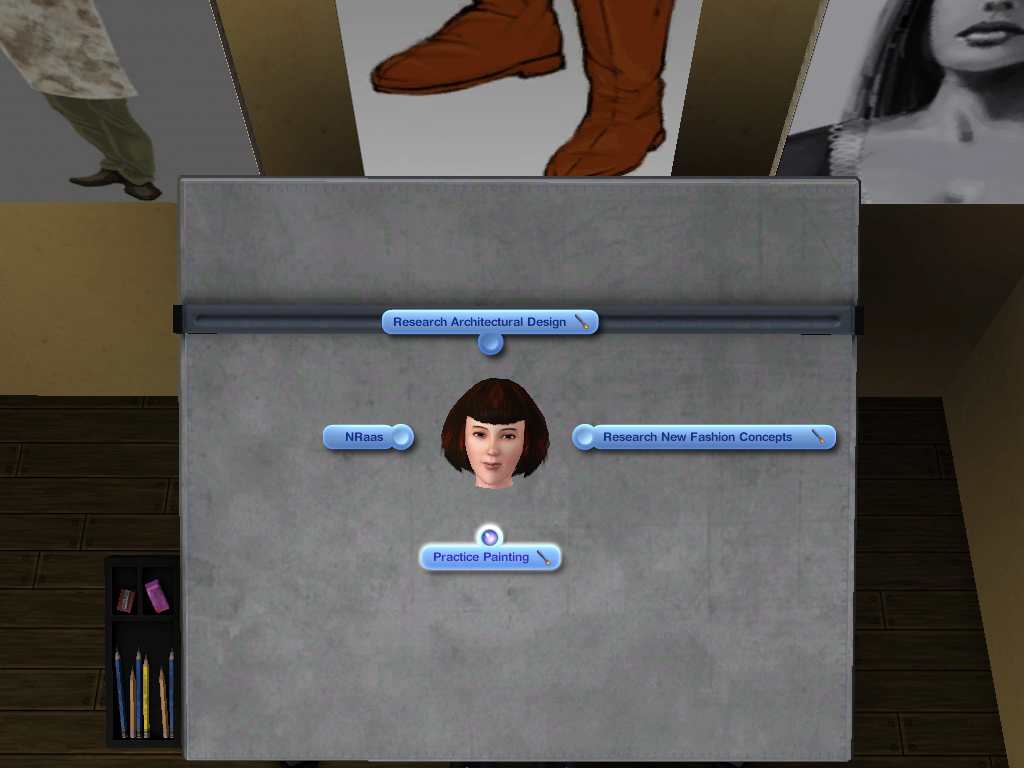 This is a tuning mod that decreases the amount of time it takes to research fashion concepts & produce fashion sketches, the amount of of time it takes to research architectural design & produce interior design sketches and the amount of time it takes to practice painting on the Ambitions Drafting Table (not the Easel) in multiples of x2, x4, x8 and x16 and essentially acts as a compliment to existing faster painting easel mods.
What's The Purpose of This Mod/What's The Point of It?
This mod serves two purposes.
Firstly, this mod intends to as mentioned above,
COMPLIMENT the existing Easel faster painting mods (like the ones hosted here that are still compatible with current patches) and fill in the current gap that is present with current faster painting mods that generally do NOT deal with the time it takes to produce sketches and paintings on the Drafting Table
.
Secondly, this mod intends to ease the frustration of using the Drafting Table to some degree. if you have used the Drafting Table like I have, you would have noticed the massive amount of sketches and paintings that are possible to produce with the Drafting Table. There are nearly 500 of them spread across the 3 categories of fashion sketches, interior design sketches and drafting table paintings. Each sketch/painting takes approximately 4 Sim hours to produce and there are a specific set of sketches and paintings for each level of the painting and hidden styling skills. To make matters more complicated, the sketch your Sim will produce is generated randomly, which means it can potentially take hundreds of attempts up and down between skill levels to get your Sim to produce the sketch you're after and just when you thought it couldn't get any worse, these sketches CANNOT be purchased in the catalog, nor can they be transferred from one save file to another so once you lose your existing save file and start a new one, that's it, your Sims many hours of effort put into producing these sketches and paintings is ultimately wasted. So this mod aims to ease the pain a bit by making the whole process of producing material on the drafting table just that bit faster so the repetition at least becomes a bit more tolerable and manageable due to the output of sketches and paintings increasing in a shorter period of time.
Specifics Regarding The Different Versions of this Mod
This mod comes in
a few different versions
to suit your individual preferences, which are as follows,

YOU CAN ONLY USE ONE!

:
FasterDraftingTableSketches&Paintings(x2)
= Reduces the time it takes to produce fashion sketches, architectural sketches and paintings from 240 Sim minutes to 120 Sim minutes;
FasterDraftingTableSketches&Paintings(x4)
= Reduces the time it takes to produce fashion sketches, architectural sketches and paintings from 240 Sim minutes to 60 Sim minutes;
FasterDraftingTableSketches&Paintings(x8)
= Reduces the time it takes to produce fashion sketches, architectural sketches and paintings from 240 Sim minutes to 30 Sim minutes;
FasterDraftingTableSketches&Paintings(x16)
= Reduces the time it takes to produce fashion sketches, architectural sketches and paintings from 240 Sim minutes to 15 Sim minutes;
NOTE: This mod has NOTHING to do with the Easel and Faster Painting on the Easel. That is dealt with by a separate mod which is a reason why this mod was made in the first place as already mentioned above, which is due to the Easel faster painting mods generally not having the Drafting Table incorporated into those mods.
Compatibility
This mod was made with the latest
1.38
patch but in order to get proper use out of this mod, you'll need to have the
Ambitions expansion pack
installed so you can actually buy the
The Drafting Table by Scuzzmarr Industries
to be able to research fashion concepts and architectural design in the first place.

This mod CAN be used together with other faster painting mods that just edit the Easel XML and/or the PaintingSkill XML files, which is just about all of them.

This mod edits the DraftingTable+Canvas XML File and will conflict with any other mod that edits the same XML file.
Installation
Simply drag and drop/cut & paste/copy & paste the .package file into your Mods\Packages as normal.
Additional Credits:
S3PE
and its developers & MTS for hosting this upload.
About Me
***I am current not taking requests for mods for The Sims 3 at this time and will permanently shift my attention towards The Sims 4 when it releases in September 2014.***

I'm relatively new to Sims modding, only discovering it in late 2011 (very late to the party, but better late than never I suppose). I make mods to satisfy my own personal needs filling in gaps (whether they be new or updating existing mods), and then offer to release them publicly for others to use as well.

MOD UPDATE POLICY:

I give permission for anyone here to update the mods i've uploaded for the latest expansion packs/patches on the condition that I am inactive (i.e. not having logged on) for at least one month, I haven't stated in any capacity that I plan to update said mod either via the mod thread or in my journal, the updater states it's not their original work/is an update, and gives me credit by linking back to the original mod at the beginning of the main text description for the updated version.