Sims

>

>

Other pixel dolls/Ones not based on anyone/Random people here.
Stereotypes: Lyle the grump
MTS has all free content, all the time. Find out how YOU can help to keep it running.
Tell me how...

Created by Tigerdyhr View Policy / About Me View Downloads Home
Uploaded 11th May 2014 at 11:29 PM · Updated 12th Jun 2014 at 4:45 PM by Tigerdyhr
Lyle is a really great guy, with a heart of gold, under his hard, serious exterior.
Well... That's not really true, is it? In fact it's pretty far from the truth.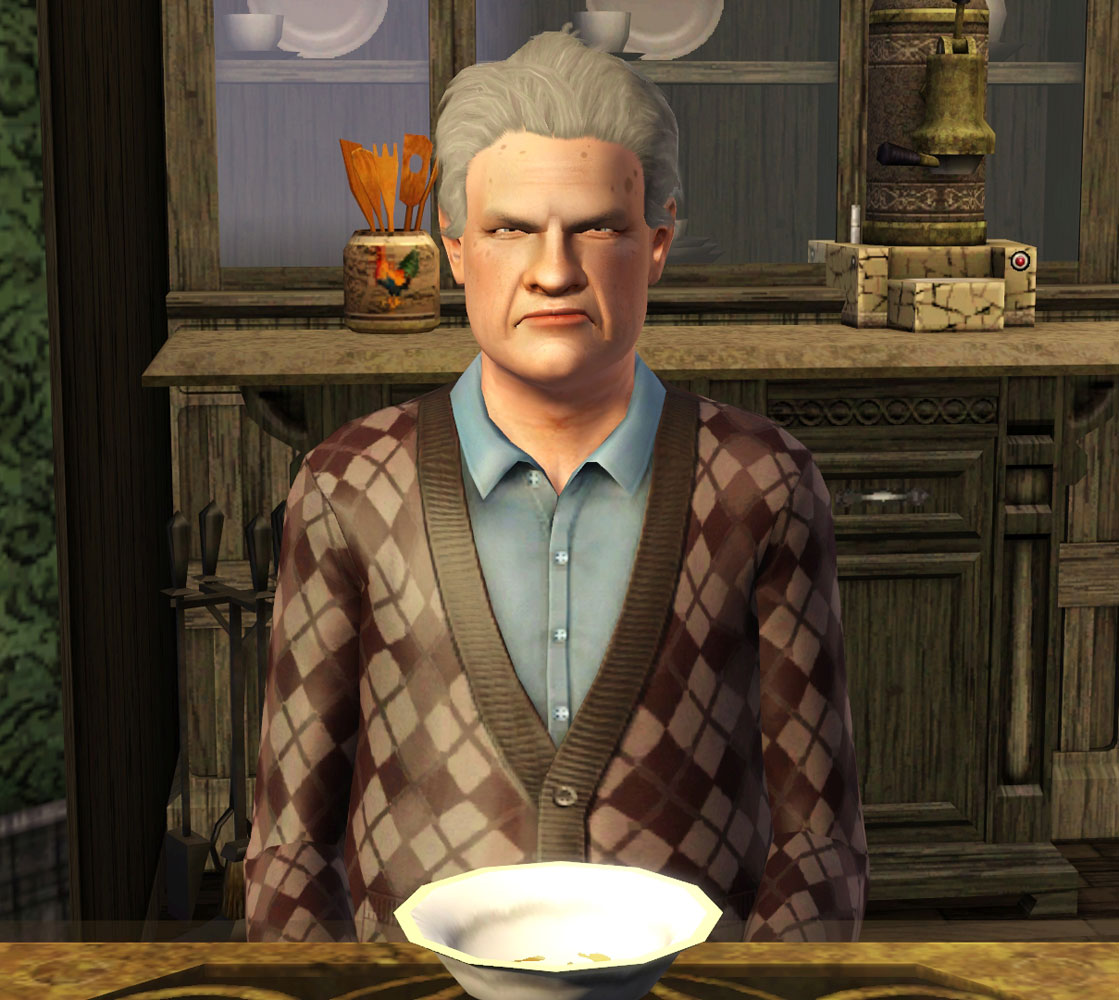 Lyle is not exactly the life of the party. He's more likely to be found in a quiet corner, muttering and complaining about the lack of proper food/music/people/furniture or whatever else might be rubbing him the wrong way, that particular day. And a lot of things tend to do that. Actually, he seems prone to bickering and muttering and complaining and swearing. I once saw him pull a face at a kitten because it had the audacity to purr at him. Okay, so the guy's an old, nitpicky, grumpy fart. No heart of gold there, I'm afraid. It's not that he's a bad person, he's just .... difficult. Yes.
That said, he really knows how to swing a screwdriver, and he almost enjoys (gasp!) inventing stuff. It's probably for the best that he surrounds himself with automatons, since most people wouldn't be caught dead in his company for more than 10 minutes at a time.
You have been warned. If he moans too much, just send him to the inventor's bench. That usually shuts him up... for a while. Right, good luck!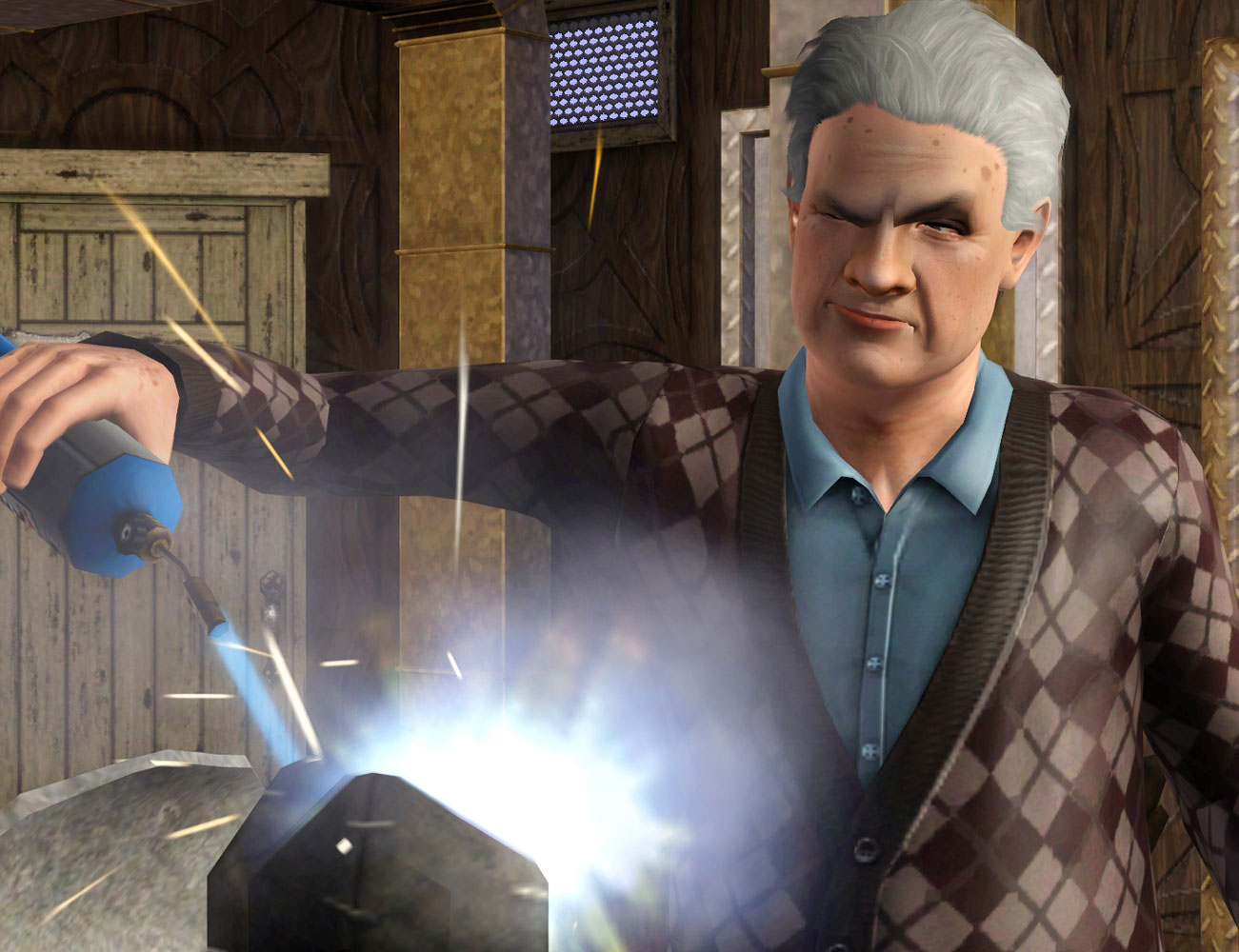 Lyle is shown in the beautiful surroundings of the house "Inventor's Mansion", by the talented Crowkeeper here on MTS -
http://www.modthesims.info/download.php?t=522851
Thanks @Crowkeeper, for inspiring me to finish this grump

Traits:
Hates the outdoors, No sense of humor, Neurotic, Grumpy and Eccentric (Eccentric trait requires Ambitions).
Loves:
Classical music, Stu Surprise and the color grey.
LTW:
Monster Maker (Ambitions).
Lyle is the fourth of a range of stereotype sims.
He is packaged with default skin and hair.
CC used:
Lyle is packaged with default skin, but he is shown with CC (also a custom skin), which you need to download, for him to look like the pictures. No content is included in the download.
Skin: A Matter of Skin, by Mamyrocker
http://rock-the-sims-italy.blogspot...er-of-skin.html
Eyes: Oh my eyes, contacts, by escand -
http://www.modthesims.info/d/397231
Face contour - blush, by Arisuka -
http://www.modthesims.info/download.php?t=416152
Subtle wrinkles, as age detail, by Arisuka, converted by Daluved
http://www.modthesims.info/download.php?t=394201
Eye bags v3 by Tifa
http://kero7423.blog.me/130145090100
Brows: MakeupeyebrowsBasic02, by Ephemera
http://blog.sina.com.cn/s/blog_63f63ea901014ejx.html
(Google translate is your friend, when finding the download link)
Clothes:
All is basegame, except Lyle's outerwear, which is from Supernatural. Obviously the use of outerwear requires Seasons.
Additional Credits:
Thank you to all who helped me a good while back, when I had Lyle by CFF. You know who you are - thank you