Buy Mode

>

>

Creativity, knowledge, exercise, and recreation.
Parenting Life Skill Guide
MTS has all free content, all the time. Find out how YOU can help to keep it running.
Tell me how...
2,466

Downloads
80

Thanks Thanks
17

Favourited
11,533

Views

Uploaded: 18th Jun 2016 at 10:28 PM
Updated: 9th Dec 2018 at 4:18 PM - Improved routing & conversation
Title: The Parenting Life Skill Guide, with Deco Books
UPGRADE August 6th, 2017
1) This update improves the routing of both teacher and students, making it more likely that they will position themselves correctly.
2) The occultist and clients now uses a more varied vocabulary, including Enthusiasms if
FreeTime
or any later EP is available.
3) The update also fixes a jump bug that would occur at the end of a session.
Please download sdParentingBooks.zip for the update.
UPDATE December 16th, 2016: Routing Improvement

Enthusiastic listeners will now go to the front of the class to attend the talk, rather than the rear.

Accredited December 11th, 2016

a) With the major upgrade, the Guide is now University and grade school accredited, meaning that school and college students will earn grade points while they attend the talks. Their educational progress will be displayed at the beginning and end of each tutorial session.

b) To support this more serious purpose, a proper dress code is now enforced for all teachers - no more lectures in pajamas or swimsuits!

c) Lecturers who teach autonomously are now more likely to stay on the job.

d) For the basegame and earlier EPs, the menus refer to the Toys interest, rather than the Parenting Life Skill.

e) A bug that caused listeners not to use audience seating has been fixed. My thanks to gazania for confirming this problem.

f) In checking for valid audience seating, bar stools are now approved for use.

Update August 28, 2016: NPC Control

This release fixes an error on complex lots: with Auto-Invite On it was possible for two NPCs to appear and try to teach at the book.

Update August 20, 2016: Improved Mentor & Student Routing

a) Sims who are already sitting in a good location to either teach from the Guide or listen to the teacher will no longer jump up and attempt to find another seat.

b) A seated Nanny mentor, who will disappear immediately after finishing a session at a residence, will no longer busy-out the chair she was using so that it cannot be used again.

c) Invited mentors are now consistently announced by full name.

Update July 29, 2016: Catalogue No Longer Advertises Creativity

The catalogue entry for the Guide has been corrected to show that the object builds Charisma only, not Creativity.

Update June 21, 2016: Minor Fixes

a) This update to the Parenting Life Skill Guide prevents it from incorrectly advertising to Sims that it would restore Energy and Comfort.

b) The advertised Environment value had been corrected from "3" to "2".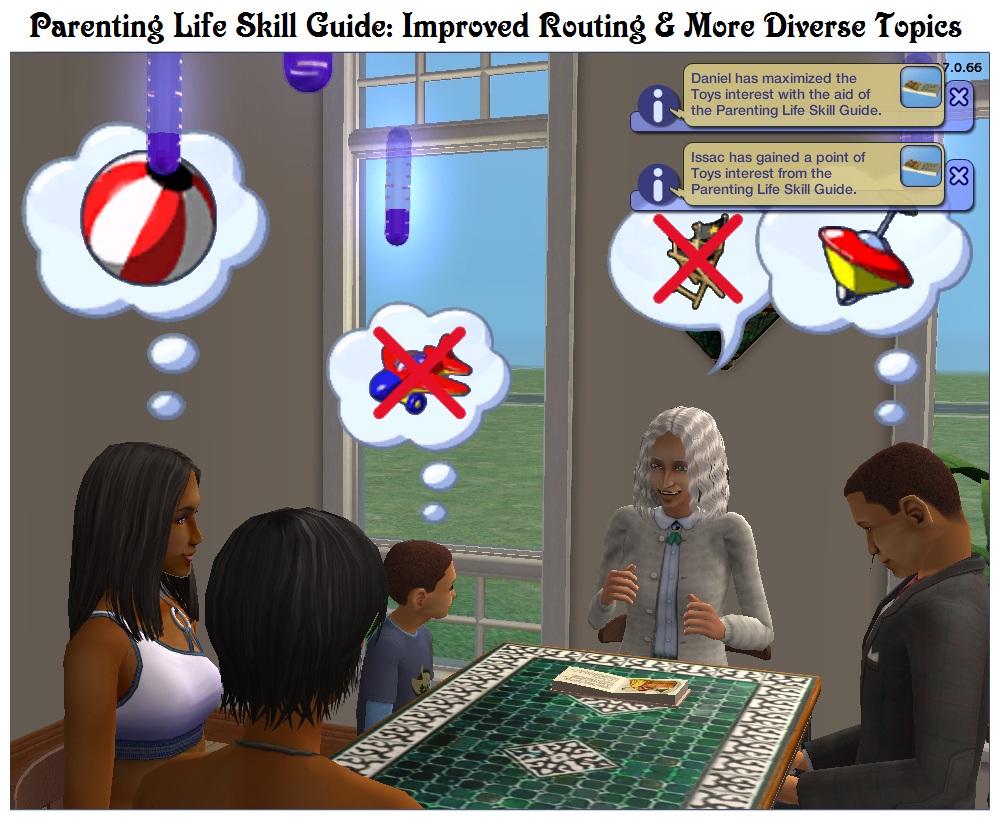 Purpose
1) To develop a teaching aid so that the Parenting Life Skill may be taught as a course. As well as being appropriate for community centres or colleges, I would see the Guide as particularly useful in semi-literate and pre-modern societies.
2) To supply two decorative books to represent the Life Skill Guide when it is closed.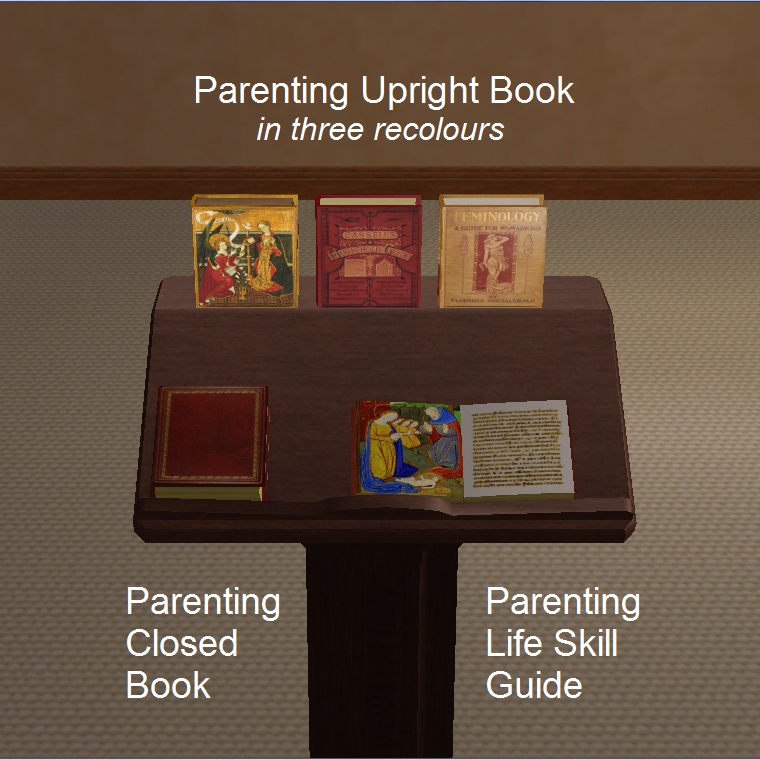 Description
The Parenting Guide is basegame compatible, in which environment it will raise the Toys interest and fulfill Fun and Social needs. To actually learn the Parenting Skill,
FreeTime
,
Apartment Life
or
Mansion & Garden
must be available.
This set is compatible with the Opportunity Pack
Lectern
,
Reading Desk
and
Ravendancer
projects.
The Parenting books are available from the Hobby/Knowledge section of the catalogue. The Life Skill Guide costs §319 and the deco books cost §318 each.
Contents
1)
Parenting Life Skill Guide
- some Sims have the uncanny ability to know just what babies need, and those willing to share this skill can increase their Charisma and earn a stipend. All those attending the seminar will raise their Toys Interest and FreeTime Games Enthusiasm while restoring their fun and social motives. Listeners enrolled in school or college will also earn Grade Points.
Only those who have already learned the Parenting Life Skill may become parenting mentors. Qualified magic Users and moderately Charismatic Sims (those with at least three Charisma skill points) may teach autonomously.
It is college accredited for those majoring in Biology, but regardless of what major they may be specializing in, attending a lecture at the Guide will grant college credits to all those registered in university.
College and school progress is displayed at the beginning and end of each student's learning session. If a school student earns an "A+", additional study will earn Extra Credits which allow a child or teen to take time off without losing a letter grade, or can be saved for advanced placement (one full term for 1000 points) in college.
Sims will "Learn" to satisfy their Fun and Social needs, but if the speech maker is moderately Charismatic then Sims will continue listening until their needs or mood becomes too low. The book will also satisfy the "Practice Speech, "Read To" and "Be Read to by" wants.
The default professional teacher is the basegame Nanny.
The Parenting Guide uses EA's built-in basegame book recolours as well as those from the
Opportunity Pack Books
,
Collector's Editions
, the
Ravendancer project
, the
Grimms' Closed Books
, and those supplied here.
Additionally, the Guide uses basegame Bella Squared recolours for the picture on the left-hand page, such as those included in this project.
The Life Skill Guide is placeable on a Ravendancer Didactic Desk or Grandiose Reading Stand, an Opportunity Reading Desk or Opportunity Lectern as well as counters, desks, dining tables, end tables, shelves or on the ground. It can be made completely invisible wherever it is placed, can share a tile with another object, Sims will step over it, and it is height adjustable if Apartment Life or Mansion & Garden is available.

Listeners will sit on dining chairs, living chairs, sofas or love seats if they are available. To use two tile recliners, Sims must directed to sit on them first before listening. If no seats are available, listeners will stand instead.

If the Guide is placed on a table, desk or coffee table with a dining chair behind it, the teacher will sit on the chair to teach the class (in the case of a coffee table, a sofa or carefully positioned living chair will also do). If there are other chairs at the table, students will join the teacher there. Otherwise they will look for a chair that is within ten tiles of the book if indoors, or within eight tiles if outdoors.

If the Guide is placed on the ground or on a coffee table that does not have a chair or sofa behind it, the storyteller will sit on the ground behind it, and all listeners except for elders with also try to find a place on the ground.

Basegame does not support teaching from a chair or while sitting on the ground.

Those who "Teach Parenting Skills" increase their Charisma at the same rate as the basegame Teleprompter. In addition, Sims can "Ask For" or "Offer" Charisma speech lessons if the Storybook is placed on a Didactic Desk, Reading Desk, Reading Stand or Decorative Lectern.

Sims will Listen to satisfy their Fun and Social motives, but if the mentor is a magician or moderately Charismatic, then Sims will continue listening until their needs or mood becomes too low. A magician or a moderately Charismatic Sim will be paid §50 per hour by each non-family member present. On owned business lots, any earnings will go directly to the business owner.

On non-residential lots and dorms a qualified NPC will appear automatically to teach, although this may not occur until ten game minutes have elapsed. This function can be overrode by selecting "Disable Auto-Invite" from the book's menu. Moderately Charismatic Sims with the Parenting Life Skill who happen to visit or are invited to the lot will also autonomously teach from the book. On residential lots a qualified Sim will not appear automatically unless "Enable Auto-Invite" is selected.

The "Invite Mentor" menu option will call in a qualified Sim regardless of the Auto-Invite setting. If a teacher is already on the job, "Replace Mentor" will dismiss the current Sim and after about ten game minutes a new teacher will be recruited. If you no longer want an invited teacher at all, "Dismiss" will relieve the Sim of their duties and "Auto-Invite" will be disabled.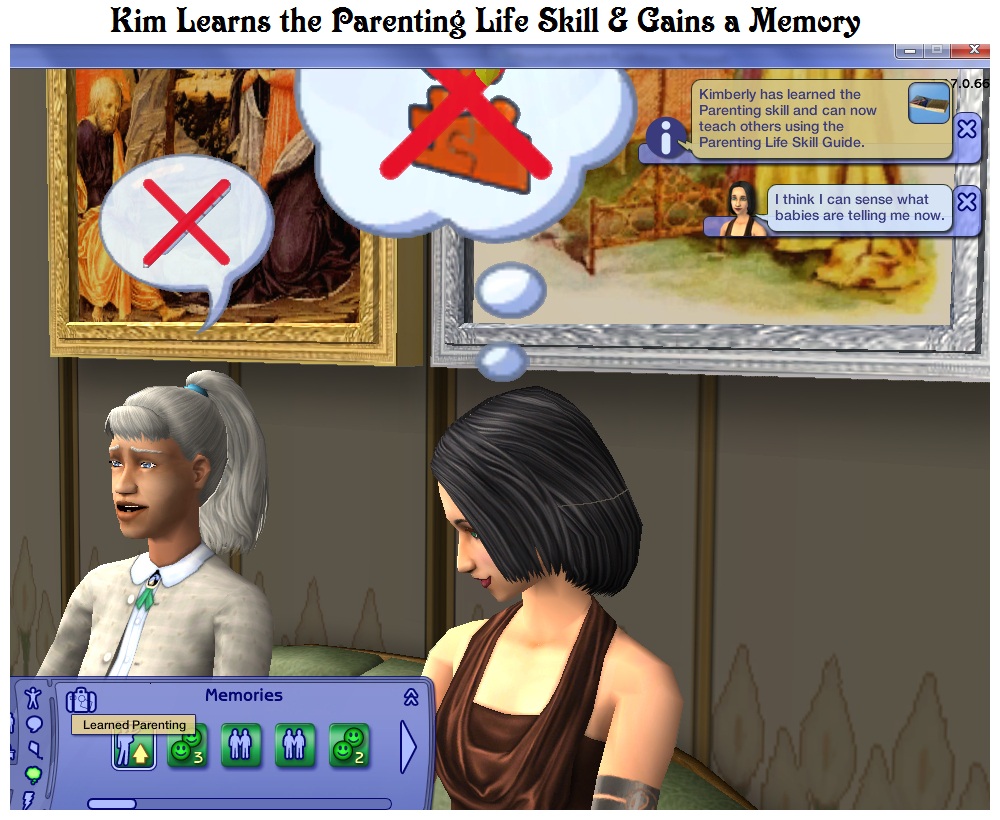 2)
Parenting Closed Book
- Unlike the Parenting Guide, the Parenting Closed and Upright Books are not made for mentors to use. Instead they are skill building decorative objects like the
Opportunity Pack Special and Archival Editions
, the
Ravendancer Closed Books
and the
Grimms' Closed Books
. If the player chooses, Sims will gather around one of these decorative books and discuss it together, building a skill, interest and the Games enthusiasm (
FreeTime
or later), until their needs are depleted.
The Closed Book is sized to represent the Parenting Guide when it is not being used for teaching. Viewing this volume has the potential to raise the Charisma skill and Toys interest.
3)
Parenting Upright Book
- the Upright Book represents the Parenting Guide when it is put away on a shelf. This book can raise the Charisma skill and Culture interest.
Notes on the Decorative Books as Viewable Objects

Autonomous viewing of decorative objects can be annoying, so Sims will not autonomously view or critique the Parenting Closed Book or Upright Book unless a player directs a Sim to do so. However, once you ask a Sim to View or Critique one of these books, it may then be used autonomously by any other Sim on the lot. If no Sim uses the object for 30 to 36 game hours, it will no longer be usable autonomously. Alternately, the Reset Autonomy button can be used to disable autonomous viewing or critiquing at any time.

For very serious Sims - those with a Playful score of one or less - the "Critique" option will appear instead of "View". If the object is viewed or critiqued enough an "Easter egg" will be revealed.

Because Sims will continue to use one of these objects until a significant loss of motives, rather than flitting from one object to another as with a standard Viewable object, these books do not support the "View Many" feature.

Note that since the objects are linked to basegame accessory textures, most default replacement projects - such as those by Almighty Hat and sunni9676 - will also apply to these books. In addition, a Sim's thought bubbles displayed during a View or Critique will be updated with default replacements if they are available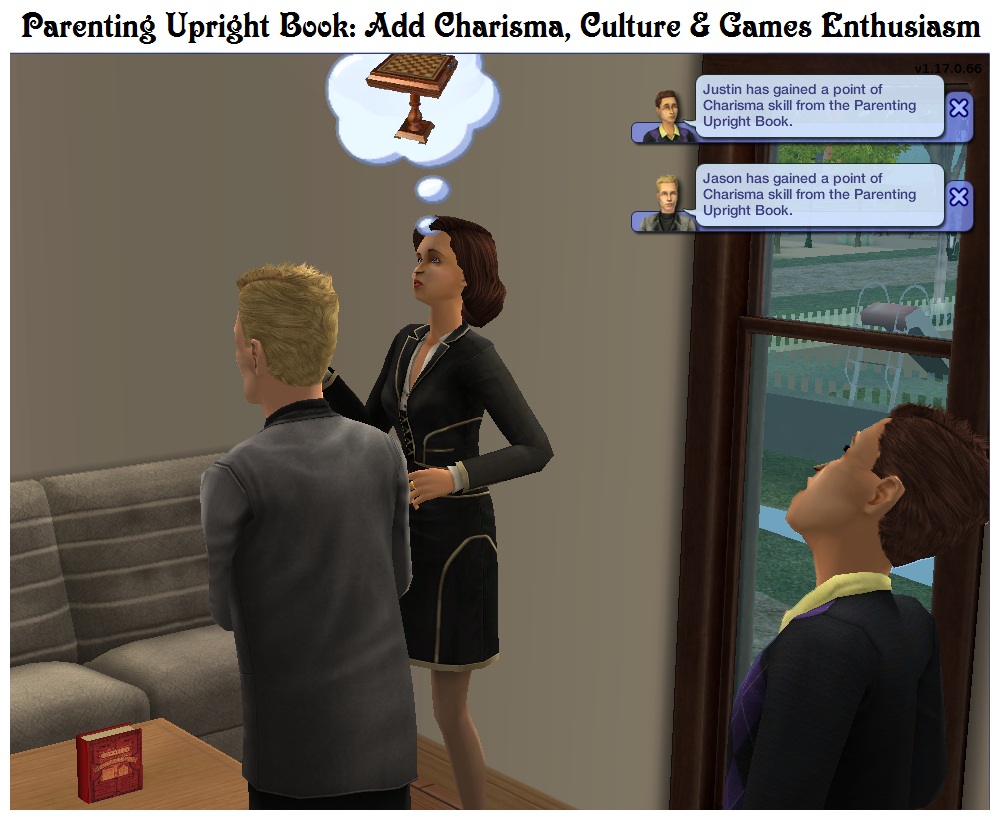 4)
The Parenting Book Recolours
- in addition to the
Opportunity Pack Book
, [http://www.modthesims.info/download.php?t=519229]Collector's Edition[/url],
Ravendancer
, and the built-in basegame book recolours, the three volumes in this set can use the following four textures.
Parenting Book Recolours List
Annunciation 1430, Cassell's Household Guide 1880s, Feminology 1902, Kacmarcik Book of Hours 16th Century.
5)
Bella Squared Picture Recolours
- these ten recolours support both the Parenting Guide and the basegame Bella Squared wall painting. The painting sells for §1000 and has an Environment value of 7.
Bella Squared Picture Recolour List
Annunciation - Costa 16th Century, Cassell's Household Guide 1911, Child Life 1902, Epiphany - Kacmarcik Book of Hours 16th Century, Feminology Mother 1902, Feminology Squirrels 1902, Invisible, Nativity - Kacmarcik Book of Hours 16th Century, Nativity - Martini 1470, Virgin Annunciate - Messina 1474.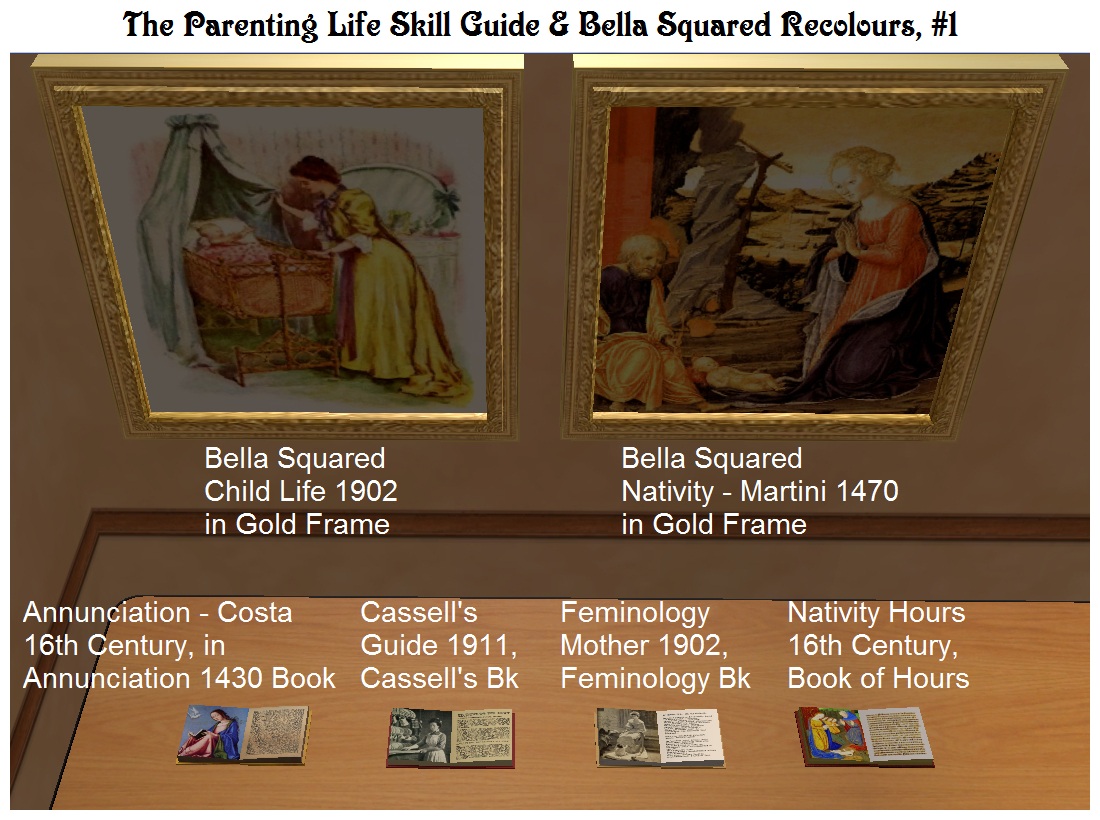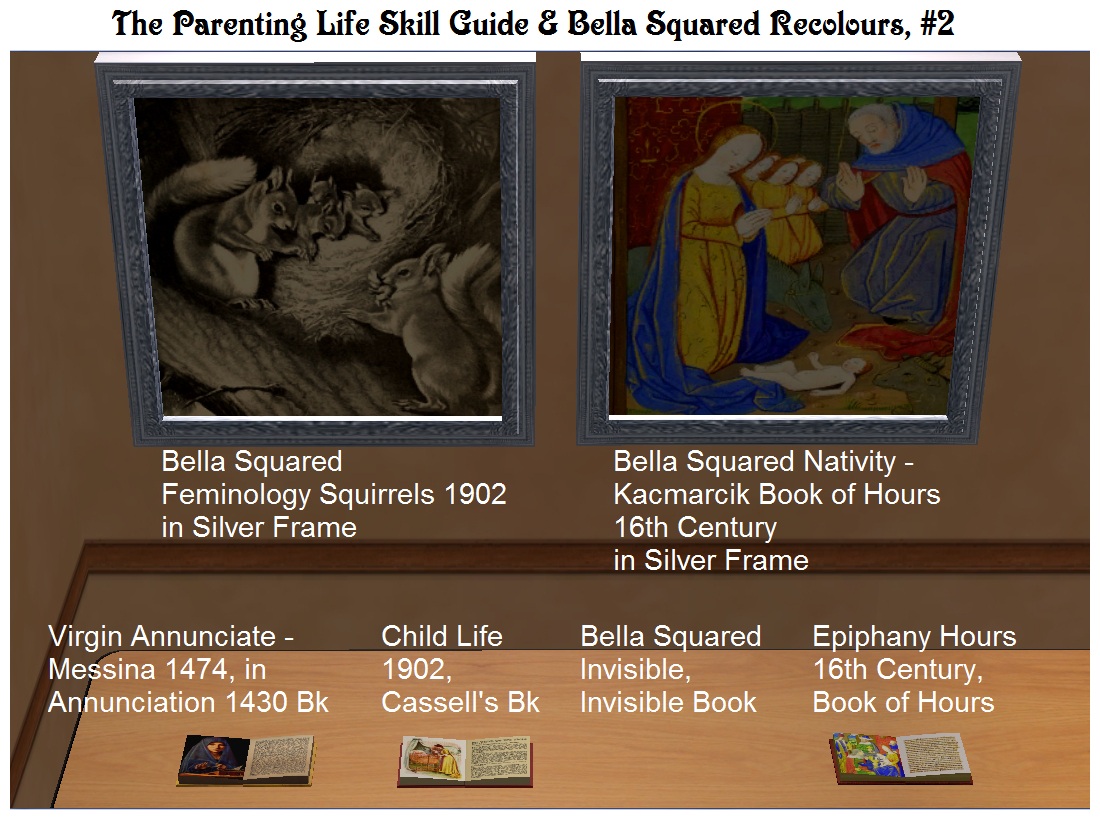 6)
Bella Squared Frame Recolours
- these Gold and Silver frames are for the basegame Bella Squared wall painting only. They are not used by the Parenting books.
Downloads
This set is distributed in four downloads, as follows:
a) sdParentingBooks.zip - this archive contains the Parenting Life Skill Guide and the two decorative books.
b) sdBookBG_ParentingRecolours.zip - these four recolours support the text and cover graphics used in this Parenting set, as well as basegame,
Opportunity Pack
,
Ravendancer
and
Grimms
books.
c) sdBellaSquaredBG_ParentingRecolours.zip - these ten recolours support the Parenting books and EA's Bella Squared painting.
d) sdBellaSquaredBG_FrameRecolours.zip - this archive holds two recolours of the Bella Squared picture frame.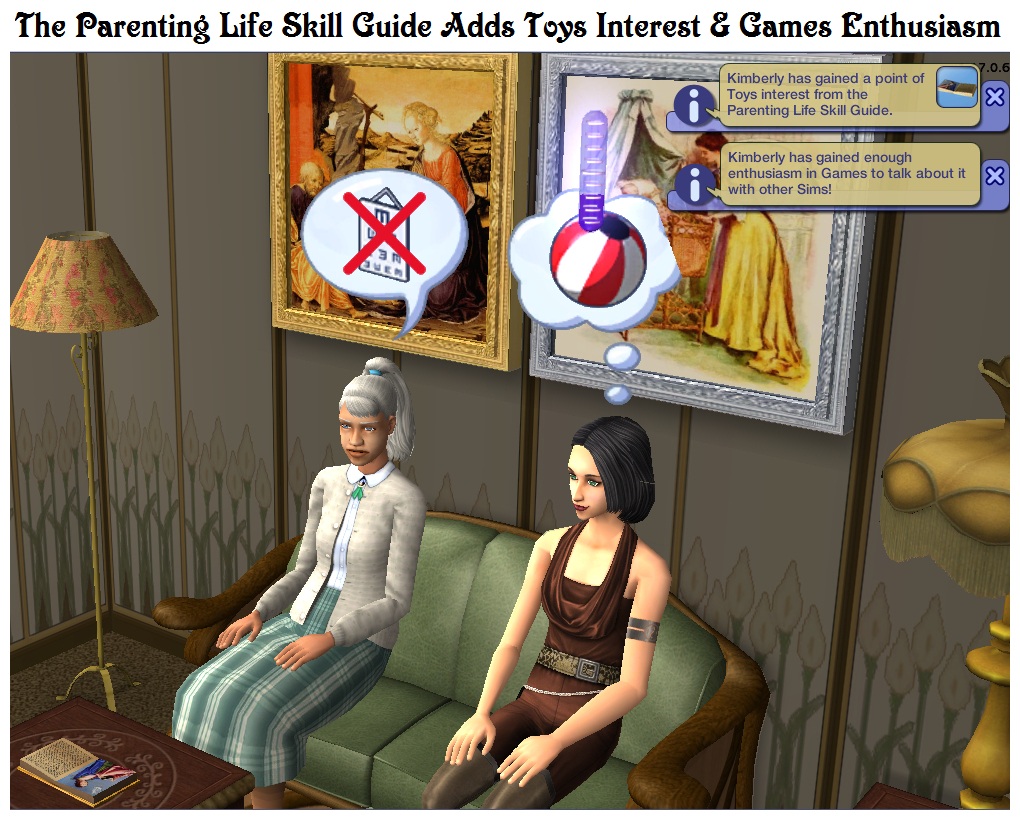 Terms of Use
You may include any item from this set in uploaded lots, whether for free or pay. It is nice but not necessary to provide a credit and link to this page.
Recommendation
I suggest using Pescado's
Community Lot Skilling and Enthusiasm
patch so that these and all other skill building objects are fully functional on all lots.
Additional Credits
GIMP 2
and Microsoft Paint for graphics editing, file conversion, processing, sizing and titling
Jfade's
Compressorizer
for minimizing file size
Milkshape 3D
,
Ultimate Unwrap3D Pro
and
UV Mapper Professional
, for 3D modeling and mapping
Numenor's
AnyGameStarter
, used for testing this project in several game environments
SimPE
,
PJSE
, and
CEP
for
Sims 2
object creation
Polygon Counts
Parenting Closed Book: 138 faces, 192 vertices
Parenting Life Skill Guide: 99 faces, 141 vertices
Parenting Upright Book: 141 faces, 195 vertices
*** Off-Site Downloads ***