Buy Mode

>

>

Creativity, knowledge, exercise, and recreation.
The Sims 2 Opportunity Pack Collector's Editions
MTS has all free content, all the time. Find out how YOU can help to keep it running.
Tell me how...
2,728

Downloads
270

Thanks Thanks
50

Favourited
17,698

Views

Uploaded: 26th Jan 2014 at 8:02 AM
Updated: 14th Jul 2016 at 4:50 PM - Posted the Jan. 30th Update
Title: The Sims 2 Opportunity Pack Collector's Editions
UPGRADE April 10, 2016: Increased Rates for Basegame Interests
The Interest increase rates for the set are boosted to be equivalent to the
FreeTime
Enthusiasm increase rates.
UPDATE Jan. 30, 2016: Adjusted Mesh & Quantity per Shelf

1) The Opportunity Pack Display Edition mesh has been displaced to fit correctly on any of the Opportunity Pack and Ravendancer lecterns.

2) For bookshop use, the Opportunity Pack Archival Edition can now be placed at the maximum density on OFB shelves.
Purpose
1) To provide four high end books that build skills, interests and enthusiasms at continuous and significant rates.
2) Due to the substantial Simoleon cost of these items, to also provide owned bookstores with more profitable merchandise.
3) To provide four book recolours that are appropriate to the Collector's Edition theme.
Description
The four meshes in this set can use the Basegame book's built-in textures, the recolours from the
Reference Section Books & Notes
set or the four recolours included in this download. Like the Reference Section objects, these items are stackable and placeable on almost any surface. Due to their higher price I have also made them immune to snowfall for booksellers who might be working in an open air market while ensuring that their more valuable books stay dry.
Unlike most skill and enthusiasm building objects, these items also increase a Basegame Interest if two or more Sims are conversing together about the book. In the case of serious Sims - those with a Fun score of 1 or lower - they will build an Interest even if they Critique the book by themselves.
With typical viewable objects, Sims will admire them only until their Fun motive is satisfied - or even before that. In contrast these books will engage Sims until their needs are depleted, like purely skill building objects. In recognition of this more significant potential for skilling, I have catalogued the four Collector's Editions in Hobbies/Knowledge.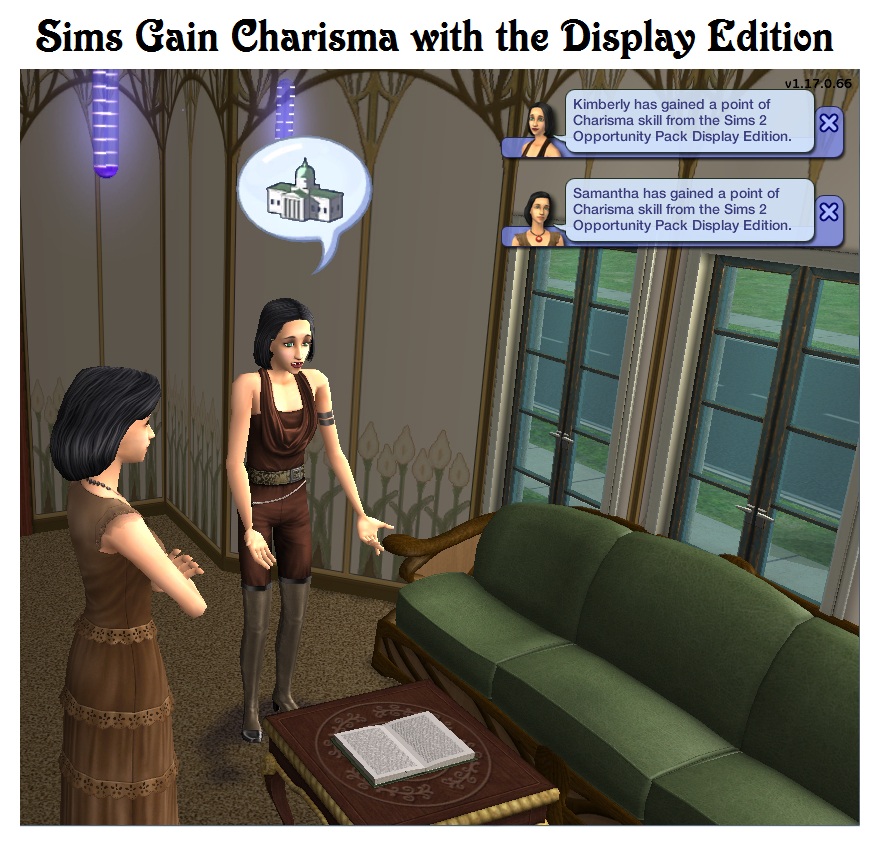 Contents
1)
Opportunity Pack Special Edition
- similar to the Upright Book from the low cost series, this item is available for §300 each. Compared to the cheaper book, the Special Edition is 5% taller and wider, 5% less thick, and rotated to almost (within +5 degrees) face the viewer. Viewing or Critiquing this book will increase Creativity Skill and
FreeTime
Arts & Crafts Enthusiasm. The Creativity increase occurs at the same rate as using the painting easel. If a group of Sims is Viewing the book together or a serious Sim is Critiquing then the Fashion interest will also be stimulated.
2)
Opportunity Pack Limited Edition
- 10% taller and wider, 10% less thick, and rotated to almost (within -10 degrees) face the observer compared to the Upright Book, this object sells for §3000 each. It provides the same skill, enthusiasm and interest as the Special Edition, except that the Creativity occurs 50% faster than the painting easel (i.e. slightly faster than a piano but slower than the polygraph).
3)
Opportunity Pack Archival Edition
- like the
Books & Notes
Closed Book, but 10% wider, 10% deeper, 10% less thick and rotated so that the spine almost (within +5 degrees) faces the viewer, this item costs §300. Viewing or Critiquing increases Charisma Skill at 75% the rate of a mirror as well as raising Film & Literature Enthusiasm. Viewing with other Sims or Critiquing also increases the Culture interest.
4)
Opportunity Pack Display Edition
- 10% wider, 10% deeper and 10% less thick than the standard Open Book, this object is priced at §3000. It builds the same skill, enthusiasm and interest as the Archival Edition, but the Charisma gain occurs 50% faster (i.e. slightly faster than with a mirror).
5)
Book Recolours
- like the majority of the
Books & Notes
collection, each of these four book recolours are derived from historical sources, as listed in the Additional Credits below.
Opportunity Pack Collector's Edition Recolours
Cosmographia 1577, Historia Ecclesiastica 1569, Petrarca 1501, Shakespeare 1623.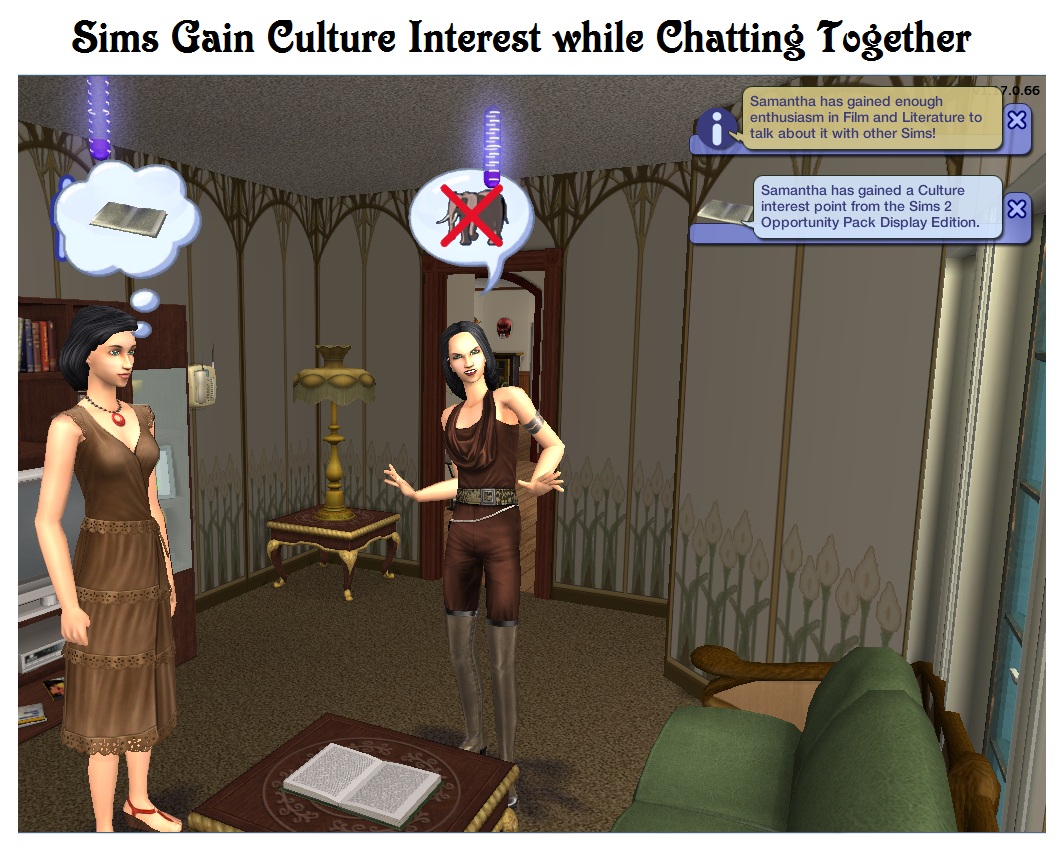 Notes on These Viewable Objects

Autonomous viewing of decorative objects can be annoying, so Sims will not autonomously view or critique these Collector's Editions unless a player directs a Sim to do so. However, once you ask a Sim to View or Critique one of these books, it may then be used autonomously by any other Sim on the lot. If no Sim uses the object for 30 to 36 game hours, it will no longer be usable autonomously. Alternately, the Reset Autonomy button can be used to disable autonomous viewing or critiquing at any time.

For very serious Sims - those with a Playful score of one or less - the "Critique" option will appear instead of "View". If the object is viewed or critiqued enough an "Easter egg" will be revealed.

Because Sims will continue to use one of these objects until a significant loss of motives, rather than flitting from one object to another as with a standard Viewable object, these Collector's Editions do not support the "View Many" feature.

Note that since the books are linked to basegame accessory textures, most default replacement projects - such as those by Almighty Hat and sunni9676 - will also apply to these books. In addition, a Sim's thought bubbles displayed during a View or Critique will be updated with default replacements if they are available.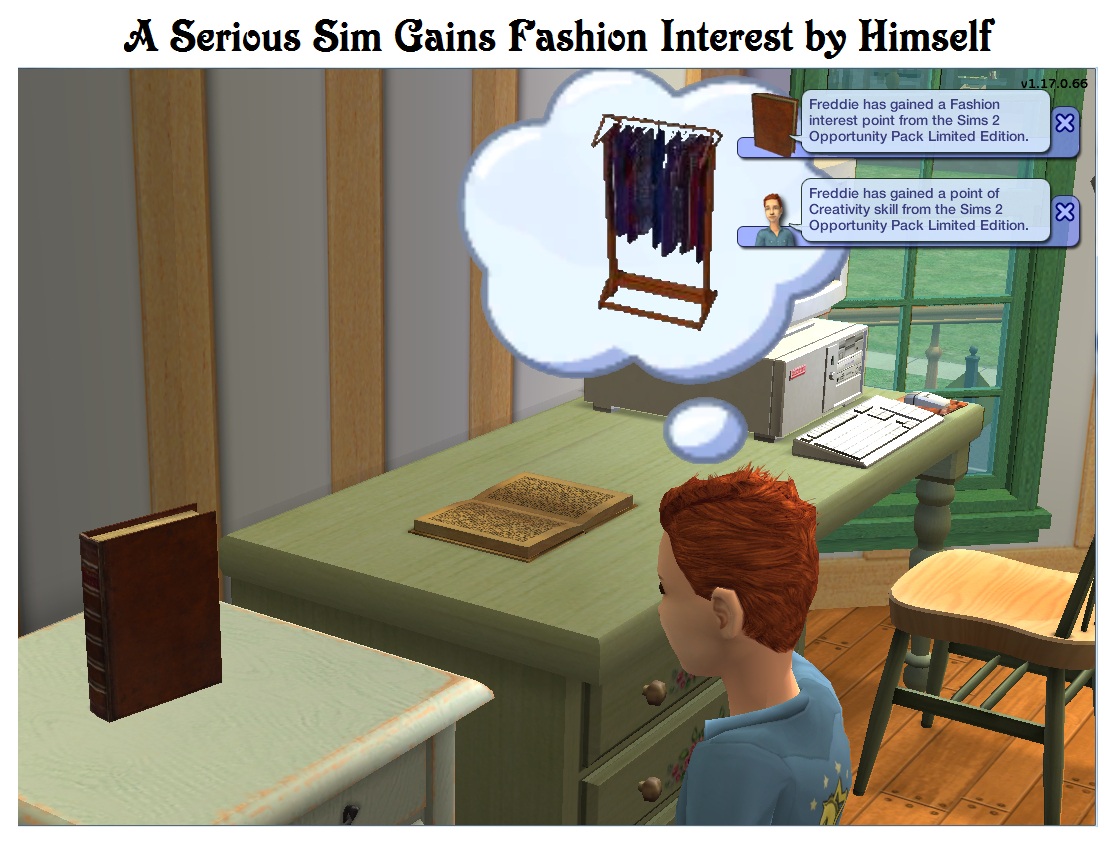 Terms of Use
You may include any items from this set in uploaded lots, whether for free or pay. Please include a credit and link to this page. I would be enjoy receiving a PM with a link to your uploaded creation, but this is not required.
Additional Credits
Armiel's
Finnish Simlish
is used for the Historia Ecclesiastica 1569 text
Folger Shakespeare Library for the
Shakespeare Folio 1
bindings
GIMP 2
,
IrfranView
, Microsoft Paint and Microsoft Photo Editor for graphics editing, file conversion, processing, sizing and titling
Inkandchaos's
immajer-Simlish
for the Petrarca 1501 text
Jfade's
Compressorizer
for minimizing file size
John Rylands University Library Collection for the
Petrarca 1501
cover
Joninmobile's
Medieval Simlish
to produce the Cosmographia and Shakespearean text
Milkshape 3D
,
Ultimate Unwrap3D Pro
and
UV Mapper Professional
, for 3D modeling and mapping
Numenor's
AnyGameStarter
, used for testing this project in several game environments
SimPE
,
PJSE
, and
CEP
for
Sims 2
object creation
viaLibri for the
Cosmographia 1577
cover
Wikimedia Commons for the
Historia Ecclesiastica 1569
cover
Polygon Counts
Opportunity Pack Archival Edition: 62 faces, 105 vertices
Opportunity Pack Display Edition: 99 faces, 141 vertices
Opportunity Pack Limited Edition: 63 faces, 105 vertices
Opportunity Pack Special Edition: 63 faces, 105 vertices
*** Off-Site Downloads ***