Buy Mode

>

>

Plants, sculptures, wall hangings & paintings, mirrors, curtains, and miscellaneous.
The Sims 2 Opportunity Pack Reference Section, Books & Notes
MTS has all free content, all the time. Find out how YOU can help to keep it running.
Tell me how...
9,243

Downloads
380

Thanks Thanks
78

Favourited
23,385

Views

Uploaded: 22nd Dec 2013 at 7:09 AM
Updated: 14th Jul 2016 at 4:49 PM - Posted the Jan. 30th Update
Title: The Sims 2 Opportunity Pack Reference Section: Books & Notes
UPDATE Jan 30, 2016:
Adjusted Ticket Quantity per Shelf
For the purpose of running a bookshop, the Opportunity Pack Ticket can now be placed at the highest possible density on OFB shelving. Please download sdOpportunityTicketBG.zip
Recolour Bugfix: August 1, 2015
While developing a new project that includes an Opportunity Guidebook that is partly slaved to the Opportunity Pack Ticket, I was surprised to find that none of the Ticket recolours worked. Evidently they all used an incorrect CRES name in the MMAT modelName field. This update of sdOpportunityTicketBG.zip corrects that problem.
Price Update: Jan. 13, 2014

In response to sandya's question about selling the books in a bookstore, I have updated the base price for all the books from §3 to §30 each, and the note cards from §3 to §15 each. Considering that magazines cost §15, I think that these are game appropriate values that will be more practical to sell in a Sim owned shop.
Purpose
This year my major project has been to extend the game's flexibility in the fields of education, employment, vacation and retirement. This first release from the Opportunity Pack provides skill building viewable books and note cards.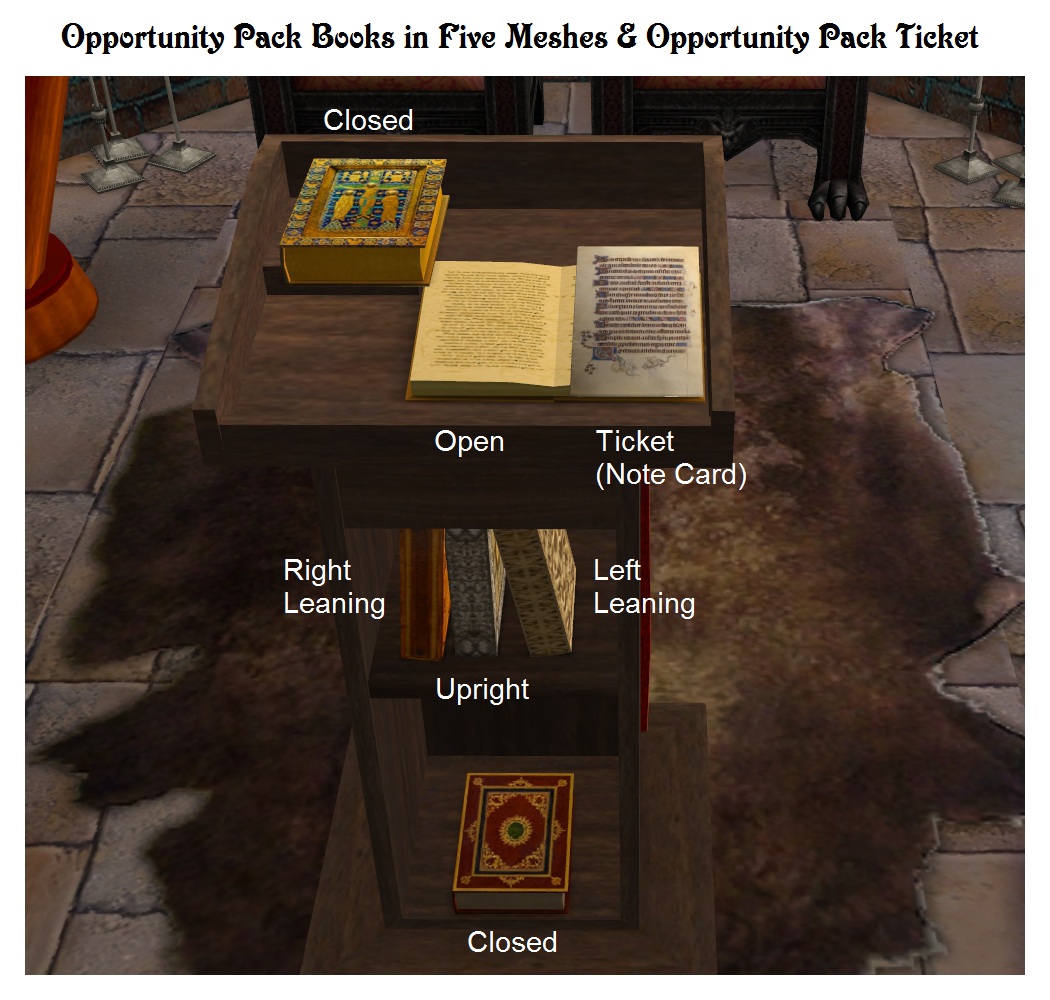 Contents
1)
Opportunity Pack Books
- Open, Closed, Upright, Left Leaning & Right Leaning - available in the Decorative/Miscellaneous section for §30 each, this set of Creativity building viewable objects is slaved to the basegame readable book that Sims obtain from bookshelves. If
FreeTime
is installed, viewing these objects will raise Film & Literature enthusiasm in addition to Creativity. These stackable books are intentionally made so that Sims cannot walk off with them and ruin a carefully setup display. Designed to be placeable on almost any surface, they will work particularly well with this set's Opportunity Lecterns. Not only do these objects utilize the five book recolours that come with the basegame, they may also use the included 30 additional textures.
Opportunity Pack Book Recolours
California and Alaska 1890, Christian Themes 18th Century (Iran), A Christmas Carol 1843, Dariel 1897, French Codex 9th Century, French Codex 11th Century, French Gospel 12th-13th Century, French Gospel 13th Century, Gutenberg Bible 1455, Gutenberg Bible 1456, High Treason 1709, The Hobbit 1937, That House in Bloomsbury 1896, Invisible (built-in), Iran Quran 16th Century, Jus Feudale 1603, King Florus and the Fair Jehane 1893 (William Morris), Lute Book 1670 (Tabley House), The Mainz Psalter 1457, The Majesty of Man 1896, Manuscript 1833, Manuscript Dark Blue, Manuscript Green, The Mondsee Gospel 11th Century, The Raven 1884, Reference Green, The Rylands Haggadah 14th Century, Saudi Quran 2004, Song Book 1670 (Tabley House), Tooneel der Nederland 1743.

Note: all recolours titled with centuries or dates are derived from real book covers. The front covers of these replicas are more or less authentic, but in some cases the rear covers and spines may be adapted from the front cover texture or a different front cover from the same period.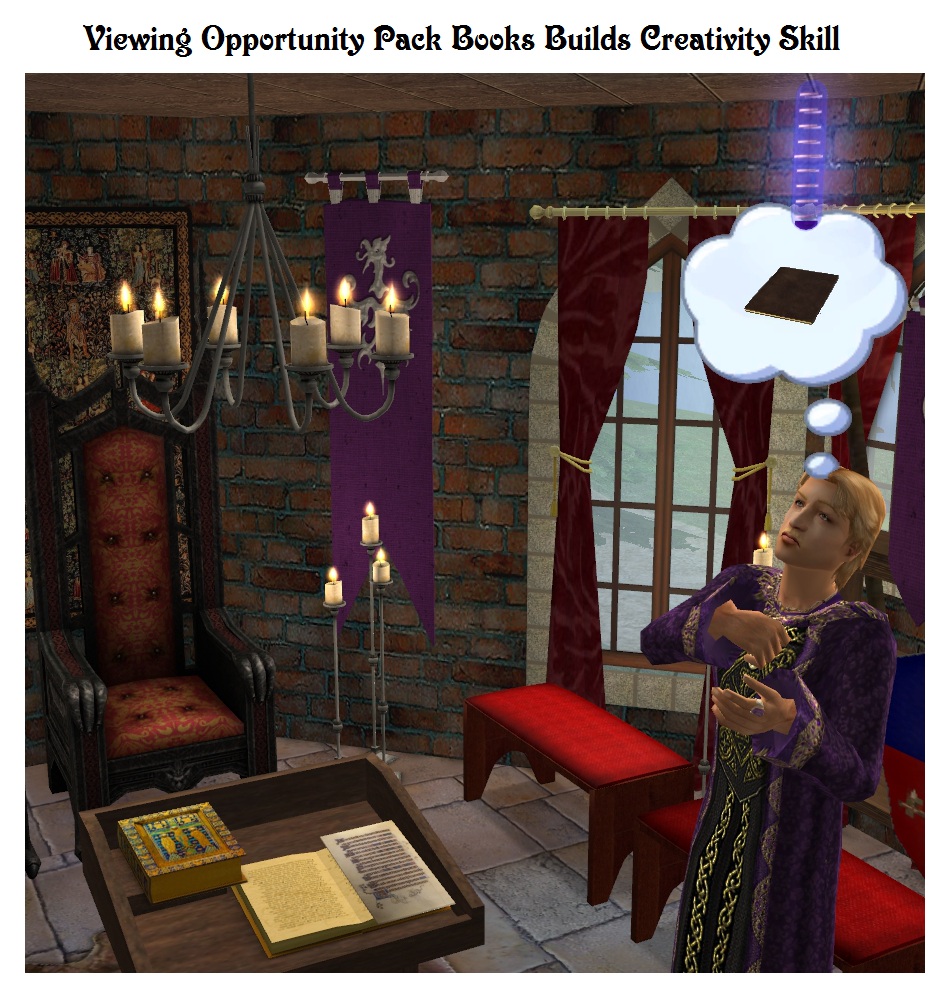 2)
Opportunity Pack Ticket
- located in the Decorative/Miscellaneous section for §15 each, these items are slaved to the Grim Repear's ticket prop. Viewing these cards will build Logic and Science enthusiasm (if
FreeTime
is available). Ideal for placing on a desk, lectern or an open Opportunity Book, these note cards come with the an additional 30 recolours.
Opportunity Pack Ticket Recolours
Almond Butter, Bacon Optics, Battle of Mansurah in 1250, Bestiary Dragon, Bestiary Fox, Bestiary Leopard, Canterbury Tales, Doppler Formula, Drake Map, Forme of Cury, Human Rights Article 26, Human Rights Preamble, Invisible (built-in), Kells Genealogy of Christ, Kells Gospel of Matthew, Lamb Stew, Lindisfarne Gospel of Matthew, Magna Carta, Matthew Paris Map, Pork Oranges, Pork Pie, Scandinavia Map, Secretum Secretorum, Tabula Rogeriana, Tree of Life, Visconti Death, Visconti Fool, Visconti Magician, Visconti Moon, Visconti Queen of Swords.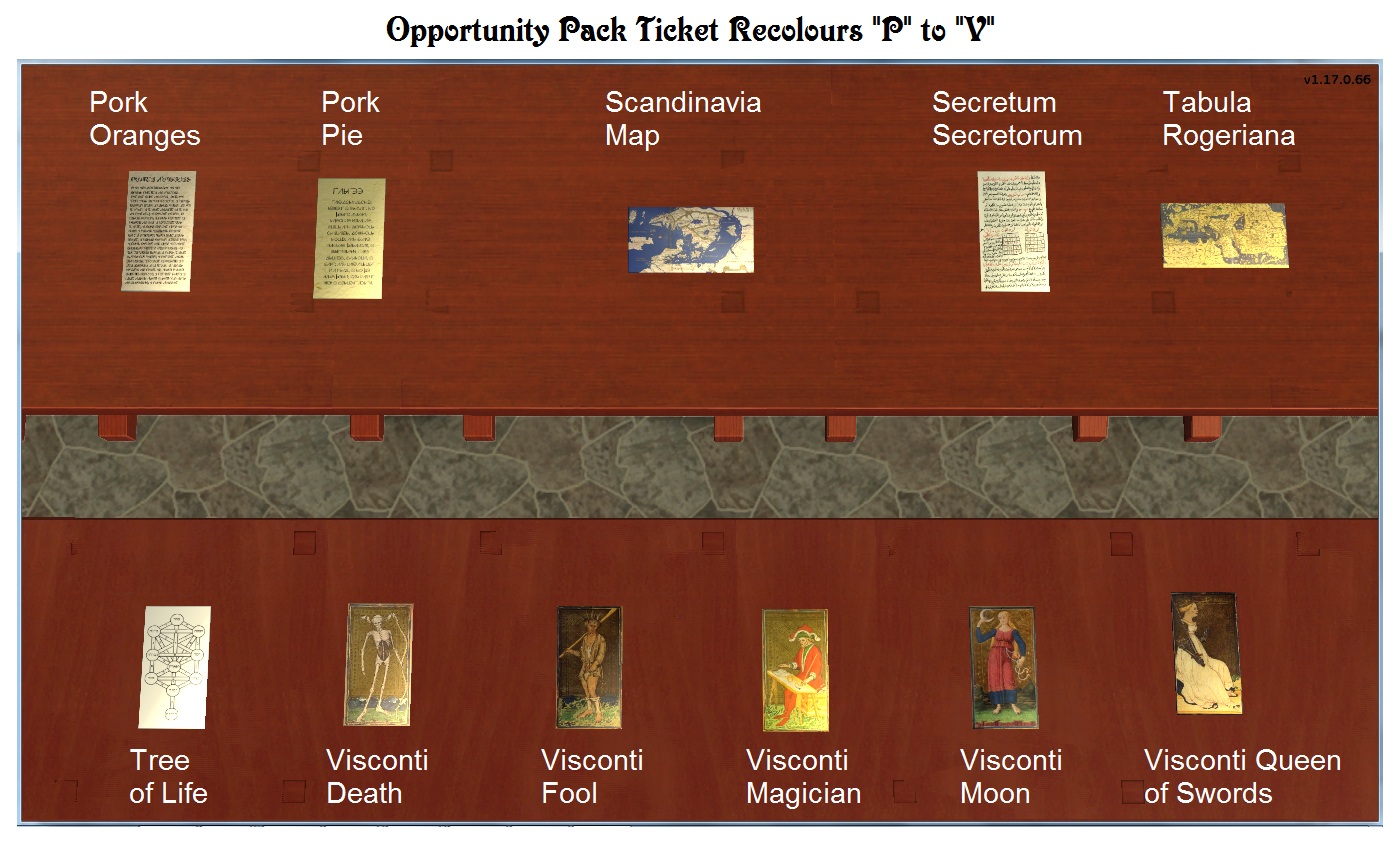 Notes on Viewable Objects

Autonomous viewing of decorative objects can be quite annoying, so Sims will not autonomously view any of the decorative objects unless a player directs a Sim to do so. However, once you ask a Sim to View or Critique an object, the object may then be viewed autonomously by any other Sim on the lot. If no Sim views the object for 30 to 36 game hours, the object will no longer be viewable autonomously. Alternately, the Reset Autonomy button can be used to disable autonomous viewing at any time.

For very serious Sims - those with a Playful score of one or less - a "Critique" option will appear instead of "View". If the object is viewed or critiqued enough an "Easter egg" will be revealed.

Critiquing or Viewing increases Fun and builds Skill at a rate of 2/3 that of the Painting Easel. Once Fun is maximized the Sim will stop Viewing the object. Note that the more serious Sims will spend longer with a Viewable object than fun lovers.

If FreeTime, or Apartment Life is installed, critiquing or viewing will increase Enthusiasm, and "View Many" will also be available, even on residential lots ("View Many" causes Sims to browse several decorative objects, one after the other). If the "View Many" Anywhere patch is installed, then the appreciation of these objects will be combined with that of other decor. The Sophie-David viewable objects will typically be favoured by Sims, because any time spent with EA's decorative objects will not be skill building. "View Many" is particularly useful for highly playful Sims because they tend to have short attention spans.

Selecting "View Many" on an object will not enable or affect autonomous viewing. However, an object which is already enabled for autonomous viewing is also enabled for autonomous "View Many".

Note that since these objects are linked to basegame accessory textures, most default replacement projects - such as those by Almighty Hat and sunni9676 - will also apply to these books and cards. In addition, a Sim's thought bubbles displayed during a View or Critique will be updated with default replacements if they are available.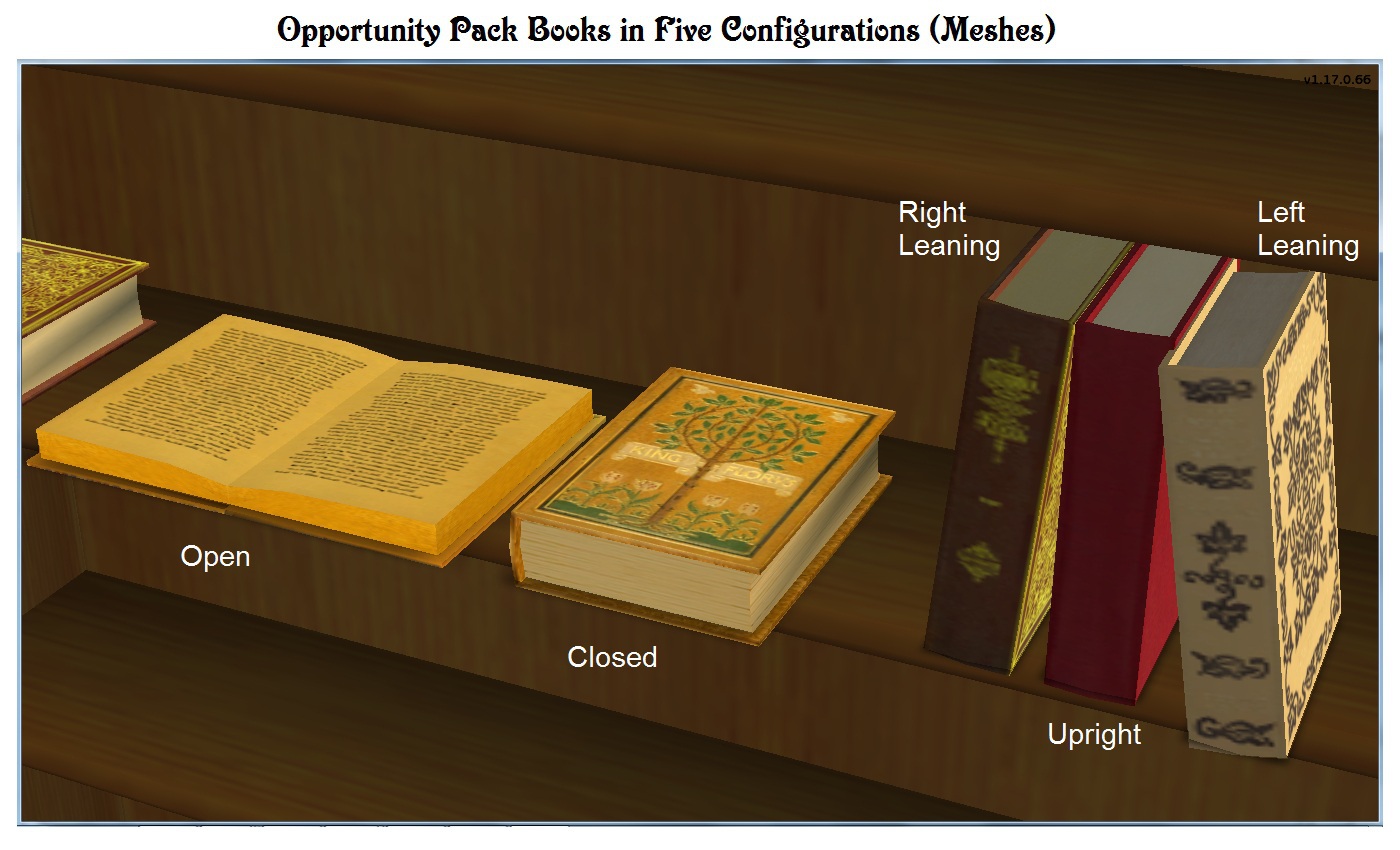 Terms of Use
You may include any items from this set in uploaded lots, whether for free or pay. Please include a credit and link to this page. I would be enjoy receiving a PM with a link to your uploaded creation, but this is not required.
Additional Credits
Armiel's
Finnish Simlish
for the Green Manuscript text
GIMP 2
,
IrfranView
, Microsoft Paint and Microsoft Photo Editor for graphics editing, file conversion, processing, sizing and titling
James Matterer's medieval recipes are from
A Boke of Gode Cookery
, used in some Opportunity Ticket recolours
Inkandchaos's
immajer-Simlish
is utilized in some of the book texts
Jfade's
Compressorizer
for minimizing file size
Joninmobile's
Medieval Simlish
is used in some of the book and ticket textures
Katyjane's
Handwritten Simlish
is also used by some of the books and tickets
John Rylands University Library Collection
,
Google Images
,
The Metropolitan Museum of Art
, and
Wikimedia Commons
provided the authentic book covers
Milkshape 3D
,
Ultimate Unwrap3D Pro
and
UV Mapper Professional
, for 3D modeling and mapping
Numenor's
AnyGameStarter
, used for testing this project in several game environments
SIMale's
Simlish v3
font was also used by some of the book and ticket textures
SimPE
,
PJSE
, and
CEP
for
Sims 2
object creation
The handsome, no-monkey-or-fishlips faces in the medieval settings are a result of
selzi's default replacements
StephSim's
Gwrych lots provide a realistic medieval ambiance
Polygon Counts
Opportunity Pack Closed Book: 62 faces, 108 vertices
Opportunity Pack Left Leaning Book: 62 faces, 108 vertices
Opportunity Pack Open Book: 85 faces, 132 vertices
Opportunity Pack Right Leaning Book: 62 faces, 108 vertices
Opportunity Pack Ticket: 20 faces, 16 vertices
Opportunity Pack Upright Book: 63 faces, 108 vertices
*** Off-Site Downloads ***