Medium MOD 2.0
MTS has all free content, all the time. Find out how YOU can help to keep it running.
Tell me how...
56,948

Downloads
486

Thanks Thanks
175

Favourited
80,439

Views

Uploaded: 8th Jun 2018 at 9:00 PM
Updated: 7th May 2020 at 2:49 AM - The mod no longer worked well
WATCH THE TRAILER
TRAIT DESCRIPTION
Medium Sims are really sensitive to the paranormal activities. Their mood and needs are influenced by places and other Sims, especially occult ones.
The most of the time they are focused because they can feel beyond ordinary things; they can have good influences by the moon and bad times with confusion in their heads. In this last case, it's better close your Sim at home.
Sensitive Sims like to be quiet and prefer mystical places, but how to find them? Think of all the secret places in our worlds, but I don't like spoiling you too much.
Walking next to a vampire, the medium will recognize him! The same with aliens and disguised aliens, other occult Sims and... they can also perceive other non-supernatural things.

2.0 UPDATE - MEDIUM TRAIT
Sims activities are updated with the new DLCs. Now occult Sims with Medium trait can have different buffs; example a Medium vampire doesn't perceive other vampires as a Medium ghost doesn't perceive other ghosts presence.
I found a issue regarding undead/ghosts/alien situation codes so I had to block them for now, but now Medium Sims have
unique interactions
with a
new pie menu category
!

2.0 UPDATE - MEDIUM PIE MENU CATEGORY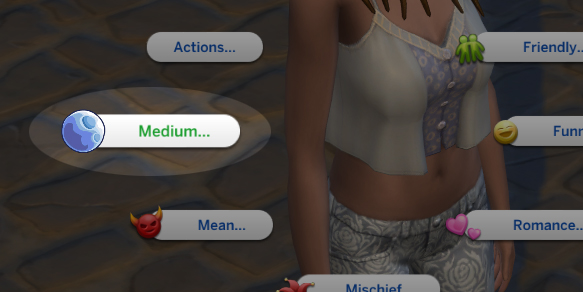 2.0 UPDATE - MEDIUM UNIQUE INTERACTIONS
Talk about medium traits - Friendly
Tell an anecdote - Friendly
Tell a joke about Saturn - Funny
Make believe that his/her future will be terrible - Mischief
Resurrect - Turn a ghost into a human (you can use this interaction every 24/36 hours)
Read mind - To discover a trait (you can use this interaction every 6/8 hours)
Compare medium traits - Only talking with another Medium Sim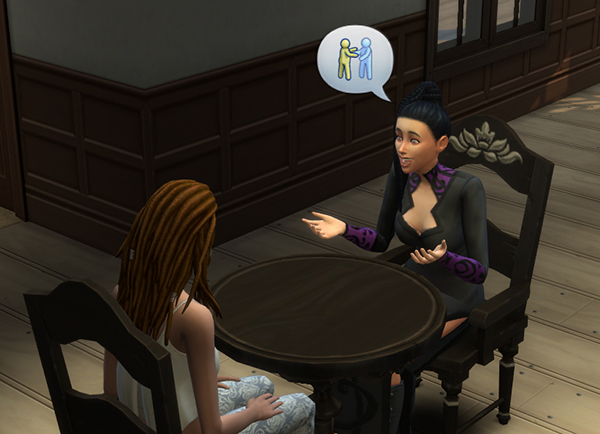 2.0 UPDATE - GHOST RESURRECTION
Now it's possible ask a ghost to turn into a human with the new unique interaction. You can use this interaction only with ghosts and you should talk a bit with him before you'll see the interaction.
Maybe it's not what a real Medium does, but I had some requests and we are in The Sims, you know.. Sims already communicate with ghosts.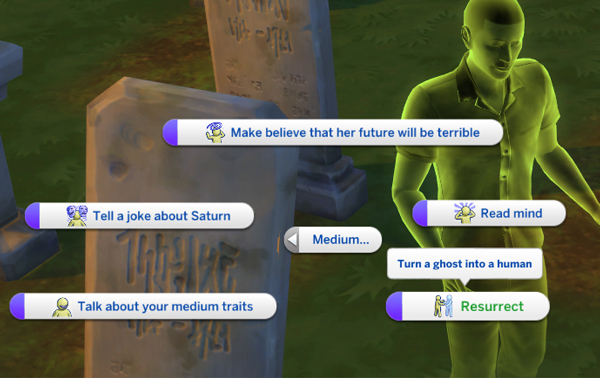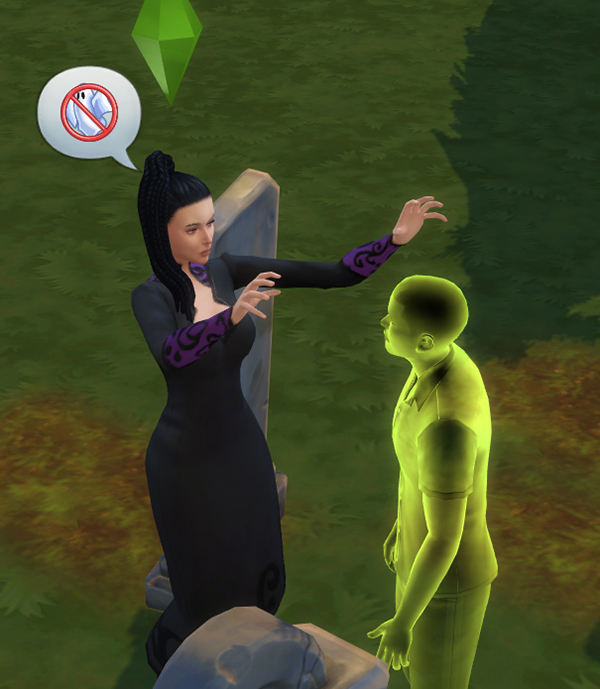 WHAT I'M PLANNING TO ADD / REQUESTS
- I'm creating a crystal
(probably a obsidian)
that Medium Sims should bring in their inventory to be protected by negative energies
- REQ // Friendly interaction about reading future (with positive buff)
CATEGORY
Lifestyle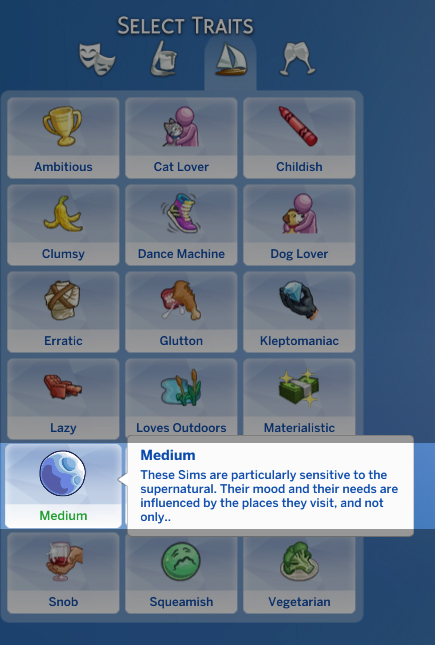 WHIMS
Their whims are connected to being focused, vampire lore, wellness, logic, buy/use incense, go on vacation to Granite Falls, make a campfire, etc..
AGE AVAILABILITY
Elder
Adult
Young Adult
Teen
EFFECTIVE SKILL MODIFIERS
Logic
and
Wellness
are +2 faster.
Vampire Lore
and
Archaeology
are +1 faster.
Friendship
and
Romance
relations are +1 faster.
BUFFS

Moonlight +1 Focused and gain energy
Quiet place +2 Focused and all skills level up faster
Magic place +2 Energized and gain fun
Ancient place +3 Uncomfortable and decay fun
Spritual place +2 Focused
Pure air! +3 Happy
This place is extremely haunted! +3 Tense and decay energy
Spectacular place! +5 Playful
Soul transfer +10 Focused and decay social
Undead idenfitied +1 Focused
Guests +1 Focused
Presences +1 Focused
Extrasensory perception +1 Focused
Voices in my head +10 Sad
Psychic connection +1 Focused
A vampire! +2 Focused
Ghosts.. +2 Focused
Strange DNA! +1 Focused
Unknown pregnancy +1 Focused
From the kingdom of the dead.. +10 Focused and decay fun
A vegetable Sim? +2 Focused
Pregnancy +1 Focused
Vampire in the past +1 Focused
Aliens among us +2 Focused
Skeleton? +2 Focused
Nefarious temple +3 Focused


2.0 UPDATE - BUFFS

Magic everywhere +3 Focused
Fertile +1 Focused
A mermaid! +1 Focused
Spellcaster nearby +1 Focused
Possessed +1 Focused
Ghost lament - REPLACEMENT from original +1 Focused
Alien pregnancy - REPLACEMENT if your Sim is an alien +1 Focused
Vampire in the past - REPLACEMENT if your Sim is a vampire +1 Focused

LANGUAGE
English
Italian
French
(by Caradriel - Candyman.fr)
OVERRIDES
No overrides.
CONFLICTS
No conflicts
You should have these packs to have a full use of this trait:
- Get To Work
- Get Together
- City Living
- Island Living
- Jungle Adventures
- Vampires
- Outdoor Retreat
- Strangerville
- Realm of Magic
Feel free to write me for any suggestions you have in mind, bugs/corrections or adding new languages.
I'm gonna improve this mod over time.
Additional Credits:
Zerbu's Mod Constructor V4
Zerbu's discord server for help
Sims4Studio
http://lukeproduction.it/