MTS has all free content, all the time. Find out how YOU can help to keep it running.
Tell me how...


Agriculture Career (Custom Carpool and Uniforms)
by
FennShysa
Posted 3rd Jan 2008 at 1:18 AM - Updated 3rd Mar 2011 at 6:36 PM by whiterider
806
Thanks
Thanks
54
Favourited
This download is part of the
Farm/Rural Creator Challenge


Picked Upload!
This is a picked upload! It showcases some of the best talent and creativity available on MTS and in the community.
This is not a Maxis recolor, but I am forced to choose from several options that do not apply to careers.
Here is an Agriculture career for your farm-minded Sims. I tried to include many different aspects of the field and not limit it to just farming or raising livestock. In this, I tried to be like the Maxis careers. University is required, but only for uniforms and reward, your Sim does not have to be a college graduate to get this job. Enjoy, and tell me about any problems you experience.
Details:
-- Complete chance cards
-- EP ready
-- Custom icons
-- Custom uniforms for several levels
-- Overwrites no career that I know of
-- Reward is the Laganaphyllis Simnovorii (Cow Plant), with a new description
-- Has a custom carpool that is the pickup truck the gardener uses
Levels:
1. Green Thumb ($225)
You've always had a natural talent with growing things, and now that talent is paying off for you. Well, it's paying off a little, anyway. You're neighbors are aware of your talent and sometimes ask you to help them with their flower gardens and tomato plants. They feel obliged to give you a small fee and you just can't insult them by refusing.
2. Neighborhood Gardener ($342)
Your ability with plants has naturally led you to a job raking leaves. Well, not just raking leaves. You tend people's gardens and take care of their plants professionally now. It's a small business, but it does keep food on your table.
3. Farmhand ($459)
You've decided that your farming talents are being wasted on small gardens and so you've moved up to working on a real farm where the harvest doesn't fit into two baskets. The owner of this farm also raises cattle, so you get a little experience in other aspects of agriculture.
4. Cowboy/Cowgirl ($561)
Having gained a little experience with cattle in your last job, you now feel qualified to work as a cowboy. You can rope and herd with the best of them. The pay is a little better and, as an added bonus, you get to wear a cool hat and boots.
5. Ranch Owner ($673)
You now own a ranch where different kinds of livestock are raised for food, milk, and other purposes. You are the boss now, and you have cowboys and farmhands working for you. Make some friends and you might find opportunities in different aspects of this field.
6. Biotechnology Developer ($800)
One of your contacts has clued you in to the potentially lucrative business of developing new crops and livestock. Of course, the scientists are the ones who come up with the new foods, but they need farmers to raise them and see if they are practical. So, have fun with the four-legged chickens or the nicotine-free tobacco.
7. Veterinarian ($924)
Your work with animals in the past has helped you into a position as a veterinarian. You travel around to different farms and ranches and help the owners keep their livestock healthy and productive. Of course, sometimes this involves less pleasant activities, (who enjoys castrating bulls?) but the pay is good.
8. Farm/Garden Show Host ($1136)
Your knowledge of agriculture has become well-known throughout the field, causing some TV executives to take notice. They tap you to become the host of their new farming and gardening program "Reap What You Show." Now you have a chance to share your extensive collections of tips and tricks with the rest of the country.
9. Farm Magnate ($1589)
Your work on TV has placed you in a position to acquire a number of farms and ranches which you can run independently or in conjunction with each other to produce a wide range of products. You've heard of captains of industry? Well, you are a captain of agriculture!
10. Lord of the Land/Lady of the Land ($2512)
You are the Lord of the Land. With a wave of your hand, tomatoes spring from the earth. With the slightest gesture, herds of cattle offer themselves up to hamburgerdom. Now you are in a position to win your eternal war with synthetics and polymers. Victory is at hand!
Body, Mechanical, Cleaning, and a smidge of Charisma are required for this career.
Files:
There are seven files in the .rar, the career, the reward, the carpool, and four uniform files. All are required for the career to work as it is intended. You must have the gardener's pickup carpool that I made for the gardener's pickup to come as a carpool. It is a completely separate vehicle than the one that brings the gardener to rake your leaves. They just look exactly the same.
Known Issues:
Only one, and it's minor. The gardener's pickup as it is used in the normal game never has a situation in which someone would use the passenger side door. So when your Sim goes to get in the passenger side of the carpool, he will take hold of the doorhandle and open an imaginary door while the real door stays in place. He will then climb through the door as if it isn't there and sit in the seat. I don't know how to fix this, though it's probably pretty simple if you know more about objects than I do. The functionality of the carpool is not affected in the slightest. It's just an aesthetic thing, really.
Here's a screenshot of Sanjay Ramaswami in his new job in the Agricultural field: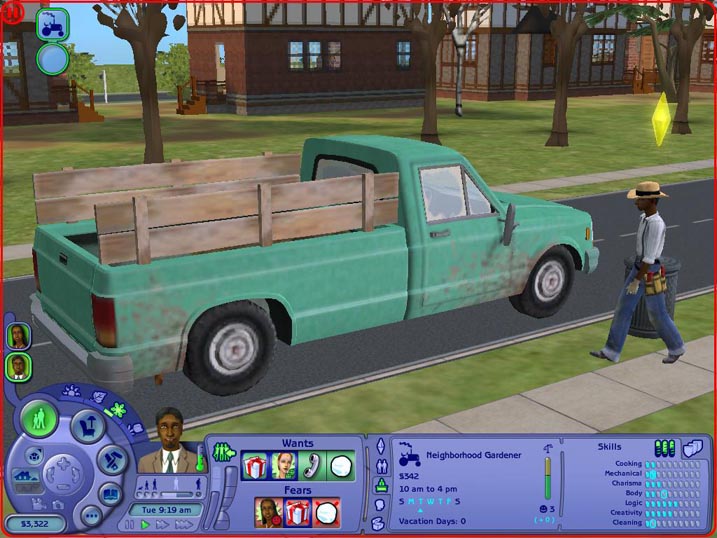 Policy:
Please use this or modify this as you will, but I would like credit and a link to what you've done. And I don't want this showing up on a paysite in any form.
Custom Content by Me:
- Agriculture Career
- Gardener's Pickup Carpool
- Laganaphyllis Simnovorii
Custom Content Included:
- Ranch Owner Uniforms by
Created by Vagrant, modified by me
- Cowboy Uniforms by
Created by Vagrant, modified by me
- Farmhand Uniforms by
Created by Vagrant, modified by me
- Lord of the Land Uniforms by
Created by Vagrant, modified by me
Additional Credits:
Maxis for the game
Hexameter for originally teaching me how to turn a vehicle into a carpool
SuperFly for the general tutorials
Vagrant for the uniform template
Bidou for the career editor
Skingiigy for the reward tutorial
Everyone at MTS2
Everyone at
SimPE
37 Comments / Replies (
Who?
)