>

Mods that run in the background that modify game play in all lots without player intervention.
3 Base Game Bars Fix (NL/OFB functions enabled) - Updated 2008/09/09, Fixed the wrong animation and missing tabletop sound
MTS has all free content, all the time. Find out how YOU can help to keep it running.
Tell me how...
4,156

Downloads
878

Thanks Thanks
75

Favourited
41,805

Views
Personal Picked Upload!
This is a personal favourite of the creator!

Uploaded: 10th May 2008 at 7:50 AM
Updated: 18th Nov 2011 at 8:36 AM - Updated to v1.01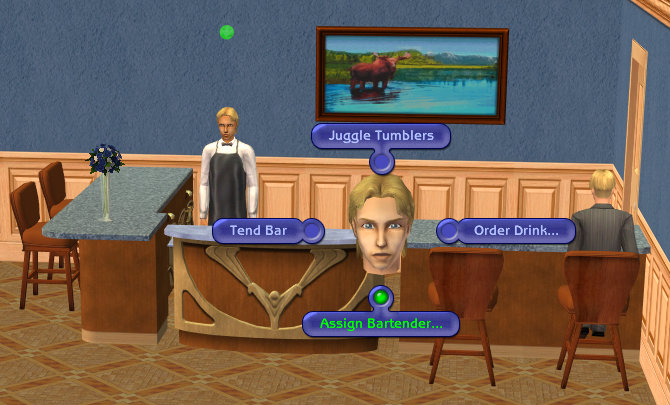 2008-09-09:
Updated to v1.01. Fixed the wrongly assigned slot id and missing tabletop sound.
***************
Ever wondered why some bars don't spawn bartenders in community lots, or you can't assign a bartender to those bars when you're running a bar/restaurant business? Nothing shows up but useless "Juggle Tumblers" in pie menu?
The 3 bars from the base game lack NL/OFB feature, because lazy EAxis didn't bother to update them. They've been neglected ever since Uni came out. This bug remains unfixed all the way through 7 subsequent EPs. All custom bars cloned from these 3 base game bars lack NL/OFB feature as well, even if they were cloned from the latest EP.
This fix updates 3 base game bars to OFB. All NL/OFB functions are now enabled.
In community lots, bartenders are now spawned normally, so Sims can order drinks.
In business lots, you can assign employees to tend the bar.
Sims can use those 3 bars as eating surfaces.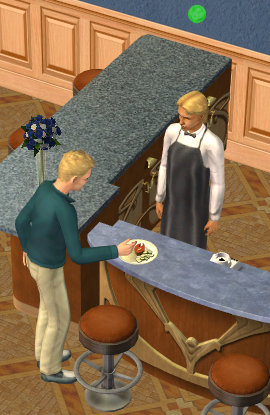 List of objects fixed by this mod:
Bachman Busbar (Bar - Value)
Retro Lounge "High Liquidity" Juice Bar (Bar - Art Nouveau)
Black Lacquer Bar Counter (Bar - Expensive)
Required EP:
OFB, or all later EPs up to AL. Also works if you have at least one SP. (Except for Happy Holiday Stuff) I think no new interaction was added to bars since OFB.
Known issue:
If you want to remove this fix from your game for some reason, make sure to
clear up all dishes
from the base game bars before you remove the fix. Otherwise you will experience errors the next time you load the lot where you left dishes on these bars, as eating slots are now non-existent.
If you want to clone base game bars with my fix integrated, select this fix in the Extra - Preferences - FileTable - Advanced Settings in the same way you manually select
CEP
files.

If you want to update custom bars in the same way, go read
this MATY thread
.
Installation:
Place in your My Documents\EA Games\The Sims 2\Downloads folder.
(Or in a subfolder of Downloads folder.)
This bug has been around for about
three
years. There are several
BBS threads
dating back to
2005
that report this bug. I'm afraid it will never be fixed at this late date, given the abysmal track record of EAxis QA team. (Missing leftover function anyone?) The AL patch seems to be our last chance to get this fix (and many other long-standing bugs) integrated into the official game files. Report to EA via
Bug Submission Form
, perhaps they'll fix it for a change.
Changelog:
v1.0: Initial release.
v1.01: Fixed the wrongly assigned slot id and missing tabletop sound. (2008/09/09)
My Policy / FAQ
I don't take requests.
I have my own section at MATY now. Visit
DarcyLand
for some more goodies that are not available in MTS2.
Check
this MATY thread for AL compatibility of my hacks.
All my mods are now confirmed to be compatible with AL, or updated to AL.
Recently I'm getting a lot of PMs asking how to update various custom objects like fridges or computers up to FreeTime.
I wrote a
tutorial
for updating custom fridges and computers to FreeTime. For other types of objects, go read
this MATY thread
where a lot of information is gathered. A similar thread for AL is
here
.
==============================================================================
Basically, you can do whatever you want with my creations, as long as they stay free. You can upload them to other free sites, include them in lots or Sims, modify them if you want.
Please make a link back to my original MTS2 threads, in case I update my past creations. If you're reuploading my mods to other sites, please keep them up to date. Check
my MTS2 journal
for updates of past creations..
My only 2 restrictions are:
Do NOT upload them to PAY sites (including TSR) and Exchange.
Don't claim them as your own.