>

Modified configuration files that are not packages.
More sensible lights for Maxis lamps – Pets/OfB/Seasons
MTS has all free content, all the time. Find out how YOU can help to keep it running.
Tell me how...
7,391

Downloads
799

Thanks Thanks
95

Favourited
36,303

Views
Uploaded: 8th Apr 2009 at 9:30 AM
Updated: 4th Mar 2010 at 5:07 AM
Global tweaks/fixes for some of the strange, useless, and/or broken lights of the Maxis lamps from Pets/OfB/Seasons. These are .nlo files that change which of the predefined lights are assigned to which lamps.
All of these go in (respective EP) TSData > Res > Lights. Make a
backup
of the original before you overwrite. The files are not dependent on each other.
Changes: OfB
(EP3Lights.nlo)
- Euro Table lamp was doubly broken: they didn't define a light colour, and even if they had it wouldn't have worked since there's a typo in the object. I assigned a proper light to "llightingTableEuro_light" now.
- Who the hell has pink lights in their home? Changed the storybook floor lamp to Amber, and the wall lamp to Soft Amber.
- Also changed some other lights to SoftAmber where it seemed appropriate (the oldstyle ones and the vanity light).
Changes: Pets
(EP4Lights.nlo)
- Changed the Asia-style outdoor light from Soft White to Amber
- All of the Atomic Age (Kids) lamps were "florescent"; I changed them to Soft White and made them a little brighter
Changes: Seasons
(EP5Lights.nlo)
- The country lamps are supposed to be nice, quaint, mood lights, right? Why is this defined as "florescent"? Why are candles defined as "Soft White"? Makes no sense to me, not even for artificial candles. Changed them to Fire/Amber.
- The tiki table light defies all laws of physics when it has a green shade and still casts red light. Made it "Fire" and much less bright as a compromise – this sort of works for all shades.
- Tiki wall lights are now Fire instead of white, and less bright.
- Racecar table lamp is changed from Amber to Soft Amber.
Pets/OfB overview: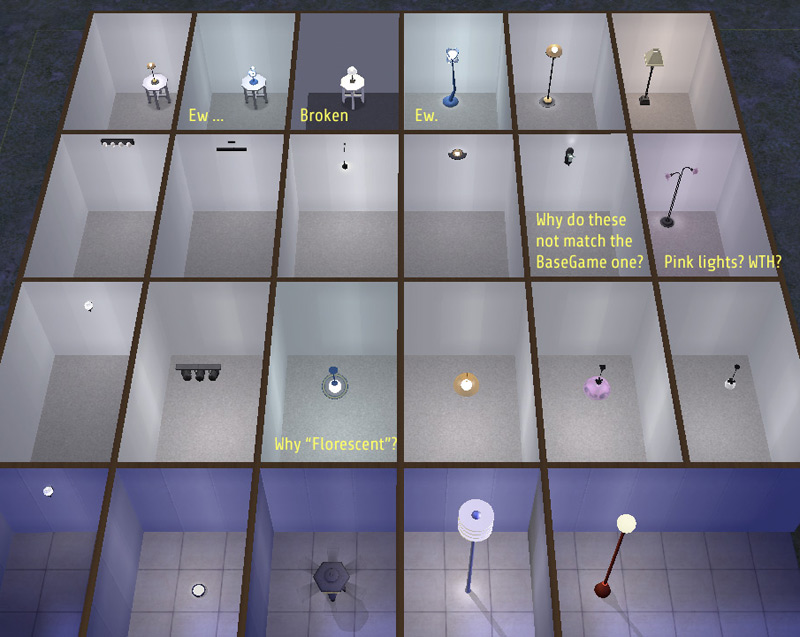 Before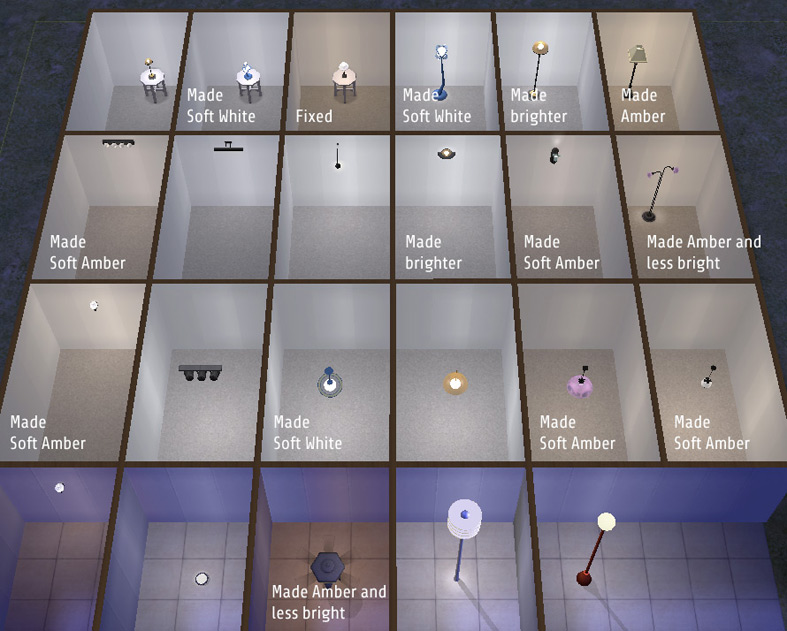 After
See screenshots below for the Seasons changes. All of the "after" pictures are taken with the colors.txt from my Base Game mod, with the regular Maxis colours things will look slightly different (but I guess different monitor settings will make more of a difference than that, so it's kind of negligible).
Compatibility:
I'm told that the Radiance mod (and other similar ones) will simply ignore this – I assume those mods use their own lighting files anyway. I suppose there may be other mods out there that change the same file, in that case you'd have to see which one you like better.
This will affect all lights anywhere in the game. You need to exit and restart in order to see the effect.
DIY:
This is extremely simple: just open the .nlo file in a text editor and reassign the lights you want. The names are mostly self-explaining, as is the syntax; example from the Pets file:
create Six(lightingFloorGardenPagoda_light)
create Amber(lightingFloorGardenPagoda_light)
means 1. make the light for that Asia-style outdoor lamp as defined in "Six" (a preset defined near the top of the Base Game file – I didn't mess with any of those), and 2. give it the colour "Amber". In case you're not sure which light is which, just temporarily change it to Green or something, then check which light becomes green – that's the one. Or look at the LGHT resources in
SimPE
to see the names.
The names of the Maxis presets relate to the brightness of the lights – "Two" is very weak (I don't think I've seen that used anywhere), "Ten" is very strong (used only for outdoor lights). The colours are defined in colors.txt in the Base Game files; I made a modified version available in the other thread. Syntax for the colour definition is RGB on a 0..1 range (not 0–255).
I do not take requests.
Even if I did, I don't
have
any other EPs than these. If you want anything else changed, please DIY.
See also:
More sensible lights for Maxis lamps – Base Game
Sharing and recycling:
Everything I upload here is published under the current
BY-NC-SA Creative Commons
license (Attribution, Non-Commercial, Share-Alike). In practical terms:
– Feel free to recycle, you don't need to ask.
– For the attribution, please link to the upload you're using wherever possible (instead of my profile). This is particularly important with edits made for/with different games or game versions.
– If you use my stuff in something you make, please upload the result to a free, accessible, noncommercial site with no more restrictions than these. Code must remain open source; meshes and other material must remain re-usable.
Please do not redistribute any unmodified files – link to the upload post instead.