Community Buildings and Objects Unlocked
21,229

Downloads
1,078

Thanks Thanks
92

Favourited
111,773

Views
Picked Upload! This is a picked upload! It showcases some of the best talent and creativity available on MTS and in the community.
Uploaded: 18th Aug 2009 at 5:30 PM
Updated: 22nd Aug 2009 at 10:03 PM
Hello, everyone. This upload is many of the objects only available for community lots cloned so that they can be placed on residential lots.
Here is a list of all of the twenty-six objects and buildings included and their prices in game:
Barn - $5,255
City Hall - $90,000
Community School for the Gifted - $35,000
Divisadero Budget Books - $20,000
Doo Peas Corporate Towers - $40,000
Everfresh Delights Supermarket - $20,000
Fort Gnome Military Base - $110,000
Hogan's Deep Fried Diner - $18,000
Langraab Industries Science Dome - $30,000
Langraab Industries Science Facility - $100,000
Little Corsican Bistro - $25,000
Llama Memorial Stadium - $80,000
Munici-Pale Trashcan - $255
Outstanding Citizens Warehouse Corp. - $35,000
Police Department - $45,000
Radio Tower - $17,000
Sacred Spleen Memorial Hospital - $75,000
Satellite Dish - $9,855
Sharma Day Spa - $35,000
Simhenge - $3,242
Specter Family Mausoleum - $11,611
Water Tower- $25,000
Wilsonoff Community Theatre - $40,000
Honorable Flagpole - $273
Stately Flagpole - $546
Graveyard Statue - $26,000
The prices for the buildings were assigned based on the price that it costs to "own" them through the investment systems in the game. I decided the price for everything else myself (except the Graveyard Statue, which was the only one which already had a price), but most are still quite expensive, as the items are quite large.
All of the items except the "Munici-Pale Trashcan" and "Simhenge" are categorized under Outside>Lawn Decor for rooms and Decor>Misc Decor for function. The Munici-Pale Trashcan is categorized under Kitchen>Trash for rooms and Appliances>Misc Appliances for function. The Simhenge rock formation is under rocks in build mode. No items' descriptions have been altered from the original.
There were two community objects not included - the Community Picnic Table and Multifunction Searchlight Device. I chose not to include these as there are nearly identical items already available to be placed on residential lots.
There are quite a few items here, so I had to separate them into three .rars. I also have uploaded a .rar containing the items I felt to be more practical for in game use. These are the barn, mausoleum, two flagpoles, simhenge rock formation, and that lovely graveyard statue. If you download the three .rars, downloading this fourth one is not necessary, as the items in it are included in the three.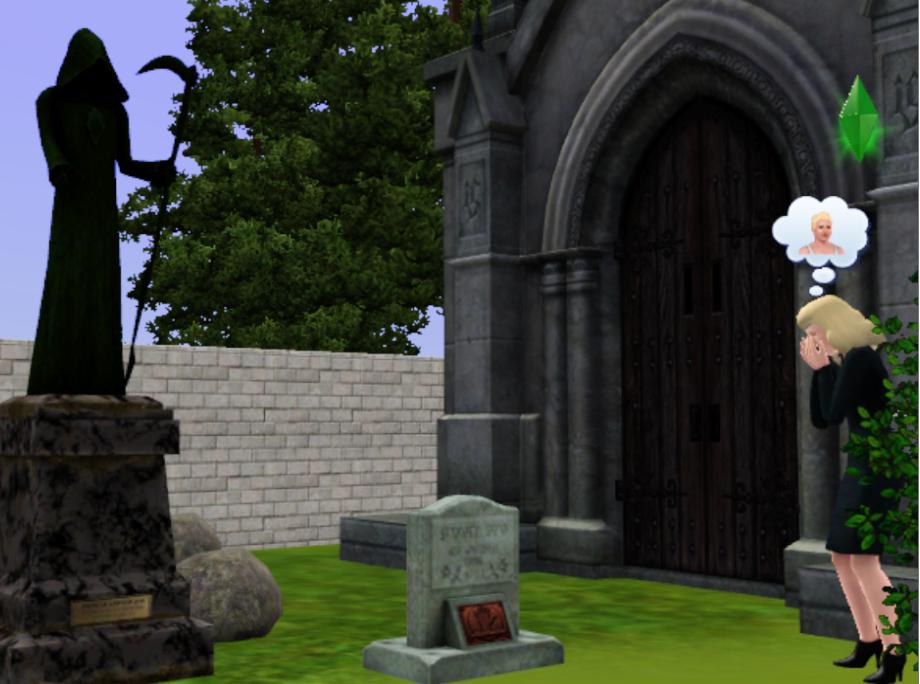 The buildings all function the same as they do in game. Sims can go to work there, eat there, go shopping there, etc. There will even be a map tag for the building over your Sims' household if you place it on their lot. If your sim works somewhere and decides to have their workplace also built on their home lot, they can choose to transfer their workplace to the building in their backyard, as Nancy Langraab illustrates in this photo.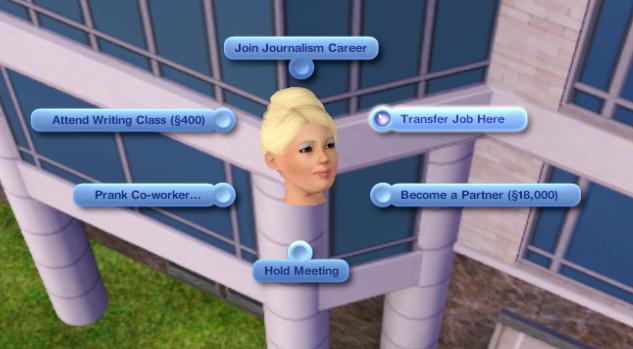 I hope you enjoy using these items for whatever purposes you have, and I apologize for the small pictures used. If you would like to see these items before you download, you can always look at them in their game. If there are any problems, please let me know so I can fix them. Feel free to use these however you wish, but I ask that you give me credit if you do use them. I can't really limit your use of them, as I didn't really create them, I just got them out of the game. Anyway, enjoy!

Important Note

If you put these items in your game and later choose to delete them, make sure that you first delete them from any households or lot in game. If you delete the .package files without first deleting them from any lots they are on, it may render the space unusable. You have been warned.
Additional Credits:
Inge and Peter Jones for the
S3OC
Xanathon for his or her tutorial on how to clone a painting and change its texture