Sims

>

>

Big eyes and blue hair/All the boys look like they're girls/DESU DESU YO
Heather Poe - Vampire the Masquerade: Bloodlines + Goth version as seperate download
MTS has all free content, all the time. Find out how YOU can help to keep it running.
Tell me how...

Created by Slipslop View Policy / About Me View Downloads Home
Uploaded 21st Aug 2009 at 11:29 PM · Updated 22nd Aug 2009 at 11:28 PM by Slipslop : fixed Peggyzone female body link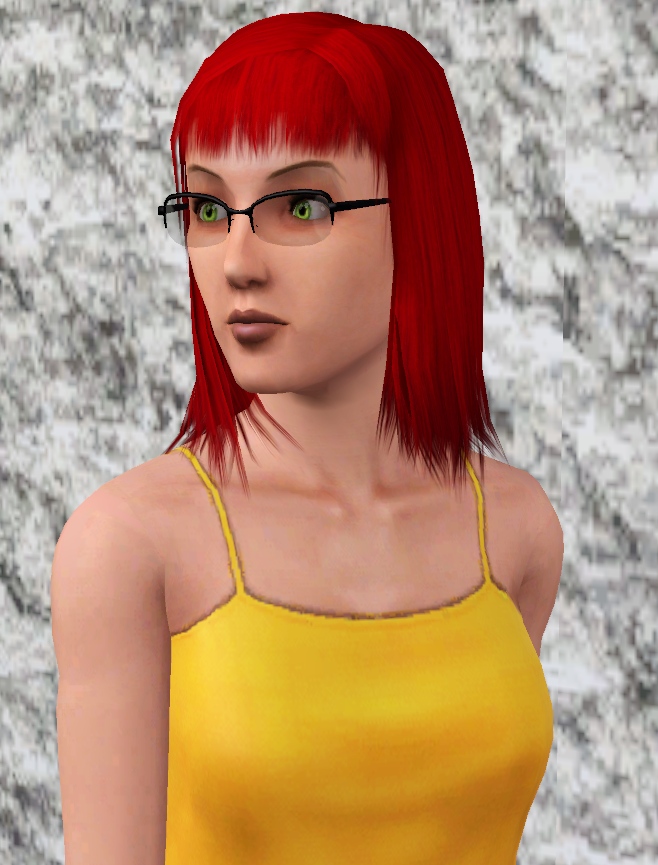 --> STORY:
Heather Poe is a normal collage student, an ambitious bookworm. She is super friendly and so it's not difficult for her to make friends. The collage life was a breeze for Heather until one day she drove home from a party of one of her best friends...
There she had a terrible accident, she had the energy to call the ambulance, but then lost consciousness. The ambulance luckily only needed 10 minutes to arrive and instantly brought her to the Hospital in Santa Monica.
Her luck left her as she arrived in the hospital, it was full of patients and she was barely able to keep her eyes open. Then a mysterious person showed up and examined her. This person was a vampire, but Heather didn't know that... yet. The vampire gathered all his humanity and allowed Heather to drink it's blood to safe her life. Vampire blood speeds up the healing process and also has a small side effect...
When a mortal drinks the blood of a Vampire, the mortal becomes a "Ghoul" . This creates an invisible bond between the master and the Ghoul and creates an addiction to the vampire and his blood.
...After she woke up she examined herself and saw she was fully healed and fit again. She felt the inner bond between her and her master and instinctively started searching for the mysterious person. Not fully aware of her feelings she finally found the person in L.A. Downtown and starts a conversation...
CLICK HERE to watch the conversation on Youtube
...the instinctive bond remains and she always visits her master every now and then to be of service and get her "fix".
--> TRAITS:
-- Bookworm
-- Good
-- Ambitious
-- Friendly
-- Lucky
--> FAVORITES:
-- Music_ Electro
-- Food: Blood of the mysterious person
-- Color: Orange

--> SPECIAL:
--> If you have played
Vampire the Masquerade: Bloodlines
you will know that Heather also has a GOTH and a SEXY outfit besides her default outfit. They both have the SEXY outfit as sleepwear and the GOTH outfit is available as a second download file. With this outfit she becomes a different person and will fit for those upon you who like it darker

--> As sleepwear she additionally wears the "leather string heels" now, i made them available for EVERY CATEGORY with the help of
Delphy's
CTU
program, which you can find...
--> Heather only visits her master when you turn off your Sims 3 game, unless you are the mysterious vampire who made Heather to it's pet

--> CUSTOM CONTENT:

IMPORTANT

- To complete the Goth look of Heather you need
Raon male hair #36
, which you can download ->
HERE

ATTENTION
:
Now Heather goth appears with the right hairstyle, but with red eyes, if you choose the sim in CAS. No worries! All you have to do is to manually select the hair again in CAS (with the spiky look it's easy to spot), then the eyes go back to the usual green color! Done

The guy who converts the hair ninja updated it a few times and i always used the old version during production. I have bad luck with custom hair lately...

I gonna switch the sim file with mods permission, until then you have to bear a hand sorry
- The other .package files are included in the downloadfile. To easily install .package files download the "Helper Monkey" ->
HERE
and put the files into the "xxx/Sims 3/Mods/Packages" folder.
-- Rick & Delphy's CAS Slider Hack:
->
>> CLICK <<
-- Peggyzone Female Body:
->
>> CLICK <<
-- HP's female facial texture & "increased shine":
->
>> CLICK <<
-- escand's "Tiffany Glaze":
->
>> CLICK <<
"3 TF-AF Boots"
by
"Mötley Crüe"
Custom Content Included:
- afShoesAnkleCHiHeelPointy00_highHeelStrappyLeather by
SIMS3 original item
- kanon_afkneehigh by
Mötley Crüe / http://linna.modthesims.info/member.php?u=1376083
- kanon_tfkneehigh by
Mötley Crüe / http://linna.modthesims.info/member.php?u=1376083
HF with Heather
Tags: #Sims, #3, #vampire, #the, #masquerade, #bloodlines, #Heather, #Poe, #Ghoul, #bookworm, #friendly, #good, #ambitious, #lucky
About Me
-------------------- W E L C O M E --------------------
---------- TO THE WORLD OF DARKNESS ----------
------------------------------------------
I have quit creating for Sims 3 and moved on to other games. I enjoyed creating for MTS and i am happy that so many people liked my sims. I'm still lurking, but i am not active anymore. Hope you still find my sims here and enjoy playing them.
Farewell! But i will probably be back for Sims 4, let's hope they get it right with the editor ;)
!! Must have mods !!
Alternative UI mod for Non-default Skintones by Anach
(Anach_CASSkins6x4_1.17.package)
Mastercontroller mod by twallan
(Install it and experiment with this baby, you will be surprised!)
Alternative sliderhacks by [B]aWT
and
CmarNYC
(If you don't like awesomemod for some reason)
HQ Modification by aWT
(used for HQ textured uploads, you'll see them more often now i guess)
__________________________________________
[B]Q/A
- I create for the BASEGAME ONLY, no Addons! For maximum compatibility.
- All my sims are tested in the basegame without CC (to test , if they crash) and with all used CC before uploading, to make sure they look like in the pictures, if you installed all the needed CC correctly. So if my sims don't work in an addon it might be, because some mods or CC doesn't work there, or a new patch screws with mods.
- If you ask why i add musiclinks to my uploads. It's my way to share my musictaste with the community and i try to make the tracks fit the character.
- ''Why do you have such nice graphics?'' I have every graphic setting ingame and in my card's driversettings absolute max (x16 Ansitropefiltering, Antialiasing max ingame) and i use the max allowed filesize for jpg(250kb) and png(150kb), so i get the best picture quality possible. For the thumbnails i use png format, to avoid pixelation and the slight blurriness the jpg format gives these small pictures.
I use XP-Paint and
GIMP
to edit the raw bmp-screenshots, which i take with FRAPS.
- ''Do you take requests?'' Nope, sorry. I have too