HP: The Trio
36,952

Downloads
701

Thanks Thanks
85

Favourited
101,711

Views
Picked Upload! This is a picked upload! It showcases some of the best talent and creativity available on MTS and in the community.

Uploaded: 1st Jun 2010 at 4:34 AM
Updated: 15th Mar 2011 at 1:39 AM
When the
very first Harry Potter book
came out (1998 in the US), I was 8 years old. My mom checked it out from the library one day, and that night we started reading it together. The next year, "
Chamber of Secrets
" came out, and at 9 years old, that was the first real book I ever read on my own….. I had just never found anything I liked before. Later the same year "
Prisoner of Azkaban
" was released, and I delved into Harry's latest adventure as soon as I could get my grubby little hands on it. Each time a book came out, I was first in line to get it. When I was in high school, I didn't have any friends to talk to during time before or after a class, or during lunch….. So I would read. No matter how full my backpack was, I always stuffed a HP book in there to have with me.
I honestly don't know what my life would be like without the
Harry Potter books
. They made my childhood so magical, and sat with me at lunch when no one else would. I literally grew up with a HP book in my hand. Now that I'm 20, I no longer carry the books with me when I anticipate free time. I let
Stephen Fry
read them to me from my I-Pod instead. ;-)
I was looking at all the
HP cc
for the Sims 2, and I was blown away by all the cool stuff available. Still, I wanted to make my own group of Sims that where true to the book's descriptions. At first I was only going to make 3 sims. Then I decided to branch out to 7 characters. Well, I kept adding people from the books I wanted to make, and as of right now I have 35 Sims. Here is the list of characters I have already made:
Harry Potter
,
James Potter
,
Lilly Potter
,
Hermione Granger
,
Ron Weasley
,
Charlie Weasley
,
Arthur Weasley
,
Molly Weasley
,
Bill Weasley
,
Percy Weasley
,
Fred Weasley, George Weasley
,
Ginny Weasley
,
Fleur Delacour
,
Narcissa Malfoy
,
Lucius Malfoy
,
Draco Malfoy
,
Bellatrix Lestrange
,
Albus Dumbledore
,
Rubeus Hagrid
,
Gilderoy Lockhart
,
Remus Lupin
,
Alastor Moody
,
Minerva McGonagall
,
Rita Skeeter
,
Sibyll Trelawney
,
Sirius Black
,
Dolores Umbridge
,
Nymphadora Tonks
,
Peter Pettigrew
,
Voldemort
,
Severus Snape
I -think- that's all of the characters I've made so far. I plan on uploading them in groups of some kind. I'm not sure how exactly I'll do it, or when they will be uploaded. However, if the characters name is on the list above, I have already made that sim. If you have a character from the Harry Potter book series that I did not list above that you would like made, I'll see what I can do. I do not take requests normally, but this is a different circumstance. ~!~However~!~ I will not make the Dursleys, and I will not make any of the children introduced in the
final chapter
of "
Deathly Hallows
".
So, for the first group I decided to upload Harry, Ron, and Hermione …… They are adults, not teens.
!~ These sim are NOT based off their film counterparts. They are not intended to resemble the actors who play them in the films. They are instead based off Jo Rowlings discription of them in the books..~!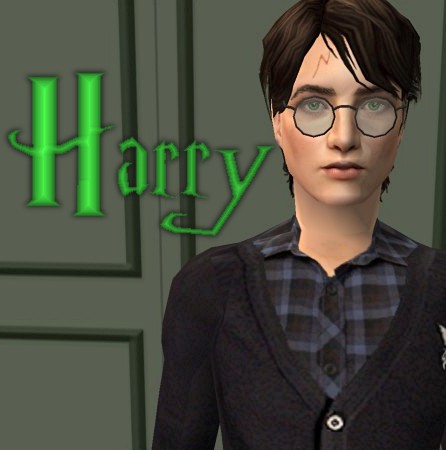 In the books, Harry is decribed as thin with glasses, jet black hair, bright green eyes, and a lightning bolt scar on his head.
Harry comes with everything you need for him to show up properly in game.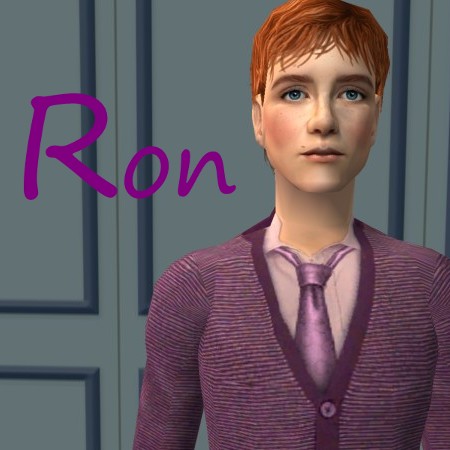 In the books, Ron is decribed to be tall with freckles, blazing red hair and a long nose.
Ron comes with everything you need for him to show up in your game as he appears in the pics.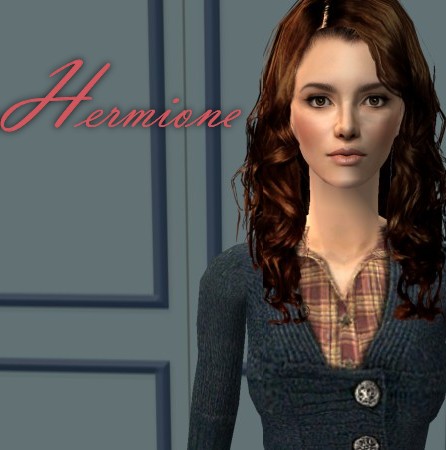 In the books, Hermione is decribed to have bushy brown hair, and rather large front teeth (untill they are shrunk in book 4).
Hermione comes with everything except her hairstyle, which you must get
here
. Her outfit uses a
Club Crimsyn
mesh (paired with
Liana textures
used with permission), which is included with the sims as well.
All 3 Sims use a custom skintone which is a mixture of
HP's
amazing "
Idolatry of Flesh
" and various pieces from the beautiful skintone included with
these sims
, by
HIM666
.
Special thanks to
HP
,
HIM666
,
fanseelamb
,
Bruno
, and
Liana sims 2
, all of whose work I frequently use due to the excellent quality, and lenient redistribution and editing policy. Thank you all SO much!
Enjoy! I hope to have the next group up (relatively) soon.
Custom Content by Me:
- Harry Potter Sim
-
kamikitten
Eyebrows (With HP Scar Edit)
- Bruno Eye Re-color
- Bruno Lip Re-color
- HP/HIM666 Skintone Edit
- Hermione Granger Sim
- Mouth Corners
- Ron Weasley Sim
Custom Content Included:
- Eyelashes by
Ephemera
- Round Glasses by
Briher
- Nose shadow by
mistyblue4
- Brown Hair Re-color by
fanseelamb
- Hair Mesh by
fanseelamb
- Chlothes Texture by
LianaSims2
- Outfit Mesh by
LianaSims2
- Dark Brown Eyes by
Bruno
- Sugar Glaze Lip Gloss by
Bruno
- Dark Brown Eyebrows by
Anva
- Mascara and Eyeliner by
-Shady-
- Nosemask by
Jirka
- Eyeshadow by
Bruno
- Brick Red blush by
Kamikitten
- Hairline by
Bruno
- Cheek Hollows by
nosylaace
- Nose Shadows by
mistyblue4
- Outfit Textures by
Liana Sims 2
- Outfit Mesh by
clubcrimsyn
- Dark Blue Eyes by
Bruno
- Lip Re-Color by
Bruno
- Freckles & Blush by
zoej
- Layerable Nose Freckles by
alakoid
- Hair Color by
fanseelamb
- Hair Mesh by
fanseelamb
- Chlothing Texture by
Liana Sims 2
About Me
My policy is simple. Do whatever you want with my stuff. However please respect me enough to give me credit for any of my work that you use. As long as you give me credit, I don't give a crap what you do with my creations. Go nuts! LOL
Also I DO NOT take requests.