Sims 2

>

>

Pixel dollhouses/For sims to live their lives in/Nice houses for sims
Frank Lloyd Wright's "Robie House"
931

Downloads
84

Thanks Thanks
7

Favourited
37,676

Views

Uploaded: 17th Oct 2010 at 3:57 AM
Updated: 17th Oct 2010 at 4:57 AM
Frank Lloyd Wright's "Robie House"
Frank Lloyd Wright
's "
Robie House
", said to be the quintessential "
Prairie style
" home and, arguably, America's first nationally recognized architectural style. The use of strong horizontal lines and a minimum of ornament are two characteristics of this style of architecture. The horizontal lines and minimalism representing the wide open, expansiveness of the mid-west prairie.
Wright emphasized these traits with the elongated, cantilevered roof eaves, and the strategic use of cream and brick colored mortar between the bricks; the horizontal lines where the cream colored mortar was used and the vertical lines where the brick colored mortar was used. The effect is that you notice the horizontal bands and not the individual bricks, enhancing the horizontal theme.
With all the praise and notoriety and now, landmark status, the house's existence is a bit lackluster. As far as a "home" goes, it was only lived in as such for less than 16 years. And was even threatened to be torn down for a period of time. Here's hoping your Sims live long, happy lives in this creation.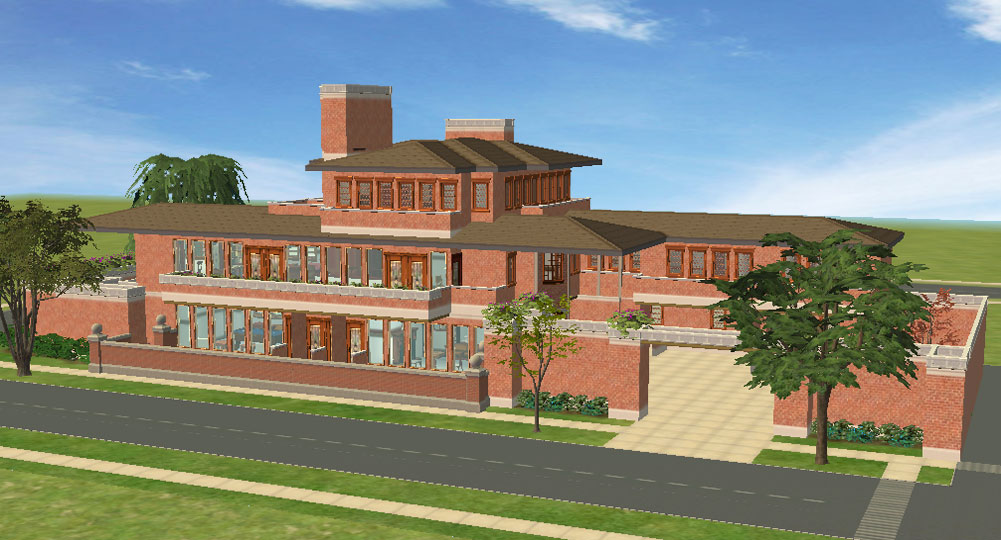 This was one of the most difficult translations to a Sim home that I've encountered. I tried to stay true and accurate to the original plans, but some liberties had to be taken; most notably, stealth stairs and a two-car carport instead of a three car garage.
I also designed the interior with regards to the feel/aesthetic of the original time period of the home (1909). Though the home is fully furnished (some bedrooms unfurnished) the amenities are thin and keeping with true "Praire style" theme, so are the decorations. However, I did include telephones which probably weren't too prolific at that time

And, as Wright desired privacy he created the entrance to the home to the rear and left of what is normally considered to be the front of the house (see main picture). For this reason and so as not to have your Sims spend all day getting to the mailbox, I've placed the front of the house facing the actual entrance and fauxed a street, with crosswalks, for the garage entrance. So, the home is on a 3x5 lot and not a 5x3.
Amenities Include:
- 6 bedrooms
- 5 bathrooms
- large, elongated open floor plan
- Billiards room
- Playroom
- Large Living room
- sideways garage.
Custom Content Used but NOT Included:
- Birch Tree Shrubby by
khakidoo
- Birch Tree Shrubby Larger by
khakidoo
- Big Bougenvillia by
Nengi65
NOTES:
- You will need to install the modular stairs txt code to your modularstair.txt script file with croccbaura's Open Underneath Country Stairs for the stairs to show up and work properly.
Thank you for stopping by and your support. I appreciate it.
Comments
and
Thanks
are always welcome.
Lot Size:
3x5
Lot Price:
$199,585
Custom Content Included:
- Dark Timbering Floor by
Amythestfenix
- Shakerlicious Fridge 1 by
buggybooz
- Country Stairs Open Underneath by
crocobaura
- Crosswalk by
6reed
- UpRite Column Corner Version by
HugeLunatic
- OMSP Counters by
Lord Darcy
- Gentrific "Flame-O-Rama" Fireplace WITHOUT CHIMNEY by
mia86
- Season's Bed - Dark Wood recolor by
sissimoody
- Sleek Cuisine Counters recolor - Wood3 by
KiaraRawks
- Invisible Driveway by
Neveah223
- UpRite Column Corner Version - DistressedA recolor by
HugeLunatic
- Sleek Cuisine Counters recolor - Chathan by
KiaraRawks
Packs Needed






+
2 SPs
For a full list of packs with names, see the Packs Needed popup.
Other Information
Number of bedrooms
:
– 5 or more
Custom Content Included
:
– Build and Buy Mode Content : Furniture, decorations, etc.
Furnishings
:
– Fully Furnished : Lot is completely decked out in furnishings
Special Flags
:
– Not Applicable
Packs Needed
| | Base Game |
| --- | --- |
| | Sims 2 |
| | Expansion Pack |
| --- | --- |
| | University |
| | Nightlife |
| | Open for Business |
| | Pets |
| | Seasons |
| | Bon Voyage |
| | Stuff Pack |
| --- | --- |
| | Family Fun |
| | Glamour Life |
RE: My Real Estate. No sub-prime mortgages.
I've retired from MTS and the Sims 2. Please enjoy these builds/creations for your Sims however you see fit, save taking credit for them yourself. I've had fun. I hope you do as well. And thanks for your support.