Sims 3

>

Buy Mode

>

>

Entertainment, TVs & computers, audio, and small electronics.
Functional Microphone and Stand (Cloned from Mirror)
38,107

Downloads
1,269

Thanks Thanks
197

Favourited
125,505

Views

Uploaded: 20th May 2011 at 6:13 PM
Updated: 21st Feb 2012 at 11:12 AM by EsmeraldaF - Just some changes to text
Update 18th October 2011: This item still works OK with Pets and the Pets-level patch (1.26 for PC, 1.27 for Mac) that broke many other cc Buy Mode items - it's a type of item that isn't affected by the patch (doesn't have slots) and doesn't need fixing.
Following a few suggestions after my DJ Booth upload, here is a microphone & stand cloned from a floor mirror which can be used for all mirror interactions including practising speeches. So, as well as making speeches, your sims can also look like they're singing, reciting poetry and so on.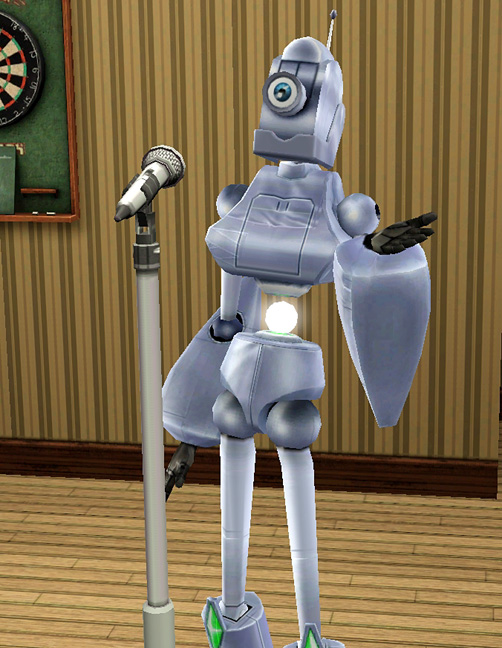 Although it looks like an electronics item, it's technically a 'mirror' and is found
in the Decor section under Mirrors
, at a cost of 350 simoleans.
It has two recolour channels, as below. If using patterns, it repatterns in an odd way - the mic itself will display the pattern you choose, but the central brace and the footstand will come out in two different random solid colours taken from the pattern, as seen in the second two below pics. I don't know why it does that, but I guess it's pretty good as you effectively get three 'recolours' on one channel!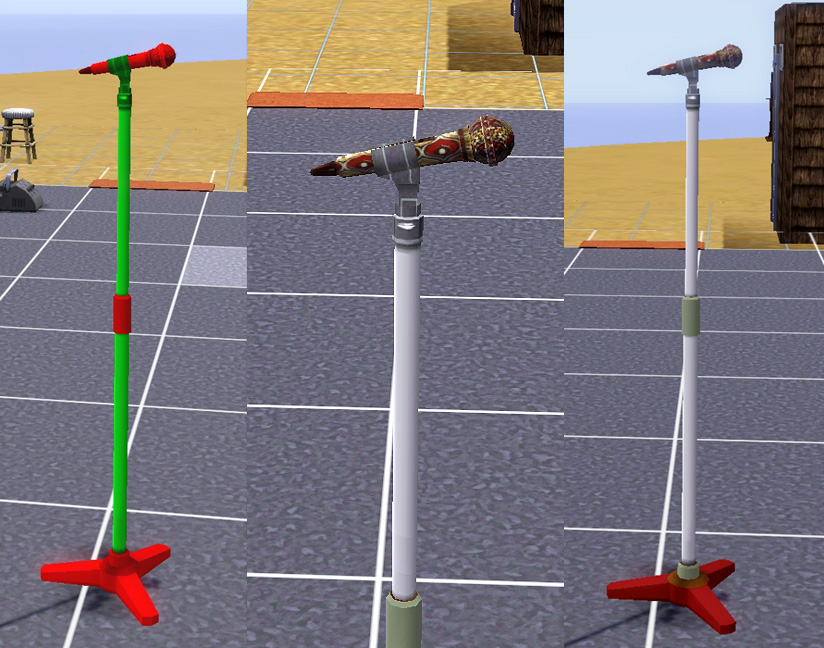 You can now have bands that look like proper bands, with a singer (well, a rapper, at least), as demonstrated below by Cycl0n3 and the Sw0rdettes: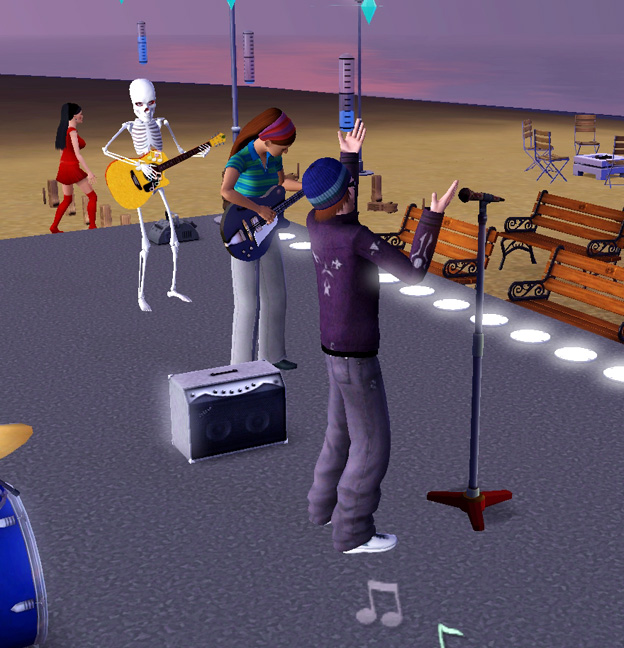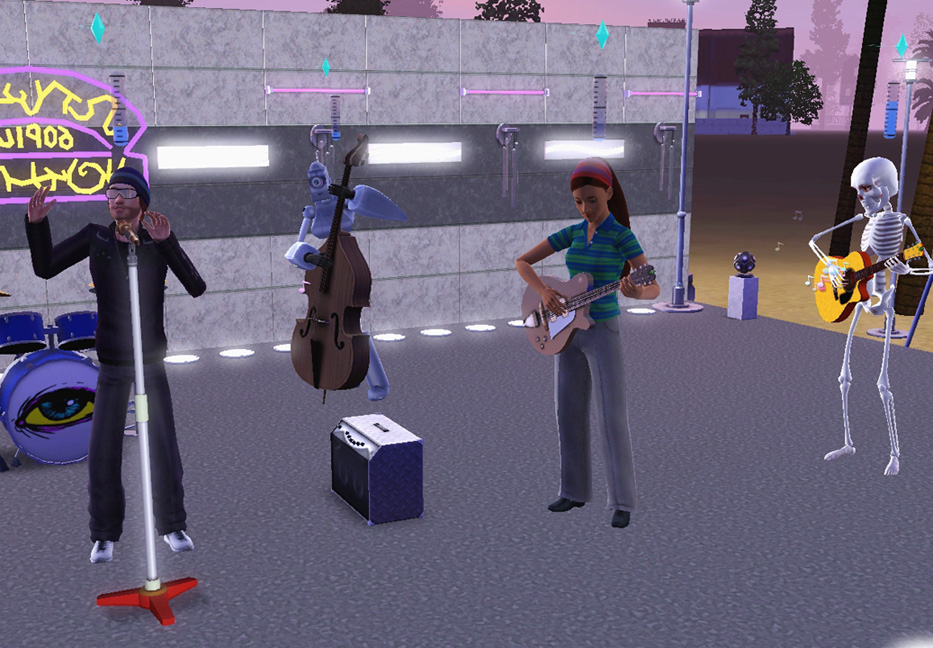 Thanks for looking, hope you'll find this useful!
INSTALL INSTRUCTIONS:
Unzip the .zip file and copy the .package file to your Mods\Packages folder. If you don't have a Mods\Packages folder and/or don't know how to install .package files, please see full instructions here:
http://www.modthesims.info/wiki.php...g_Package_Files
The servo and skeleton sims in the above pics are by me:
Servo:
http://www.modthesims.info/d/391993
Mr Skeleto:
http://www.modthesims.info/d/395831
Polygon Counts:
793
Additional Credits:
A huge thank-you to orangemittens and Cloudburst for helpful advice that enabled me to figure out how to get rid of the preset default wooden pattern of the mirror I cloned this from, which insisted on overlaying the entire microphone and stand with a heavy dark brown wooden texture!
Made with s3oc,
S3PE
and Sims 3 Object Tool.
Tested OK with Delphy's Sims 3 Dashboard.
Thank you to Maxis for the Sims 2 microphone stand and freestyle microphone, which I cobbled together bits of meshes and textures from to make into this item.
Packs Needed
None, this is Sims 3 base game compatible!
Other Information
Room
:
– Living : Living Room
– Outdoor
Maxis Flags
:
– Not Applicable
About Me
~Retired Creator~
Retired to move to Fallout 4 creation but I'll still check here for questions, comments or PMs. Thank you to those who liked my Sims stuff, love all of you. Most of my Fallout stuff is on Nexus
https://www.nexusmods.com/fallout4/...?tab=user+files
and there are more of my Fallout creations, my tutorials on making cc for Fallout 4, and more of my Sims creations, at
https://colorfulcommonwealth.proboards.com/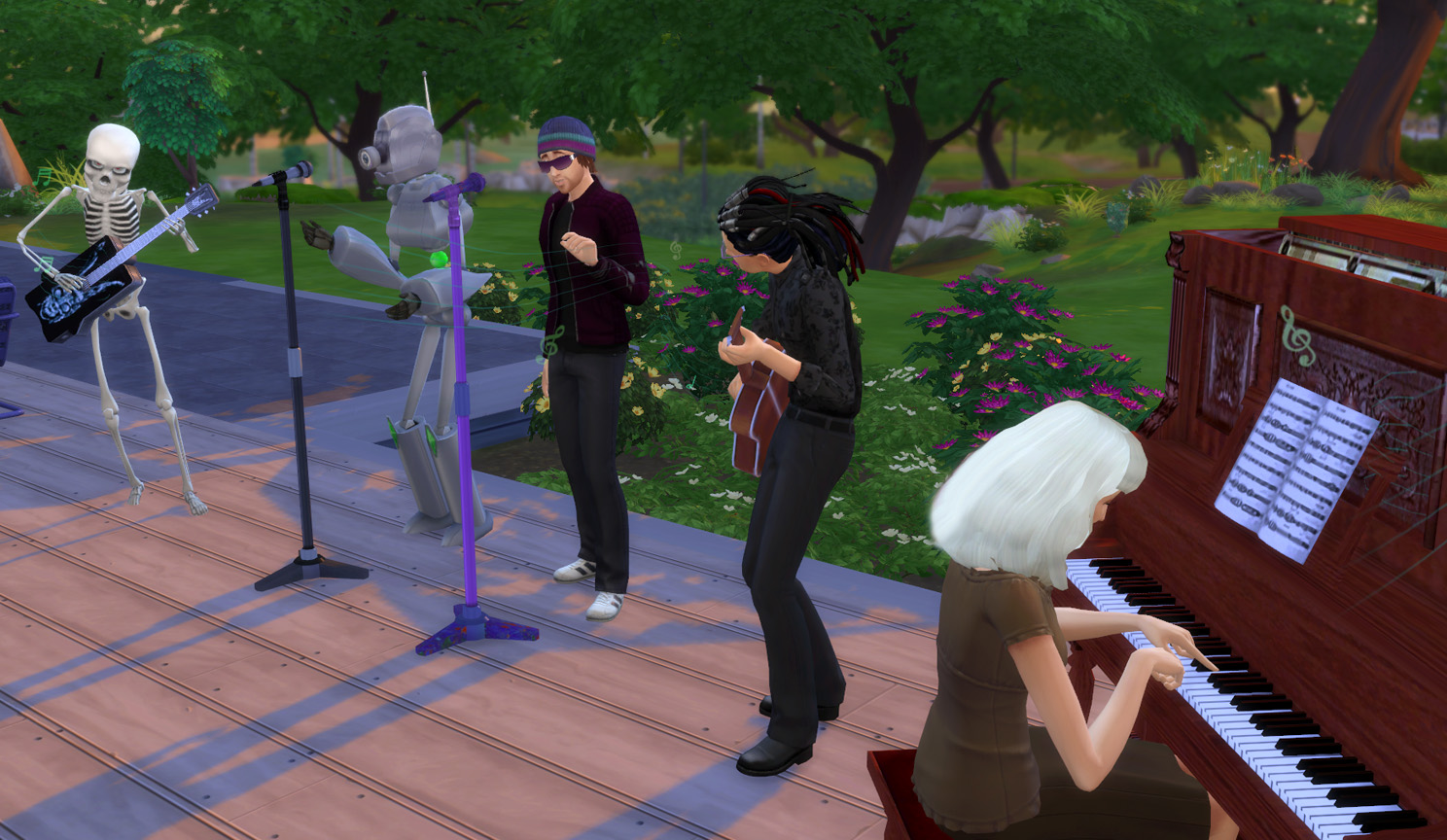 MY POLICY:
I'm pretty easygoing, please just don't steal or copy my work.
You may recolour my meshes, just please credit me and give a link back here to the item(s).
You may include my creations with your sims, lots, storytelling, etc - just please credit me and give a link back here to my item(s).
Don't claim my creations to be your own work.
Don't re-upload my stuff to The Gallery, paysites, adfly sites, or any other commercial sites.