Sims

>

>

Big eyes and blue hair/All the boys look like they're girls/DESU DESU YO
Thor (Marvel - with Chris Hemsworth's face)
MTS has all free content, all the time. Find out how YOU can help to keep it running.
Tell me how...
14,854

Downloads
197

Thanks Thanks
44

Favourited
60,675

Views

Uploaded: 20th Nov 2011 at 5:44 PM
Updated: 20th Nov 2011 at 5:36 AM
Been watching Thor the movie and notice this month theme is Ancient Civilization. So I thought what a good opportunity to make my favorited hero. My version of Thor is the Marvel movie version with Chris Hemsworth, the actor who plays Thor in the movie, as the face of Thor.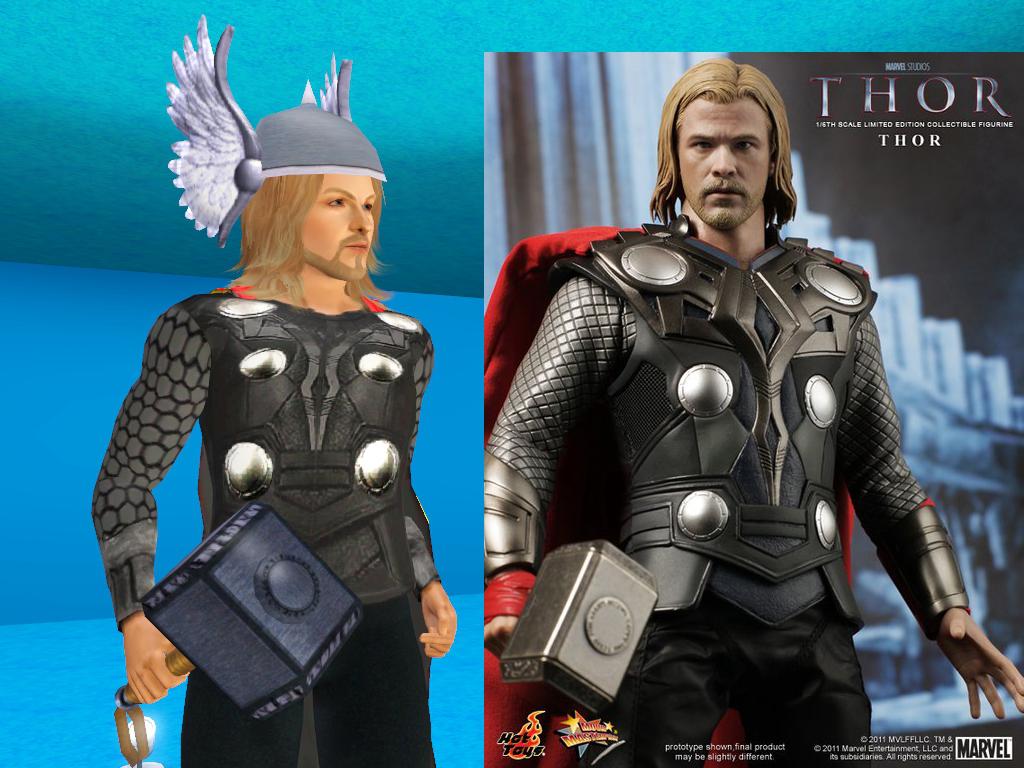 Biography:
In Norse mythology, Thor (from Old Norse Þórr) is a hammer-wielding god associated with thunder, lightning, storms, oak trees, strength, the protection of mankind, and also hallowing, healing, and fertility. For more details of Thor see
Thor in wiki.
.
The film Thor, based on the character and comic, was released in 2011, with Kenneth Branagh as director and Chris Hemsworth starring as Thor.
For more details of the character in the movie and comic see
wiki.
.
Traits: Athletic, Adventurous, Brave, Charismatic, Disciplined.
LTW: Master of Marital Arts
Favorite Food: Tri-Tip Steak in game, Golden Apples of Idunn in Asgard
Favorite Music: custom music: Metal since he is a rock god

Favorite Color: Red
Astrological Sign: Sagittarius (Unknown. Does a god even have a birthday?

).
EXTREMELY important:
Please read carefully. Due to the site's upload policy, default EA skin and hair are packed with the sim.
Therefore, in order to have him look exactly as he does in my screenshots, you will need to download the custom accessories listed in the download section and the custom skintone, look for them in CAS and apply them to the Sim accordingly
His face was sculpted with the use of slider multipliers. Therefore, please do not attempt to change his face without having a multiplier at 2x, or it will become incredibly borked and all the pretty will be gone! (Awt's Slider Hack, Twallan's MasterController and Pescado's AwesomeMod provide this feature).
Also please note the hair shown in the picture (and packed with the sim) is an Ambition EP's hair. If you do not have Ambition you will need to use a base game or CC substitution.

Additional CCs not included are:

ESkin_NV1_Sunny.rar by ephemera If you are using his/her default skin then you will not need to download this.
Slim Beard Based on Jim Raynor of Starcraft By Simmiller
Superhero Suits for everyone By guidion - you need the SupereroCapesForAllAges.zip You will also need to recolour this to red using CAS.
Medieval Clothes for Men By Kiara24 - you need the MedievalMenPants.rar and MedievalMenBoots.rar You will need to recolour the pants and boots to black (as in the movie) or blue and brown (as in the comic) depend on your preferences.
Subtle Wrinkles for Both Genders By Arisuka (Optional)

CAS information on custom contents made by me and included with this download: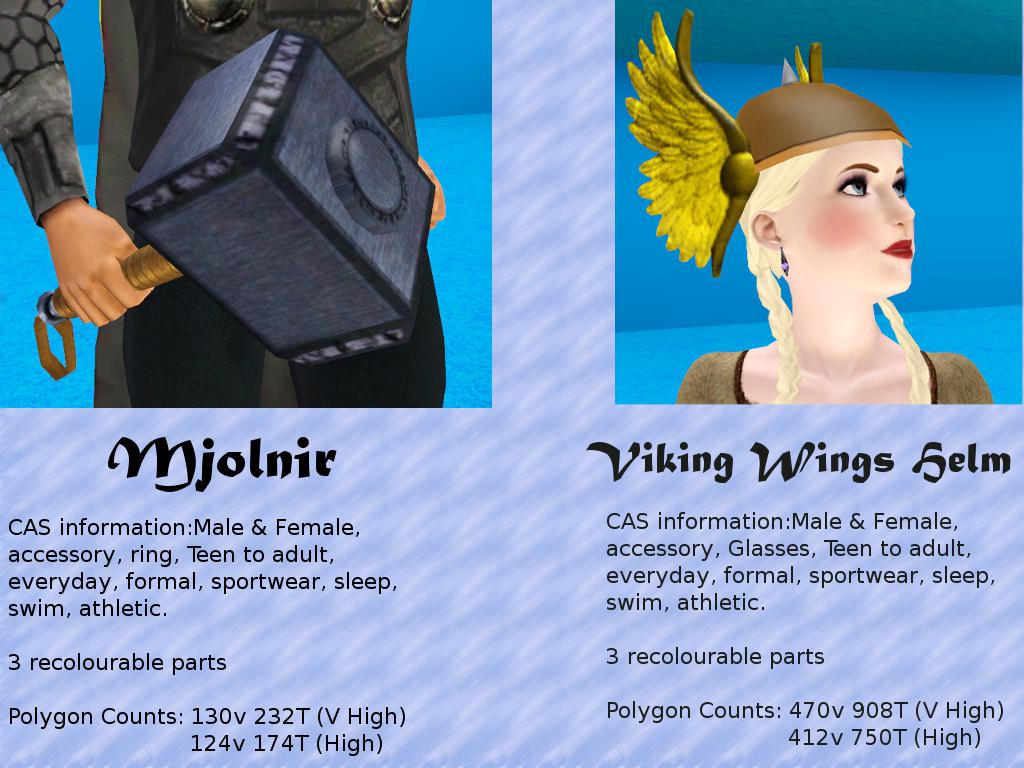 * Please note that the Viking helm with wings is designed with aWT's Slider Set: "Hat Control" in mind to allow you to fit the helm with any head size and hair style. You will need to download
this
if you want the best fits. The helm should fit Thor perfectly.
Thor's armour
is a EA re-textured. CAS information: male,top, young adult to adult, everyday, formal, sportwear, sleep, swim, athletic.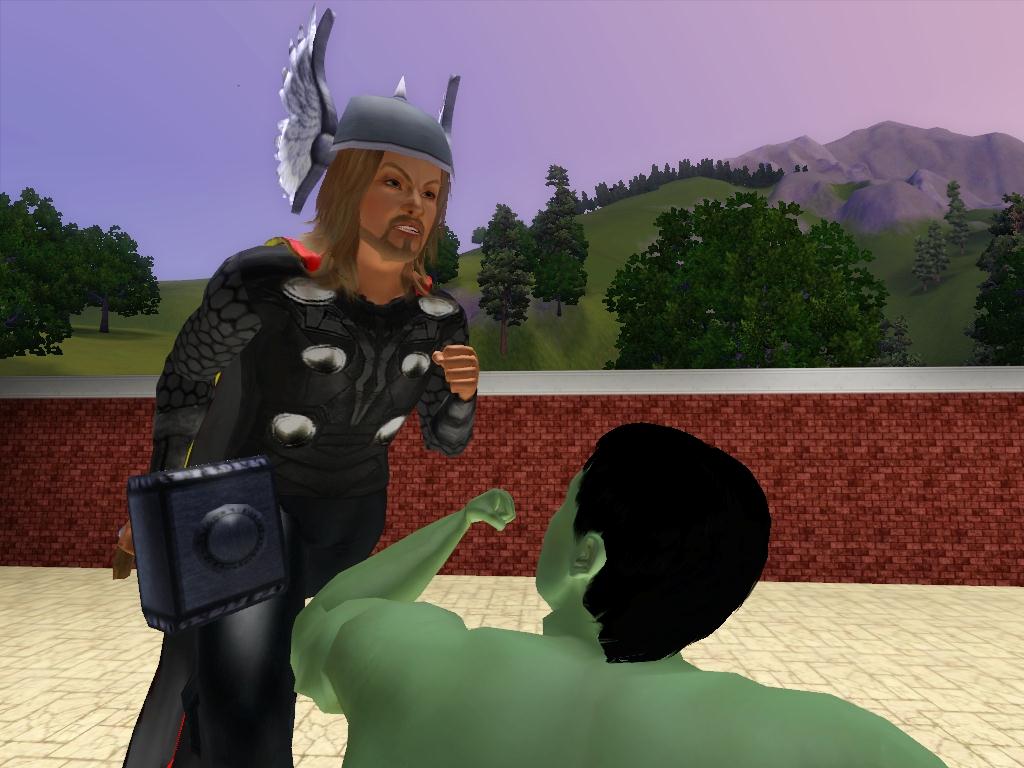 Custom Content by Me:
- Thor Hammer
- Thor Armour
- Viking Helm with Wings
Additional Credits:
*Special thanks to everyone in the
Creator Feedback Forum
who inputs and feedback made this possible. Particularly EsmeraldaF, monca533, SimmyRN, willmurray, Volvenom, buitefr1, Rennara, claudiasharon, adonispluto, ChaoticNeutral*

If you want to mess with Thor's face and body, you will need the following:
Bella3lek4's Facial Sliders
aWT's Slider Set: "Hat Control"
aWT's GEOM Sliders: Upper Lip
aWT's GEOM Slider Set: "Nose Septum"
whiterider's Neck Thickness Slider
jonha's Head Shape Slider
jonha's 10 new CAS Sliders
About Me
Sorry I don't do requests. But I do take suggestions (it means I may or may not do what you suggested unless it is something I been working on or interested in).

I enjoy making Sims movies and writing stories. If you are interested, you can find them in my profile at the Exchange (or go to my blog for a direct link).
I usually make CC accessories or clothing that are based around popular movies, anime or video games. I also do poses that is action based.

You can find a link to all my creations in my blog.