Medieval Baby Blanket Default Replacements - Ye Olde Kingdom of Pudding
MTS has all free content, all the time. Find out how YOU can help to keep it running.
Tell me how...
10,388

Downloads
405

Thanks Thanks
80

Favourited
48,421

Views
Uploaded: 29th Jan 2012 at 2:25 PM
Updated: 2nd Feb 2012 at 1:13 AM
Ye Olde Kingdom of Pudding - Medieval Baby Blanket Default Replacements
Two Options Made by Daluved1 for The Merrye Makers


Greetings, good gentles/ladies. We are The Merrye Makers - a group of eleven (now twelve) creators spanning all disciplines (clothing, lots, objects, etc.) offering for thy downloading pleasure a collection of medieval things most beauteous from Ye Olde Kingdom of Pudding -- otherwise known as "Simdom Pudding".



Swaddling

In most Ye Olde Kingdom of Pudding homes, babies were often swaddled, theoretically to help their arms and legs grow straight. Swaddling involved wrapping the infant in linen strips with legs together and arms close to the body. This, of course, immobilized them and made them much easier to keep out of trouble. But infants were not swaddled continuously. They were changed regularly and released from their bonds to crawl around, be snuggled, and be played with. The swaddling might come off altogether when the child was old enough to sit up on his own. Whether swaddled or not, Simdom Pudding babies spent much of their time in their cribs when at home. Busy peasant mothers might tie unswaddled babies into the crib, allowing them to move within it but keeping them from crawling into trouble. Simdom Pudding mothers who loved the outdoors often carried their babies about in their arms on their errands in map view. Many infants could be found near their green thumbed parents as they labored in the gardens at the busiest harvest times, on the ground, or secured in a tree. Babies who were not swaddled were very often simply naked, or wrapped in blankets against the cold. Wealthier Ye Olde Kingdom of Pudding babies were clad in simple gowns. Strong and handsome, Simdom Pudding children quickly outgrew anything sewn especially for them and a variety of baby clothing was not an economic feasibility in poorer homes in the realm.

Source: http://historymedren.about.com/od/m...ld_survival.htm



Two options for baby blanket default replacements made by Daluved1 for The Merrye Makers. They are small caspart and XML edits that:

1. Change the default colors of the blankets for male and female babies, or
2. Change the default color for all baby blankets regardless of gender.

Please download only one default replacement option as they will conflict with each other. This baby blanket default replacement / override should not conflict with any other mods except another mod which changes baby blanket color resources.

Important Information for modders
The name of the overwritten CAS Parts are bubody (male baby) and bfbody (female baby). If your mod also edits these resources there will be a conflict. Please see below the TGI data for the changed resources:




XML overrides
0x0333406C-0x00000000-0x1617262C64BB1CF9
0x0333406C-0x00000000-0xE0B82EBB58D2052E



and




CASP overrides
0x034AEECB-0x00000000-0x1617262C64BB1CF9
0x034AEECB-0x00000000-0xE0B82EBB58D2052




If desired, the blankets can be CASTed with Twallan's Master Controller. Link here: http://nraas.wikispaces.com/. If you do not have Twallan's Master Controller - or a similar mod - installed, you cannot change the infant blanket colors or textures.

Option 1
Changes the default colors of female baby blankets to white and male baby blankets to tan.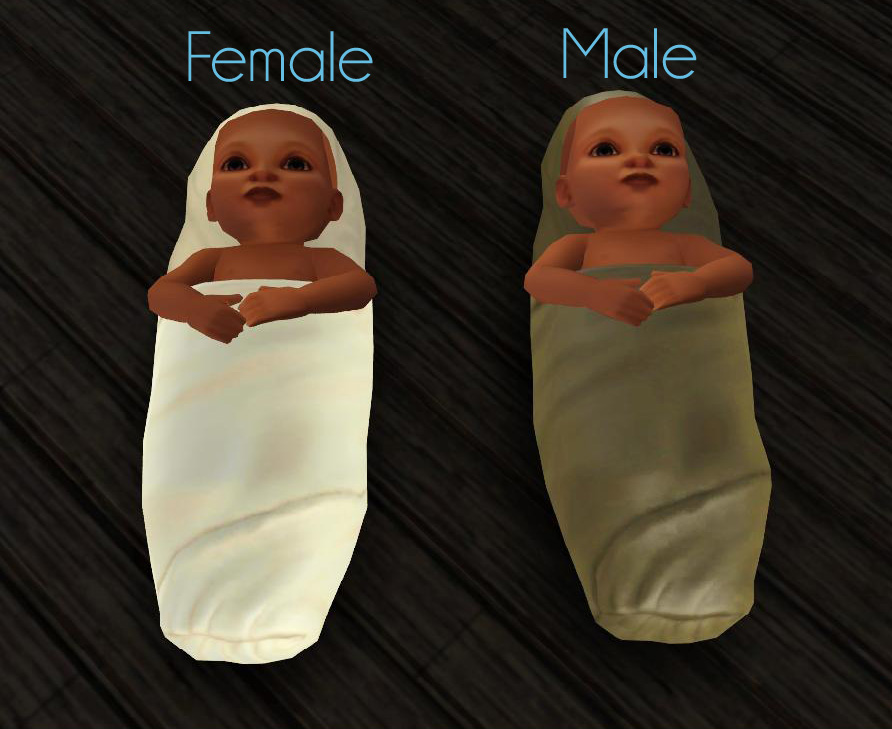 Option 2
Changes the default color of all baby blankets to white.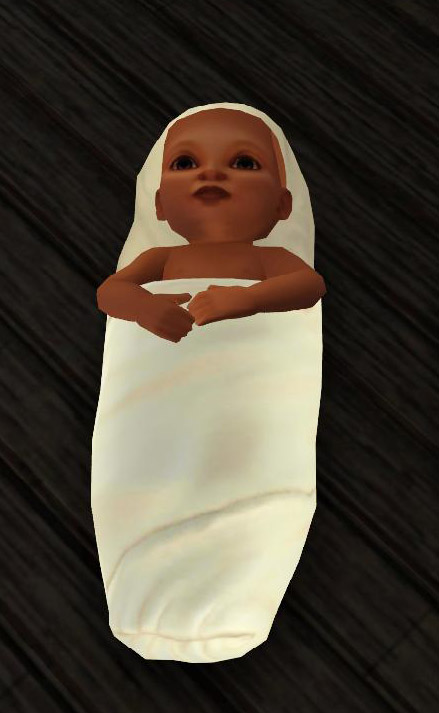 Credits: Sim holding infant in mapping picture wearing ZoejT1Conv dress made by Robodl95 for The Merrye Makers. Download it from an upcoming Ye Olde Kingdom of Pudding medieval female clothing upload. Many thanks to Daluved1 for crafting the baby blanket replacments and supplying pictures. Thanks also to VampireSim for the mapping picture.

Additional Credits:
Verily, The Merrye Makers most gratefully thank all the MTS staff - especially Leesester - for their gracious support and assistance with our medieval upload preparations.
The Merrye Makers
Ahh, wanderers, welcome. Art thou merrye? If thou art not merrye thou art soon to be. What wares hast thou come here looking for? Clothing for thy entire family? Furniture for thy house? Maybe thou art simply in need of a house in general! Well sir, we are most glad to let you know that we have all that and more.
This has been a big undertaking for everyone involved, our skills range from featured creators to never having uploaded anything before. Everyone has enjoyed watching the project grow, meeting new people and learning new skills.
The Merrye Makers would like to thank a number of people for getting us here. First off is the staff of MTS. The staff were so supportive of us and it's definitely no easy matter to get 100+ things approved! There are also numerous other people who were going to participate but, for various reasons, were not able to upload with us. We would like to thank Rylandholmes, Whiterider, dramamine213, hudy777DeSign, Freshprince and Kitty Paine for their feedback and support. Thank you to SimmyRN for providing the narratives found in
italitics
throughout the posts. Thank you to jje1000 for the medieval world in the pictures, Praaven. Find out more about Praaven here:
http://www.modthesims.info/showthre...ghlight=praaven
.
Policy
Please follow the policy provided by the individual creator. Please credit the individual creator and not us as a group.