Sims 3

>

>

New terrains for your custom neighborhoods & CAS screens
Build An Arrrrrsland- A piratey place for your buildin' pleasure!
MTS has all free content, all the time. Find out how YOU can help to keep it running.
Tell me how...
14,497

Downloads
497

Thanks Thanks
92

Favourited
86,588

Views

Uploaded: 28th Jan 2012 at 6:40 AM
Updated: 22nd Jun 2013 at 1:35 PM - Clarifying install & Sidewalk points
This world has been edited as of 6-22-2013 to take into account the new water lots/swimming/routing that's been happening. Beaches should no longer have impediments to swimmers or builders.An *EMPTY* base camp lot was also placed on a shoreline, so it's easier for people with Traveler by Nraas to have their Sims visit. Again, the Base Camp lot is empty, just placed- it'll have to be built (or deleted) by the player in edit town/edit world mode in game.
Ahoy there!
Need a little pirate flavor for yer building dreams and legacies? Look no further than this treasure of an island! Make yer scurvy Sims walk the plank bridges, for there be no cars allowed, just dirt trails (actually have sidewalk, which may be visible when game first loads, but should become more see-through as you zoom in/start playing) or goin' their own way through the neighbors' yards. There be falls and caves and spawners for them creepy bugs and squawky parrots should ye have the Pets expansion. Trees come from them World Adventure places as well as them Ambitions ones.
Thar be no CC required (though some be optional), and the Cap'n was sailing under the flag of patch 1.55.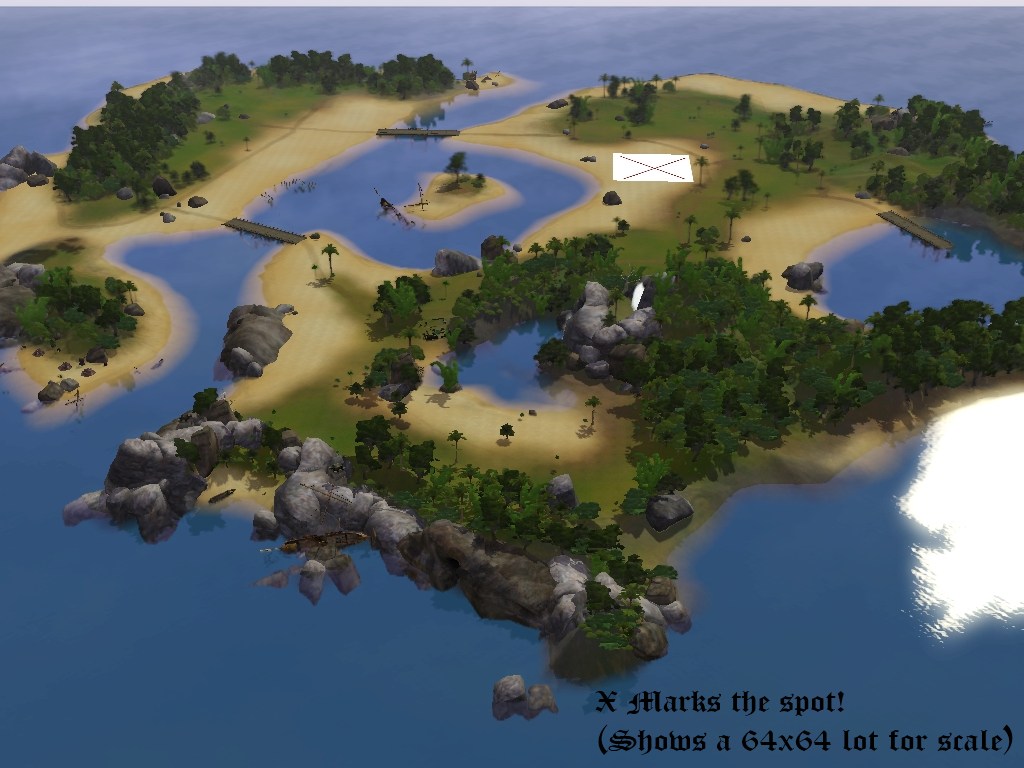 Map Size: Small
Lot #: None

Layers: 9- Effects, Rocks, Trees, Fish Spawners, Seed Spawners, Rocks & Gem Spawners, Bug Spawners, Junkyard Spawns, Digsites & Misc Obj, Small Pet Spawners

Spawner Numbers:
Fish 109 (ok I got carried away, I like fish) - Base Game, Late Night, Common Egypt (Pirates and crocodiles get along like a house on fire)
Seeds: 36 Base Game Only
Bug Spawners: 110 (because pirates need incentive t'keep their beards tidy) Base Game & Late Night only
Small Pet Spawners: 83
Rock and Gem Spawners: 58, Basegame and LN only
Junkyard Spawners: 8
Junkpiles: 6
GENERIC Digsites: 6

Terrain Paints used: 7

Routing map: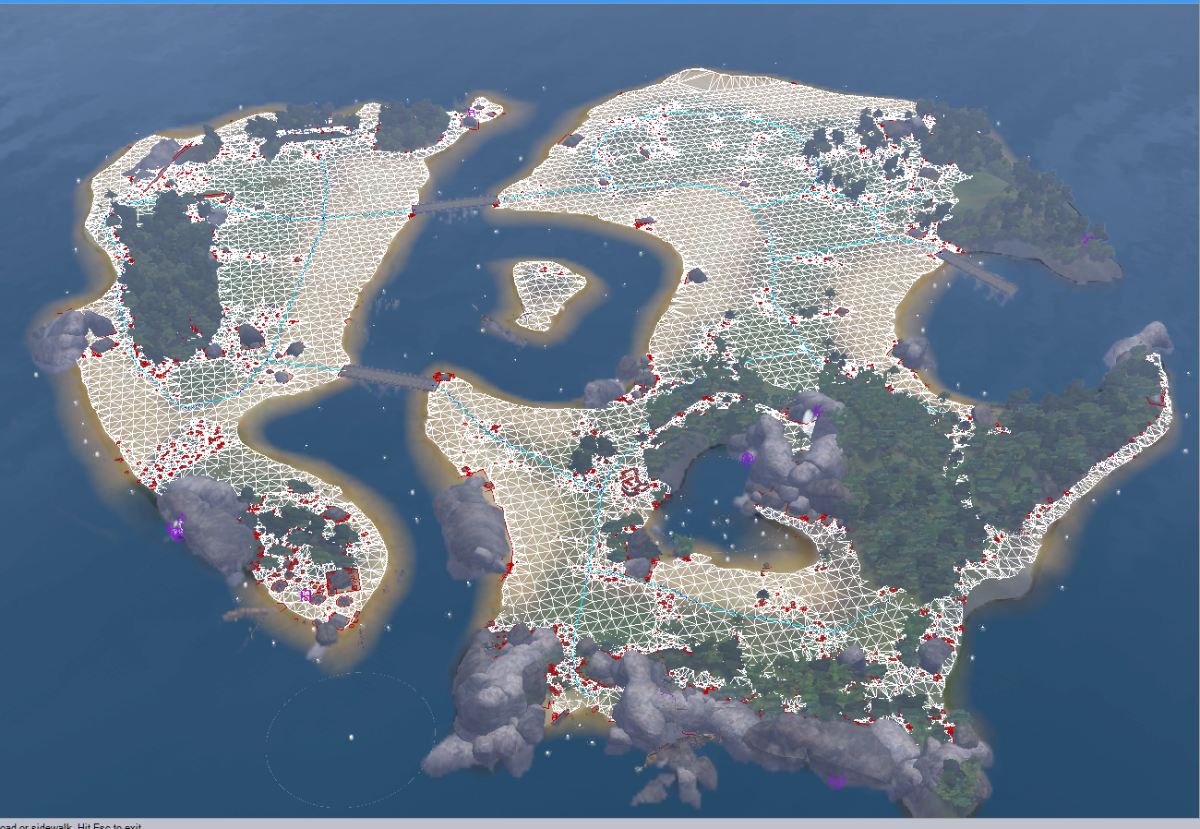 Sims cannot go onto the steep, heavily planted mountains/hills, and can only access the tiny island via things like dive wells.
Camera can go everywhere on the island, and pretty much to map edge out at sea. I rounded the map corners to prevent stuck cameras in them.
The routing in picture vanishes under some thick forest areas, but it IS properly routed, just the trees are types that overhang, as it's a sort of hidden trail.

Optional Custom Content (not required, is just a few beach things):
Raft Decor from Castaway Set Part 1 by lhawk07
http://linna.modthesims.info/download.php?t=457515
Campfire from Castaway Set Part 3 by lhawk07
http://linna.modthesims.info/download.php?t=458325
A few more things to note:
*The sidewalk once fully in game is visible as those dirt trails- in my thumbnail they show up much more than in game, since I wanted to show there were actual sidewalks.They use a custom opacity level to render them invisible other than the dirt terrain paint, but as noted above, they WILL usually be super visible and ugly when you load the map for the first time, but will vanish as you play other than the occasional glitch when at distance.
*That itty island in the center eye can only be attached to rest of the map for Sims to explore using WA dive wells for lots you build.
*Remember you need BOTH .rar files and have to unpack 1 first- here is a better explanation than I previously gave for how to un-rar it as a multipart download:
http://www.modthesims.info/wiki.php...ulti-part_files
*
You are free to share savegame files if you build up lots or play legacies or the like. You may NOT put the world file itself anywhere-- send folks here to get it!
You can also use it in any contest screenshots, storytelling or movies you make with credit.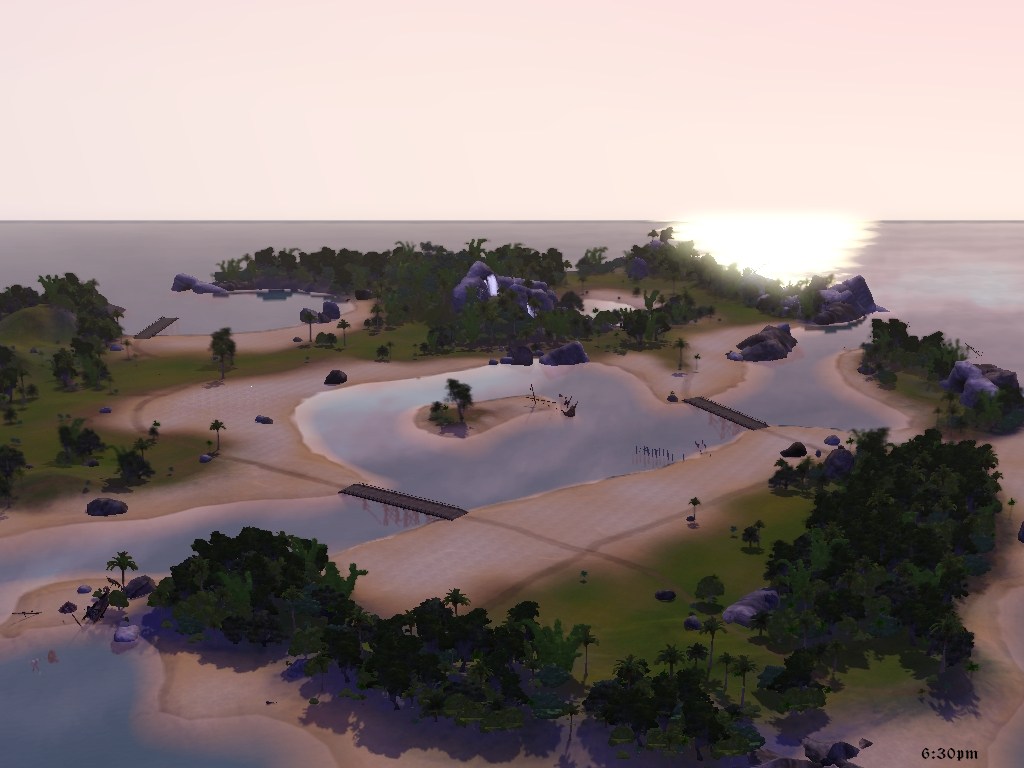 Additional Credits:
Thanks to everyone in #create for encouraging me, giving me feedback & letting me cry on their shoulders when my PC melted for a while.
Much love to Inge and Peter Jones for
S3PE
which let me do crazy things like make junkpiles placeable outside of lots!
Also thanks to folks on the CAW forums for having so many great ideas, and figuring out how to do things to make worlds built better, especially SimSample who unlocked a bunch of goodies for use in CAW like the hitching posts.
Packs Needed



For a full list of packs with names, see the
Packs Needed
popup.
Packs Needed
| | Base Game |
| --- | --- |
| | Sims 3 |
| | Expansion Pack |
| --- | --- |
| | World Adventures |
| | Ambitions |
| | Late Night |
| | Generations |
| | Pets |
Information and Policies
Not all of my creations are here at Mod the Sims- I also have my own site, bakasims.com where more of my worlds are located.

I tend to cycle through games I'm playing every few months, and get into obsessive manic sprees doing things like making (or attempting to make) content. As such, I may be prone to vanish from the community for a while, only to pop back up a few weeks or months later.

This is also why I am TERRIBLE at keeping up with comment threads on my downloads and replying to them. I apologize for any questions that go unanswered for untold centuries.

POLICIES:
You may, if you credit me and link back to my MTS profile or Bakasims site:
1. Use my lots, objects, Sims, or worlds in screenshots, movies, and stories
2. Use my DIY kits for worlds you share on free sites.
3. Use my lots in worlds you've made to share on free sites. (Please leave a 'by bakafox' in the lot description as well as in your post listing and linking any CC/lots)
4. Use any objects I get around to finishing in lots you share on free sites- but NOT included with the lot!

You MAY NOT:
1. Re-upload any of my individual lots, worlds, or items onto another sharing site.
2. Share anything containing anything I've done on a pay site (such as TSR, not even in the 'free section') or on the TS3 Exchange.