Sims 3

>

>

New terrains for your custom neighborhoods & CAS screens
Build Avalon
28,406

Downloads
439

Thanks Thanks
136

Favourited
80,751

Views

Uploaded: 12th Jul 2012 at 3:41 PM
Updated: 12th Jul 2012 at 8:17 PM - Fixing outdated multipart file tutorial link issue
Requires: TS3, WA, AMB, LN, GEN, PETS, patch 10.0.96 or later
Avalon is a
medium-sized
, fantasy world, started as a realm for fae, but could easily become an alien or other fantasy setting.
For more images than are in this post, you can
view a gallery at Bakasims.com
There is only one lot- a camp built so people can easily use it with the Traveler mod from Nraas. It is not a 'locked' lot, so is easily destroyed by anyone not interested in having it, and editable by those who are. (Exporting the world apparently caused the base camp's trash can and bulletin board/mailbox to move to generic/wtf locations. Sorry about that.)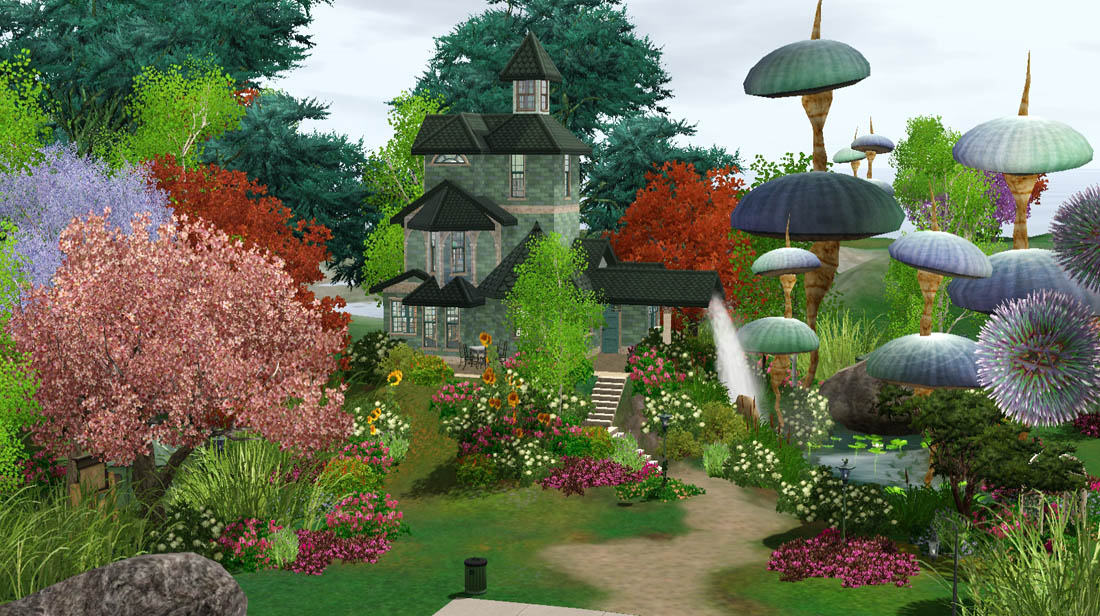 Avalon is a base world/suburb
, wild horses and deer will appear, and there will be the usual 'suburb' amounts of traffic (and the ice cream truck) unless you use mods.
There is an issue with trees and plants darkening at some distances and angles, there's nothing I could do about that, unfortunately.
There are fog emitters used in the base camp- due to an EA glitch they will not show properly until you have saved and exited to main menu once. After that they will show up properly in your game.

Trees & Plants:
There are 16 tree/plant types used throughout map, so it exceeds EA's weird suggestions but hopefully looks better. I edited the textures for some of the trees in S3PE- they are built right into the world file in those new colors. This means even if you place those tree types yourself they should be the same colors! This effect will not overwrite the trees for any other world, if your game seems to want to cling to them, you may need to empty caches (my own game does not do this/require this).

Size:
Avalon is a medium-sized map.

Terrain Paints:
15 terrain paints used throughout map, exceeding EA suggested numbers, but those make me cry.

Layers:
5 layers, one each for Objects, Plants & Trees, Spawners, Lots

2 Custom road layers used:
one is just a sidewalk set at negative opacity so it is invisible other than occasionally showing when first loading the world or from a great distance.

Spawners:
2 Generic Digsite
66 Fish - Some are WA French Common and French uncommon (I like frogs!)
20 Beetle
47 Butterfly - Some of which are WA French Glowy butterflies
72 Minor Pet
33 Gem - Includes WA spawners for geodes, soulpeace, and mixed gems from China, Egypt and France but in lesser quantities
10 Metal - no WA

The base camp lot does have common koi in its pond (China)

Routing:
Water and steep cliffs are unrouteable as are some of the narrowest bits/tips of the island and some tiny bits of beach/terrain that would have only been accessible if one could go down steep cliffs. Flat areas and most gentle slopes are routeable- I did not always paint the map unrouteable under thick trees or objects, so that if you remove trees or landmarks in the in-game editor, you can place lots (hopefully) where they were.

Camera Routing goes everywhere except I added a small bit of no-camera routes to the very corners of map to round them and hopefully stop cameras from getting wedged.

There is a smaller island that is a nice location for a hidden tomb accessed via dive well. It has no routing to it *unless* you use a dive well or other such thing.
Apparently the old multi-part file info I'd had is gone, here's some instructions I've cribbed from the overview for Pyronium's world "Setra" . (CHeck the world out is lovely!)[list][*]Make a folder to any location you can easily find - desktop for example[*]Download all 9 files in this thread and save them to the folder you just created[*]Right click on the first file and select "Extract here..."[*]When prompted, browse the next file by finding the folder they are in and selecting the next file asked for[*]Repeat until all files are extracted[*]Copy the sims3pack you got and move it to your documents/Electronic arts/Sims 3/Downloads[*]There, double click on the file and let launcher complete the install process[*]Play and enjoy!
IF you cannot get multipart files to work, I do have the world also hosted at
my Bakasims site as a single .rar
but please be kind to my bandwith and try getting it here at MTS first if possible =)
As with all my worlds:
You may not redistribute this world file on any other Sims content site!
You may share your savegame files with others, just link them back to here or to my personal little corner of the Sims community
http://www.bakasims.com
for the world file itself.
You may use the world in your storytelling, whether it's screencaps, movies, whatever, really. Please credit and link back if you do so! =)
Additional Credits:
Thanks to everyone in the MTS #create channel & CAW forum for the help & support
Special thanks to Atavera for unlocking the mysteries, and SimSample for tirelessly moderating the forum & helping investigate new theories
Thanks to Twallan at Nraas for his handy dandy mods
<3 Inge and Peter Jones and their hearty crew at SimLogical for
S3PE
and other great tools
Packs Needed



For a full list of packs with names, see the Packs Needed popup.
Packs Needed
| | Base Game |
| --- | --- |
| | Sims 3 |
| | Expansion Pack |
| --- | --- |
| | World Adventures |
| | Ambitions |
| | Late Night |
| | Generations |
| | Pets |
Information and Policies
Not all of my creations are here at Mod the Sims- I also have my own site, bakasims.com where more of my worlds are located.

I tend to cycle through games I'm playing every few months, and get into obsessive manic sprees doing things like making (or attempting to make) content. As such, I may be prone to vanish from the community for a while, only to pop back up a few weeks or months later.

This is also why I am TERRIBLE at keeping up with comment threads on my downloads and replying to them. I apologize for any questions that go unanswered for untold centuries.

POLICIES:
You may, if you credit me and link back to my MTS profile or Bakasims site:
1. Use my lots, objects, Sims, or worlds in screenshots, movies, and stories
2. Use my DIY kits for worlds you share on free sites.
3. Use my lots in worlds you've made to share on free sites. (Please leave a 'by bakafox' in the lot description as well as in your post listing and linking any CC/lots)
4. Use any objects I get around to finishing in lots you share on free sites- but NOT included with the lot!

You MAY NOT:
1. Re-upload any of my individual lots, worlds, or items onto another sharing site.
2. Share anything containing anything I've done on a pay site (such as TSR, not even in the 'free section') or on the TS3 Exchange.