Sailor Jerry Tattoo Pack
35,369

Downloads
1,178

Thanks Thanks
243

Favourited
83,276

Views
Picked Upload! This is a picked upload! It showcases some of the best talent and creativity available on MTS and in the community.

Uploaded: 8th Aug 2012 at 4:17 PM
Updated: 18th May 2015 at 1:34 PM - updated link to bonus tattoo

The link to the bonus Aloha Monkey tattoo (not PG-13!) has been updated. It can now be found at
my blog
.
Who?
Norman Collins, better known as
Sailor Jerry
, was a prominent tattoo artist famous for very bold outlines and small colour palettes but, unlike many old school artists, his work also featured careful shading and intricate detail.
He spent most of his early career tattooing sailors, for whom tattoos were strongly symbolic. Swallows, for example, signified a 5,000 mile journey, and the birds were also believed to carry home the souls of drowned sailors, while only sailors who had crossed the equator earned the right to have a shellback turtle inked. Your sims may not be able to join the Navy, but at least now they can get the artwork!
What?
There are 35 tattoos in this pack. Yes, I got slightly carried away. Almost all of them are unique designs, but two have double or single variations (more on that in a moment) and one is a bonus inverted image. You can pick and choose your favourites, or add all 35 designs to your game for maximum choice.
Compatibility
These are tattoos, not accessories, and they are basegame compatible, providing your game is patched to at least 1.12... which, y'know, it really should be.
Designs

All the tattoos is this pack were converted from images of vintage Sailor Jerry flash, and most will look best at smaller sizes (i.e., anything under a full back piece on your sims), as some of those distinctive heavy outlines can look a bit too thick when scaled up. However, they retain their identity well when sized down, making them particularly suitable for players who use CmarNYC's expanded tattoo locations mod (available either
here at MTS
or integrated into
Twallan's Master Controller
), which allows you to apply tattoos to locations such as feet, backs of the shoulders, or hands.
Please note that I used this when taking in-game screenshots, so you will need the mod if you want to place tattoos on your sims' hands, thighs etc, as in the screenshots.
.

I've tried to present a good mix of types with these tattoos, so you can vary how you use them. A couple I completely traced and redrew from scratch to produce finer linework, and all of them have between two and three recolorable channels and three presets, so you can choose whether to stick with the traditional colour palette, adjust for different skintones, or go for something completely different (yeah, zombie pinup girls...).
Several of the tattoos have text, which I have converted to Simlish.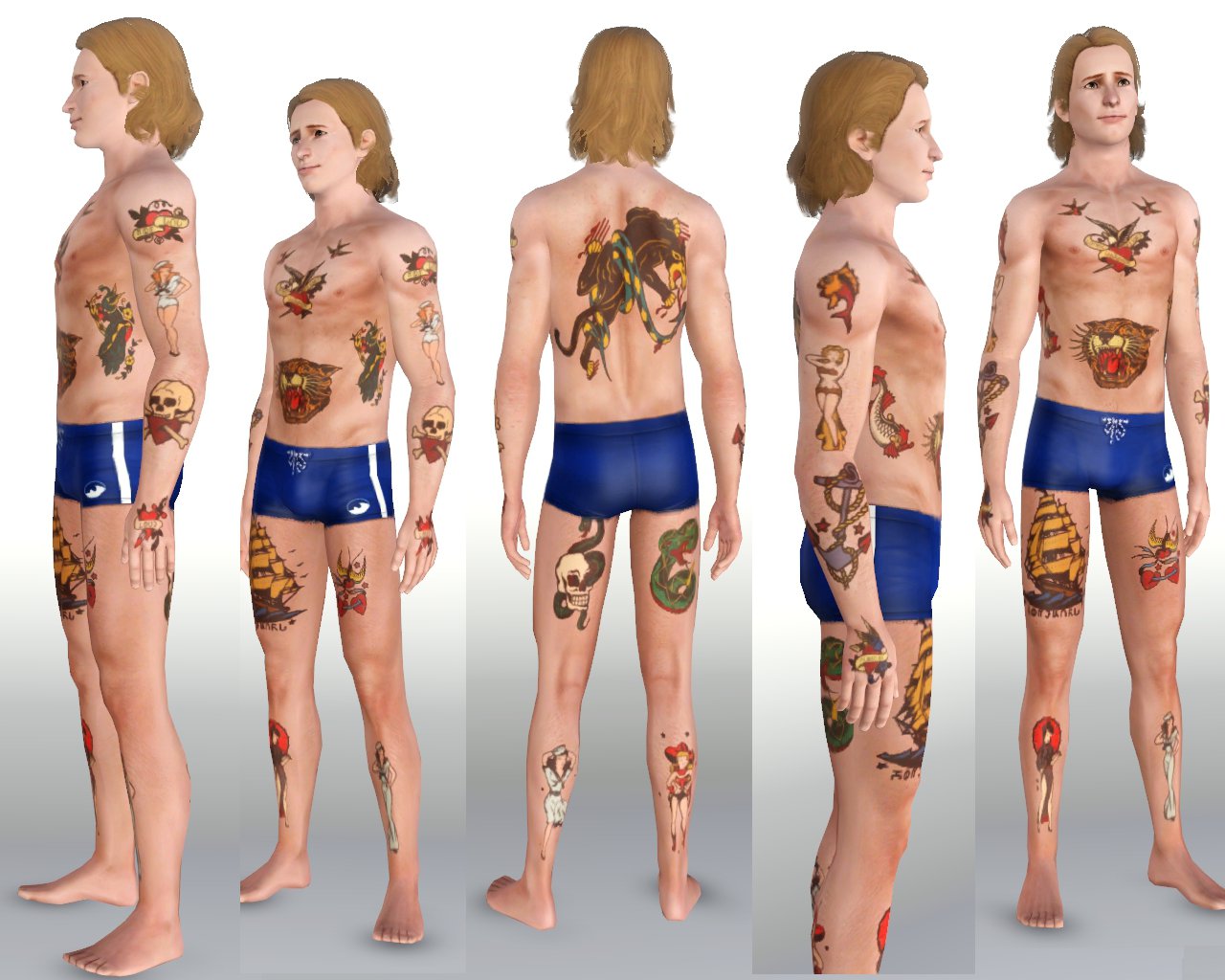 There are full listings of which tattoo is which in the screenshots, but here's a handy reference:
analect_sailorjerry01_momdad
- Two hearts with a banner that reads "Mom" and "Dad" in Simlish.
analect_sailorjerry02_panther
- Black panther fighting with a serpent. Very badass.
analect_sailorjerry03_swallowdouble
- Double swallows (same design as _023). Ideal for chest, hips, or shoulders.
analect_sailorjerry04_goldfish
- fairly self-explanatory.

analect_sailorjerry05_rattler
- large rattlesnake. Heavily shaded alpha, so play with the three recolorable channels for a range of effects.
analect_sailorjerry06_swallowhearts
- Swallow with two hearts
analect_sailorjerry07_snakepeacock
- Very famous Sailor Jerry design; snake and peacock with flowers
analect_sailorjerry08_deathbeforedishonor
- eagle with a banner that reads "Death Before Dishonor"
analect_sailorjerry09_shellback
- Shellback turtle
analect_sailorjerry010_anchor
- Large anchor
analect_sailorjerry011_alohaoe
- Swallow with a heart and banner that reads "Aloha oe"
analect_sailorjerry012_ginger
- Swallow with heart and banner reading "Ginger"
analect_sailorjerry013_homeward
- A large clipper ship with text reading "Homeward"
analect_sailorjerry014_shark
- A shark, surprisingly.
analect_sailorjerry015_pinupdancer
- quintessential Sailor Jerry pinup girl. Let's call her a "dancer", okay?
analect_sailorjerry016_wuvtwuwuv
- Three roses with a banner reading "True Love Forever". Looks great as a large or small piece.
analect_sailorjerry017_snakeheart
- Snake with a heart and dagger
analect_sailorjerry018_nauticalstarsingle
- Nautical star. Can be used singly, or with Cmar's mod to be placed either side of the chest or shoulders.
analect_sailorjerry019_pinup
- Seated pinup girl
analect_sailorjerry020_nauticalstardouble
- The double version of the nautical star, which can be placed on the chest or shoulders to give the effect of two tattoos.
analect_sailorjerry021_snakeskull
- Skull with a serpent slithering through it
analect_sailorjerry022_tiger
- Sailor Jerry's famous tiger, which always seems to me to look faintly worried, as if it's saying "oh noes" or something.
analect_sailorjerry023_swallow
- A left-facing swallow. Great as a single tattoo or as part of a pair.
analect_sailorjerry023a_swallow_r
- (not pictured) A reversed, right-facing version of _023. Use singly or as part of a pair, positioned either side of the chest using Cmar's mod, for example.
analect_sailorjerry024_koi
- Large koi-type fish
analect_sailorjerry025_pinupsailor
- Pinup girl in a sailor suit
analect_sailorjerry026_dice
- Two dice on a coloured background. Best at smaller sizes.
analect_sailorjerry027_pinupsailorgirl
- Another sailor-suited pinup girl
analect_sailorjerry028_chopper
- A skeleton on a chopper. Because why not?
analect_sailorjerry029_pinupsailorskirt
- Pinup girl in a nautical dress
analect_sailorjerry030_cowgirl
- A very impractically attired cowgirl pinup.
analect_sailorjerry031_cherry
- Pinup girl with cherries. Best at small sizes.
analect_sailorjerry032_love
- A dagger through a heart, with banner reading "Love"
analect_sailorjerry033_geisha
- Japanese-esque pin-up girl
analect_sailorjerry034_heartbones
- A heart with crossbones and skull.
Tattoo Placement
Please note that, if you are using Cmar's placement mod, you may wish to choose between these files:
analect_sailorjerry023_swallow
analect_sailorjerry023a_swallow_r
analect_sailorjerry03_swallowdouble
analect_sailorjerry018_nauticalstarsingle
analect_sailorjerry020_nauticalstardouble

You can use all of them; they will not conflict
, but the files marked "double" are designed to be used with vanilla game placement. If you apply them to a sim's chest and choose maximum scale, they will be positioned with a star (or swallow) on each side of the chest. If you prefer to use Cmar's mod to achieve that effect, of course, you can. (In-game screenshots show the double swallow tattoo - _03 - and the double nautical stars, _020.)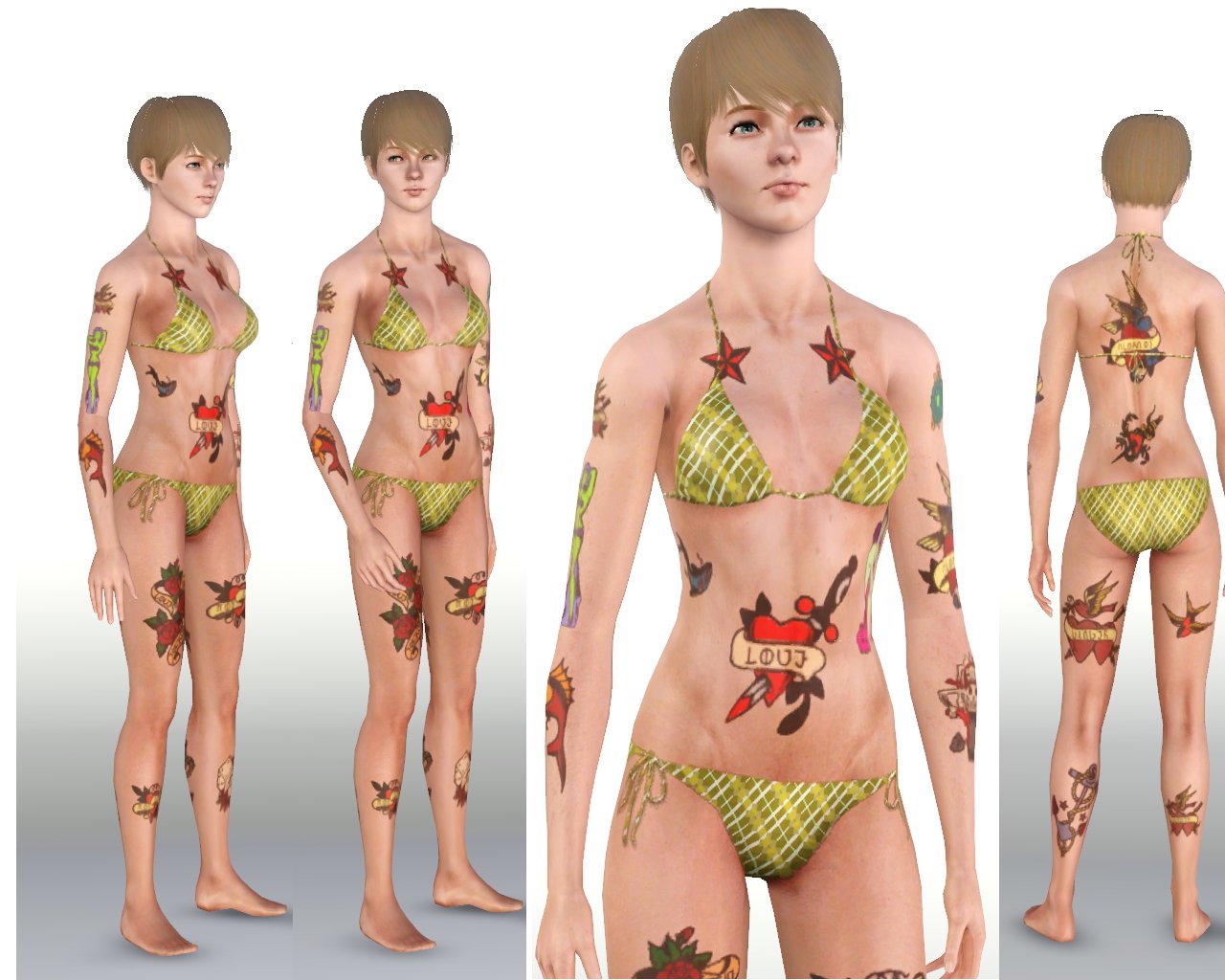 Phew... I think that's about it. The only thing that remains to be said is that there is one extra tattoo I made which I did not include in this pack. While it's one of Sailor Jerry's most (in)famous designs, it's not exactly PG-13. So, if you would like an Aloha Monkey for your game,
and you are not easily offended
, you'll have to head over to
my blog
.
Enjoy!
Model Credits
Sims by me. No make-up used. Clothing is all basegame.
Skins are Wild, V.2 (female) and B.A.S. edition (male) by
Navetsea
and eyes are default
Pixie
by stefizzi.
Male hair is from Generations, female hair is from Pets (I think).
Additional Credits:
Made using GIMP. Thank you to Cmar, for the Tattooinator and the invaluable tutorials. Also, sailorjerry.com, Tattoo Donkey, and the various other sites I found source imagery.
All original artwork (c) Sailor Jerry brand; no infringement intended etc.
Packs Needed
None, this is Sims 3 base game compatible!
Other Information
Maxis Flags
:
– AmbTattoo : Ambitions Tattoos
Tags
#tattoos, #simlish, #simrealistic, #old school, #vintage, #sailor jerry, #rockabilly, #pinup, #norman collins, #ed hardy, #rollo banks
Stuff 'n' Things
My creations are released under a
creative commons
license:
http://www.feastingondreams.com/wp-...mmons_88x31.png
You are free to what you will with my creations, as long as:
- You
do not
upload them anywhere else and claim them as your own.
- You
do not
upload them to paysites or sites that are not 100% free.
- The usage policy remains unchanged.
You are welcome to use my stuff in your uploads, or as the basis for your own creations. No need to ask permission, but I would love to see what you do, so feel free to send me a link.
Also, credit is nice, but not required. :D
I don't take requests. Sorry.