Plumbots from TS3: 13 Parts to Mix + Match
114,373

Downloads
432

Thanks Thanks
226

Favourited
115,036

Views
Picked Upload! This is a picked upload! It showcases some of the best talent and creativity available on MTS and in the community.

Uploaded: 1st May 2015 at 8:51 PM
Updated: 24th Jun 2018 at 10:41 AM - Updated for Seasons
UPDATED FOR SEASONS JUNE 24 2018:
Added new .zip files which will update the Plumbot tops and bottoms for the Seasons patch's 'Cold Weather' and 'Hot Weather' categories, so that your robots don't turn into human bodies in those categories. (The original heads and bath skin are still OK for all categories.) If you are installing this creation for the first time, please also download the 'Plumbot Tops - Updated for Seasons' and 'Plumbot Bottoms - Updated for Seasons' .zip files and let the enclosed package files overwrite the old ones that were in the original
zip
file. If you already have these outfits installed, then just download the two Updated zips and let the packages inside it overwrite your old ones. Then go into Full Body outfits in the Cold and Hot Weather categories and click on the outfit item(s) to make sure they're enabled. In the new categories, you also need to re-select the recolour you were using. (See attached new pic 'Updating Plumbots for Seasons.)
UPDATE NOVEMBER 2017:
Still OK with this month's patch (for Cats & Dogs) which apparently messed up the arms on many custom clothing meshes/body meshes. This item is still working as normal.
UPDATE MARCH 21 2016
: Following the below March 11 update, I've also updated the six heads to now exclude hats. This fixes the previous issue of the sim's head disappearing when the game automatically switches the sim to a hat for career or whatever. (I made this creation back in the early days of TS4 when this wasn't such an issue.) Now the head will stay on and any hats will simply not show up. If you already have this set, please re-download and just copy the six .packages with Head in their names, dated 3/21/16, to your Mods folder and let them overwrite the old ones.
UPDATE MARCH 11 2016
: I've reconfigured the three bottoms that come with this set to exclude shoes/feet, which means that they no longer need a Null Feet mod to cancel out the human feet. If you already have this set and want the new version of the bottoms, re-download and just copy the three Bottom .packages, dated March 11 2016, to your Mods folder, overwriting the three old ones. And then delete the 'Null Feet for Plumbots' .package from your Mods folder, as it is no longer needed. If you already have sims saved with the Plumbot Null Feet, you will probably get a 'CAS item missing' warning when next loading your game after deleting the Null Feet. Re-saving without the Null Feet should clear the message for next time.
~ ~ ~ ~ ~ ~ ~ ~ ~ ~ ~ ~ ~ ~ ~ ~ ~ ~ ~ ~ ~ ~ ~ ~ ~ ~ ~ ~ ~ ~ ~ ~ ~ ~ ~ ~
Here's a set of Plumbot parts converted from The Sims 3 'Into The Future' expansion pack, with which you can assemble your own 'robot' sims. It consists of 13 parts: Six heads, four tops and three bottoms, which can all be mixed and matched. They are found, respectively, in the Hair, Tops and Bottoms sections in CAS, and are for both genders, Teen to Elder. They are disabled for Random, so you should not get townies appearing with random robot parts. The parts should be available under all categories but if not, click the red X filter button to find it.
Each of the 13 parts comes in 10 colour schemes: 1) Grey/Silver, 2) Black/Grey, 3) Red, 4) Bright Green, 5) Blue, 6) Purple, 7) Pink, 8) Brown/Gold, 9) Olive Green, and 10) Rusty. Below are examples of Pink, Bright Green, and Black/Grey. These sims are wearing matching colours but you can of course mix parts of different colours on the same sim. Please see the above row of pics to see all the parts in all the colours.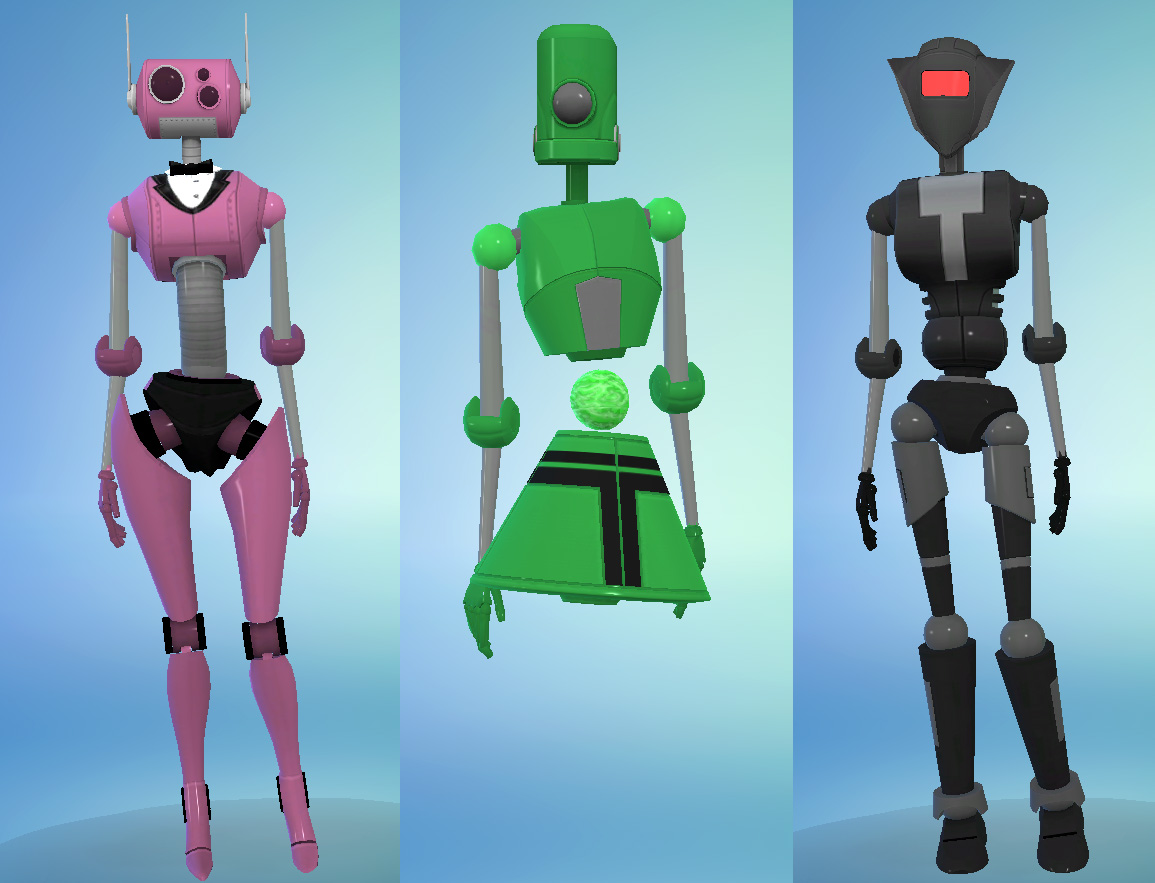 To make a robot, you need to start with a plain default sim with no accessories or facial hair. I've supplied two readymade default sims called Plumbot Female Bot and Plumbot Male Bot that you can use as quick starter sims. As the robot tops and bottoms will come off in the bath (the heads stay on), start by going into Skin Details to apply the Plumbot Bath Skin in the colour of your choice - see bottom row of below pic. This way, at least they will retain a metallic-looking skin while in the bath. Then go into Hair, Tops, and Bottoms to apply the 'heads' and the tops and bottoms of their 'bodies'.
Remember that you need to add the robot top and bottom of your choice to each clothing category, or else they will revert to human bodies when changing to different categories of outfit. Whichever head you apply to Everyday will stay on for all the standard categories. (As more expansion packs get added to the game, some new outfit categories may result in changing the sim to a human body when switched to - in that case, the metallic bath skin will appear under the new outfit so that the sim at least still looks robotic.)
You can also add some head accessories to jazz them up a little, as shown in the top row of the below pic: my forehead googles look cute with the Tim head, or you can add hoop earrings or glasses depending on the size and shape of the head.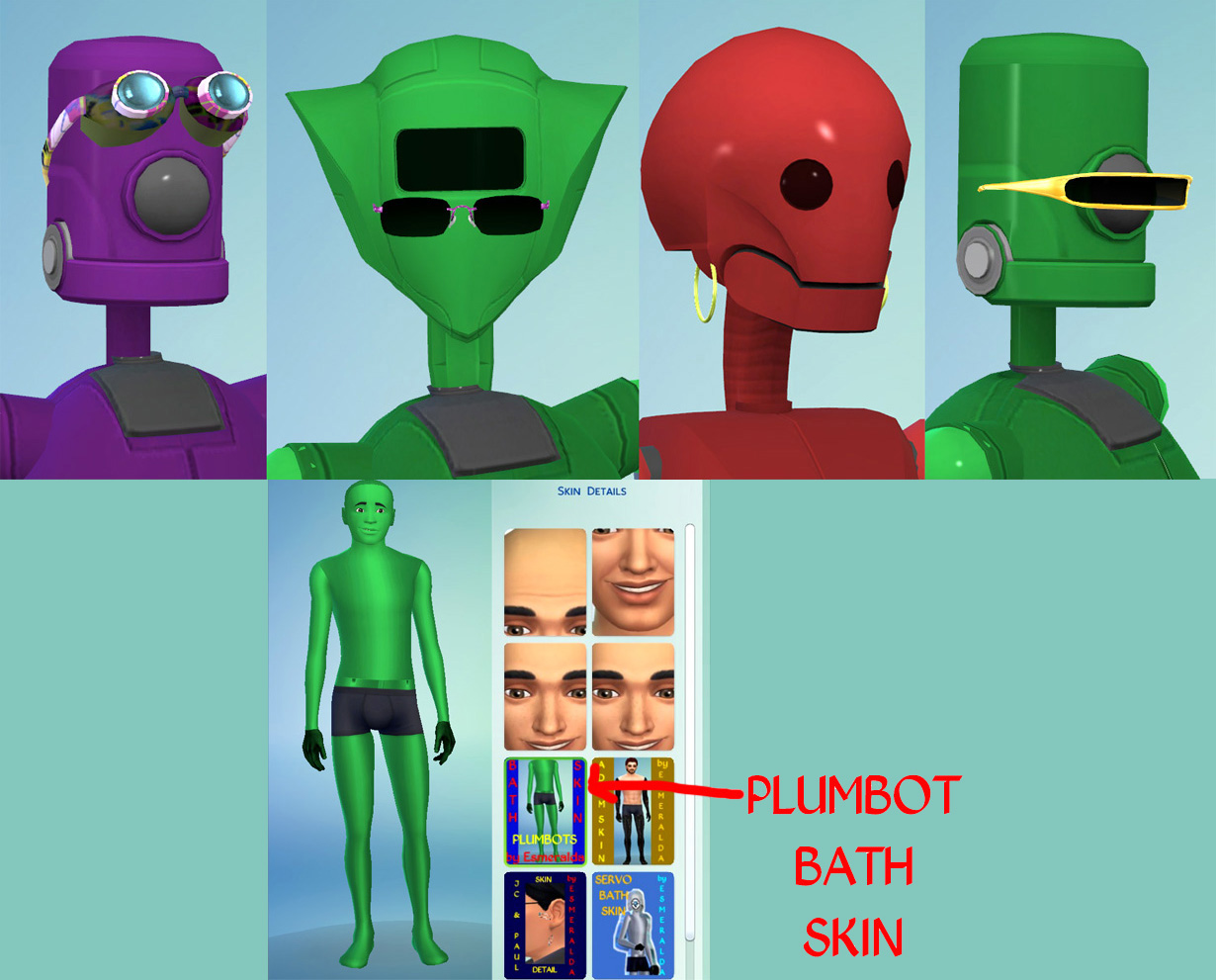 These little guys and gals are fun in-game, whether studying science or music: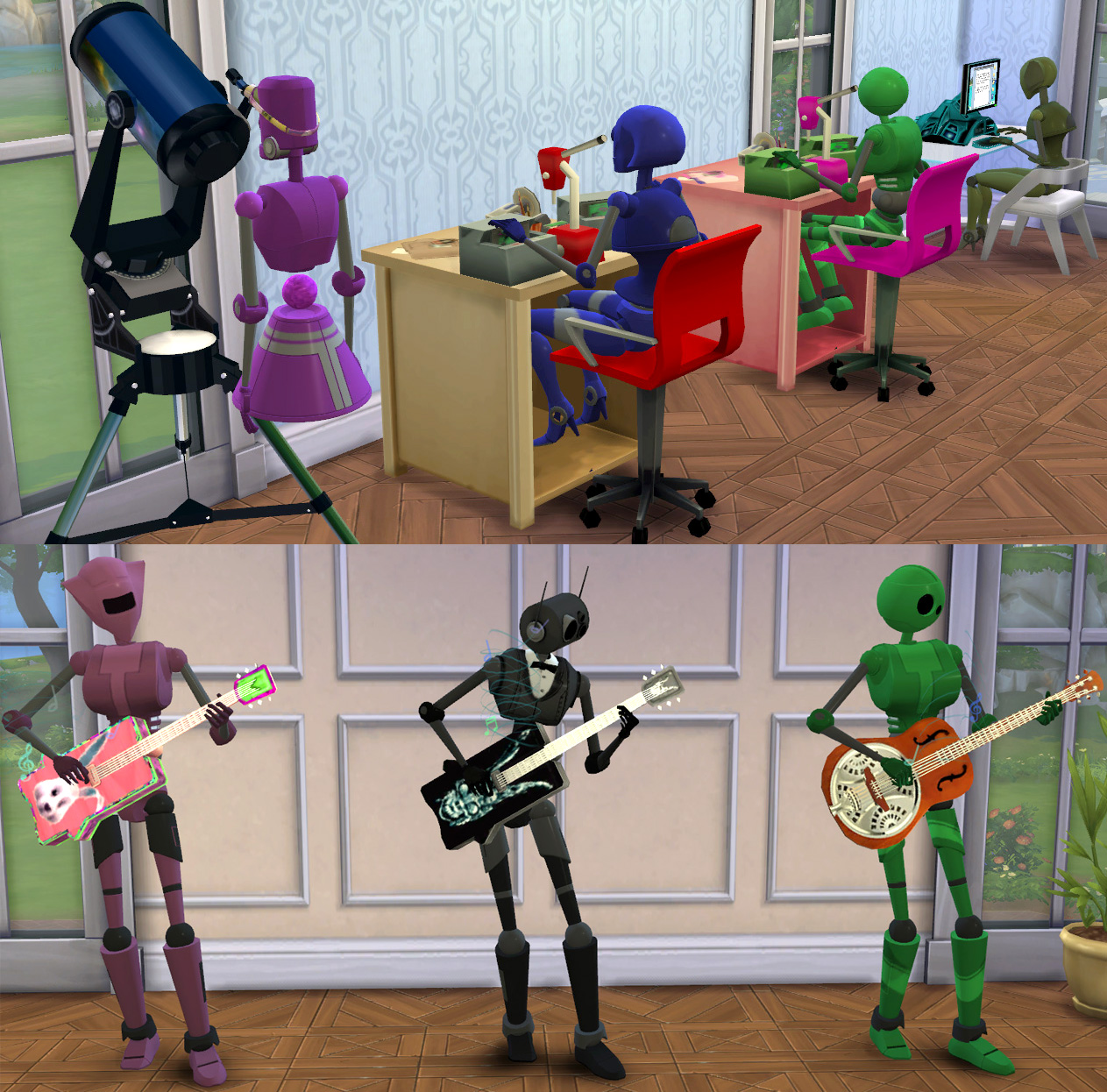 Or just letting their hair down with a good energetic dance: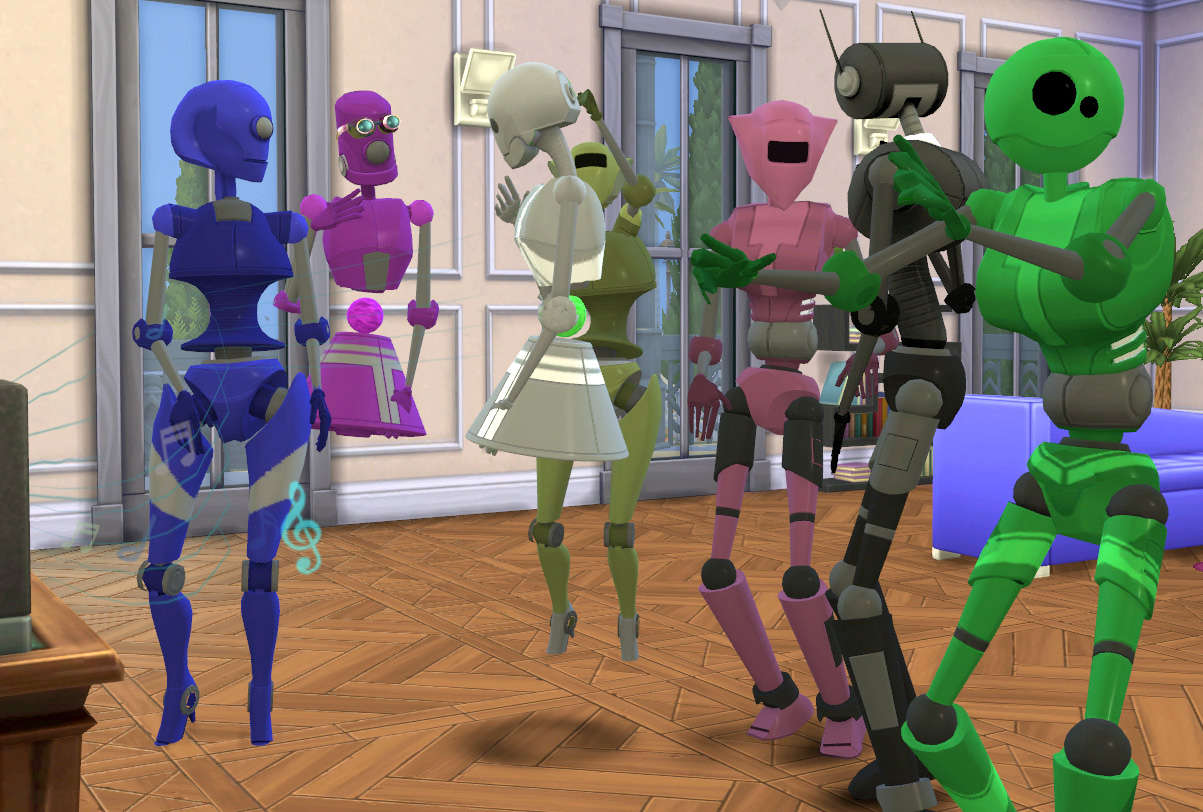 Recolouring
: I've attached a separate
zip
file containing the greyscale templates I converted and adapted from TS3 in case you would like to try recolouring these.
Minor Issue
: Note that due to the non-standard bodies there will be some clipping in a few animations, such as in the dance pic above with some of the feet clipping the floor, but these are not overly noticeable in gameplay.
Thanks for looking, hope you'll have fun with these bots.
FOR MORE ROBOTS:
My Sims 2 Servo conversion (the first, original one on this site) is here:
http://www.modthesims.info/download.php?t=542670
My little flying headbots, SAM, are here:
http://www.modthesims.info/download.php?t=573160
My child-sized Servo, Plumbot, and SAM outfits for kids are here:
http://www.modthesims.info/download.php?t=574076
INSTALLATION INSTRUCTIONS:
Download the Plumbots
zip
file and unzip it. Move the .package files, which contain the cc, to your Documents\Electronic Arts\The Sims 4\Mods folder. Then copy the files inside the folder called Plumbot Underlying Sims to your Documents\Electronic Arts\The Sims 4\Tray folder.
Poly counts:
Hovercone bottom 2468
Kayla bottom 2731
Kayla head 1070
Lauren head 1368
Lauren top 4096
Orb head 1526
Sara head 1866
Sara top 4620
Servobot bottom 4956
Servobot top 4374
Spencer head 1064
Tim head 1301
Waiter top 4104
Additional Credits:
Made with S4 CAS Tools, Sims 4 Studio, Milkshape and Blender.
A big thank you to Flarz for his discovery that the specular from the GTW mannequins produces a highly shiny all-over effect that was perfect for these bots!
Thanks to EA's TS3 team for the Plumbots.
About Me
~Retired Creator~
Retired to move to Fallout 4 creation but I'll still check here for questions, comments or PMs. Thank you to those who liked my Sims stuff, love all of you. Most of my Fallout stuff is on Nexus
https://www.nexusmods.com/fallout4/...?tab=user+files
and there are more of my Fallout creations, my tutorials on making cc for Fallout 4, and more of my Sims creations, at
https://colorfulcommonwealth.proboards.com/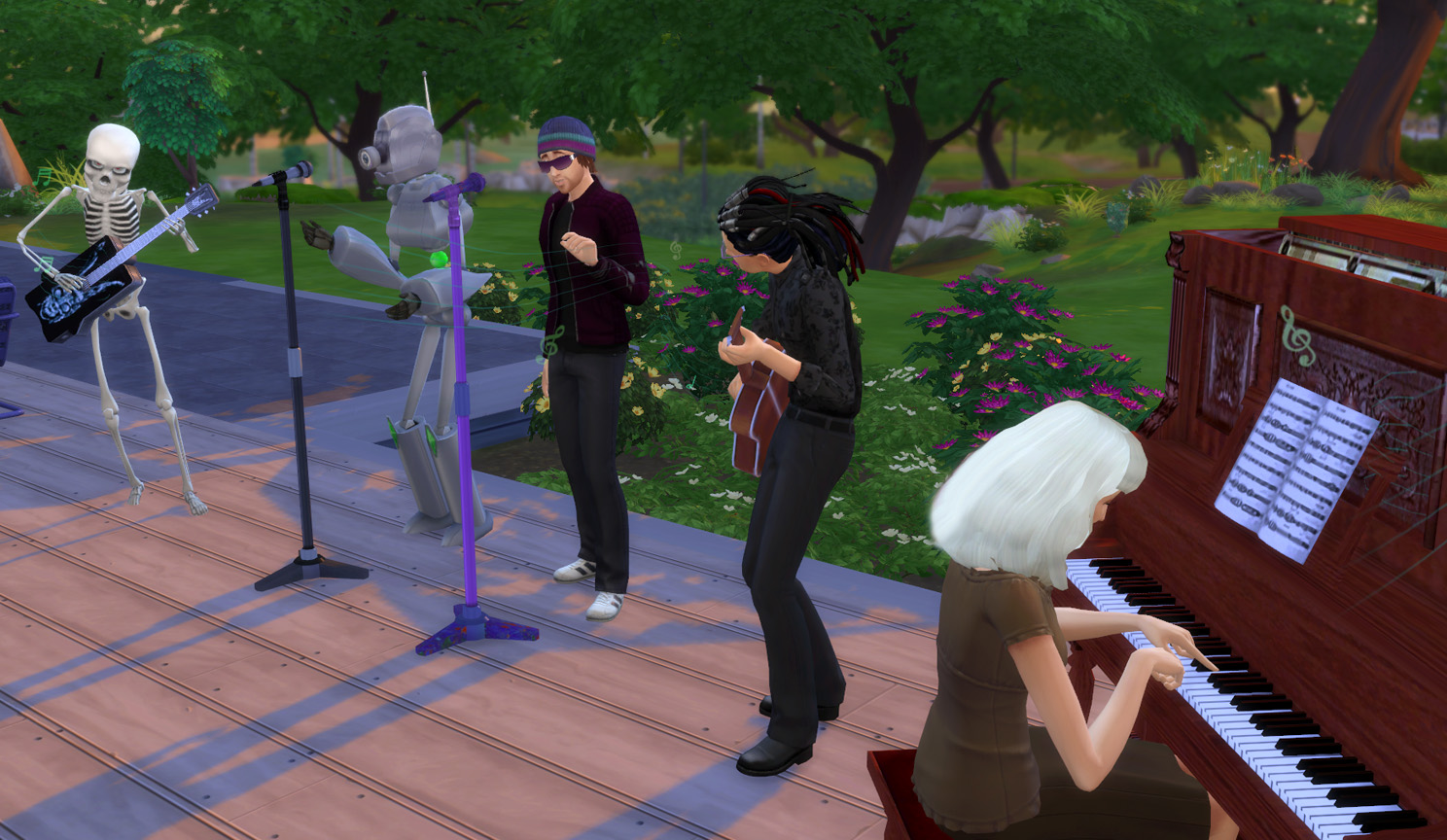 MY POLICY:
I'm pretty easygoing, please just don't steal or copy my work.
You may recolour my meshes, just please credit me and give a link back here to the item(s).
You may include my creations with your sims, lots, storytelling, etc - just please credit me and give a link back here to my item(s).
Don't claim my creations to be your own work.
Don't re-upload my stuff to The Gallery, paysites, adfly sites, or any other commercial sites.