No Dishes in Bathroom Sinks
61,661

Downloads
1,006

Thanks Thanks
298

Favourited
99,532

Views
Uploaded: 24th Nov 2015 at 11:01 PM
Updated: 15th Feb 2016 at 2:00 PM
These are tuning overrides that remove the dishwashing interactions from eight different sinks (those that look like one would use them in a bathroom), to be able to better control where sims can and cannot wash their dishes.
2015-12-15: Updated for 1.13.
This is not compatible with earlier game versions since object states (dirty etc) are defined differently as of 1.13.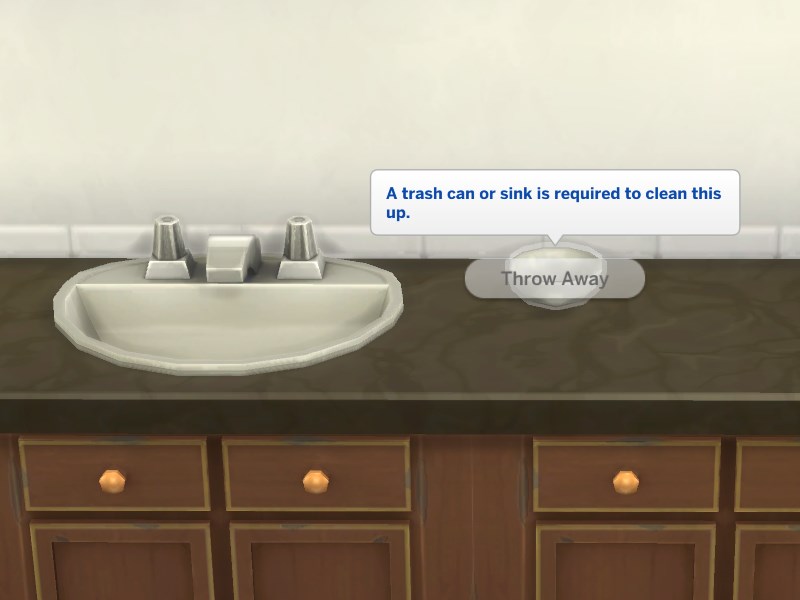 In the
zip
are eight separate packages for all of the Base Game pedestal sinks and the "Ovum Bath Sink" (the one on the picture above) -- see the catalogue screenshots for which is which.
Overrides the following resources:

0xB61DE6B4-0x00000000-0x0000000000008F36 object_sinkPedC_02 -- Amaranth
0xB61DE6B4-0x00000000-0x0000000000003A76 object_sink -- Bureau
0xB61DE6B4-0x00000000-0x0000000000008F37 object_sinkPedFC_01 -- Cru Cabinet
0xB61DE6B4-0x00000000-0x000000000000943A object_sinkCounterGENBath_01 -- Ovum
0xB61DE6B4-0x00000000-0x0000000000017B63 object_Sink_CounterGENBath_01 -- Ovum (I believe the tuning was changed in some patch)
0xB61DE6B4-0x00000000-0x0000000000008F35 object_sinkPedC_01 -- The Patrician
0xB61DE6B4-0x00000000-0x0000000000008F39 object_sinkPedSC_01 -- Brut Pedestal
0xB61DE6B4-0x00000000-0x0000000000012D5D object_sinkPedGFFrame_01 -- RAW Pedestal
0xB61DE6B4-0x00000000-0x0000000000008F38 object_sinkPedQA_01 -- Poulton
Note that the Bureau sink is using the generic sink tuning -- it is not in use for any other sinks in the base game, but EP/GP/etc users should doublecheck with/without that package in case sims seem to have issues using EP/GP sinks for doing dishes (they may or may not be using the same tuning). I only have the base game so I don't know.
XML Extractor
,
s4pe
.
Packs Needed
None, this is Sims 4 base game compatible!
Sharing and recycling:
Everything I upload here is published under the current
BY-NC-SA Creative Commons
license (Attribution, Non-Commercial, Share-Alike). In practical terms:
– Feel free to recycle, you don't need to ask.
– For the attribution, please link to the upload you're using wherever possible (instead of my profile). This is particularly important with edits made for/with different games or game versions.
– If you use my stuff in something you make, please upload the result to a free, accessible, noncommercial site with no more restrictions than these. Code must remain open source; meshes and other material must remain re-usable.
Please do not redistribute any unmodified files – link to the upload post instead.