Sims 4

>

>

Mods that don't fit in any other category.
Tomato Salad
34,968

Downloads
516

Thanks Thanks
94

Favourited
48,208

Views
Uploaded: 8th Jan 2016 at 12:38 PM
Updated: 22nd Feb 2016 at 2:22 PM
A salad that sims can prepare from tomatos. You also need
foods-custom-interactions
(today's update) from
this thread
in order for it to be available in your game.
Update 2016-02-12:
Updated with Czech translation added.
Update 2016-01-26: Updated with French and Russian translations added.
Update 2016-01-16: Updated with Polish, Italian and revised Spanish translation.
Update 2016-01-08 II: Updated again with Spanish, Chinese and Portugese strings added.
Update 2016-01-08: Updated right away with Dutch translation added. Tomatensalade klaarmaken!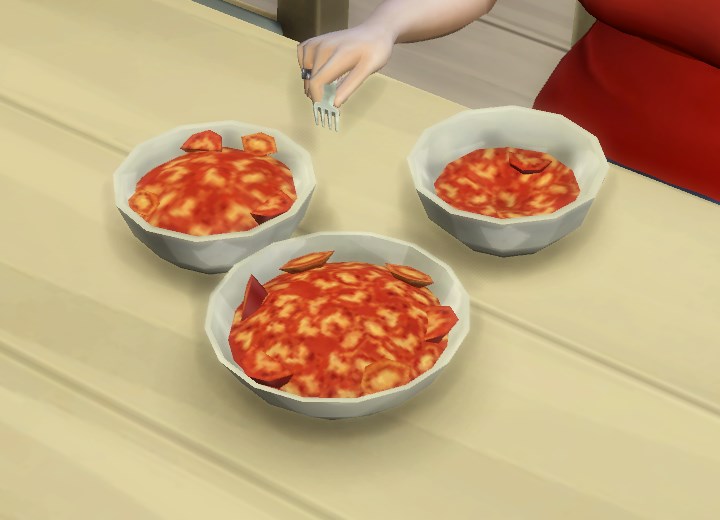 Requires 1 tomato per serving + 1§ flat fee; no cooking skill needed. It is available from the "Custom Food" menu that comes with the food interactions, as well as in Make/Serve Lunch and Make/Serve Dinner.
Localisation:
US English, Chinese (wuccwzt), Czech (Rynka_CS), Dutch (ElenaInTheSims), French (Damabiah), German (pbox), Portugese (lexus20), Spanish (sofi2401/gato_24), Italian (Eámanë), Polish (hubi98), Russian (igor97); other contributions welcome.

It is extra nice if you can provide a STBL resource (and I much prefer that for non-Latin scripts to make sure nothing gets lost in translation), but if you don't know how to do that, you can also simply post the following strings in your language in the comments (please make sure they match the wording for e.g. the Maxis Garden Salad when it comes to Serve/Prepare (the interaction names)):


Tomato Salad (object name)
A salad made from fresh tomatos (object description)
Prepare Tomato Salad (interaction name for making a single meal -- this is shown in the sim's queue while they are making the salad)
Serve Tomato Salad (interaction name for making a group meal)

If you are interested in how to translate mods (as in, edit the actual strings in the package), I posted a tutorial here.
Polygon Counts:
Same as the Maxis Garden Salad (Base Game); mesh is unchanged.
TSRW, Paint.net, Notepad++,
s4pe
.
Packs Needed
None, this is Sims 4 base game compatible!
Sharing and recycling:
Everything I upload here is published under the current
BY-NC-SA Creative Commons
license (Attribution, Non-Commercial, Share-Alike). In practical terms:
– Feel free to recycle, you don't need to ask.
– For the attribution, please link to the upload you're using wherever possible (instead of my profile). This is particularly important with edits made for/with different games or game versions.
– If you use my stuff in something you make, please upload the result to a free, accessible, noncommercial site with no more restrictions than these. Code must remain open source; meshes and other material must remain re-usable.
Please do not redistribute any unmodified files – link to the upload post instead.