>

Mods that don't fit in any other category.
Perfectly Balanced Aspiration - UPDATED
MTS has all free content, all the time. Find out how YOU can help to keep it running.
Tell me how...
77,081

Downloads
782

Thanks Thanks
263

Favourited
109,361

Views

Uploaded: 26th Feb 2017 at 12:30 AM
Updated: 14th Nov 2019 at 1:27 PM

UPDATE

Still compatible with patch 12/11/2019 - PC 1.58.63.1010
Update Notes
29/08: I had to update this aspiration again with fix for Meditation task. I thought I managed to fix it last time but unfortunately it was working only when Sims were quitting interaction on their own. Sorry for this... I really hope there are no more bugs ;]
Also French translation added thanks to Kimiko Soma from Maiagame -
http://maiagame.fr/traductions-mods/#modsilkavelle
19/08: As it turned out, some updating was required for custom aspirations with recent patches. Basically the system of task completion was slightly changed. As a result a task for custom aspiration could be completed even when you didn't use this particular aspiration.
Now I corrected this. My aspirations have been updated, task completion is fixed.
If you still find out some bugs - please report to me. It's so easy to miss something...
Also from now on any updates will be available on my site:
https://ilkavelle.wixsite.com/simsquest
. You can find there already my new Aspiration - Voice Virtuoso

17/07/2019: Meditation goal fixed.
29/03/18: Hi! I checked the mod, it seems to be still working with the latest patch.
I only added Portuguese translation done by morguesable - Thank you

16/12/17: Checked and working fine with December patch - no need for update.
20/11/17: Italian translation added! Thank you E?man?

12/11/17: Hi there! Sorry for a small delay but here you have the updated version for November patch (Cats&Dogs).
As per previous requests I keep also old versions so please download the correct one.
6/06/17: Spanish translation added to Versions 1.1 and 2.1 (thanks to leo3487!!). Both versions are compatible with the July patch (PC Version 1.32.1.1020).
As per request I uploaded also previous files- 1.0 and 2.0 - they should be compatible with versions older than 1.30.105.1010. However please note that this mod was created this year in February so it might not work correctly with versions older than 1.27.80.1020 (February patch).
1/06/17: If you had any issues with text that did not appear in game, please download the newest version, now it's corrected.
---------------------------------------------------------------------------------------------------------------------------------------------------------------------------------------------
Thanks to your suggestions and remarks I reworked my aspiration a bit

I improved some things, for example some tasks completion, and adjusted the aspiration for Vampires! For example now eating Plasma Fruits will complete the task of eating fruits and vegetables!
Also, I got some suggestions that my aspiration is very hard and I had to agree... I made it on purpose hard, but I might have exaggerated a bit

So I reworked it and created easier version

More details below.
Enjoy and happy simming! :D
This aspiration is perfect for any Sim aiming at healthy and balanced lifestyle. Your Sim can now reach Inner Balance through the proper nutrition, exercising and other wellness practices. Start changing the lifestyle of your Sims today!

Objectives

1. Health Enthusiast
* Do wellness activities 10 Times
* Light Incense 5 Times
* Take Yoga Classes 3 Times
* Prepare Salad 3 Times

2. Yoga Addict
* Own Yoga Mat
* Complete Yoga Routine 5 Times
* Achieve Level 4 Fitness Skill

3. Well-being Explorer
* Spend 5 Hours Jogging
* Meditate 10 Times
* Eat Fresh Fruits and Vegetables 30 Times

4. Perflectly Balanced
* Achieve Level 10 Wellness Skill
* Give Tips About Healthy Lifestyle to 15 Sims
* Give Massage 5 Times
* Complete Yoga Routine 15 Times

Reward
Reward Trait:
Inner Balance: This trait unlocks 3 new interactions:
Cool down
: you can now remove all moodlets of the Sim you talk to (only environment moodlets will stay, but these are gone when Sim leaves the particular environment, e.g. dirty room). This interaction is available via Friendly category.
Help to find Zen
: it gives to the other Sim focused moodlet. This interaction is available via Friendly category.
Take a breath and cool down
: it removes all your Sim moodlets (again, apart from environment moodlets)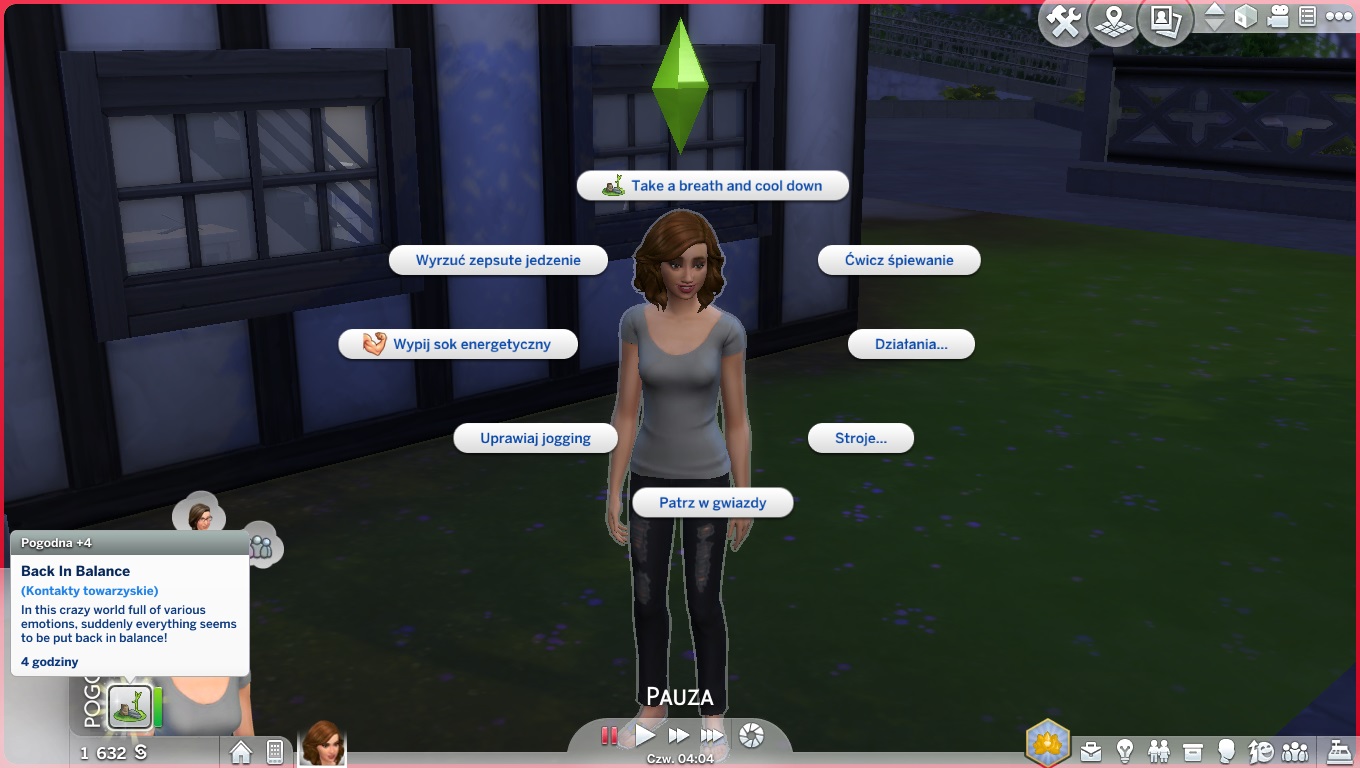 Languages:
English and Polish
German (thanks to Devilath)
Chinese (thanks to Konansock)
Spanish (thanks to leo3487)
Italian (thanks to E?man?)
Portuguese (thanks to morguesable)
French (thanks to Kimiko Soma from Maiagame -
http://maiagame.fr/traductions-mods/#modsilkavelle
)
Compatibility:
This mod is compatible with 08/08/2019 - PC 1.54.120.1020
Conflicts:
This mod doesn't override existing files so should not conflict with other mods.
Installation:
Unzip it into your Mod folder. You need to enable script mods in your game to have this mod working.
Additional Credits:
Tools used: Sims4Studio, TS4 STBL Editor, Notepad ++
Special thanks to Brittpinkie for helping me with Python, and to AgnesQua for testing my mod!

About Me
All my mods available from now on my website: https://ilkavelle.wixsite.com/simsquest