Sims 4

>

>

Mods that replace game resources other than the script core.
Jungle Adventure Minor mods - [Updated 1st July 2018]
45,368

Downloads
487

Thanks Thanks
188

Favourited
63,802

Views
Picked Upload! This is a picked upload! It showcases some of the best talent and creativity available on MTS and in the community.

Uploaded: 1st Mar 2018 at 6:55 PM
Updated: 1st Jul 2018 at 12:15 AM - Updated for Seasons Patch
Update - 1st July 2018 : Season Patch
--- Updated to Seasons Patch ( PC 1.44.77.1020 / Mac 1.44.77.1220)
(The ones not updated does not require any changes)

Skeleton cheats Update
---Added a ' Pray for Humanization' Interaction to the Selvadorado Town Sculpture of the Saint - Turns a sim back into a human from skeleton ( less cheaty than directly clicking on the sims to remove the state

)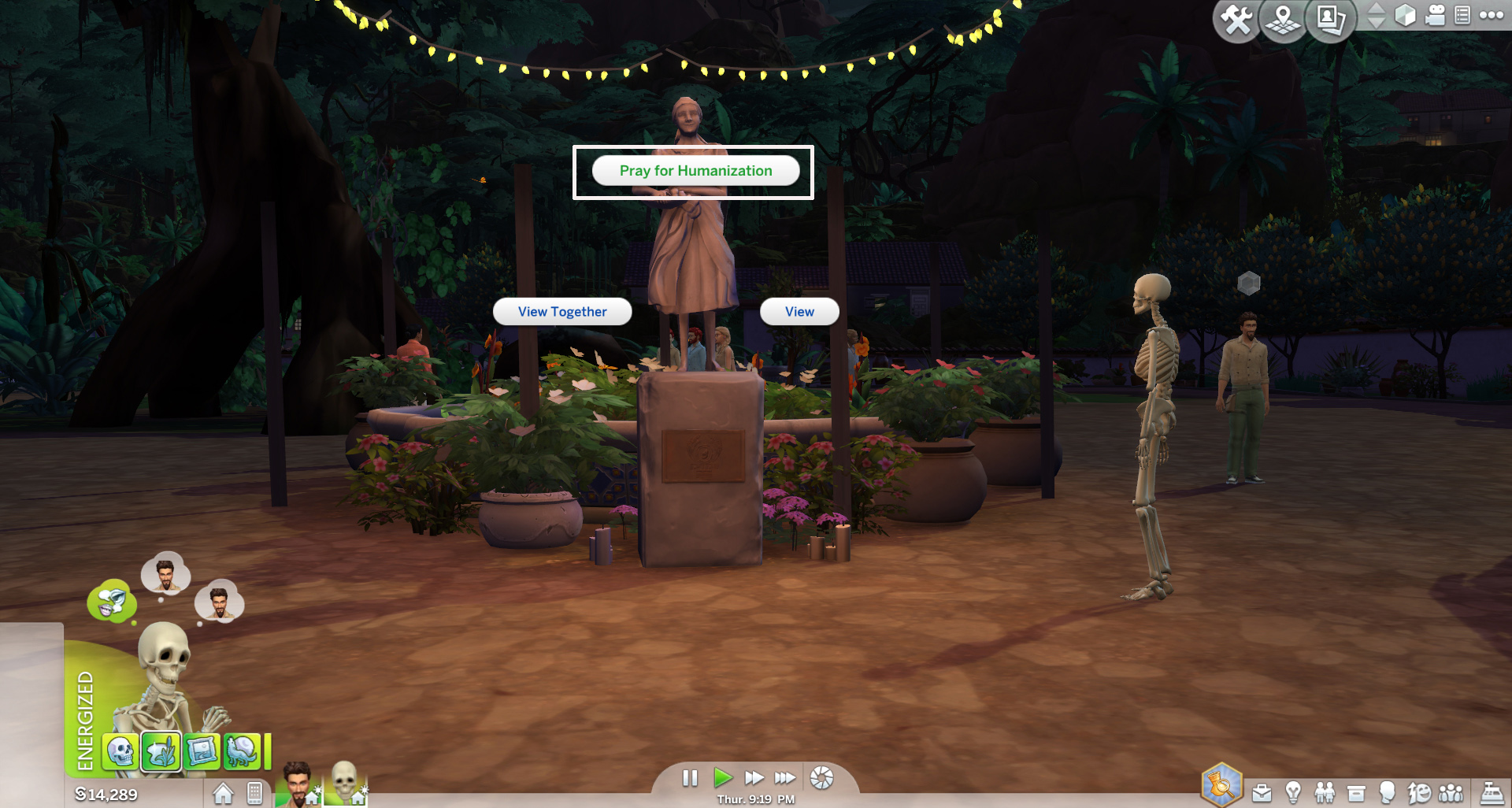 ---zeldagirl180 wanted an option to stop ageing for the skeleton so I added a CAS trait version of the skeleton. I did not override the Hidden skeleton trait as it was bound to cause issues. Instead I created a minor CAS trait to apply Skeletonism ( nothing new! Just another better way to cheat XD ).
--->The 'Humanize sim' and the 'Pray for humanization' interactions will remove the CAS trait
----> Trait Info - Under Social traits. Only buff - +1 Energized 'Blessing of the Bones' , No whims, gameplay modification factors except those provided by the vanilla 'Blessing of the Bones' buffs.
--->Ageing is disabled
---> Issue - If you apply the trait in CAS then the skeleton state becomes visible only after you leave the CAS screen


The trait version ( included in the .rar archive requires the main package - 'icemunmun_Skeleton_Cheats'
------------------------------------------------------------------------------------------
Adds four small mods for jungle Adventure. These mods are what I felt I required when I was playing the game so here they are -
1. Emotion Berry trees
2. Falls Buff Change
3. Rumbasim No skill
4. Skeleton cheats
5. Light fix
Light Fix for the Buy mode lights
-- So the 4 lights that came with Jungle Adventure emits so little light that it is impossible to properly light up the interiors with them. So I brightened the light intensity emitted by them to give a much better light coverage ( See attached images for comparison).
--- The Lights affected are -
1. Rustic candle chandelier
2. Embellished metallic Scone
3. Hand Carved lamp
4. Weathered lantern
Resources overriden


03B4C61D!00000000!0B4658E5F3A01BE7.Light
03B4C61D!00000000!6A14422461F627A5.Light
03B4C61D!00000000!777447FA9A9EBC1E.Light
03B4C61D!00000000!C10949C7E9EC109A.Light
01661233!00000000!0B4658E5F3A01BE7.Model
01661233!00000000!6A14422461F627A5.Model
01661233!00000000!777447FA9A9EBC1E.Model
01661233!00000000!C10949C7E9EC109A.Model



Any mod that overrides the above resources will conflict
Emotion berry trees
Details
---In game the tree of emotions bears 7 different berries colour coded according to the mood they give. I made 7 different trees which are grown by planting the emotion berries (instead of the single Tree of Emotions)
---The trees produced by planting the respective berries are -
- Razzleberry Tree
- Merryberry Tree
- Cereberry Tree
- Gutsberry Tree
- Vimberry Tree
- Flutterberry Tree
- Museberry Tree
The multi fruit bearing Tree of emotions will appear as usual in the wild
Resources overriden


B61DE6B4!00000013!000000000002A9DB.object_GardeningFruit_EmotionalBerry_Playful.ObjectTuning
B61DE6B4!00000013!000000000002A9DA.object_GardeningFruit_EmotionalBerry_Inspired.ObjectTuning
B61DE6B4!00000013!000000000002A9D9.object_GardeningFruit_EmotionalBerry_Focused.ObjectTuning
B61DE6B4!00000013!000000000002A9D8.object_GardeningFruit_EmotionalBerry_Flirty.ObjectTuning
B61DE6B4!00000013!000000000002A9D7.object_GardeningFruit_EmotionalBerry_Energized.ObjectTuning
B61DE6B4!00000013!000000000002A9D6.object_GardeningFruit_EmotionalBerry_Confident.ObjectTuning
B61DE6B4!00000013!000000000002A9D5.object_GardeningFruit_EmotionalBerry_Happy.ObjectTuning



Any mod that overrides the above resources will conflict
Fall Buffs
---The flirty falls gives a +2 flirty buff and it was really distracting to see the sims stop all the adventuring and do the flirty idles

So I made the following changes
- +2 Focused buff by default for 180 sim minutes -
Feel The Falls
- +2 Inspired buff for Creative trait for 240 sim minutes -
Beautiful inspiration
- +2 Inspired buff for Art Lover trait for 240 sim minutes -
Art Of Falls
- +2 Flirty buff for Romantic trait for 240 sim minutes -
Charmed By Nature
- +2 Happy buff for Loves the outdoors trait for 240 sim minutes -
Beautiful Outdoors
Resources overriden


6017E896!00000013!000000000002BD89.buff_ScenicBroadcasterBuff_WaterfallVista.BuffTuning
DEBAFB73!00000013!000000000002BD86.broadcaster_ScenicBroadcaster_WaterfallVista.BroadcasterTuning



Any mod that overrides the above resources will conflict
Rumbasim - No skill
---In Vanilla game, the sims had to be a level 4 Selvadoradian Skill to dance the Rumbasims to the Latin music/pop. I removed the skill requirement. Now your sims can dance the rumbasims without the headache of skill gain

Added additional package
rumbasim_Dance3
- rumbasim dance available at Dancing Skill level 3 ( Get Together EP )

Get Any one version of the Rumbasim
Resources overriden


E882D22F!00000013!000000000002AD37.stereo_Dance_LocalCultureSkill.InteractionTuning



Any mod that overrides the above resources will conflict
Skeleton Cheats
--- By using cheats you can add a 12 hour buff or equip a trait to turn any sim into a skeleton ( see below for the list of cheats). I wanted skeletons on the go so i enabled debug interactions to turn a sim into skeleton and remove the skeleton state without cheats and from live mode
--- Interaction - '
Turn Sim into Skeleton
' transforms the sim into the skeleton state and gives it one of 3 skeleton colours - White, grey, jazzy mosiac green. Cycles through these three colours.
- Maximizes and locks the all motives except Fun and Social
- Applies the +1 Energized Blessings of Bone Moodlet without a timer ( unlike the game cheat which gives a 12 hour buff)
--- Interaction - '
Restore Humanity
' turns the sim back into human and removes all of the above mentioned effects
This is just a handy way to turn on and off the skeleton state without much hassle. Nothing special

( Also i mainly did this since I can never remember long cheats. )
Resources overriden


E882D22F!00000013!000000000002AF5F.solo_Skeleton_Add.InteractionTuning
E882D22F!00000013!000000000002AF66.solo_Skeleton_Remove.InteractionTuning
B61DE6B4!00000013!000000000002AB84.object_TownSculpture.ObjectTuning



Any mod that overrides the above resources will conflict


traits.equip_trait Trait_Hidden_Skeleton_ServiceSkeleton ---> Turns your Sim into a Skeleton

sims.add_buff Buff_Skeleton --->Turns your Sim into a skeleton for 12 hours. (Blessing of the Bones)

sims.remove_buff Buff_Skeleton ---> Removes the Skeleton buff: Blessing of the Bones


Credits
- EA for early access code
- Scumbumbo for XML extracter
- Sims4studio
- s4pe
Packs Needed
None, this is Sims 4 base game compatible!
Other Information
Type
:
– Unlocked Maxis Content
– Other
TOU
My Blog for Latest Downloads
Nectar Making
1.Do not reupload or claim as your own
2. Do not include my meshes without permission. Recolours are fine and welcome
3. Please give credit if you use any of my code
All Sims 4 mods are compatible with latest patch -
11/12/2019 – PC 1.58.63.1010 / Mac 1.58.63.1210
For sims 4 mods please please please read through the main download post before asking whether the mod is compatible with the latest patch.
Most of my new downloads -
My new blogspot
For my Tumblr Exclusive Downloads -
Extra non MTS Downloads
WIP -
For my Sims 4 WIPs , see
these posts on tumblr
and my twitter account linked in the profile